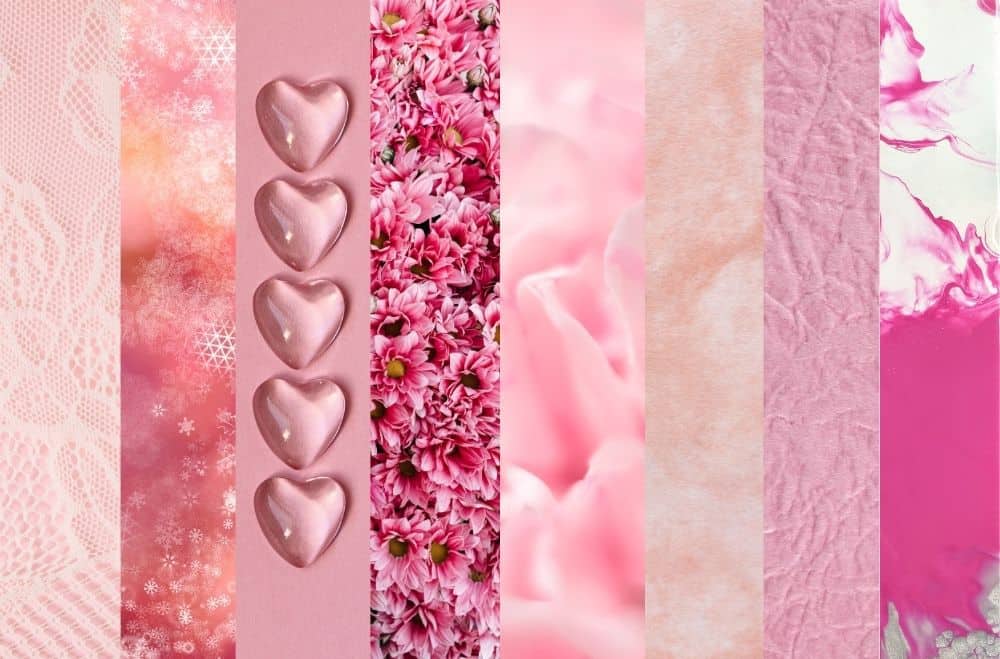 If you are trying to pick out a new wallpaper design to spruce up your living room or create a wall mural or accent wall, you might find yourself overwhelmed or feel like you need to hire an expensive interior designer. There are just way too many colors and designs to choose from.
But if you are looking for a beautiful, soft and neutral decor colour, why not think pink? From a light pink aesthetic wallpaper to a hot pink shade, pink will brighten any space and warm up any room. Pink is quite the popular colour in the interior design industry right now and for good reason… a pink aesthetic wallpaper never fails to impress.
10 of the Prettiest Pink Aesthetic Wallpaper Designs 
1. Striped Pink Wallpaper
Stripes can add height, depth, texture, and color. Get wallpaper that has either vertical or horizontal stripes to help make a room seem bigger or your ceilings look higher.
Look at light and dark pink for contrast or pink with another color to really make the walls dramatic and stand out. It can work really well with furniture or accents in the same tones.
You can also think about fat and thin stripes, all stripes the same size, various shades of pinks can be used, and they can be muted or bold. Stripes are a very popular choice for any room.
2. Flower Pattern
Who doesn't love flowers? You can find a light pink wallpaper with flowers in white, or the same color of pink, just a bit darker. They can be very subtle to very bold and dramatic.
Floral designs can look vintage or very modern and even abstract. They are very popular choices in wallpaper, so you shouldn't have any trouble finding several samples that you really like.
3. Tiles
If you don't want the tiles but want the room to look like tiles, look at wallpaper that has a tile design. These can come in a variety of shades of pink and two-or three-toned tiles.
They can also look like regular tiles or tiles that are oblong, criss-cross, antique, new, subway, or any other type you can imagine. Tile design wallpaper can add a lot of texture to the room.
4. Marble Pink Wallpaper
Add a bit of class and glamour with the marble design in pink. Something subtle, like a dusty rose, would work nicely in a bedroom, bathroom, or sitting room.
You can also find the marble design in many different styles, from something that looks just like marble to cubes, triangles, geometric patterns, and so many more.
These can work in any room you like, as there are so many designs and patterns to choose from. Perfect for kitchens, bathrooms, bedrooms, the man cave, and more.
5. Leaves and Trees
Just because you naturally think of leaves being green doesn't mean they have to be. Find something that will accent your room. Leaves and trees on wallpaper can be abstract, subtle, stark, realistic, vintage, and so much more.
You can decide how bold you want to go with the design. Trees, just branches, decorative leaves, and so much more. Often in two tones of pinks, they enhance any room you choose to put them in.
6. Shapes
Pink teamed up with other colors along with various shapes can really make a room pop. Stars, suns, moon, squares, triangles, circles, or combinations of stars and moons, hearts and flowers, the possibilities are endless.
They make a room fun and interesting and work well in soft pink backgrounds with bright shapes or just slightly darker than the background for a more subdued look.
If it is for a child's room, there are plenty of great shapes that they will enjoy looking at for years while they grow up in their bedroom. Clouds, flowers, animals, or their favorite characters from books.
7. Pink Glitter Wallpaper
You can never go wrong with a little bling and pink glitter wallpaper is always in style. It looks stunning under the illumination of light and it adds a nice touch of old Hollywood glamour and fun to any room. Plus it makes you smile every time you look at it!
8. Pink Wallpaper with Textures
Wallpaper can have the look of layers, 3D, fuzzy accents and raised designs, embossed designs. Textured wallpaper can add a lot of depth and character to any room. It can have an antique vintage feel, very stylish and modern, and have any type of embossed pattern or design you can think of.
9. Rose Gold Pink Wallpaper

Rose gold is a stunning color and is gorgeous when used in wallpaper. It brings a look of class and sophistication to anything it touches. Anything rose gold is always a good decision.
10. Hot Pink Wall Paper
We saved the brightest and boldest for last. Hot pink wallpaper never fails to make a bold statement. It pairs nicely with just about any other color and never gets lost in the crowd! Hot pink can be described in one word…HOT!
Think Pink
Pink wallpaper might not sound like it would work in any room, but it can. Pink is very calming and soothing, it goes with a lot of other colors really well, and you have so many choices of shades and tones.
If you are looking for a nice change in wall coverings, why not think pink?
You Might Also Like: