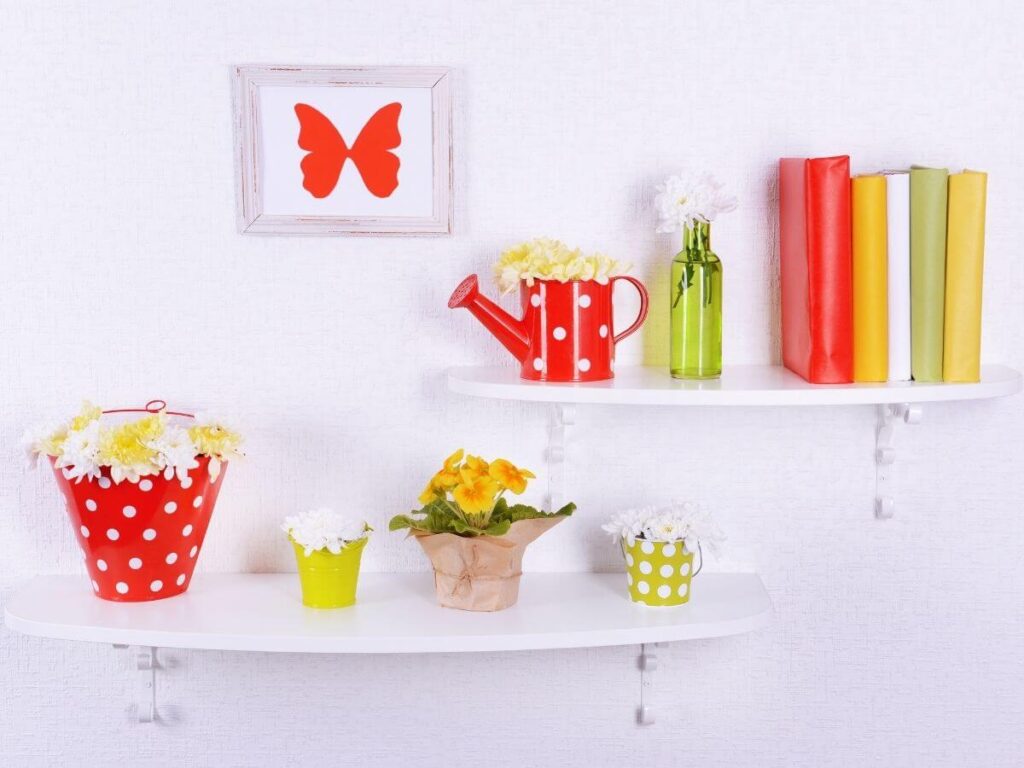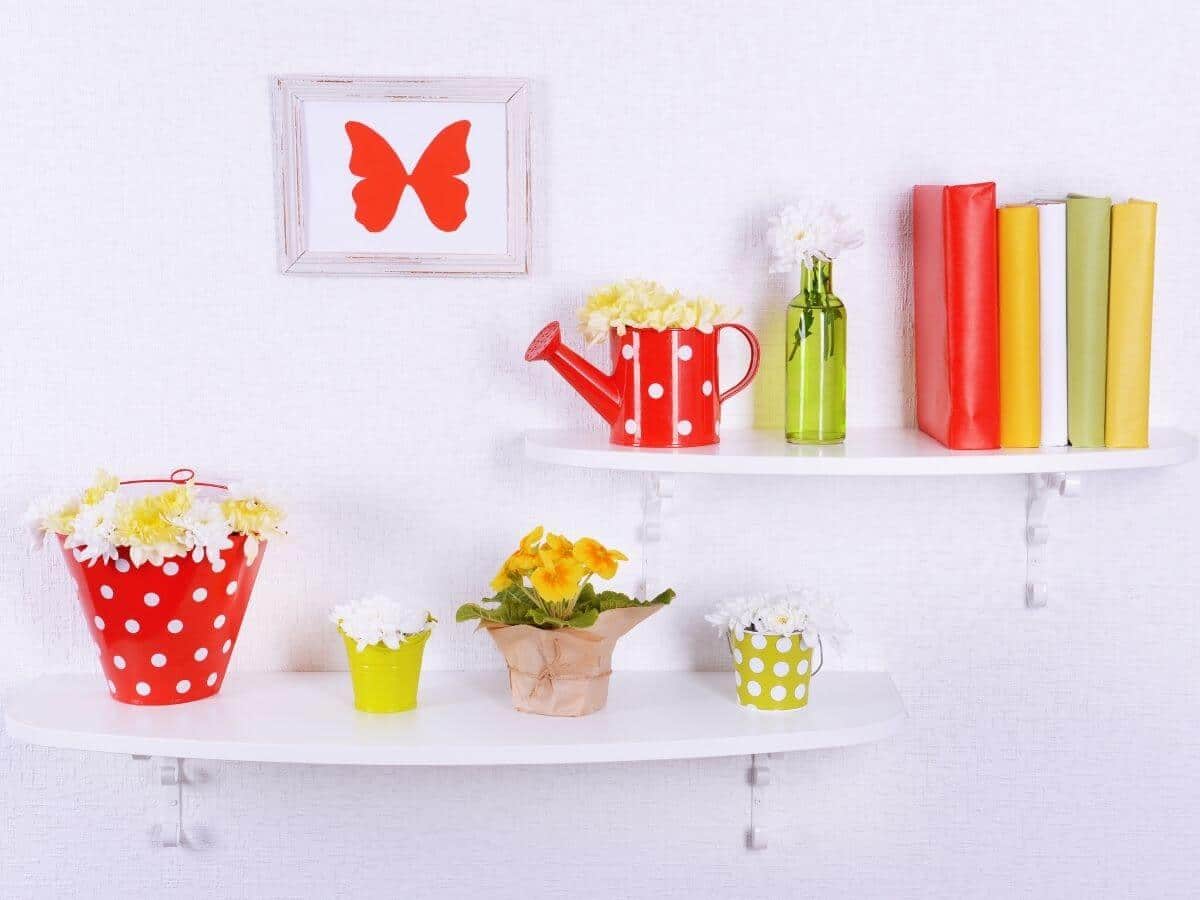 Floating bookshelves are decorations in themselves and can add a lot of character to your room. Plus, they will also get your books and other knick-knacks off the floor. Keep reading to see five of the best floating bookshelves.
1.   Painted Wood Floating Bookshelves
This is the most common type of floating shelf you will find. Typically, these shelves come in pairs of two or three and are available in different sizes and finishes. Find the right place to purchase them from, and you will also get the mounting hardware.
If you pick ones made of wood, they will be slightly heavy, which is a bit of a disadvantage. But if you shell out a few bucks, you will get shelves made of quality wood that can handle a good deal of weight which is essential when looking for bookshelves.
They have a nice minimalistic look, which is the most attractive feature. And if you want painted metallic ones, those are available too. They are pretty easy to install because they come with anchors that work well with drywalls.
Our pick in this category is the Delta Cycle & Home Floating Shelves. You get two wooden shelves in three different finishes that have been sourced through sustainable methods. They are durable, thin, and strong and can hold about 33 pounds worth of materials. All you need is a stud on the wall to stick them in the air.
2.   Floating U Bookshelves
This one is a bit more versatile in style and use; they are U-shaped which means you can place the books vertically without worrying about making them stand. These come in many different colors to go with all types of decor.
They are simple and float elegantly in any room they are placed in. But they won't distract you from the objects on them, which is essential with books. You don't want people to get carried away with the decor when you show your library off.
Apart from books, these shelves can also be used for photo frames and little trinkets. Or maybe you want to do the same with your DVD collection in the future. Their style goes with the aesthetic of different rooms, from offices to your kitchen.
The only disadvantage might be that many of them are made of MDF wood, which doesn't look as great. But that can be fixed easily.
If you're looking for one of those, we'd like to draw your attention to the Greenco Set of 3 with Espresso Finish; this comes in three sizes and is made of MDF wood. But the finish solves the aesthetic problem we just mentioned.
It comes in a set of three, and all the shelves are laminated. The finish also matches almost all interior decor styles. And you get all the hardware required to install the shelves on your walls.
3.   Floating Wall Mount Shelves
Wall mount floating bookshelves have more of a definitive way of handling the weight of the books on them. They keep you in control because they come with shelves and allow you to add brackets that hold the books in place.
You also have the freedom to change orientations without fear with this design in place. Often, they come in wood, and the mounts are in metal which ensures the safety of the books on the shelf.
In this category, we recommend the Wallniture Utah Wall Mount Nursery Bookshelf. This one comes in three pieces and is an excellent fit for a nursery. It also comes in different sizes and is made of pinewood with a white base. There is a front bar that keeps the books from falling forward. This way, they will be nicely strapped in for the ride.
This is a slender floating shelf, and the design is great for many rooms. And another accidental benefit of this design is that the books will be on full display, encouraging those in the room to pick one up.
4.   Concealed or Invisible Floating Bookshelves
it is hard to miss the invisible model when looking for floating shelves because they make for the best pictures and the presentation. They make the room look magical because it looks like your books are filled with magic and floating in the room.
It's the best optical illusion, but it's not an illusion because it's just how the shelves have been made. Most of these shelves have decent capacity because they are made of metal.
Steel is a good choice if you are looking for recommendations. Getting them in pairs is recommended because you can make any formation, and your wall will still look pretty magical.
They are mounted on the wall with screws that keep them steady. The only downside is that they don't offer as much space as the other options.
Our favorite in this category is the Storage Maniac White Invisible Floating Bookshelves. This one is a set of four shelves that are large. That already makes them better than the average invisible bookshelf.
They are made of sturdy steel and still leave you with ample wall space. Each shelf can handle about 15 pounds of weight. So, be careful and don't overdo it.
5.   Floating Corner Shelves
And finally, there is the floating corner shelf. These might look like they are out of date, but actually, they are back in style, and they help you make use of space that would otherwise end up wasted. Corner floating shelves also come in many different designs to match any decor.
Now, they can be used in any room for knick-knacks. But manufacturers are making them big enough to fit a few books you might want to keep at your bedside.
It's a great way to have some favorites next to your bed without moving the entire library into the bedroom. And since you're not looking to fill up the wall, these shelves are the perfect way to do it in style.
Our choice in this category is the Love-Kankei Corner Shelf. This one is a mix of a corner and a wall-mount shelf. It is unique in design and utility, as you can see. It is made of wood and has metal brackets to hold it steady. And each shelf can hold about 9 pounds of material, tops.
The Bottom Line
These shelves are a significant upgrade from mundane varieties. You can see that some of them let you customize the wall with your ideas. And you don't have to be limited by books. If you think your solid wood floating bookshelves could use some pizzazz, you can always place a vase or a bonsai plant on its edge.
You Might Also Like: