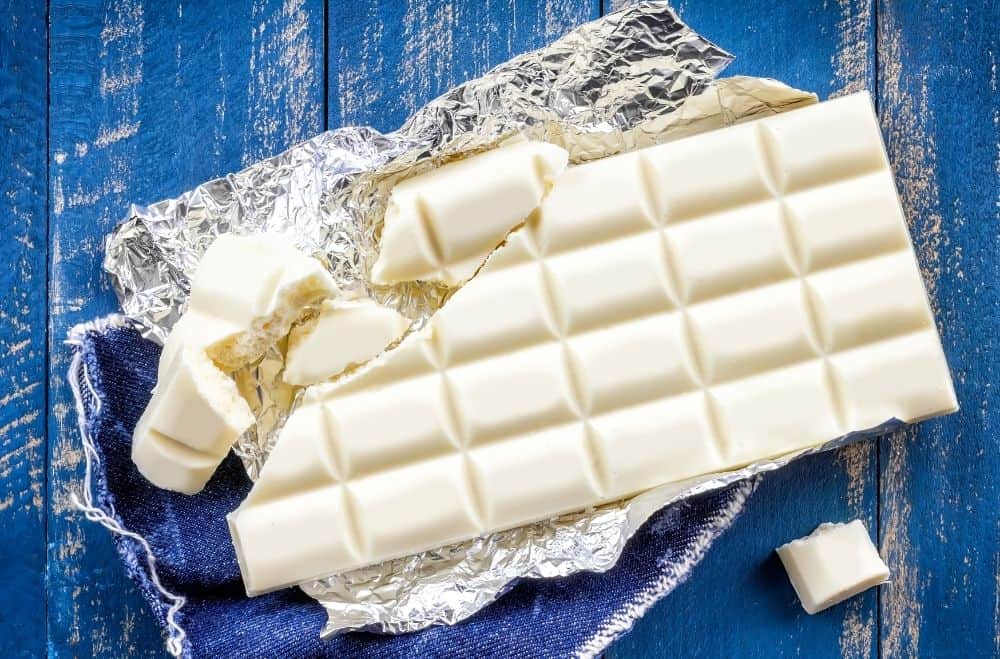 Many people have a preference when it comes to the chocolate they like. Some prefer the darker chocolate, as it is not as sweet. Others like milk chocolate and even pink chocolate. Yes, there really is pink chocolate! White chocolate is also a popular choice and has its own unique taste and qualities.
How Chocolates Measure Up
Did you know that all kinds of chocolate have almost the same ingredients, just less or more per chocolate type? Dark chocolate is made with cocoa solids, cocoa butter, and sugar, but it has very little or no milk in it. Dark chocolate usually has a semi-sweet, slightly bitter flavor compared to milk and white.
Milk chocolate contains more milk and dairy fat than dark chocolate, which gives it a creamier texture. This also makes it less bitter than dark chocolate and its color is much lighter.
White chocolate, called so because it is white or cream-colored, doesn't contain cocoa solids as dark and milk do, but it is made the same way and has cocoa butter, milk and sugar in it.
Nutrition Content
White chocolate, as a rule, contains more calories than dark and milk. One tablespoon of dark chocolate chips has about 70 calories, the same for milk chocolate chips, but white chips have about 80 calories.
All three have about 1 gram of protein, 8 to 9 grams of sugar, and about 4.5 grams of fat. Milk chocolate and white chocolate provide small amounts of calcium, while dark contains a little bit of dietary iron.
Healthiest Choice
Dark chocolate generally offers more health benefits than milk or white. Mostly because the cocoa used in making it is rich in antioxidants. These help with cardiovascular health by reducing inflammation, protecting the skin from oxidative damage, and even helping to improve cognitive function and mood.
Real White Chocolate
Real white chocolate is made from the same cocoa bean as other chocolate but uses just the cocoa fat of the bean. It doesn't contain the cocoa solids that technically define chocolate. Stripping out all of the gritty cocoa solids actually goes a long way for its texture. It is way more smooth and satiny than its darker counterparts.
5 White Chocolate Sweets
White chocolate is available in chocolate bar form, in baking chips, and candy melts. Did you know that many of your favorite chocolate treats are also available in it?
White Chocolate Syrup
You can find white chocolate syrup in most supermarkets, specialty shops, coffee shops, and online. It is delicious to use in coffee and in hot milk or hot chocolate. It is also perfect to use when baking.
Snickers
White chocolate Snickers used to be a limited-time release, but due to popular demand, they are now available all year long. If you are a fan of milk chocolate Snickers, you will also love the white version.
They are fantastic as is and you can also add them to cakes, cookies, pies, brownies, and whatever else you can think up. Chopped up, they make perfect little bite-sized treats. You can find them in most supermarkets or online.
KitKat
Another long-time favorite for young and old are KitKat bars. They come in the all-time favorite four-finger variety and the single, larger bar style as well. They are both delicious, both very popular and they come in white.
That means everyone can enjoy their favorite style of KitKat with their choice of chocolate. Why not buy one of each, to compare which one you like best. You can find them in most grocery stores or online.
White Chocolate Sauce
White chocolate sauce is different from syrup which is thicker and is much more condensed and sweeter. It can be found in most grocery stores and online. You can use it on ice cream just like you would use hot fudge.
Twix
Twix chocolate bars also have a white version. First introduced in 2005 as a limited edition bar, they found that each year they were so popular, that they finally released a white version permanently in 2017.
Twix has also played around with different flavors through the years, like peanut butter, fudge, and even gingerbread. Plus, they come in a variety of sizes, from large to miniature. You can find them in most grocery stores or online.
White Chocolate Fun Facts
It was invented by the Nestle company in Switzerland. The first candy bar debuted in 1930.
March 5th is National White Chocolate Cheesecake Day.
September 22nd is National White Chocolate Day. I mean, it has its own day!
It only contains trace amounts of caffeine that are present in cocoa solids.
The melting point of cocoa butter, its primary cacao bean component, is high enough to keep white chocolate solid at room temperature, yet low enough to allow it to melt in the mouth.
Cocoa butter is one of the most stable fats known, containing natural antioxidants that prevent rancidity and give it a storage life of 2 to 5 years.
It goes well with lemon, strawberry, raspberry, coconut, macadamia nut, and peanut butter.
Make Your Own White Chocolate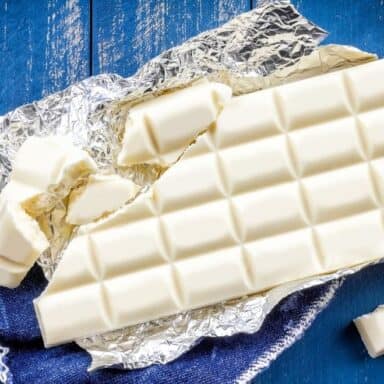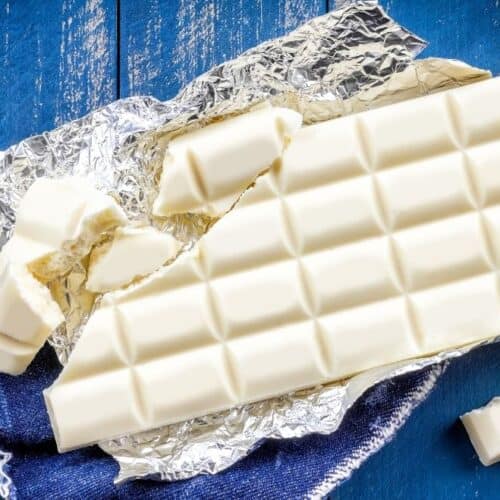 White Chocolate Without Cocoa Butter
Ingredients
¼

cup

of butter

2

tsp

milk powder

1/4

tsp

vanilla essence

1/8

tsp

salt
Instructions
Boil water in a saucepan, place a bowl over it. Make sure the bowl doesn't touch the boiling water.

Mix with a spoon until it melts

Then start adding the icing sugar little by little, keep mixing

Once you are done with icing sugar add the milk powder

Mix it well to avoid lumps

Add vanilla essence and salt

Mix and then remove from the heat

The consistency should be flowing

Now spoon the mixture into the chocolate mold

Refrigerate at least for an hour.

If you touch them, they should not stick and should be firm.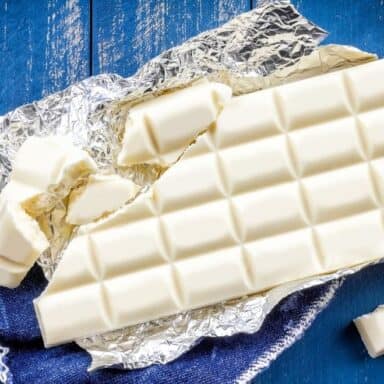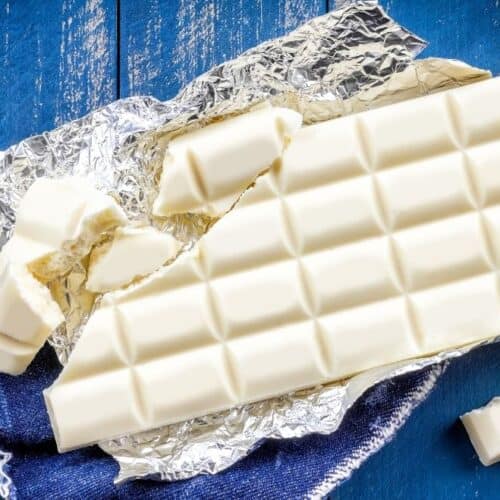 White Chocolate With Cocoa Butter
Ingredients
8

ounces

cocoa butter evenly chopped

1

teaspoon

vanilla extract

1-1 1/4

cups

powdered sugar finely ground

1/4

cup

powdered milk finely ground

1

vanilla bean
Instructions
In a double boiler or two pots, set to medium-low heat, melt the cocoa butter and vanilla extract together.

Stir in the powdered sugar, powdered milk, and seeds from the vanilla bean until completely mixed together and bring the mixture to 120˚F (49˚C), no higher.

Remove from heat and whisk the mixture for a couple of minutes, then place in the refrigerator for 5 minutes.

Whisk again for a few minutes and continue the process, in and out of the refrigerator until the mixture drops to 79˚F (26˚C).

Heat again in the double boiler up to 89˚F (32˚C), no higher.

Pour the mixture into the prepared molds as it is or over whatever you have chosen to add, like nuts or fruit

Allow them to cool overnight at room temperature until solidified before removing them from the molds. Keep them in the fridge to avoid them melting
Bonus Recipe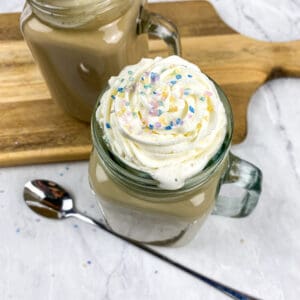 White Café Mocha with Homemade Whipped Cream
Ingredients
¾

c.

heavy whipping cream

3

T.

powdered sugar

1

t.

real vanilla extract

2

c.

whole milk

½

c.

Ghirardelli white chocolate baking chips

½

T.

coconut oil

2

c.

freshly brewed strong black coffee

Optional: Sprinkles

for garnish
Instructions
To prepare the whipped cream, pour the heavy whipping cream into a large bowl and mix until it becomes partially solid. Add the vanilla extract, and then the powdered sugar, and continue mixing until light and fluffy. Cover and place in the refrigerator until ready to use.

Pour the milk into a saucepan set over medium-low heat. Simmer, stirring continually to prevent scorching, until heated through, approximately 5 minutes. Remove from heat and set aside.

Pour white chocolate chips into a medium microwave-safe bowl and heat in 20 second intervals, stirring between each one, until melted. Add the coconut oil and stir to combine.

Transfer the warm milk into the bowl with the white chocolate sauce and stir to combine. Set aside.

Pour the hot coffee into 16-oz. mugs and top each one off with the white chocolate milk mixture.

Remove the whipped cream from the refrigerator and add a big dollop to each mug or spoon into an icing bag fitted with a decorative tip to create an attractive swirl. Add sprinkles, if using, and serve immediately. Enjoy!
Notes
Tip: The addition of a little fat, such as melted butter or coconut oil, to the melted chocolate chips helps prevent clumping if the chocolate cools.
Go Get Some
This is the best in my humble opinion. Prefer vegan? How about truffles? Go grab any kind you like for a sweet escape now.
You might also like: