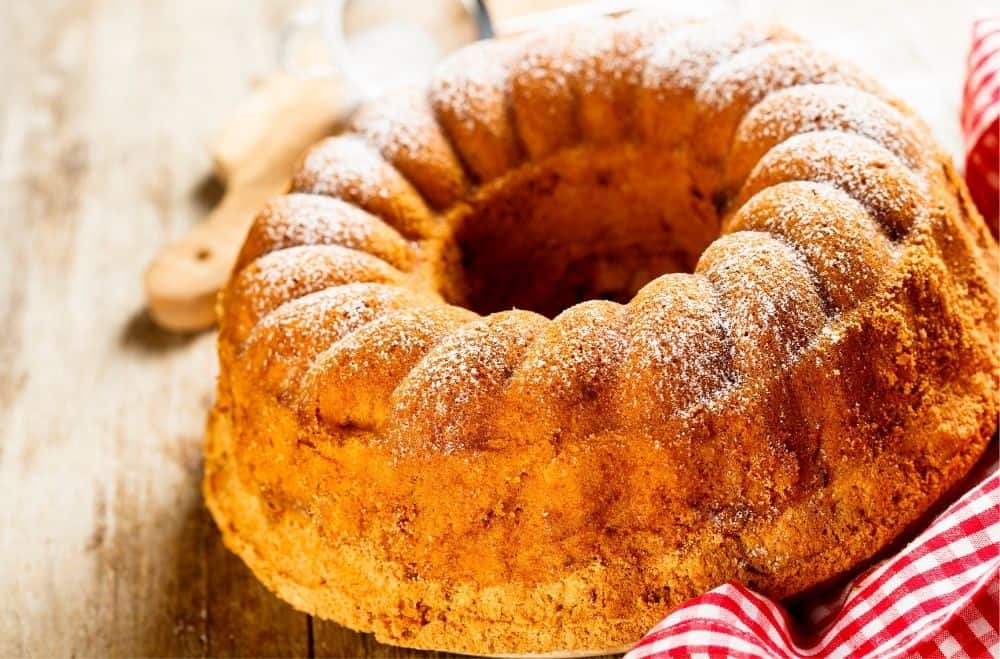 If you don't know anything about Nothing Bundt cakes, you don't know nothing about Bundt cakes at all. Established in 1997, Dena Tripp and Debbie Shwetz teamed up to make great Bundt cakes for their friends and families.
It didn't take long before they moved on to making cakes professionally. They seem to come along right at the right time, as there seemed to be a lack in real baking that didn't compromise on their ingredients.
Nothing uses the perfect ingredients (fresh eggs, real butter, and signature cream cheese) to achieve the decadent, slowly melting bite of luscious cakes we all know and love.
Bundt Cakes
The Bundt cake is baked in a Bundt pan. The cake can be any flavor you like, what makes it a Bundt cake is the donut-shaped pan to bake it.
Bundts go back for many many years. Modern-day Bundt pans were invented by H. David Dalquist in 1950 and the Bundt cake comes from a European brioche-like cake called Gugelhupf. In the north of Germany.
Gugelhupf is traditionally known as Bundkuchen (German pronunciation, which is a name formed by joining the two words Bund and Kuchen (cake).
The name may refer to the way the dough is bundled around the tubed center of the pan.
In the Netherlands, the cake is called "tulband," which is Dutch for 'turban.' The pronunciation of the second part of this word is very similar to that of 'bundt.' However you say it, it's still a delicious cake.
The name is also found outside of Europe to describe cakes and can be found in Jewish-American cookbooks from around the start of the 20th century. The alternative spelling "bundte" also appears in a recipe as early as 1901.
Since the name "Bundt" is a trademark, there are similar pans available at a lower price and are often referred to as fluted tube pans or something similar.
The trademark holder Nordic Ware produces Bundt pans only in aluminum, but the non-brand named pans come in a wide variety of materials.
Modern Bundts
When the Bundt cake pans started to be made in Minnesota, the owner of the Nordic Ware company, H. David Dalquist changed the name from the original Bund to Bundt.
Although he never really said why he changed it, there were rumors that he wanted to move away from the name of his product and the German-American Bund, which was a pro-Nazi group. There are other speculations that it was for trademarking purposes.
While the cake pans were initially popular, they really started to take off in the mid-1960s. That's when a Bundt cake called the Tunnel of Fudge cake won second place in the 17th annual Pillsbury Bake-Off.
The company was overwhelmed with orders and started making 30,000 Bundt pans a day. Today, more than 70 million households have a Bundt pan. Dalquist died in 2005 at the age of 86, still overseeing the production of his hit pan.
Bundt cakes have a unique shape because of the pan. Not just any recipe will work as well as others. There is a great deal of cake exposed while baking, so the cake needs to be very moist.
You also have the hollow tube that makes the cake with a hole in the center. This gives the cake more crusty sides than a regular cake. It also gives you more space to put your favorite icing or topping.
The shape of the pan also allows you to cut the cake along the bumps or valleys that appear when you turn it over out of the pan. It's perfect to divide up the cake so everyone gets a generous slice.
Nothing Bundt Cakes
What a great success story Nothing Bundt cakes are. Two people coming together to share their love of cakes. First, with family and friends, next, they are nationwide.
They still make their cakes in a homey little kitchen for every bakery in every location. That's part of the beauty and the love that goes into every single Nothing Bundt cake.
Now, you can get custom-made Nothing cakes for any occasion. If you need a cake for dessert, Valentine's Day, a wedding cake, graduation, and all the holidays that come throughout the year, just ask. You can even get a free bundtlet on your birthday!
Nothing has around 10 flavors of cake including the classic flavors: chocolate and vanilla. They also have other yummy flavors: red velvet, carrot, lemon, marble, confetti, chocolate with chocolate chips, white chocolate raspberry, and pecan praline. Watch out for seasonal featured flavor cakes, like salted caramel. There are always going to be different kinds of delicious cakes for everyone.
You can get these tasty treats in a variety of sizes, as well. They come in 8 or 10-inch cakes, tiered cakes, Bundtlets, a Bundtlet Tower, and bite sized Bundtinis.
Their signature frosting is made with the finest ingredients including velvety real cream cheese and real butter. For a lighter touch, they also have drizzle frosting. Nothing Bundt cakes want to remind you of your mom's cake but also open you up to more possibilities.
More Than Cakes
Your Bundt pan is about to get much more interesting. There are more things you can cook or bake in it than just cakes. Due to its unique shape, there are other uses for it, too, that will make you wonder how you managed this long without one.
Lasagna
Why not use your Bundt pan to make that perfect lasagna? How many times have you had a huge mess from your lasagna boiling over inside the oven? This way, you have high walls and you can layer the lasagna high and have a fantastic and unique presentation.
Gelatin Mold
Imagine the fabulous layers you can achieve with your Bundt pan as a base for all your famous holiday jelly salads. Sweet, savory, layers of colors, fruits, and so much more. It's the perfect jello mold for all occasions and so easy to use.
A Planter
If your Bundt pan is getting old and doesn't work as well as it used to, why not retire it to grow plants. You could plant herbs to grow in your kitchen, plant flowers, or trailing plants, like ivies, or something that blooms.
Use it as is or paint the outside to look nicer and match the decor of the room you choose to hang it in. Add a stencil of flowers, food, or whatever you like. You can add holes and chain or string to hang it or place it in a plant hanger with a pocketed base.
Bake Bread
You can easily use your Bundt pan to make all kinds of bread. The unique shape of the bread will allow you to scoop out or press down the inside and add all kinds of toppings. You can add some of your favorite things to the bread, as well, like raisins and cinnamon, olives, or cheese.
Meatloaf
The Bundt pan will make you a thick and hearty meatloaf that will not run over the pan. Make enough for the freezer, too, or pack it up for lunches the next day. Make all your family's favorite combinations and you can add plenty of ingredients to the deep pan.
Monkey Bread
If you need a quick snack for a bunch of people, monkey bread will work very well in your Bundt pan. Monkey bread couldn't be easier to make, anyhow.
Just dip small balls of bread dough in melted butter, then roll them in cinnamon sugar. Layer the balls in the pan with whatever toppings you like. Perfect for a birthday party, football game on tv, or a backyard BBQ.
Pizza
What the heck, right? We're already stuffing dough into it anyhow, add some tomato sauce and a few of your favorite pizza toppings, and there you go. Perfect deep-dish pizza.
Decorative Wreath
For all of you crafty types, get your glue guns out. Add sprigs of dried twigs, leaves, mistletoe, holly, Easter, Thanksgiving, or Christmas pictures or items, and hang this beautiful decoration on the door.
Paint it and use it every year or change it up as you feel it warrants. It's light and can be used over and over again. Just make a small hole and put some string, twine, or a wire through to fasten it to the door.
Punch Bowl Cooler
If you have a large punch bowl going at the party, adding more ice to it can just dilute it and water it down. Add juices, soda water, ginger ale, with fresh fruit, and then freeze it.
Just place the entire frozen Bundt pan in the bottom of the punch bowl. As it melts, it will release the fruit, the fruit juices, and not water down the punch at all.
Gift Basket
Who doesn't love a gift basket? It's a whole bunch of presents all at the same time. Make it a Bundt pan starter kit. Put in some recipes for Bundt cakes, ready made bundt cake mixes, a few baking items that people always need, some flavored extracts, and whatever else you think they will enjoy.
Storage
Once the pan is beyond giving its perfect bake, use it on your desk or countertop to store all types of small items.
Sticky notes, tape, paper clips, staples, pins, everything, really. Use the center to put your pens and pencils in. It's like a junk drawer that you can see into and things won't disappear into the vortex that is a common junk drawer.
Great for smaller kitchen items you use all the time, give it to the dogs for fancy food or water dish, or use it in the washroom or bedroom to keep all your hair doodads.
Nothing Bundt CakesÂ
As you can see, Bundt not only has a long deep history but a promising future, as well. Not just cakes, that gloriously pan can do so much more. The cakes are fantastic and the design of the pan is ridiculously versatile.
Be sure to check out Nothing Bundt cakes for all occasions. If you need a nice cake that is fancy and yet somehow still comfortable and homey, Nothing Bundt has perfected it.
Check out a Nothing Bundt bakery near you or order online for curbside delivery or pickup. You can never go wrong with a Nothing Bundt cake. Pick up one for the next time you need a cake but don't have time to make one yourself.
If you are feeling adventurous, grab a mix or find the perfect recipe and make your own!
Pick up a pan too, and see how many interesting items you can make with your bundt pan. They are perfect for all cakes and other sweet or savory food items. And visit Nothing Bundt for more ideas.
You might also like: