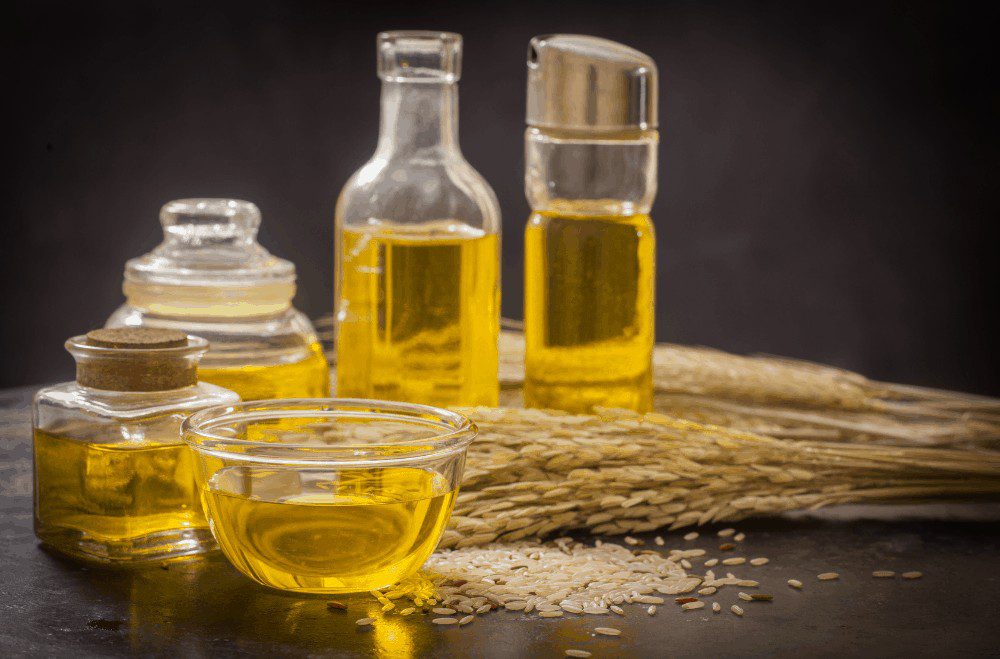 Rice bran oil is made by extracting the oil from the rice bran, the outer layer of the rice grain. It is mainly produced in Japan, Thailand, India, China, and Vietnam.
It is an edible oil is loaded with healthy unsaturated fatty acid. In rice oil, these are monounsaturated fatty acids and polyunsaturated fatty acids which help to increase the HDL (good) cholesterol levels and lower the LDL (bad) cholesterol. It does contain a bit of saturated fat, as well.
Nutritional Facts
More and more people are discovering and enjoying the flavor and the added health benefits of rice bran oil. Here's the nutrient breakdown
Calories: 120
Fat: 14g
Sodium: 0mg
Carbohydrates: 0g
Fiber: 0g
Sugars: 0g
Protein: 0g
A standard serving of one tablespoon contains 7 grams of monounsaturated fat, three of saturated fat, and five of polyunsaturated fat.
In contrast to another popular oil, a tablespoon of extra virgin olive oil contains 11 grams of monounsaturated fat, two grams of saturated fat, and one gram of polyunsaturated fat or pufa.
It is a natural antioxidant that not only makes this oil healthy but also gives it a long shelf life. It will not turn rancid or go off as easily as some others may.
Cooking with Rice Bran Oil
It also provides a slightly nutty flavor to whatever you cook it in and it is delicious to use as a base for your homemade salad dressing.
It also has a high smoke point and can maintain its nutritive quality even at temperatures of 490F. Rice bran oil is not absorbed as much as other types of oil so if you are deep frying french fries, you will see almost all of the oil left behind in the fryer.
Unlike olive and canola oils, it works much better for frying and baking because it has a mostly neutral taste that won't overpower whatever you are making. It has a nutty, earthy flavor similar to that of peanut oil.
It actually feels less oily when you use it for cooking, it doesn't stick to food as much as other types of cooking oil and there is no greasy feel when you eat it on a salad or with bread.
6 Health Benefits of Rice Bran Oil
1. Heart Friendly
The American Heart Association recommends cooking with rice bran oil as it is heart-friendly and can help lower high cholesterol. Clinical research has shown that its active ingredients can lower cholesterol in the body by inhibiting the enzyme responsible for cholesterol synthesis.
A recent animal study came up with impressive results, where rice bran oil lowered the total cholesterol levels of test animals by up to forty percent. In addition, the World Health Organization endorses it as a superb choice for lowering serum cholesterol levels.
It can also help to lower blood pressure, especially when used in combination with antihypertensive medication.
2. Anti-Infection
According to a scientist based at the University of Rochester, rice bran oil can kill disease-causing antigens in the human body. The anti-infection properties are only minor, but research is still ongoing. Even so, this is good news for those who love home remedies for minor infections.
3. Anti-Cancer
Rice bran oil contains powerful antioxidants known as tocotrienols, which are increasingly becoming noteworthy in anti-cancer research. According to a study published in the European Journal of Cancer in 2015, these antioxidants can prevent the replication of cancer cells and fight free radicals. Additionally, they boost the body's immune system. Other sources of tocotrienols include barley and oats.
4. Relief of Hyperlipidemia
According to a clinical study conducted by the National Institute of Nutrition, which is the governing body of food and nutrition in India, rice bran oil was found to lower high lipid levels in patients with hyperlipidemia. The study involved twelve patients whose regular cooking oils were substituted with rice bran oil. All twelve patients showed decreased blood lipid levels in less than two weeks.
5. Relief of Hot Flashes 
A small-scale study conducted in the United States showed that rice bran oil can relieve hot flashes during menopause. Oryzanol, an active compound present in rice bran oil, was given to a group of menopausal women in the form of supplements for six weeks. Ninety percent of them experienced some form of relief from hot flashes.
6. Rice Bran Oil is Hypoallergenic
If you have issues or reactions to certain oils, like nut-based oils, rice bran oil would make a great alternative for you.
Beauty Benefits 
Not just a great oil for eating and cooking, but using this oil as part of your regular beauty regime can really help your hair and skin. It will be much less expensive than some of your other beauty products. Rice bran oil contains a substance called Squalene. This is a compound that is easily absorbed by the skin and keeps it soft, supple, and smooth.
Great For Your Hair
Rice bran oil is very rich in omega 3 and 6 fatty acids which help nourish your hair. If you are someone with curly, dry, or frizzy hair, try using it and prepare to be amazed.
It will help make your hair thicker, shinier, and much easier to manage. Just massage your hair and scalp with this oil before hair wash, and it will keep your hair follicles healthy.
The antioxidants can also help the early signs of hair greying. Use warm rice bran oil and massage your hair twice a week. To make sure you never forget, just add 2-3 drops of this oil to your shampoo bottle.
Great for Your Skin
The sun could get pretty merciless to your skin. To prevent damage caused due to the sun's UV damaging rays take 2 drops of rice bran oil and gently massage it over your face until it is fully absorbed.
This oil will protect your skin from pollution and also act as a natural sunscreen. The antioxidants will also present in the oil not only provide your skin nourishment but also help in keeping the skin looking young.
If you are using mineral oil for removing your makeup at night, why not try rice bran oil, instead? It will remove your makeup, and help keep your skin look supple and soft. It is an excellent source of vitamin E which has the tendency to penetrate deep into your skin's layers.
Where to Buy
You can find rice bran oil in most grocery stores and online. Grab some of this healthy and versatile cooking and beauty oil today.
You Might Also Like: