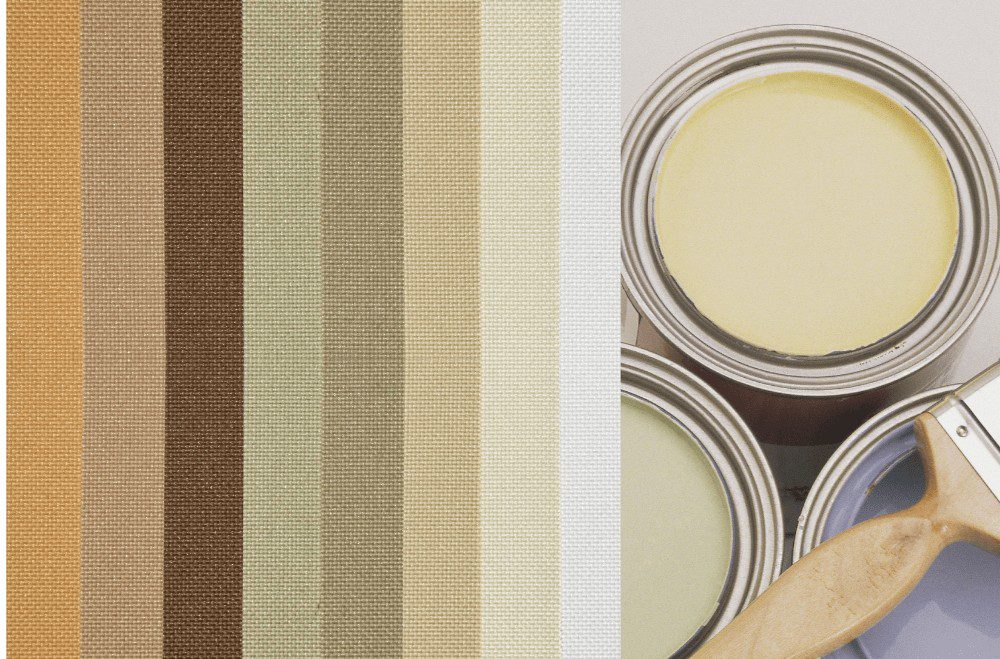 Tan colors are popular home interior colors because they allow us to accent other pieces in the room, like furniture, window treatments, artwork, and carpets without being distracting. There are so many soft, warm, flexible, and calming shades of tan.
Tan hues can be used for the entire wall, as trim, or in combination with other colors, like brown, yellow, black, blue, red, white, and orange. Pretty much every color that is out there can be paired with a tan shade.
Let's take a look at 11 hues of tan and you will be sure to walk away with wanting to try out one of all of these colors in your next home interior project.
Cream
Cream is a pale yellow similar to the color of dairy cream and it fits in well with other warm-toned neutral colors. Use it on the walls in any room and then go a shade or two lighter for the trim.
Ecru
Ecru means raw or unbleached in French and is the color of unbleached linen or silk. Initially, ecru was considered a shade of beige, but now it is more accurately defined as a greyish yellow. Use it diluted on the walls and a stronger tone for trim.
Fawn
Fawn is a light, red shade of brown named after the color of a young deer. It contains reds, yellows, and browns and is very popular in clothing as well as wall paint. It's a very warm, relaxing color that brings out the many undertones it contains. If you have reds or browns in the room, like accessories or carpet, fawn hues will bring out the highlights.
Khaki
Khaki is a pale brown color that is darker than beige and more muted than tan. It is a very popular clothing color. Chinos pants are often called "khakis" because that is the most popular color they come in. It is also known for being used in military uniforms.
khaki is a beautiful color for walls or furniture in any room. It has a yellow element that is cheery and will help bring out any lighter colors that are used in the room.
Taupe
Taupe is a light grey and tan color and is also often referred to as greige. It is a great color to work with because of all the variations. Taupe can have hints of brown, green, grey, lilac, red, blue, yellow, and more in between. It's ideal for wall color, trim, and accents throughout the room.
Camel
Camel is the color of the hair from a camel, which is a rich tan color. It is very popular for coats and jackets and is a fabulous color for walls.
Camel is rich and warm and will work with all shades lighter and darker. There are many shades of camel, but it does tend to be more tan and brown hues. It's ideal for a den, a bedroom, the living room, and will go great with complimentary colors.
Buff
Often referred to as nude, buff is a light yellow-brown color originally named after buff leather. It is a traditional color for morning dress waistcoats. Heavier on the tones of yellow, it still works very well with browns, greens, blues, whites, and off-whites. It is perfect for walls and furniture.
Beige
Beige is pale brown. The word comes from French and means the natural color of wool. Beige is commonly found in wool suits and clothing, but it is a great color for your walls, as well.
Stone
Stone is often a pale grey that goes very well with shades of tans. It can also have hints of brown, tan, yellow, and blue. You can get great shades of stone to offset all the other earth tones in the room.
Sand
A yellow-beige color that is named after the color of sand. The color of natural sand has many variations, and so will sand-colored paint. It will work well with many colors in the home.
Just the name denotes warmth, relaxation, and cool breezes. It can go from nearly white to deeper and richer colors of tans, browns, and yellows. It will work very well in any room, with darker trim and accents in yellows, greens, browns, and deeper oranges.
Light Orange
Pale oranges and variations are so warm and inviting. Going a few shades darker for the trim and accents will bring the room together. Ideal for living rooms, dens, bedrooms, and even kitchens. Like starfish and sandcastles.
More Tan Colors
There are so many choices and variations of tan. You will never run out of ways to use it or shades to consider. Check out The 5 Best Tan (Neutral) Paint Colors – Sherwin William and Benjamin Moore now.
You might also like 50 White Kitchen Ideas and Small Aesthetic Bedroom Design Ideas.