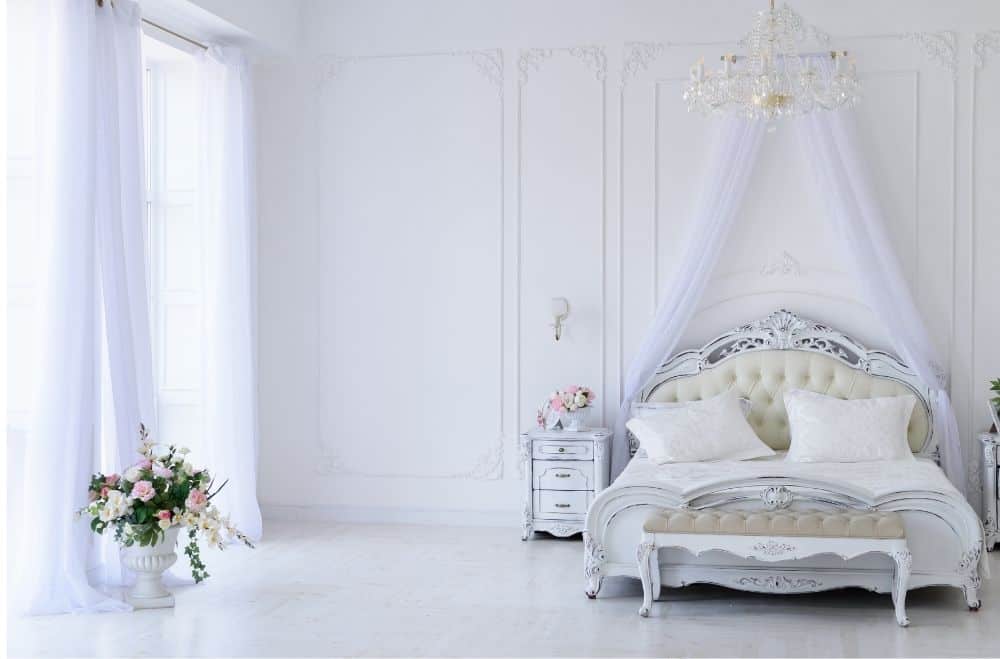 There are a few bedroom essentials that can help make our bedroom a sanctuary. The bedroom allows us to unwind, relax, and be ourselves. It's the most important room in the house. So, why don't we treat it that way?
All too often we see the bedroom as just a place to crash, and our designs show it. While other rooms in our house pop, we sometimes forget how important design – and bedroom furniture – can be in our sanctuary. To help change that, here are nine things every bedroom design needs.
1. A Great Bed
The bed will likely be the room's focal point, and it should be treated as such. A great bed is comfortable, stylish, and practical. Its look and function can make or break the entire room. If it's too big, it'll take away focus from the rest of the room; if it's too small, it won't be practical. Choose a bed, stylish headboard, and bed frame that can accent the rest of the room and provide you with storage solutions to keep out the clutter. Don't forget about a comfortable mattress, a cozy linen bed sheet set, and a beautiful comforter, quilt, or duvet. Be sure to have an extra blanket for a cold night.
2. The Right Accents for That Bed
Throw blankets, a pillow, and shams can all add a splash of color to the focal point of your room, making it a decorative piece. A few throw pillows at the head of the bed, contrasting the bedding itself, can instantly improve the entire look of your sanctuary. Add in a throw blanket and some shams and you'll be looking at the bed wondering why you don't sleep in more often.
3. Artwork
Artwork is an important bedroom decor piece. It can be anything from quilts to mirrors to a curtain or to wall decals. Your options are only limited to your creativity. Smaller pieces of art, or one big piece hanging over the board or on an empty wall, can give your room a standout look.
4. Real Plants
Indoor plants improve the quality of any room. They act as a natural air purifier by absorbing harmful gasses through their leaves and roots and serve as a great art piece. A small plant on the nightstand or a hanging plant in the corner can add some real attraction to the room. However, the number of plants, and their size, should be relative to the size of the room. You want your plants to accent the room, not turn it into a jungle. Don't have a green thumb? Fresh flowers work great too.
5. Area Rug
Stepping onto a cold floor while getting out of bed in the morning is one of my biggest pet peeves. Just the thought of it makes me want to stay underneath the covers. However, an area rug has alleviated that problem for me. It can help accent the rest of the room, even if you already have a carpeted floor. The right area rug can bring together the colors you've chosen for your bedroom, or it can add flair and style on its own.
6. Lighting
Bedrooms are often one of the smaller rooms in the house. The darker the room is, the smaller it's going to seem. Some well-placed lighting on the nightstands or the dresser can help brighten things up and make the room feel less claustrophobic and more inviting.
7. Armchairs
This is a space-dependent accessory. But if you have space, an armchair is a great piece of furniture that can add an extra flair to the room and give you a place to relax without messing up your freshly made bed. It allows you to spend more time enjoying the bedroom no matter what time of day it is.
8. Nightstands
A good nightstand or bedside table is both functional and decorative. Not only does it allow you to keep your book and a glass of water within arm's reach, but it also adds a touch of personality to the room. The options are limitless. You can choose the classic end table, wall-mounted shelves, or stylish hanging end tables. A nightstand is a perfect place for a scented candle or a table lamp.
9. Storage Space
Nothing can make a bedroom feel more claustrophobic than clutter. Whether it's clothes or shoes, a cluttered bedroom isn't very inviting. As a result, it becomes less of a room and more of a place to sleep. Whether you use clothing racks, a closet organizer, floating shelves, or take advantage of the space under the bed, the proper storage alleviates clutter and makes the bedroom a place you want to be. Most people forget to use the wall space. Install a few shelves for some instant storage space.
Try one or all nine of these tips and you can rest assure that you will always have a good night's sleep which I think you will agree is priceless.
You might also like 20 Awesome Bedroom Shelves for Saving Space and Small Aesthetic Bedroom Design Ideas: Top 10 Tips.