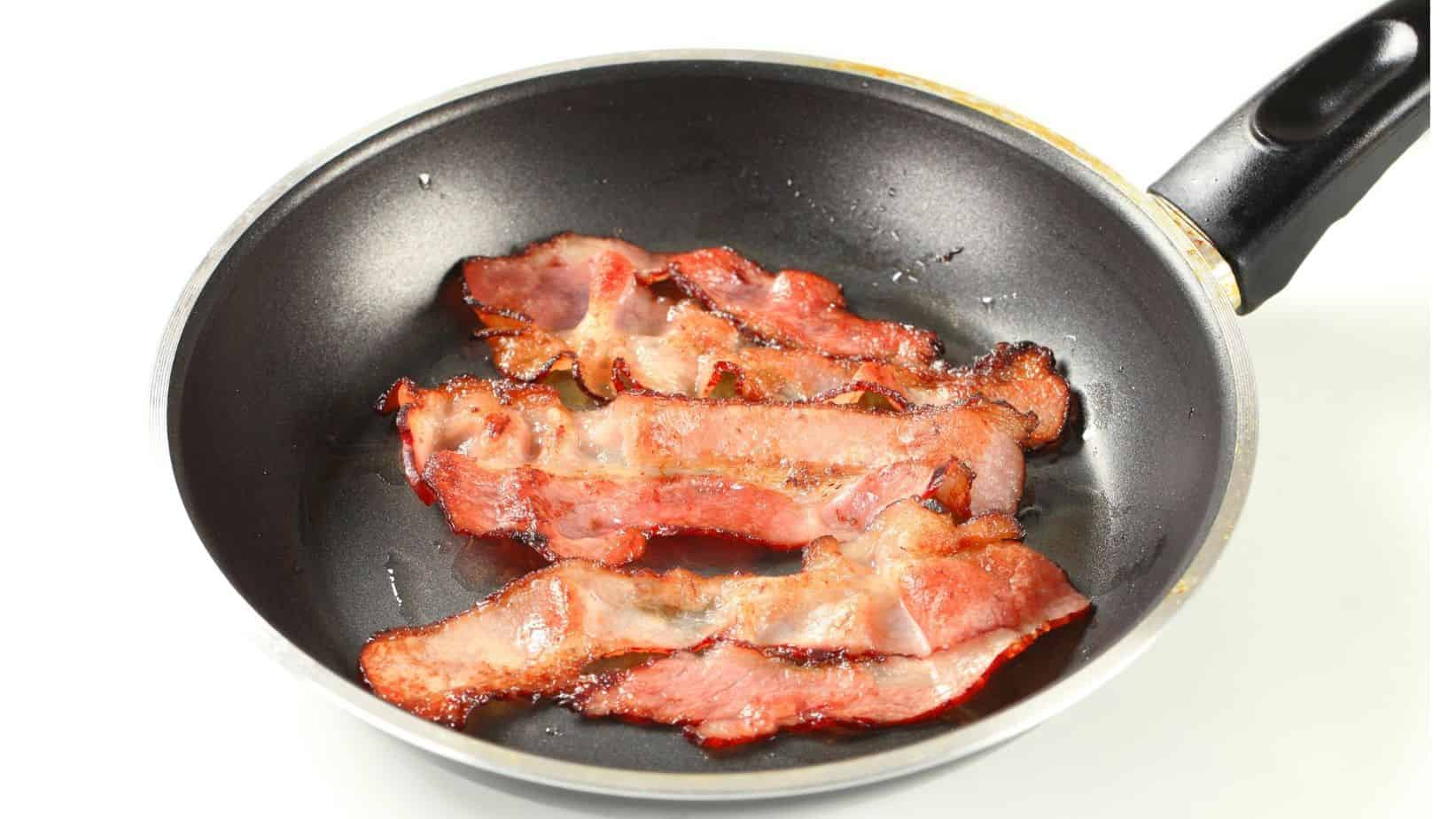 Are you a bacon connoisseur looking for the best bacon pans to fry it in? Let's face it, frying bacon is nobody's favorite activity, purely due to the risk of oil splashing when it's being cooked. Soon after starting to cook a bacon strip, you're reaching for a paper towel to clean up the mess!
The Perfect Bacon Pans
But did you know that this oil splashing is usually the result of using a frying pan that isn't meant to cook bacon? That's right, you can buy pans that are specifically meant to cook the perfect bacon slice. With the right cast iron skillet or pan, you can get crispier bacon for your breakfast meals. Keep reading to discover what we consider to be the best bacon pans – top 5 picks!
Rachael Ray 11-Inch Square Grill Pan
This hard-anodized nonstick grill pan is guaranteed to be your new best friend when it comes to cooking bacon. The deep sides of the Rachael Ray Cucina 11-Inch Square Grill Pan are perfect for keeping bacon grease in the pan where it belongs, while its square shape allows you to effortlessly get rid of excess oil by pouring it from one of its corners. You'll love the double-riveted handle with a red silicone grip, as it makes moving this 2 lb pan around the kitchen easy (not to mention it looks great!). On top of it all, this nonstick pan is dishwasher safe and offers a lifetime warranty. What more could you ask for?
Lodge 10.5 Inch Square Cast Iron Grill Bacon Pan
If you enjoy the results of a cast-iron pan but don't love all the extra work that goes along with it, then you'll fall in love with the Lodge 10.5 Inch Square Cast Iron Grill Pan. This multifunctional pan is pre-seasoned and ready to go right out of the box, due to Lodge's multi-step seasoning procedure. In order to achieve a finish that would normally take several months of home use to achieve, the seasoning oil is applied via an electrostatic spray system that coats the pan, before it's baked in commercial ovens at a very high temperature. The result? Oil that has already deeply penetrated the pores of the iron, and is already primed for optimal use. Just lightly spray your pan with vegetable oil before use, and you'll fry up some crispy bacon in no time!
Cast Iron Square Grill Pan with Glass Lid by Cuisinel
If something about the Lodge model just didn't cut it for you, then we think you'll enjoy the Cast Iron Square Grill Pan with Glass Lid by Cuisinel. While this product is quite similar to the Lodge 10.5 Inch Square Cast Iron Grill Pan, it also features a tempered glass lid, a pan scraper, and a silicone handle cover. The bacon fat and oil won't be splashing out of the pan, and you can get evenly cooked bacon, like you would with baked bacon. This cast-iron skillet features a smooth finish for even heat distribution, and a "Super-Seasoned' surface, and the ability to be used in the oven, on the stove, on the BBQ, or even on an open fire.
OXO Good Grips Non-Stick Pro Dishwasher Safe 11″ Square Griddle
Looking for a more versatile alternative to the classic square bacon pan with its deep ridges and deep sides? Then you might want to try the OXO Good Grips line. This dishwasher-safe pan is made out of hard-anodized aluminum, which offers excellent heat conduction and scratch resistance. This 11" pan is technically described as a pancake/griddle pan, but it also works amazingly well for bacon with its rolled side edges for drip-free pouring. Compatible with most stovetops and safe to put in the oven, you'll enjoy this pan's comfortable steel handles and three-layer, PFOA-free, German engineered nonstick coating, which will allow for years of performance with less oil needed.
ESLITE LIFE Divided Pan Nonstick Breakfast Frying Grill Pan
Last but not least, we have the ESLITE LIFE Divided Pan Nonstick Breakfast Frying Grill Pan, which is the only divided bacon pan on our list. This non-stick granite pan is great for cooking three foods at the same time, with its larger section seemingly built for cooking bacon. The ESLITE LIFE Divided Pan features an ergonomic bakelite handle, which is heat resistant and easy to grasp when cooking. The heat-resistant bakelite handle is suitable for grasping and stays cool while cooking. This high-quality, 11" pan is ideal for use on low to medium heat and is also 100% PFOA, lead, and cadmium-free.
Alternatives to Bacon Pans
Looking for an alternative to using a frying pan for bacon? Let's take a look at some great alternatives to cooking bacon that do not include a frying pan:
Electric Griddles
While the thought of cleaning an electric griddle seems like a downright pain for some, there are plenty of options available on the market today that are dishwasher safe, making this a pretty pain-free tool to use. Electric griddles make cooking multiple items at once easy, with bacon being no exception. Check out the DASH Everyday Nonstick Deluxe Electric Griddle with Removable Cooking Plate for a great option.
Cooking in the Oven
There are several advantages to cooking bacon on a sheet pan in the oven, including the fact that oven baked bacon cooks more evenly, is crispier, it's less time-consuming, and there's no splatter.
Deep Fryer
Do you love to try out new ways to use your deep fryer? Have you considered deep frying your bacon? Deep frying bacon is easy to do and is great for cooking a lot of bacon at once.
You Might Also Like: