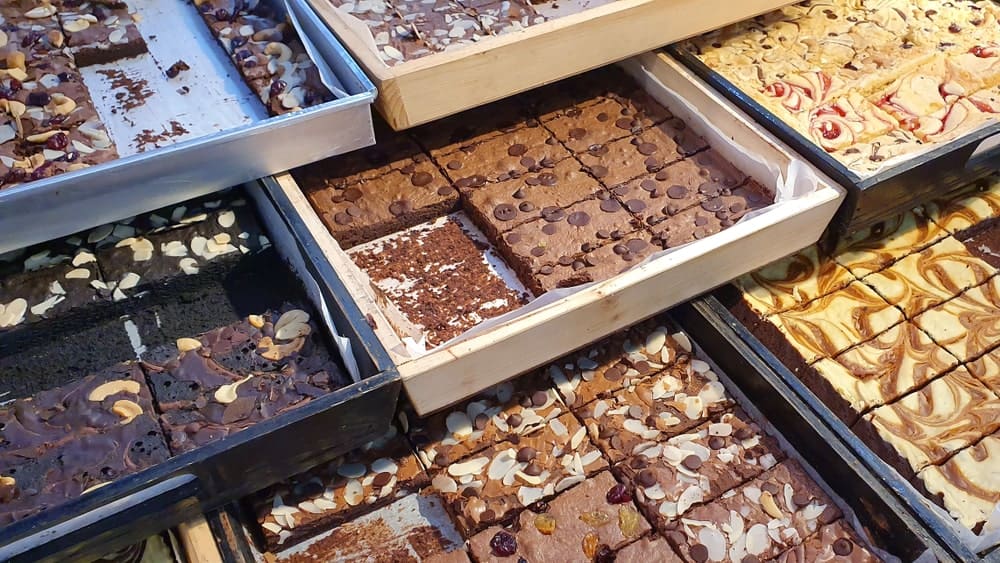 Do you usually just stick to basic brownies? Don't you think it's about time to broaden your horizons and enjoy some new brownie concoctions? Step up your game with this delectable list of different types of brownies that we have created for you.
In case you need a reminder, brownies are a decadently chewy dessert that is typically baked in the oven, then cut into small or large squares, (depending on how big your appetite is!) Their primary ingredients include chocolate, flour, milk, butter, and eggs. Additions can be made to these base ingredients, which may include types of flavored chips, cream cheese, and nuts.
Brownies may be frosted, or left naked on top, depending on your preference. Most folks don't bother with silverware when eating brownies. They are meant to be eaten by hand, even if they are dressed with whipped cream.
In case you are curious, the origin of the brownie dates back to the late 19th century in the United States and gained popularity in the US and Canada during the 20th century. Today, brownies remain one of the most popular desserts around. Children enjoy finding them as surprises in their lunchboxes, and even some of the fanciest restaurants around the globe serve them as a dessert. In regards to how brownies are prepared, this depends largely on the location of where they are being made.
Custom-Flavored Brownies
Many bakeries around the globe have promoted different varieties and flavors of brownies based on the seasons and the customs that prevail within their particular region. For example, there are brownies that contain a pumpkin blend and corresponding flavors such as apricot and cardamom, as well as brownies that promote the flavor of peppermint. Other brownies contain ingredients such as maple syrup and toffee. Innovations in brownie-making are practically unlimited, however, in this article, we have simply gathered some of our favorites.
Special Diet Brownies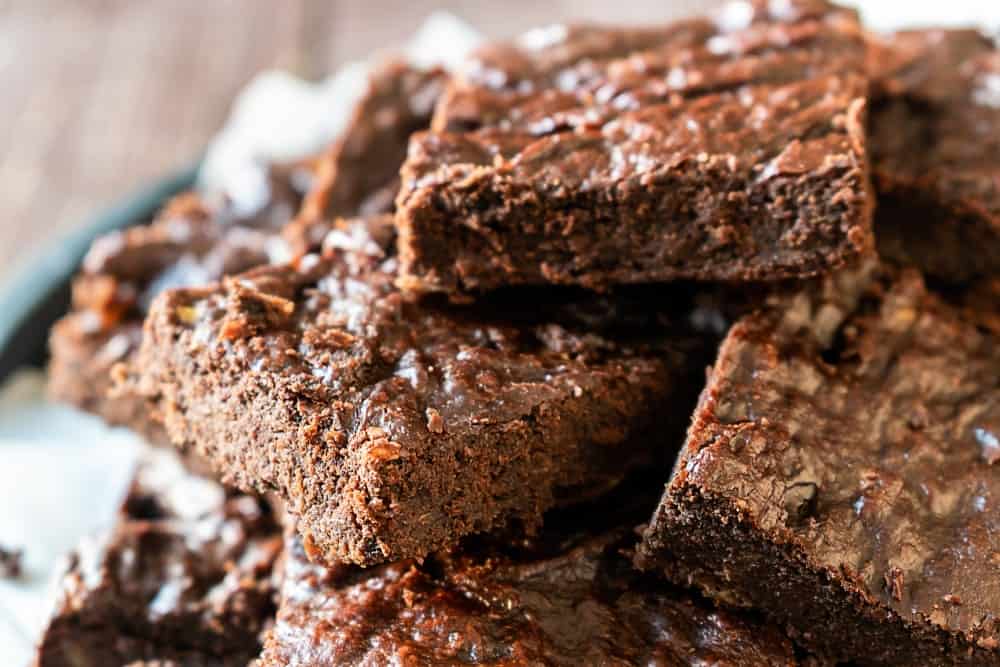 You can find brownies that are designed to satisfy very specific diets. For example, there are vegan brownie recipes, gluten-free brownie recipes, and brownie recipes that fit into a kosher diet. These types of brownies have been created in the last 20 years or so due to the awareness of people having certain allergies, and specific food choices that people prefer.
These types of brownies have not only become a specific entity of their own, but they are also appreciated by those without any specific food preferences, simply due to their delicious flavor.
This translates into the fact that no matter what type of diet you follow, you are likely to find the brownie of your choosing in some type of bakery or market. Quite simply, there appears to be a brownie out there for anyone who so desires one. Want a suggestion on which is the yummiest brownie available? Well, that is for you to decide. Let's take a look at our list of favorites for you to choose from.
Baked Brownies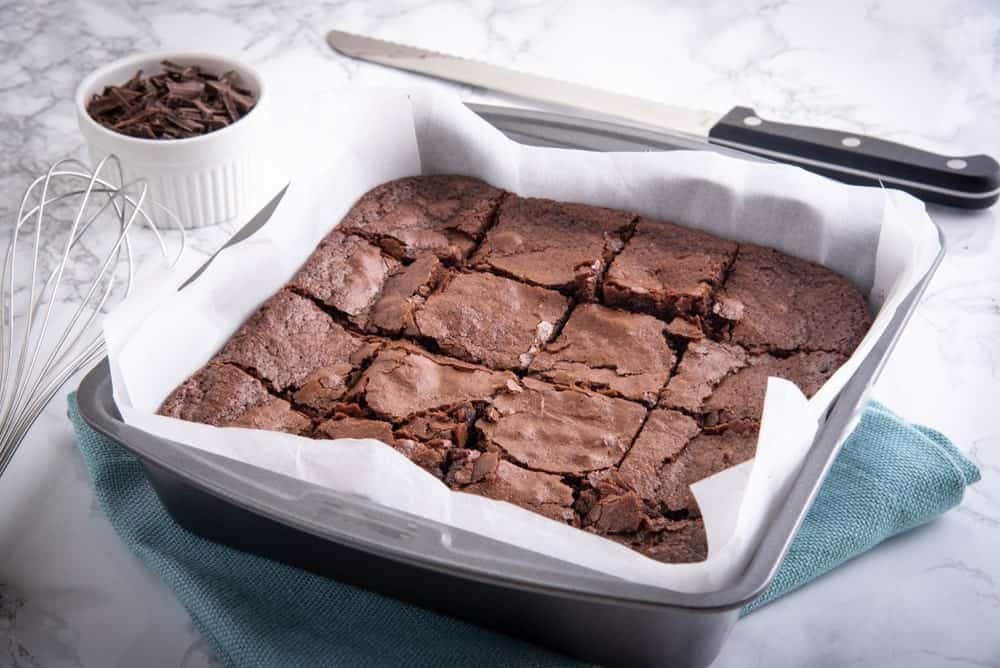 Tried and true, baked brownies are the most prevalent type of brownie that you will find. Nothing specific is added, and the frosting is not necessary. They simply involve a recipe that contains flour, milk, eggs, and chocolate. With this basic mix, you can create all different types of yummy brownies, and frost them with any type of frosting that you wish. The only common elements between these and other brownies are the type of chocolate fudge used, and the ovens used to bake them in.
Brownies That Are Better Than Box Mix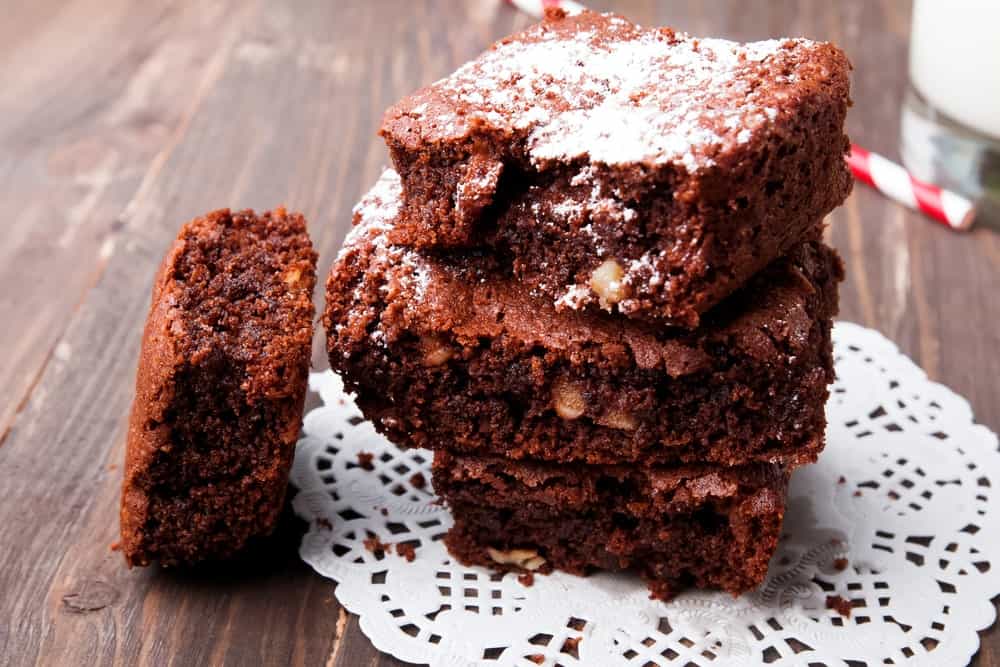 When brownies are better than a box mix, that means that they were homemade. Essentially, they were created from smashed pistachios, walnuts, and almonds, along with butter, flour, eggs, and milk. Their taste and texture may vary, depending on what is in them, but you will find that they are generally very crispy and rather chewy.
Buckeye Brownies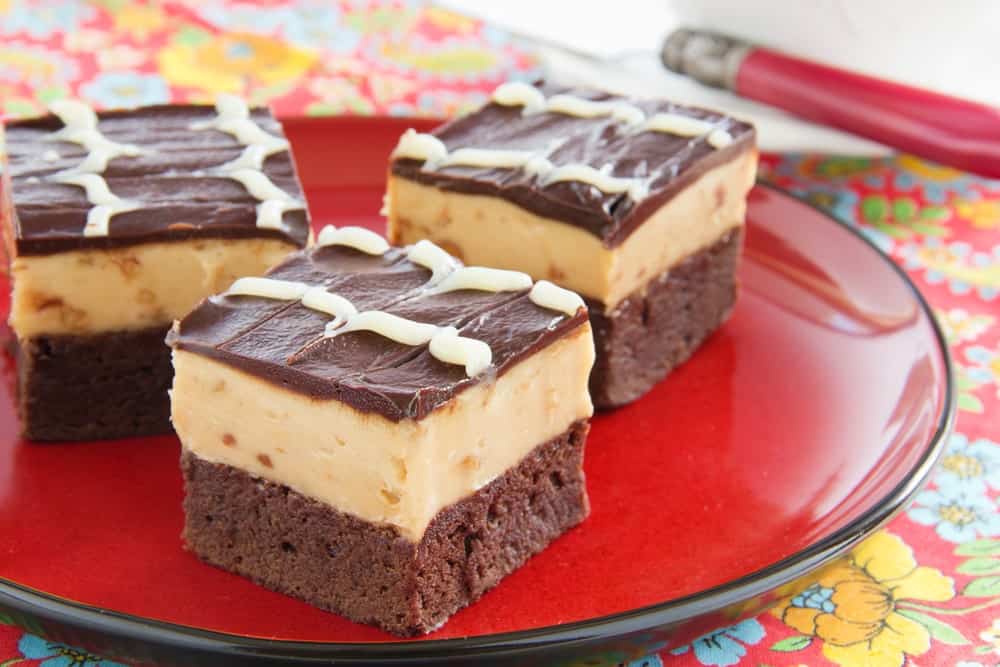 The difference between buckeye brownies and regular brownies are that buckeyes have peanut butter and chocolate frosting spread on the top. You also have the option of adding sprinkles and candied fruits if you like, but it's the peanut butter and chocolate that make them buckeye.
Chocolate Fudge Brownies with Chocolate Buttercream Frosting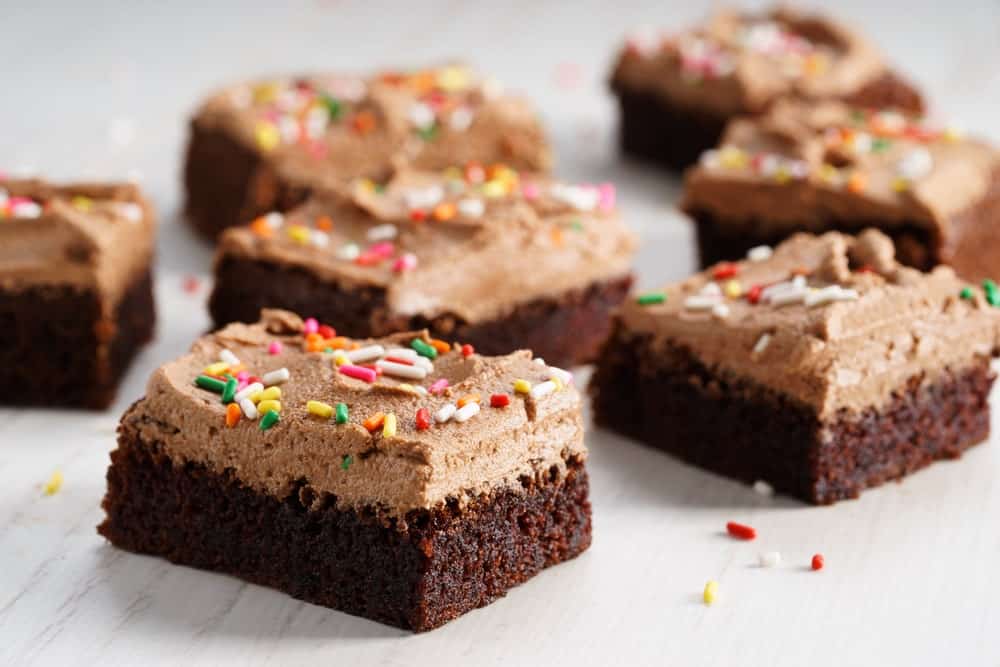 Just as the name suggests, these chocolate fudge brownies are topped with a decadent chocolate frosting that contains butter. You can choose the ratio of butter to chocolate that you wish, however, a 70:30 chocolate to butter ratio is recommended.
Cream Cheese Brownies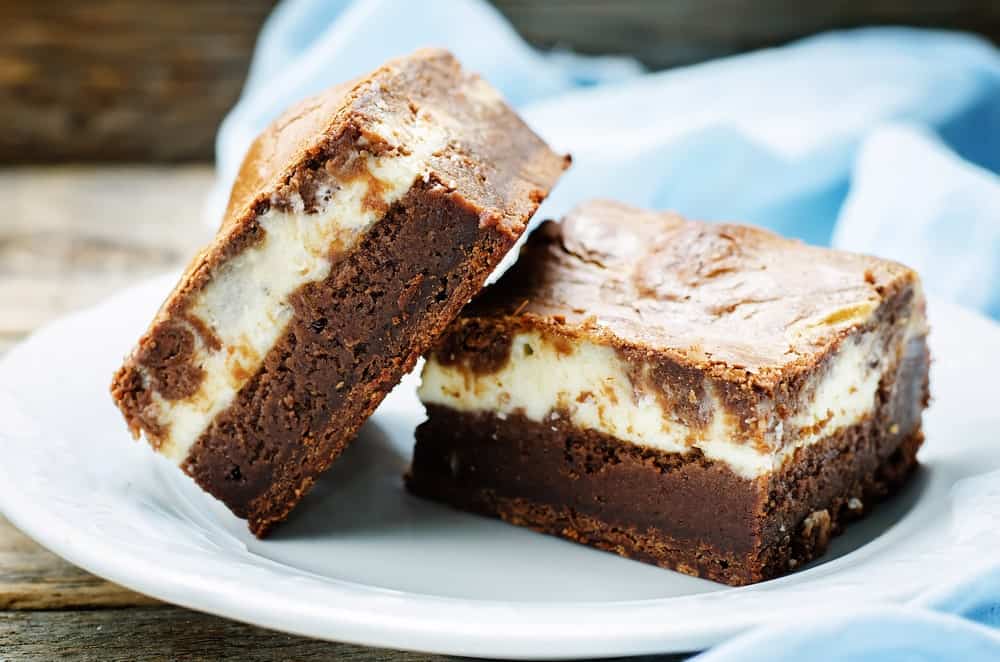 Cream cheese brownies are quite simply chocolate brownies frosted with a cream cheese icing. Tasting similar to a cheesecake, the ingredients in the frosting are sugar, vanilla, cream cheese, and egg yolk.
Frozen Brownie Sundae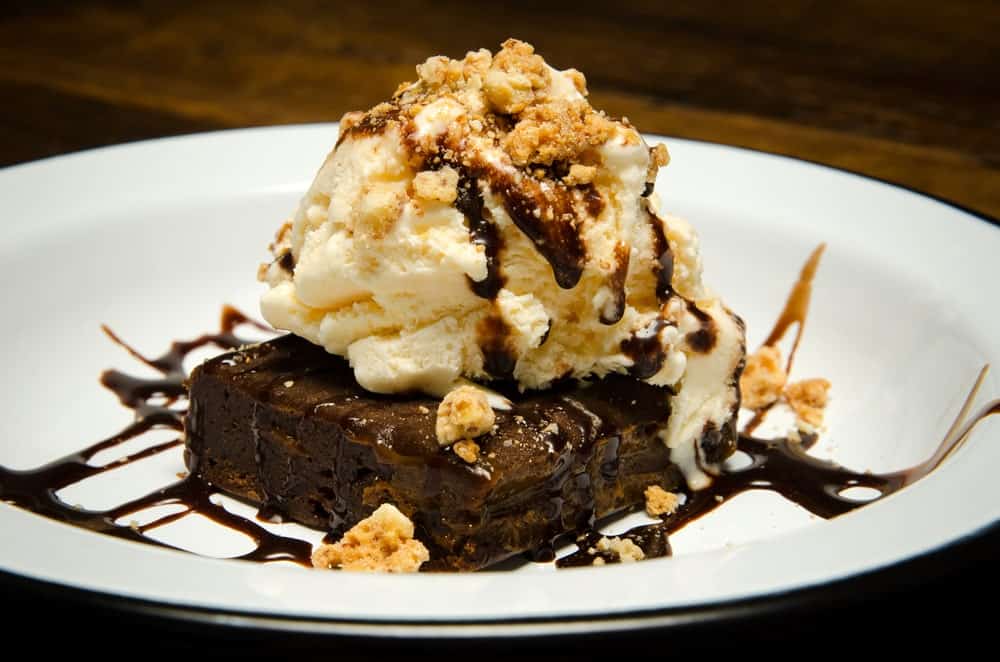 Ah, the quintessential frozen brownie sundae. An ice cream lover's delight. It consists of a basic fudge brownie that is topped with a scoop of vanilla ice cream on top. It may or may not be served with whipped cream and a cherry on top with a chocolate drizzle. The most delicious way to serve this dessert is if the brownie comes straight out of the oven, and the ice cream is placed atop right away, so it is left melting a bit. The contrast in the hot and cold make this combination quite luscious.
Marshmallow Crunch Brownie Bars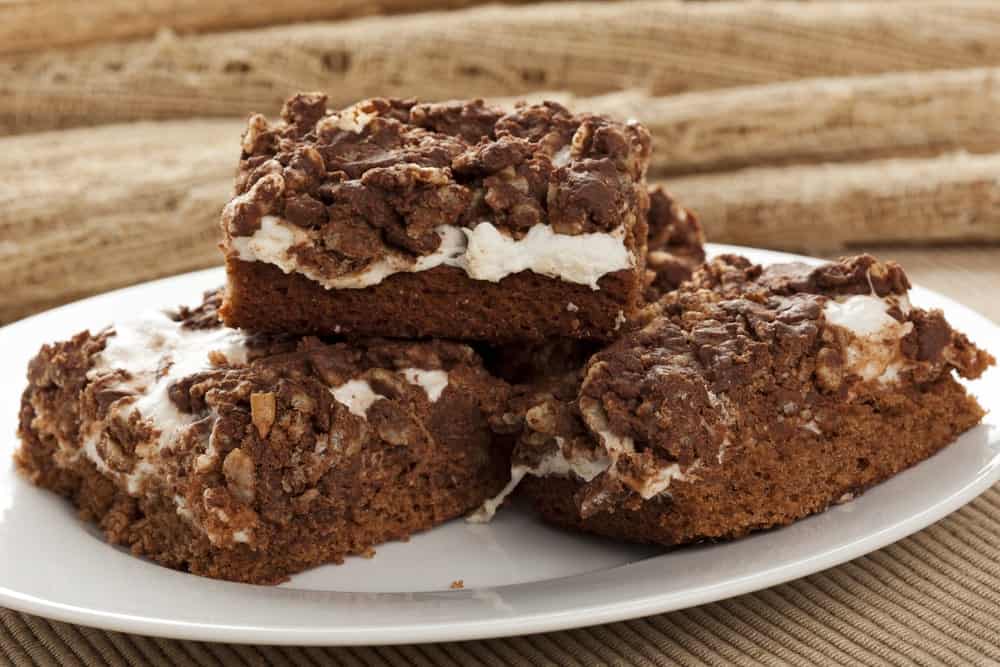 Perfect to take along camping, marshmallow crunch brownie bars are quite similar to smores. These types of brownies are created by using melted marshmallows, chocolate and nuts, and molding them into a bar shape. Very thick, these bars can be made with your choice of dark or milk chocolate.
Peanut Butter Cup Crunch Brownie Bars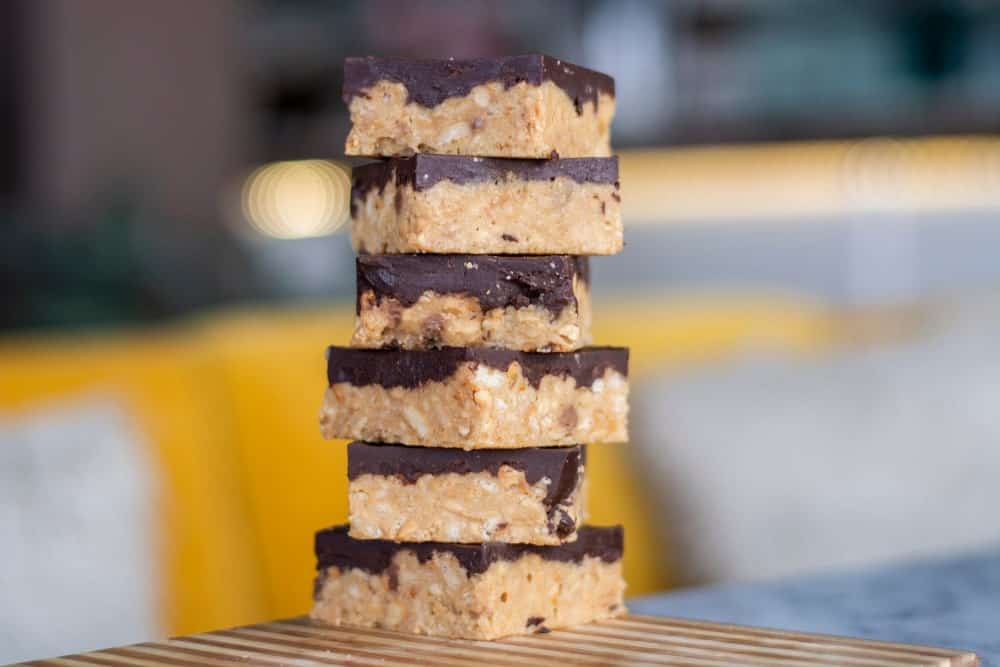 If you have been dieting for a while and are ready for a little break, peanut butter cup crunch brownie bars are the perfect choice for you. Full of healthy fats, you won't need to feel too guilty about eating one of these tasty treats.
Outrageous Brownies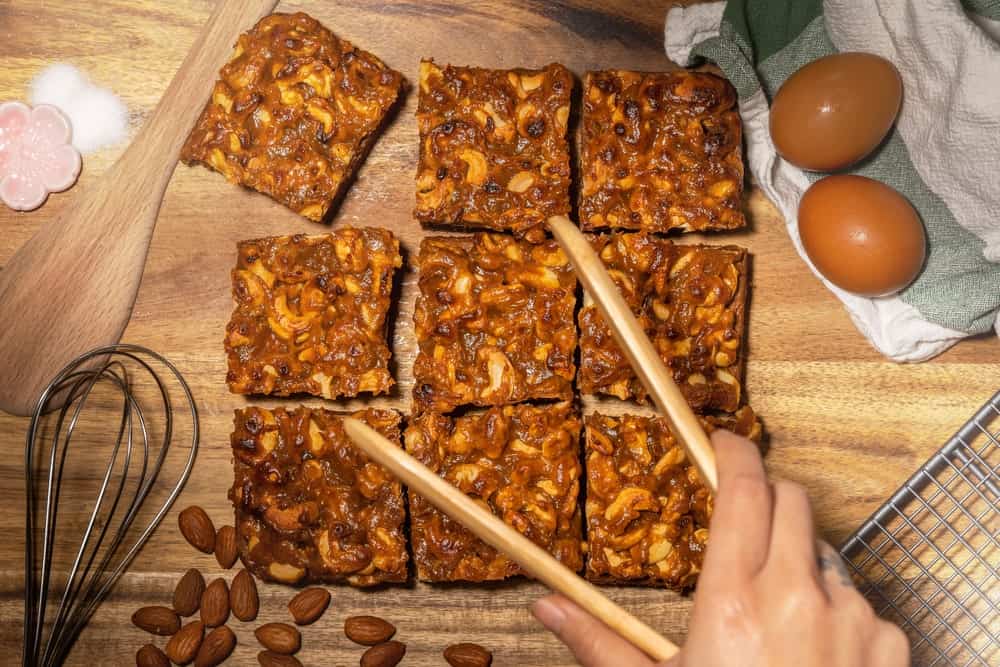 People don't seem to agree on the recipe for outrageous brownies. With that being said, we like this recipe that comes from Ina Garten. She uses lots of chopped up walnuts and almonds, along with a pound of chocolate and 6 eggs!
Sweet & Salty Brownies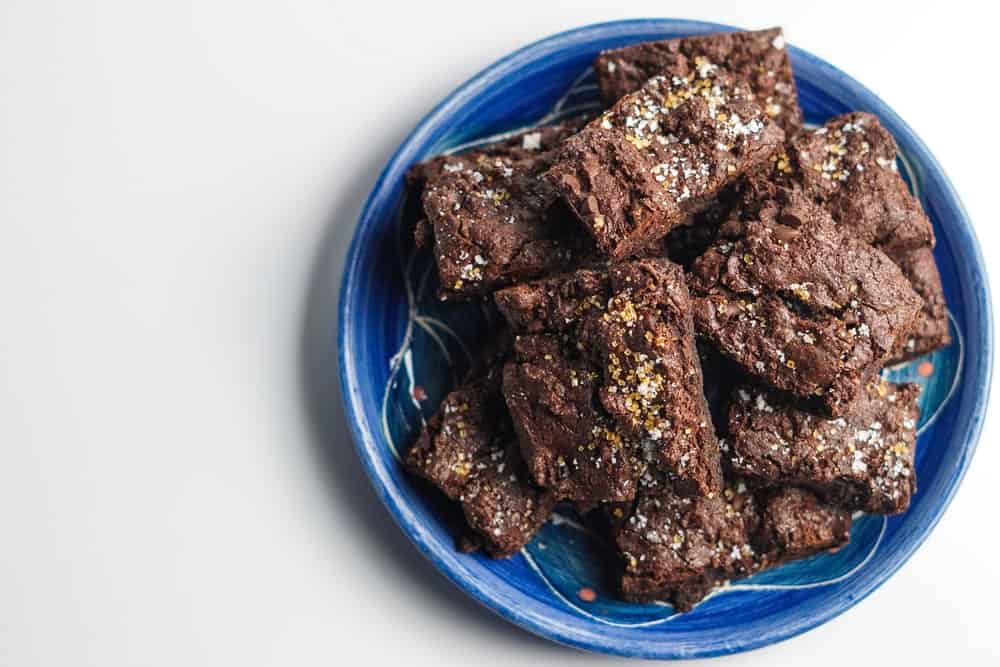 My mouth is watering right now, thinking about sweet & salty brownies, that is flavored with caramel and salt. Even on top, they are sprinkled with coarse sugar and drizzled with caramel. You can even choose to add as much salt on top of them as you so desire. They are a spinoff of baked brownies and you can put as much fudge as you like when you make them.
Chocolate Mint Brownies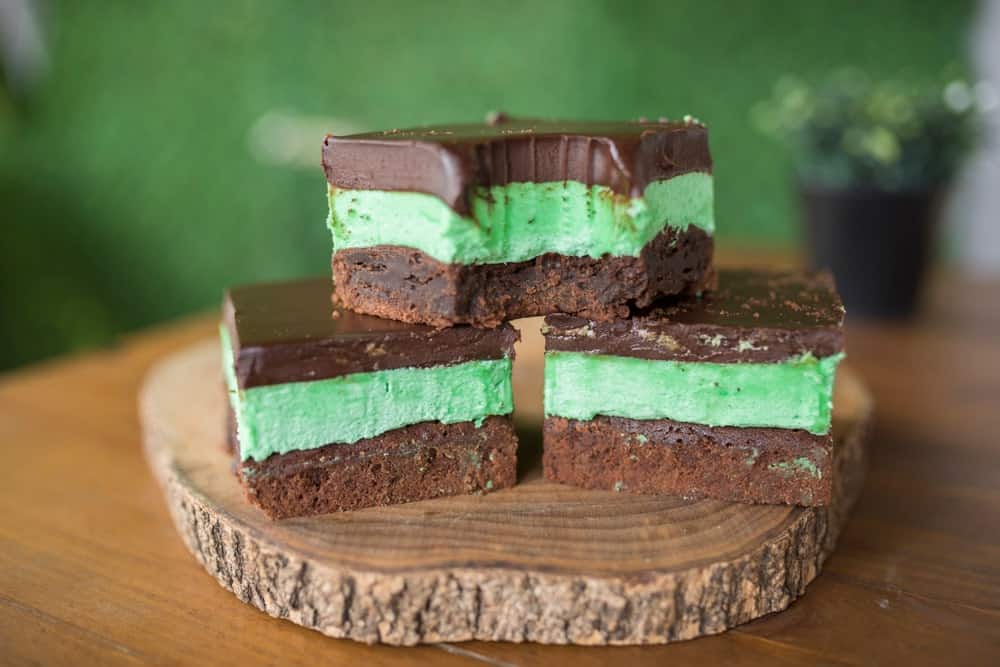 Perfect for the holidays, chocolate mint brownies contain a teaspoon of mint extract. They appear green because they contain green food coloring. To make them extra tasty, you can top the brownies with a handful of mini chocolate chips and some butter cubes to give them that extra special taste.
Chunky Blonde Brownies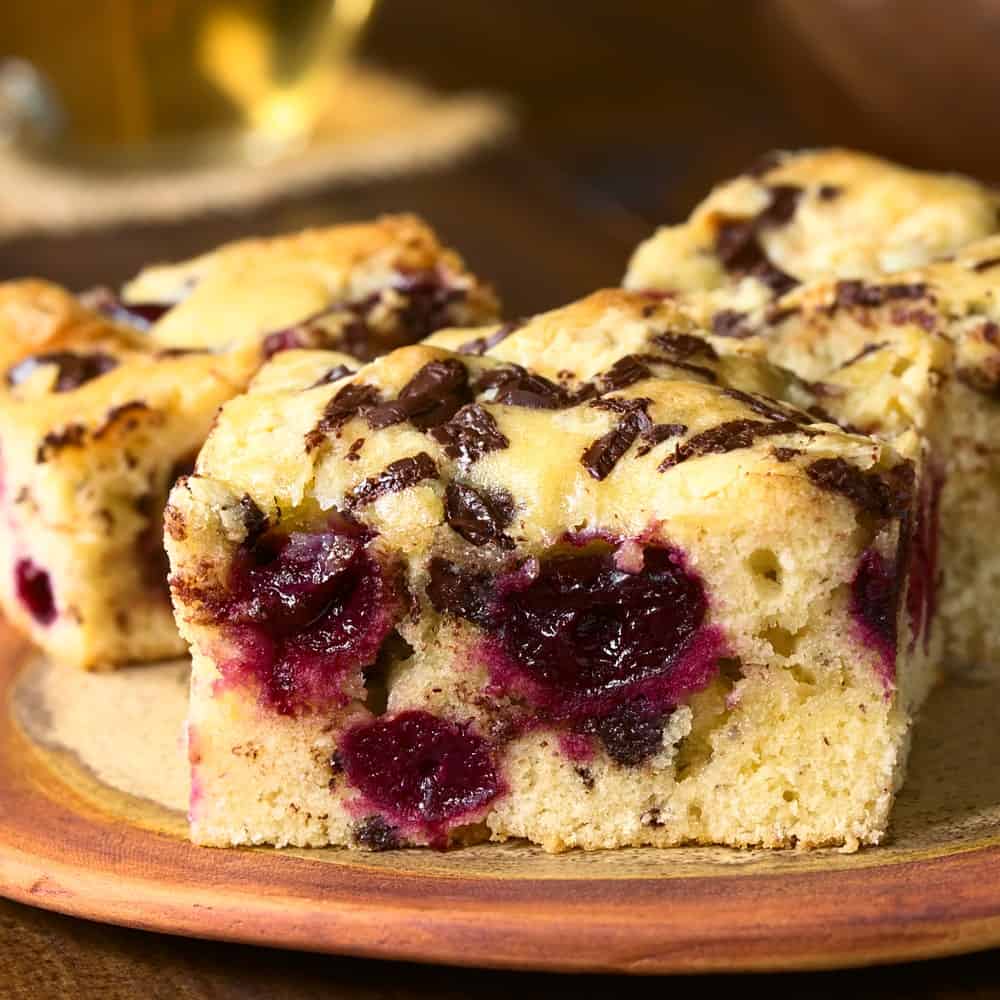 Chunky blonde brownies have a very specific look to them because of their yellow color and chocolate chips within the brownie itself. You may choose to make them with chocolate chips, macadamia nuts, or chopped blanched almonds. There are many different ways to make chunky blonde brownies. Though each recipe is a little different, what stays the same is how each one uses a lot of vanilla extract in its ingredients, compared to baking cocoa.
Cream Cheese Swirl Brownies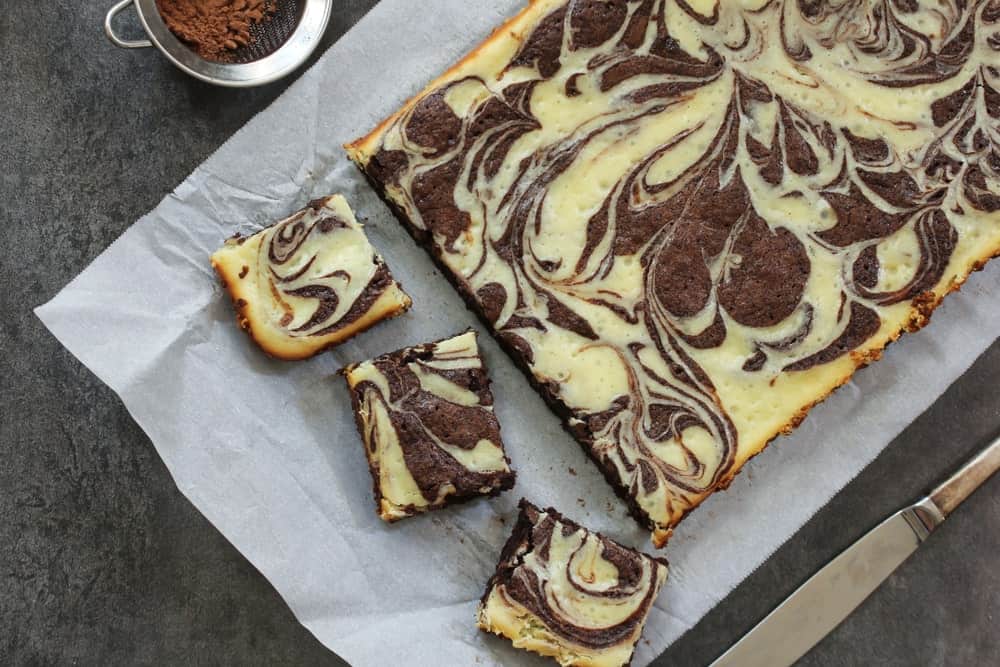 Similar to cream cheese brownies, cream cheese swirl brownies have one difference. To make them, you use reduced-fat cream cheese. Reduced-fat cream cheese needs to be used in order to make the cheese swirl properly. To make these brownies a little more diet-friendly, you can also choose to use reduced-fat butter along with the usual cocoa powder, vanilla extract, and baking cocoa.
Peppermint Brownies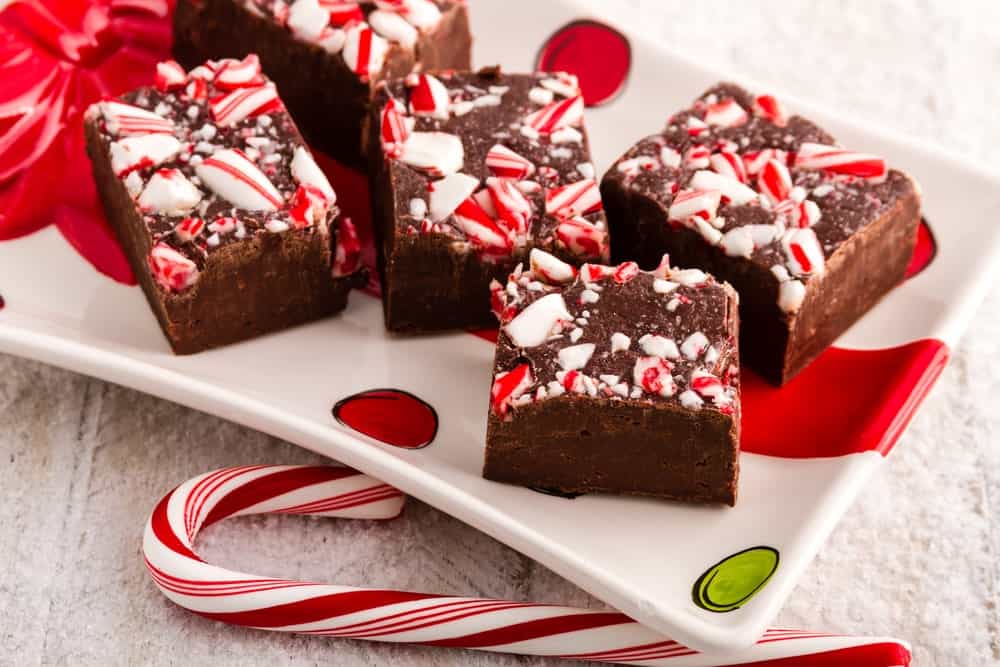 Another perfect Christmastime treat, peppermint brownies are simply precious to look at. They are made with baking cocoa, canola oil, and crushed peppermint candy. These brownies are glazed on top and decorated with chocolate mints if you like.
You may choose to flavor the brownie mix with some peppermint extract as well if you so desire. You can even choose to use food coloring to change things up a bit. However, it isn't recommended to add any extra flavored chips to the mix as it doesn't work well with these brownies.
Candy Bar Brownies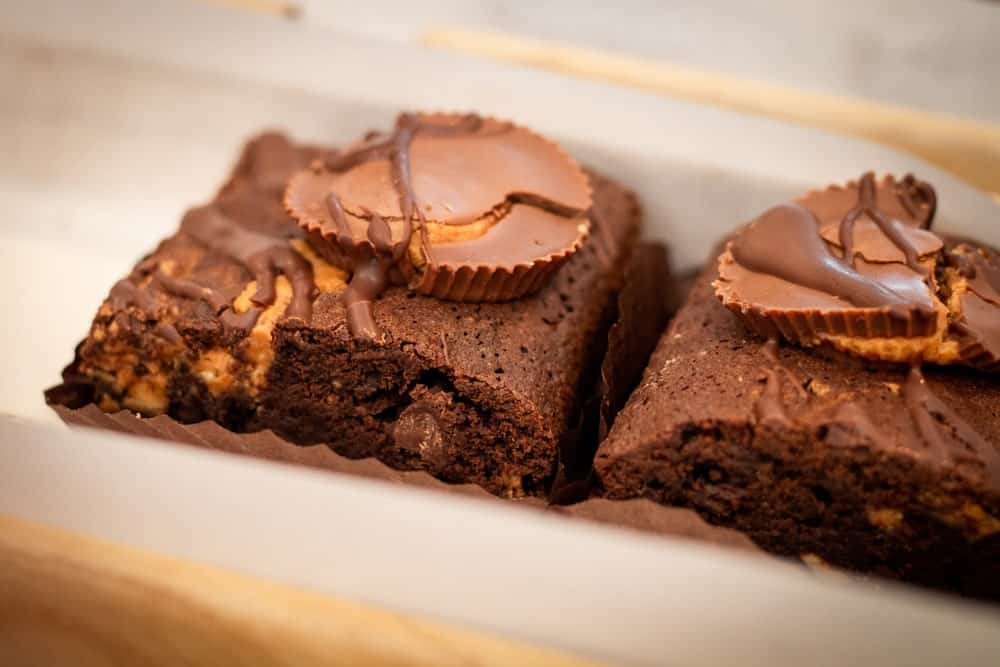 There are 2 reasons why candy bar brownies are named as such. The first reason is that they are made to look like candy bars. The second reason is that they contain pieces of candy bars within them.
The choices of what candy bars to put in candy bar brownies are limitless. Some choices are Reese's, Snickers, Kit Kat, Twix, and so on. Adding actual candy bars to these brownies make them have more of a crunchy and chewy texture than regular brownies.
 Cookies & Cream Brownies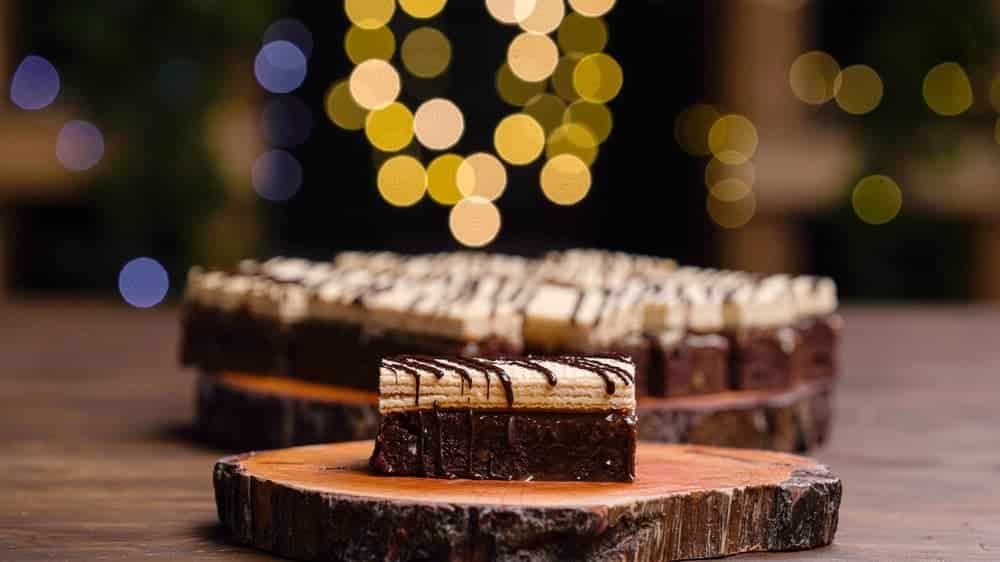 When you look at cookies and cream brownies, you will immediately notice how different they look from other brownies. They are made by taking your favorite cookies and smashing them up and then blending them with whipped cream or cream cheese.
For cookies and cream brownies, you may choose cookies such as Oreos, chocolate chip cookies, or vanilla wafers for example. You may choose to crush up more of these cookies and place them on top if you like. Because of their distinct texture and appearance, they are often favored by dessert aficionados.
Frosted Fudge Brownies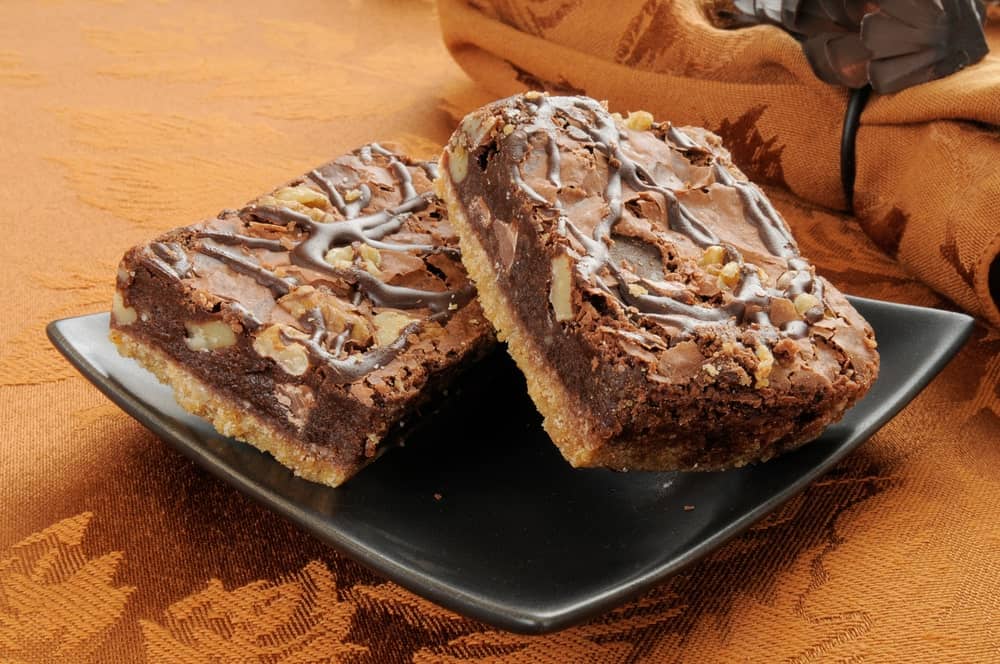 All you need to do is put some yummy fudge frosting on fudge brownies and voila! You have some of the most prized brownies ever. Because of this, frosted fudge brownies are a best-seller in every bakery around the globe. Perfect with a tall glass of milk, they make a great midnight snack.
White Chocolate Cranberry Blondies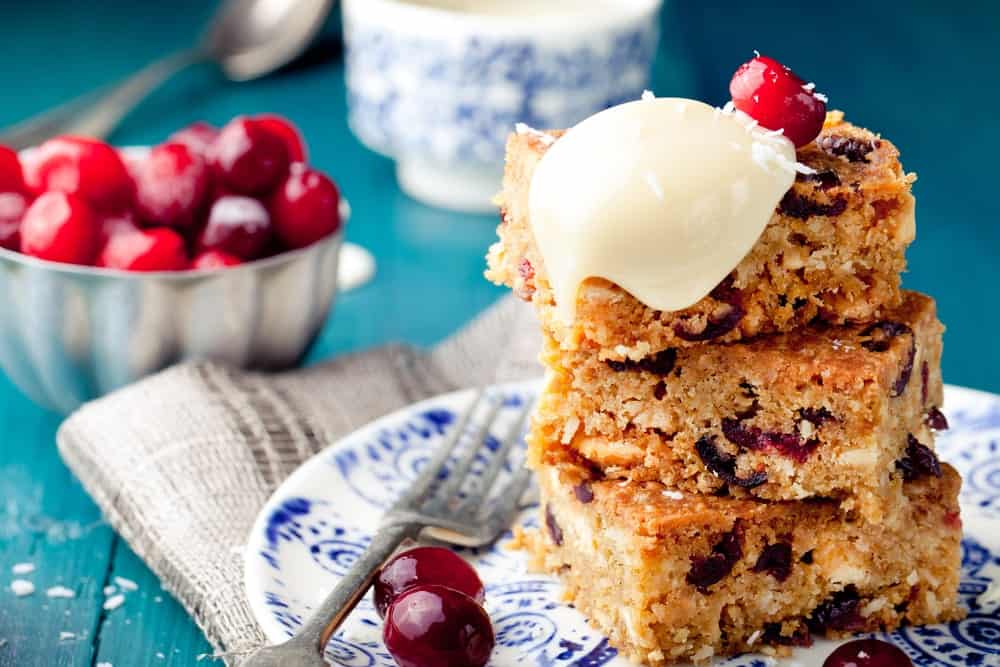 Some people believe that cranberries should only be eaten at Thanksgiving. However, I will bet they haven't ever tried these white chocolate cranberry blondies! To make them, combine 8 ounces of cream cheese with 1 cup of powdered sugar. To add a little zing, frost them with white baker's chocolate and garnish with grated orange zest. Cranberries are used to decorate the top and are weaved throughout the brownie batter.
Coffee & Cream Brownies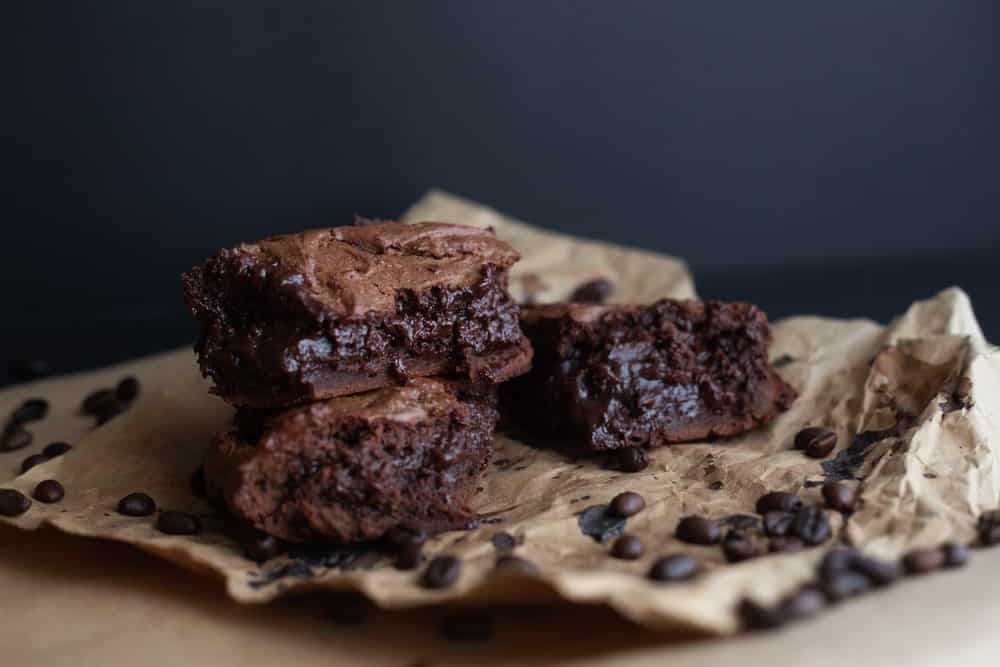 To make coffee and cream brownies, you start with a basic brownie recipe. Then you just add coffee granules and heavy whipping cream. Perfect for coffee lovers, it is a simple and fast recipe to follow. Add a few chocolate chips for an extra punch. They only take 30 minutes to make.
Dark Chocolate Pomegranate Brownies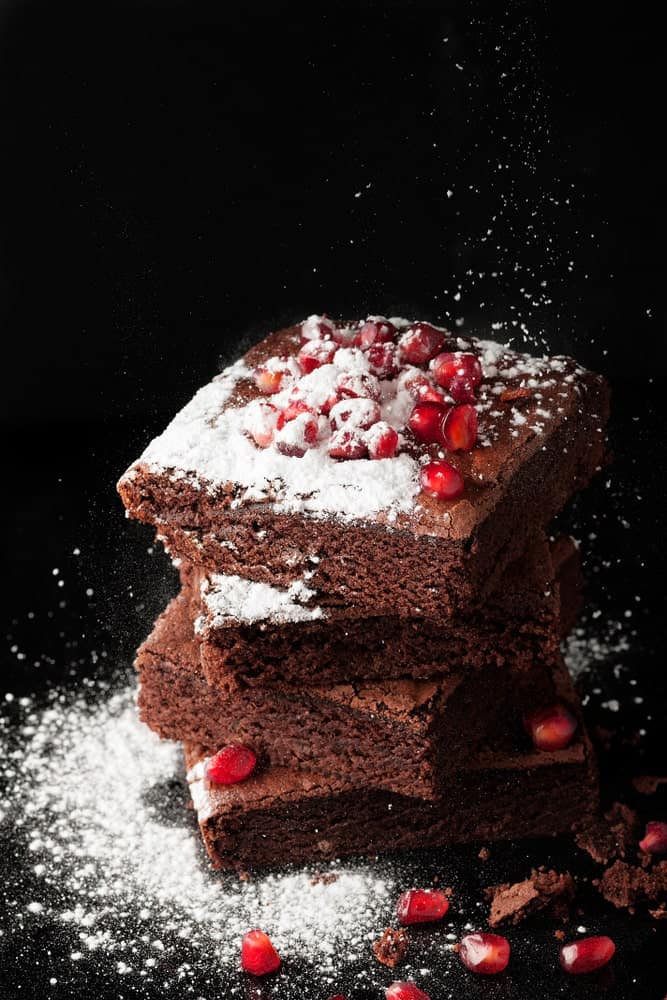 If you are ready to pull out all the stops and impress your friends and family with something fresh and new, these brownies are for you. These brownies use dark chocolate, honey, olive oil, agave, and refined sugar. To make them even healthier, you can choose to use beetroot juice instead of sugar.
Dark chocolate is decadent but is actually very good for you. Pomegranates are well-known for their superfood status. Brownies that are good for you? What can beat that?
Butternut Brownies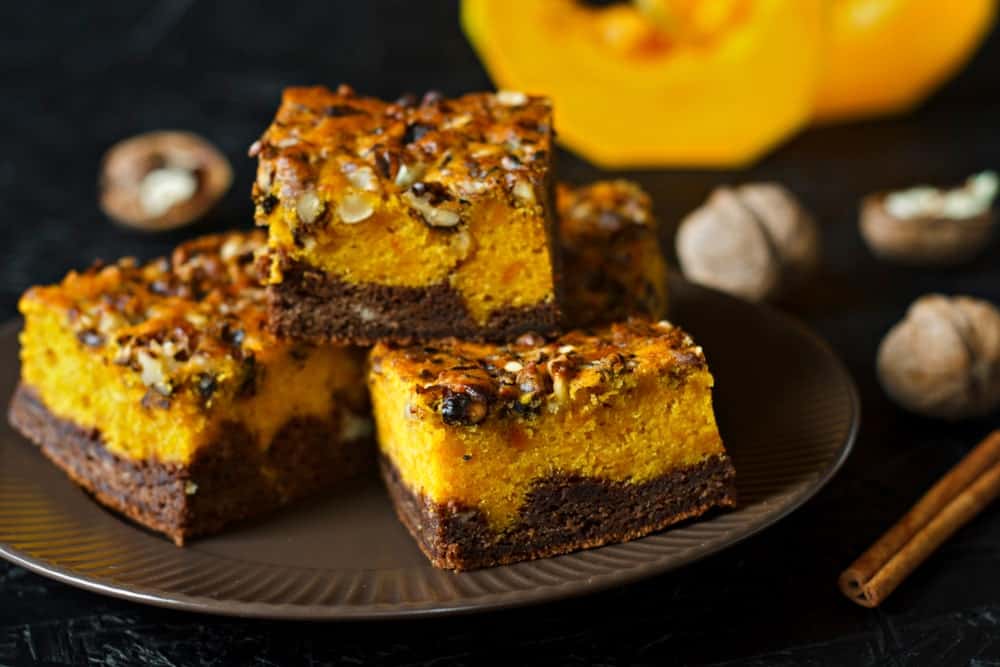 Containing roasted butternuts, butternut brownies also contain coconut milk, peanut butter, and cocoa powder. Combine these ingredients, and you get a decadent flavor and texture. Chocolate chips, cranberries, blueberries, and pumpkin seeds can also be added to make things more interesting. Granola is another flavorful choice. You only need to carve out 25 minutes to make them. This recipe is also very healthy, due to the fact that it is low in calories and high in good fats. Though it tastes just as good as regular brownies, there simply isn't much chocolate fudge in butternut brownies.
The Bottom Line
Whether our taste in brownies runs basic or elaborate, decadent or healthy, our love for them is here to stay.