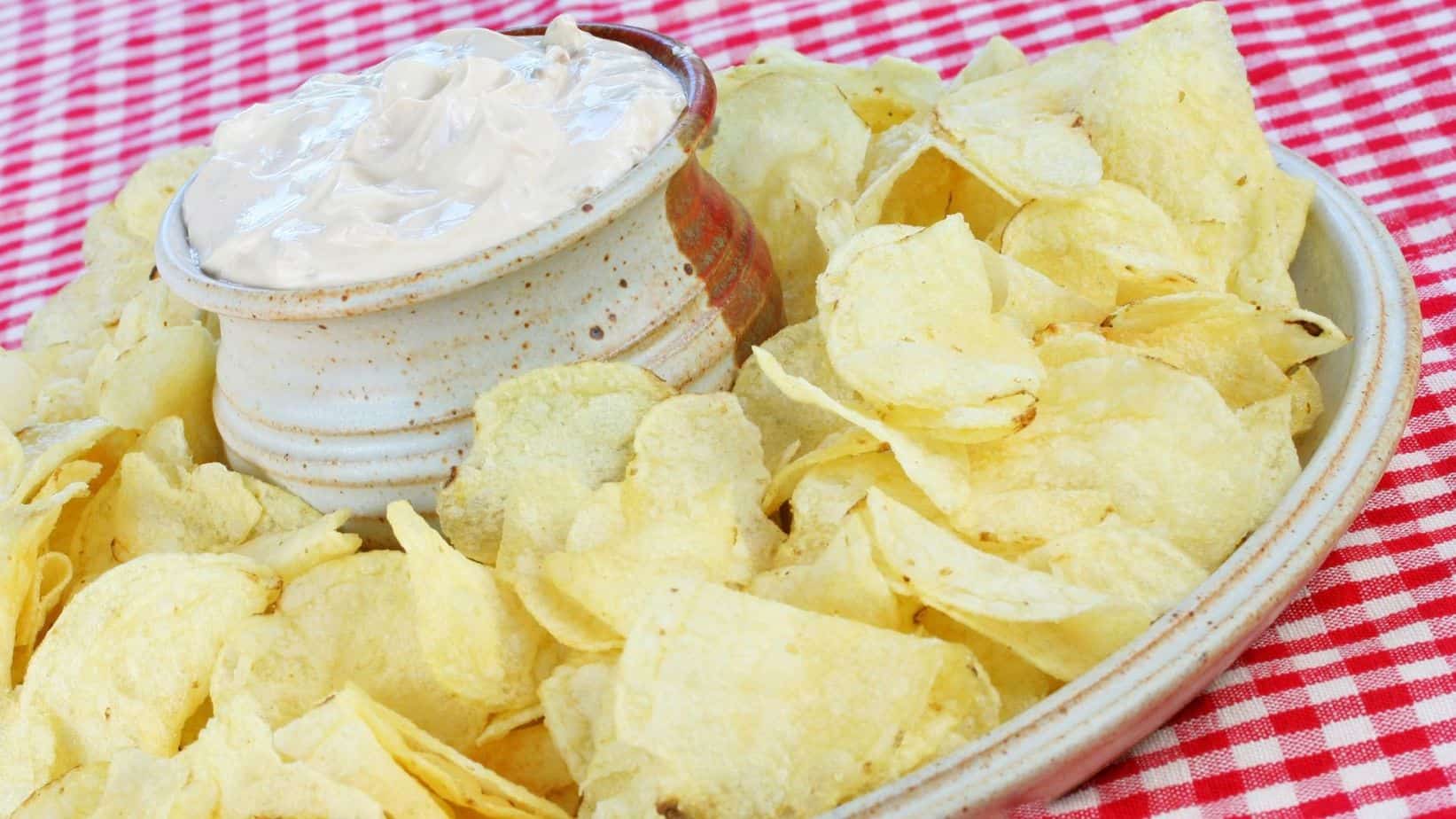 Chips and dip are a staple appetizer and snack at most parties and it is hard to imagine a get-together without them. If you're hosting an event and don't have a chip and dip bowl, you're missing out on an easy way to serve your guests.
But as you can imagine, there are tons of chip and dip bowls on the market so it is a bit overwhelming to figure out which one is perfect for you. Don't worry, the folks over here at Home Perch recently tested a bunch of chip and dip bowls and we all have five extra pounds to prove it. We all ate way too many potato chips and onion dip! Anyway…we narrowed down the four best chip and dip sets based on quality, price, and durability so keep reading to find out our top picks.
What is a Chip and Dip Bowl?
A dip bowl is a small, shallow serving bowl typically used for serving dips, such as salsa, guacamole, queso, or onion dip. The chip bowl is the serving tray that the dip bowl sits on. This is where you hold the potato chips, crackers, pita bread, veggies, or tortilla chips. Dip bowls are often found in a set of two or four, with one bowl being deep and the others shallower.
Color, Style, and Materials
Chip and dip bowls come in just about any color and style. They are available in many different materials such as glass, clay, wood, pottery, plastic, stoneware, and ceramic.
If you're looking for something sturdy and reliable, you might want to opt for a ceramic chip and dip platter. If you'd rather something a little more shiny and festive, you might want to consider a plastic one.
A Versatile Product
A chip and dip bowl is quite versatile. You can use it as a candy bowl, a fruit bowl, a nut bowl, a pencil holder, or just about anything else you can imagine.
Here are some of the best ones that you can order from Amazon. Grab one for yourself and grab one for that person who has everything. It really is the perfect gift for any occasion. I got a chip and dip bowl for my wedding shower 15 years ago and I use it all the time. The china set? Not so much!
The Best Chip and Dip Bowls
Mind Reader Chip and Dip Bowl
If you're looking for a Chip and Dip Bowl that's sturdy and reliable, then you should consider the Mind Reader. This stylish set is made of acrylic and is built to last. The dip bowl is not removable but we liked that because the dip stayed in place right in the middle. It is available in clear, yellow, blue and red. It will steal the show at your next get-together. All of your guests will be gathered around it…guaranteed!
Gibson Elite
If you're looking for something a little fancier, then you should definitely check out the Gibson Elite. It is made from ceramic, so it's both sturdy and reliable and has a sleek, modern design that would look great at any table. It comes with a metal stand so you can attach your dip bowl to the stand which gives you more room in your chip bowl.
Chips and Salsa Dish
If you're looking for colorful and festive, then the Jumbo family size Chips & Salsa Dish is perfect for you. It is made of shatter-resistant embossed melamine (plastic resin), so it's lightweight and easy to carry. It's beautiful design that would look great at any party and it's dishwasher safe which is always a plus!
Sweese Divided Serving Dish
If you're looking for a dish that you can put more than one type of chip in it, then you should check out the Sweese Serving Dish. It is made of durable porcelain and our favorite part is all of the pieces are separate, so it is super easy to refill food for parties. You don't have to take the whole tray away to add more food. Plus the separate compartment also makes dishwashing and storing easy. It is also safe for the dishwasher, microwave, and freezer which is a HUGE plus in our opinion!
What Are You Waiting For?
Now go and grab a bag of chips and some onion soup mix and sour cream. Stir up that onion dip and test out your new chip and dip bowl just to make sure it works! 🙂
You Might Also Like: