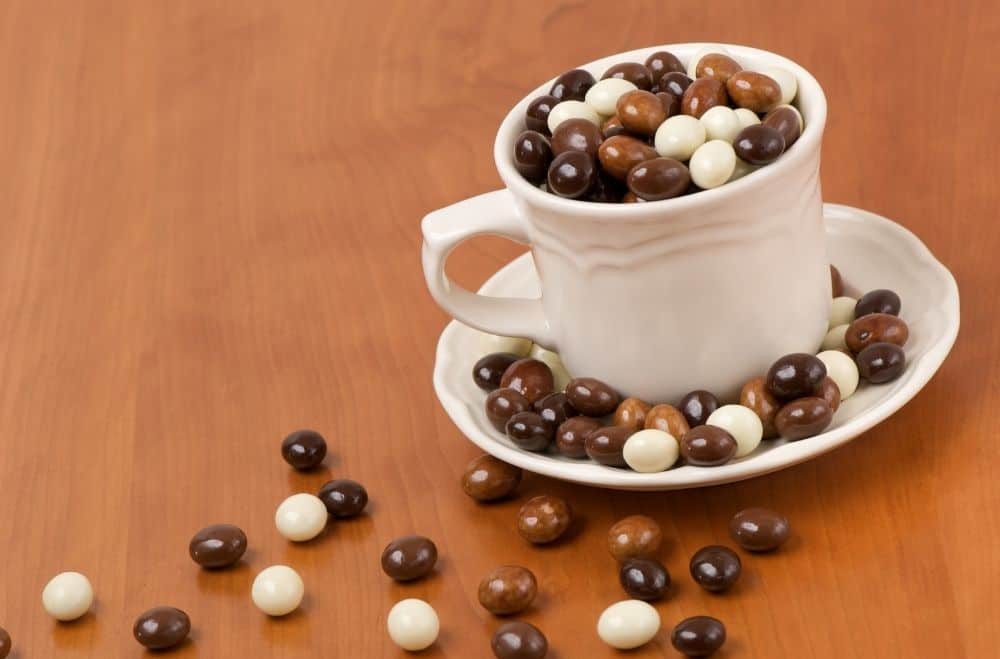 Before we start discussing chocolate covered coffee beans, did you know that an estimated 2.25 billion cups of coffee are made and consumed every single day. That is a lot of people getting a daily caffeine fix!
A Bit of History
It is also widely believed that coffee beans were chewed as a stimulant long before they were brewed into one of the most popular drinks in the world.
Historians also believe coffee beans may have been ground down and mixed into a thick paste with ghee (clarified butter) or animal fat, then rolled into small balls. In some areas of Kaffa and Sidamo, this tradition of eating ground coffee in ghee is still followed. In other areas, the cherries from the coffee plant were fermented into a type of bitter and strong wine.
Chocolate Covered Coffee Beans
Now that we have gotten some of the histories of coffee out of the way, let's get to the star of this post: chocolate covered coffee beans! Did you know that chocolate covered coffee beans are not only covered in dark, white, and milk chocolate but they also come in other flavors, as well, including vanilla, hazelnut, caramel, and even pumpkin?
There is an average of 165 calories per quarter cup and 2 grams of dietary fiber. Not bad at all for this decadent treat.
But Are Chocolate Covered Coffee Beans Good for You?
One of the most popular ways coffee is thought to be good for us is that it has a high antioxidant content. Coffee ranks quite high in a group of antioxidants called dietary phenolic compounds.
A lot of these antioxidants can be found in plenty of plant-based food and drink, coffee is a particularly good source. It's no surprise that undiluted whole coffee beans are packed extra full of antioxidants. These antioxidants are thought to protect us from cardiovascular disease, inflammation, and other diseases.
This may seem counterintuitive that a chocolate coffee bean would reduce your risk of diabetes, but chocolate and coffee may help with blood sugar regulation. Dark chocolate can speed your body's processing of blood sugar.
Make Homemade Chocolate Coffee Beans
If you have had a hard time finding your favorite chocolate coffee beans, or perhaps you just find them too expensive, why not make your own? They are very easy to do and you will get a lot more treats for your money.
The best part is that you can make several different kinds using different ingredients. Use various beans, some strong, or rich, or the milder ones. Some good ones to try are arabica coffee beans, espresso coffee beans, peaberry beans, cacao beans, and the robusta bean. Watching your caffeine intake? Decaffeinated beans work great too.
Try Some Different Flavors
You can also experiment with different flavors and types of chocolate, as well. Try melting down any type of chocolate including chocolate chips, white chocolate, gourmet chocolate, premium dark chocolate.
You can add flavored oils or extracts to your melted chocolate. Some popular flavors that will pair nicely with coffee are mint, orange, almond, cherry, coconut, hazelnut, pistachio, vanilla, raspberry, strawberry, and maple just to name a few.
These will work extremely well with any type of chocolate that you like. Try mixing and matching flavors with different types of chocolate. Use a bit of coconut oil when melting the chocolate.
Dip the beans in the melted chocolate, place them on a cooking sheet covered with wax paper, and put them in the fridge or freezer until they set.
You can make a lot of different flavors when you make your own and you never know what will be your favorite from week to week. You can add them to your favorite dessert as decoration, or have them as a sweet, bitter snack when you like.
Just find some quality roasted coffee beans that will not taste too bitter when you eat them and then cover them with all the different flavors that you like.
More Than Just a Snack
If you let your imagination go a little crazy, you can find all sorts of uses for your chocolate-covered coffee beans.
Baking
You can add chocolate coffee beans to your baking confections. Put them on a chocolate cake, a coffee-flavored cake, or a chocolate coffee-flavored cake. They will also work well as an accent to other treats.
If you have an orange-flavored cake, add your orange chocolate coffee beans as decoration to the cake. They look great and add that extra little kick of flavor that your guests will not expect.
On Top
Put them on top of your plain ice cream, yogurt, ice cream sundae, and pudding. Sprinkle a few into your trail mix, granola, or other nutty treats.
As Gifts
The coffee lover and chocolate lovers in your life will love coffee beans covered in chocolate. Wrap them up in cellophane or waxed paper with a bow that matches the flavor of the bean, like red for cherry and green for the mint ones.
Put them into small jars with decorative lids for gifts. Decorate the jar to suit the occasion, for a birthday, anniversary, or Christmas.
Chocolate and Coffee for the Win
The next time you visit your favorite coffee joint, be sure to check out their selection of chocolate-covered coffee beans. They will likely have them in espresso, Columbian, dark roast, and whatever else they carry. You can find these tasty treats at Dilettante Chocolate and of course on Amazon.
You might also like: