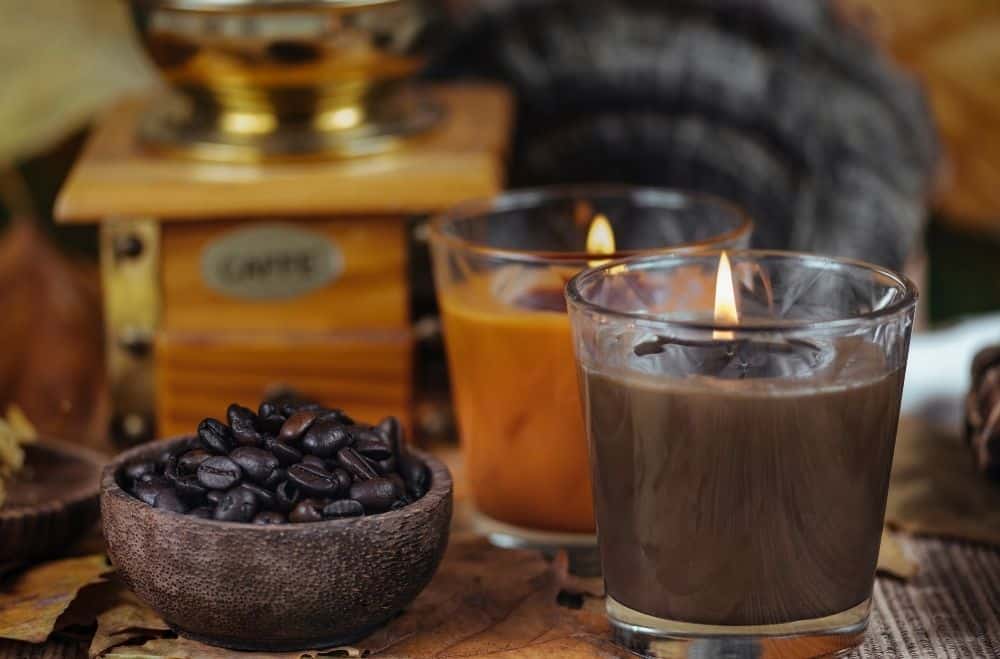 Whether you're a coffee drinker or not, there is no denying its rich, smooth, and pleasant aroma. A mug of fresh brewed coffee is an early morning pick-me-up for a lot of people, but some research suggests you don't need to drink it for it to kick your brain into high gear. Instead, the delightful scent can be just as beneficial.
It's easy for a coffee lover to put on a pot and fill the house with that sweet smell of coffee grounds, but what if you're not a coffee drinker? It's not like you want to brew a pot of coffee just so you can smell it. That is where a coffee scented candle can come into play.
With the seemingly endless choices in candle scents these days, it's not surprising that candle makers are capitalizing on the intoxicating aroma of coffee. Because they are, we've put together a brief list of some of the best ones you can find online.
Choosing the Right Coffee Scented Candle
When candle shopping, people tend not to put much thought into it, but there are some things you may want to take into consideration before buying the right coffee scented candle. Before we get into our list, let's take a quick look:
Be Mindful of the Space
The space you intend to use your coffee scented candle in could be one of the most important things to consider. The space you intend to fill will also determine the size of the candle you purchase. A large candle in a small space can quickly become overwhelming, where a small candle in a large area will probably seem underwhelming.
Consider the Ingredients
When it comes to staying healthy, we're always on the lookout for the right ingredients in just about anything we buy. But when it comes to candles, those ingredients can be overlooked.
Most scented candles are made from a combination of wax and petroleum. Burning petroleum, along with some of the other ingredients that candles use for color, smell, and burn time, can pollute the air inside your home and release toxic fumes that are similar to diesel-burning machinery. Without the right airflow, a small amount of these toxins can have a large impact.
Look for a candle that uses ingredients like soy wax, which burns cleaner with less soot and, therefore, has less effect on the air in your home.
Check the Burn Time
A long burn time is a sign of a quality candle. A long burn time will mean your candle is going to last longer, and you will get the most out of the money you are spending.
It is important to note that some cheaper coffee scented candles on the market will claim to be slow-burning, but they'll sometimes use less than desirable ingredients to achieve that attribute. Burn time and ingredients are something that should go hand in hand when choosing the right candle.
Don't Forget About the Candle Wick
Have you ever wondered how the wick of a candle always seems to stand upright no matter how many times you have used it? The most common way candle makers accomplished this was by putting lead in the wick. Of course, lead is toxic, and burning it releases that toxin into the air we breathe.
While the U.S. Consumer Product Safety Commission has banned the use of lead in candle wicks, this doesn't stop other countries from using it. You should be mindful of the country that the candle is made in, especially when buying online, and look for things on the label like "100% lead-free candle wick" or "cotton wick."
Where to Find the Best Coffee Scented Candles Online
LightOnMe Coffee Bean Candle
LightOnMe candles are hand-poured candles made using premium oils, soy-based wax, and a cotton wick, all of which eliminate the toxins that other candles can produce.
This candle mixes the scent of coffee beans with vanilla, spices, and nuts to create a scent indicative of local coffee shops.
Its small stature makes it perfect for any room in the house without the worry of it being too overpowering. If you are looking for a candle that will fill your entire home with the scent of coffee, you might be better off to go with the larger version, but either choice will be a good one.
Village Candle Coffee Bean
Village Candle is a candle company that is well-known for creating a wide variety of quality scented candles, and its Coffee Bean is one of the most popular.
This candle blends the scents of espresso, roasted pecans, and Tonka Bean to create a rich coffee smell that will help get your day started right.
The large candle is sure to fill your home with the wonderful smell of coffee for many hours, using natural ingredients to reduce air pollutants. Made in the U.S., the wick is all cotton and 100% lead-free.
Lindsay Lucas Candles Cafe Latte
All Lindsay Lucas Candles are hand-poured in a home studio using all-natural soy wax and put through rigorous testing before being made available for sale.
Lindsay Lucas candles come in three different sizes – 8oz, 12oz, and 25oz. No matter which size you choose, the coffee and vanilla blend is subtle and not overwhelming, and it lasts long after the candle is out.
Hazel Candle Co. Morning Brew Candle
There isn't a lot that can duplicate the wonderful smell of a fresh brew pot of morning coffee, but the Hazel Candle Co. Morning Brew Candle, with its fragrance oil, does just that.
Using real coffee bean essential oils and combining them with natural hints of chocolate and hazelnut, this candle creates the perfect coffee scent that is sure to wake up your senses.
Like the others on this list, Hazel Candle Co. uses all-natural ingredients with no added chemicals and an all-cotton wick to eliminate any harmful soot in the air.
CoCo Benjamin Soy Espresso Latte Candle
The CoCo Benjamin Soy Espresso Latte Candle is the perfect coffee scented candle for small areas, as its scent is light and gentle.
It's not the type of candle that will fill the entire house with its great smell. However, it's good for specific areas in the home, such as the kitchen.
Because of the use of natural soy wax and a cotton wick, the candle produces no soot and creates zero air pollution.
You Might Also Like: