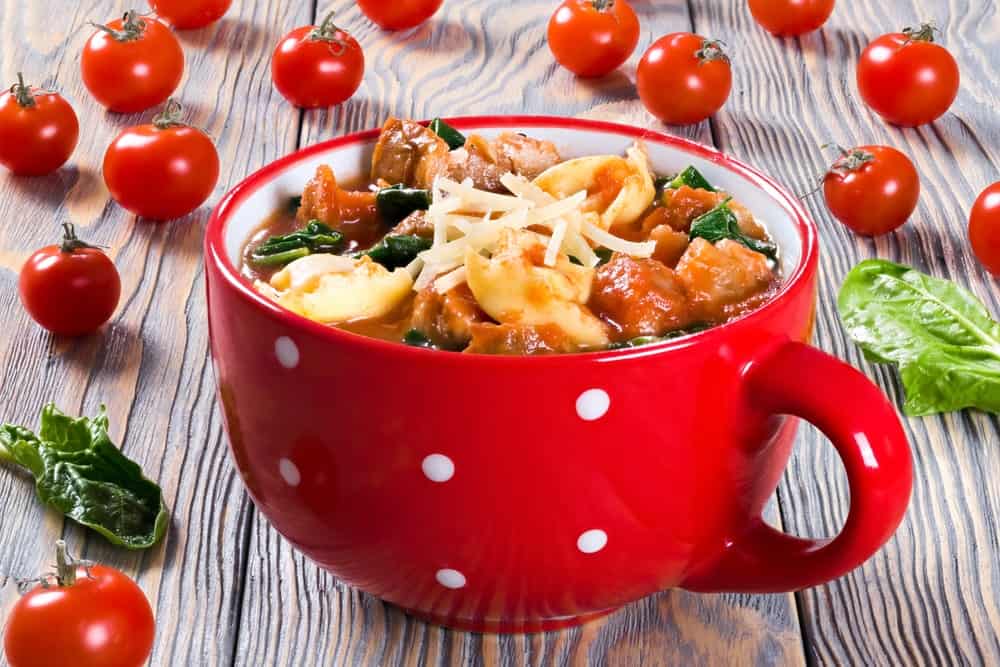 We ate soup often in my house growing up. My favorite, strangely enough, was my mother's vegetable beef soup. She made it with ground beef or leftover stew meat and leftover vegetables with tomato or V8 juice and some fresh onions and garlic, oh, and a few spices, of course. It consisted of different things each time she made it, but it was always delicious.
Soups are like that, warm and inviting – the ultimate comfort food. Top it off with the right cracker or bread and you have the perfect supper for a cozy night in, not just in the wintertime but year-round.
There are all kinds of soups, too. You have your clear soups, like bouillons, broths, and consumes. Then, you have your thick soups, such as bisques and cream soups. You can also make soups by simply taking fresh garden vegetables and a little meat and simmering them down to a mushlike consistency; this is called potage, a Medieval soup from northern France.
The soup recipes are endless. So, why should you try this one soup particular recipe? Try this Dreamy Creamy Spinach and Italian Sausage Soup recipe because it's one of the best soups you'll ever spoon between your lips. Plus, it's simple to make. With bacon, garlic, crushed red pepper, hearty potatoes, and creamy half and half, this soup is bubbling over the top with flavor and personality. So, let's cook up some delicious and Dreamy Creamy Spinach and Italian Sausage Soup.
Preparation Time: 20-25 minutes
This time is gaged for if you DO have to make your own Italian sausage. If not, it will take about 5 minutes less.
Cooking Time: 25-30
Yield: 3-3 1/2 quarts soup
Italian Sausage
Though some will have no trouble, others will find that, in some places, it can be hard to get your hands on Italian sausage. It is hard for me to get. I even tried to order it from the meat company. It costs several times more to ship it than it costs to actually buy the meat.
Not! I have figured out, however, that I can make my own delicious Italian sausage. Also, now that I know how, I can make my own variations on it. If you have trouble finding Italian sausage or if you would just like to make your own, here is the recipe I use to make mine.
Step One
Gather your ingredients and the cooking utensils you will need (your mise en place).
What You Will Need
1 lg – frying pan
1 – wooden spoon or spatula
1 lb – ground pork (you can also use ground chicken, beef, turkey…)
1 tsp – parsley
1 tsp – Italian seasoning
1/4 tsp – fennel seeds
1/4 tsp – paprika
1/2 tsp – red pepper flakes
1 tsp – salt
1 1/2 Tbsp – minced garlic
1/4 tsp – onion powder
Step Two
Place ground meat into a hot frying pan.
Step Three
Add parsley, Italian seasoning, fennel seeds, paprika, red pepper flakes, salt, minced garlic, and onion powder, and fry, making sure to sear in places, until meat is all browned.
Step Four
Drain grease away.
Step Five
Break up meat clumps with a wooden spoon or spatula. I let the meat cool a bit and use my hands.
Dreamy Creamy Spinach and Italian Sausage Soup
Whether you bought it or made it, your Italian sausage is ready, and you are ready to make your soup.
Step One
Gather your ingredients and the cooking utensils you will need (your mise en place).
What You Will Need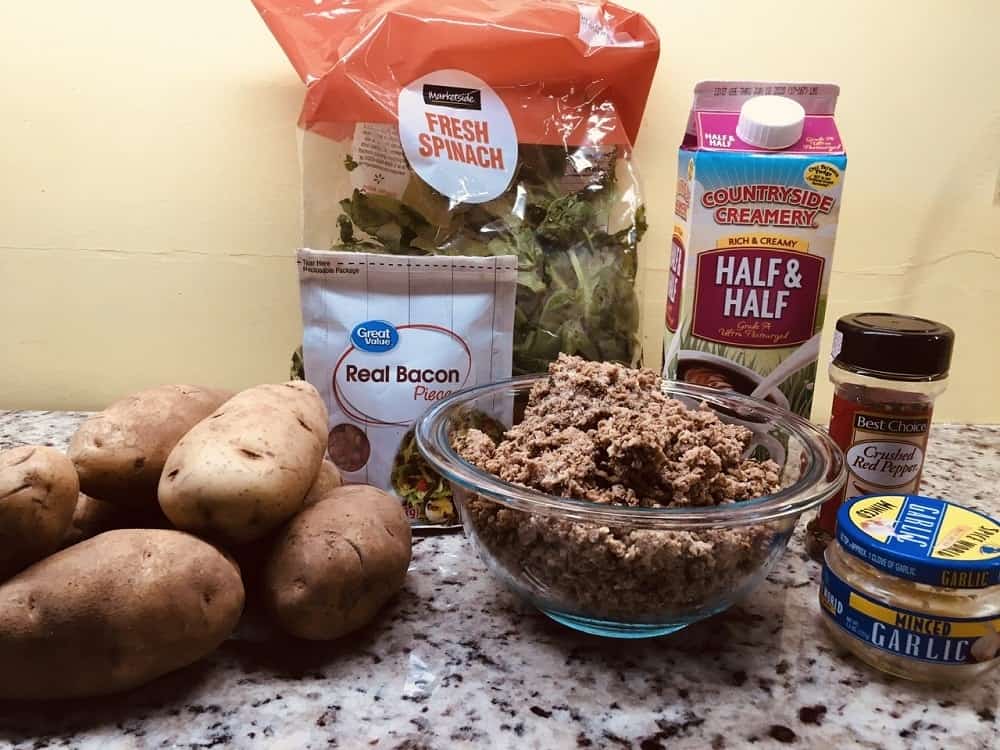 Lg Dutch oven or soup pot
Long spoon to stir the soup with
6-8 med – potatoes, peeled and chopped into 1″ chunks

Russet potatoes will work fine
Scrubbed, unpeeled red potatoes will be great, as well, and will add color to the dish
Tender, buttery yellow potatoes are also a wonderful choice

1 lb – Italian sausage, browned, broken up, and drained, if necessary
4 Tbsp – chopped bacon

You can use bacon bits, but you won't get the same flavor, especially if they are imitation bacon bits

1 Tbsp – minced garlic
1 1/4 tsp – crushed red pepper flakes
2 cups – half and half
2 cups – fresh spinach

You can use 10 oz of frozen spinach if that is what you have
Step Two
Place potatoes in Dutch oven or soup pot, cover with water and boil for 15-20 minutes until you can pierce them through with a fork or knife.
Be careful not to overcook them, as you will have only mush, especially with the yellow potatoes.
Pour off the water until the potato chunks are barely covered with the liquid.
Step Three
Add bacon, Italian sausage, garlic, crushed red pepper flakes, and half and half, and stir to combine.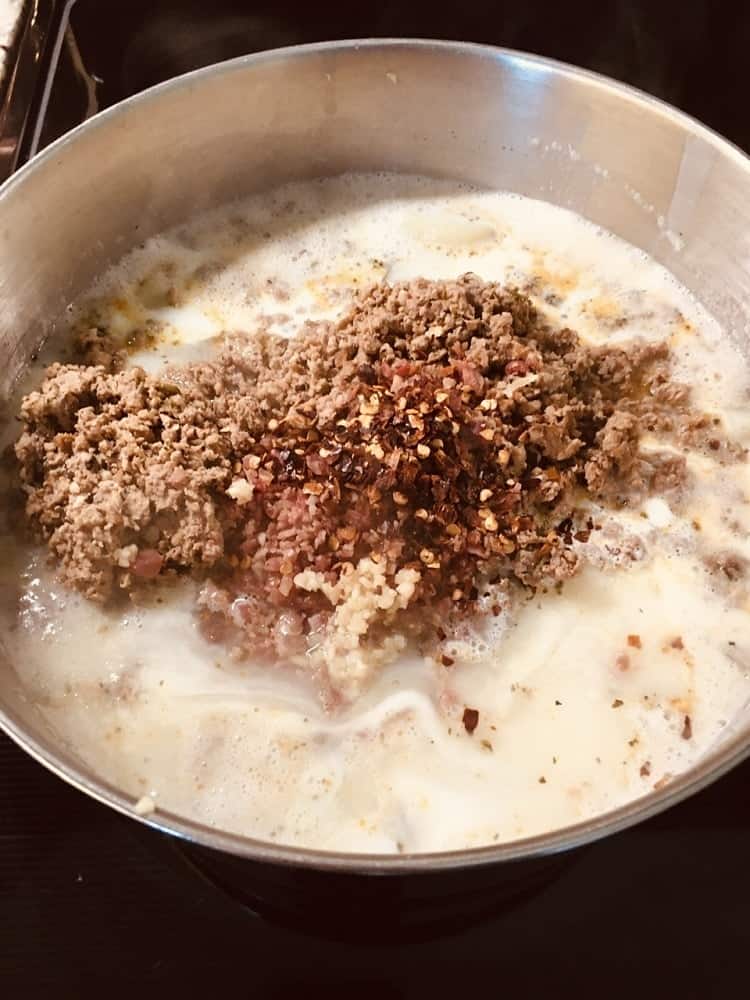 Step Four
Tear the spinach into large bits and stir it into the soup.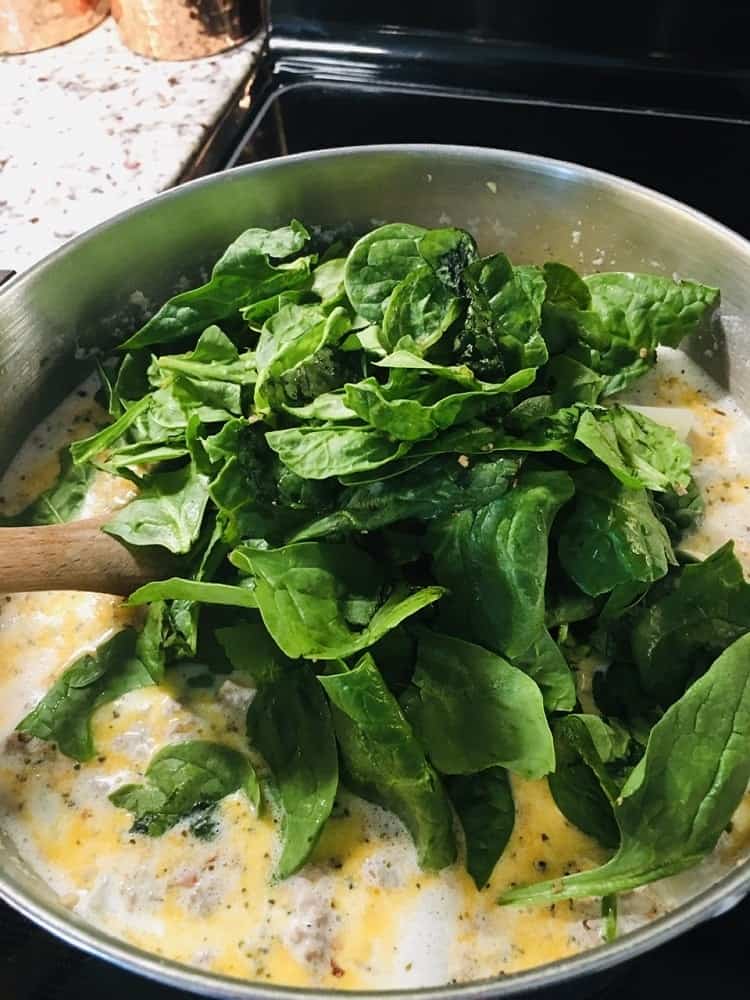 Step Five
Simmer the soup until it is warmed through and the spinach is wilted.

Step Six
Throw a piece of French bread into the oven, and when it's brown and crisp, cozy up to this soup and have a great evening!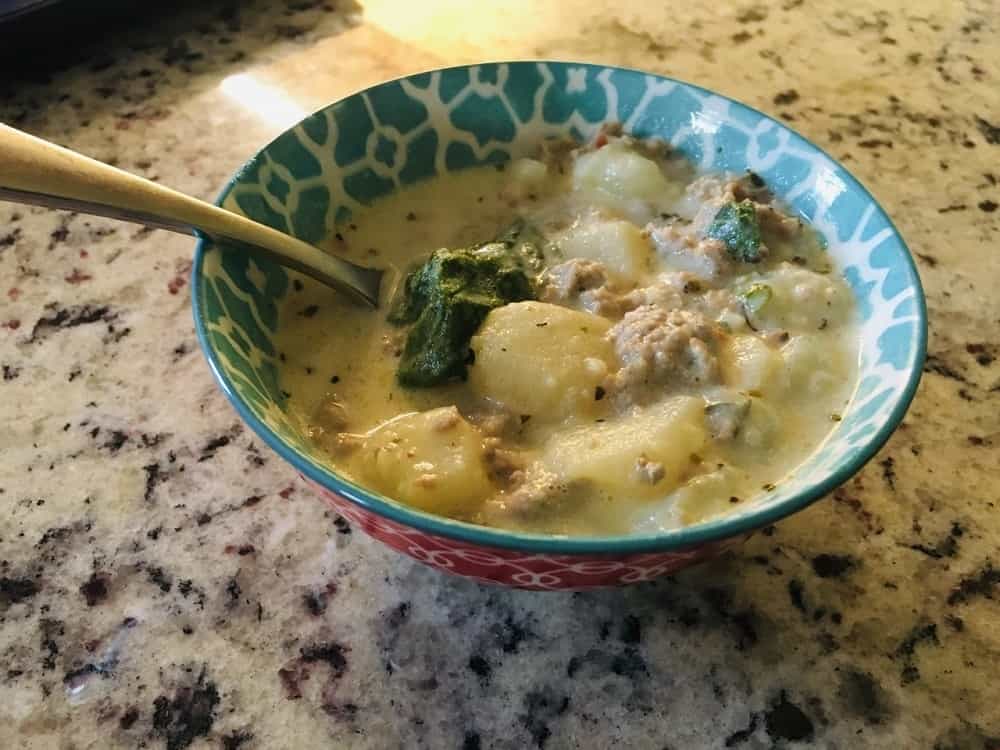 Helpful Hints
Hint #1
This recipe feeds my family of six very well. To stretch it out further, add two or three more potatoes and a half-pound more Italian sausage – maybe a hint more spices.
Hint #2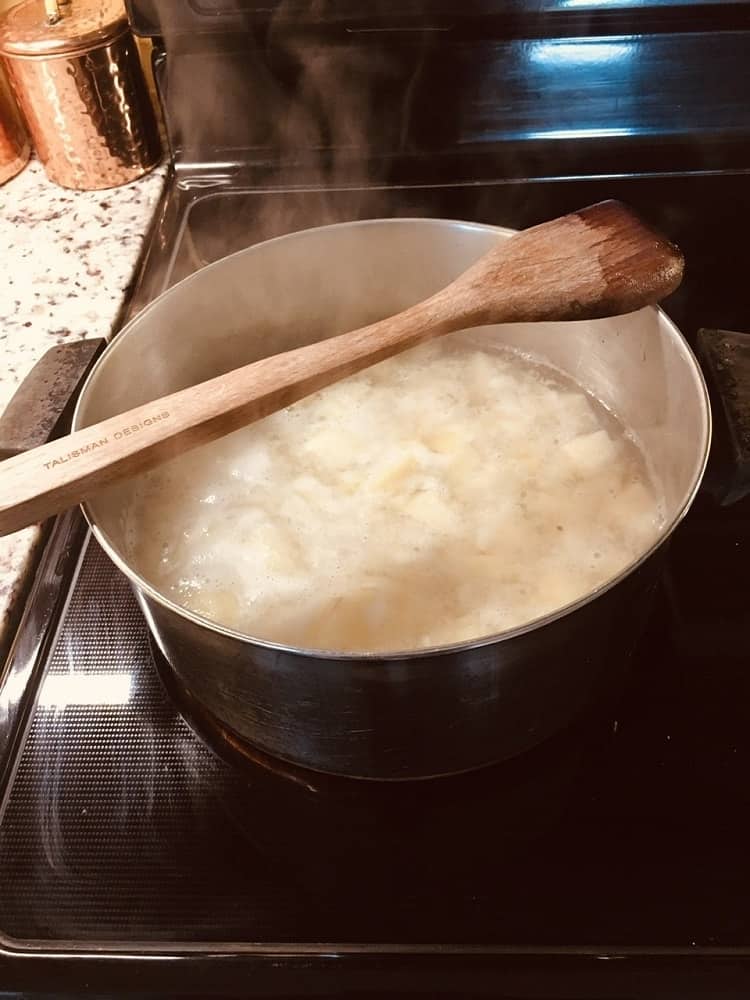 Have you ever had your stovetop all nice and clean? You are cooking on it for the first time since you cleaned it and your potato pot boils over. It makes you want to scream. Maybe you do scream. Anyway, all you have to do is lay a wooden spoon over the top of the pot horizontally. It causes those bubbles to pop, solving your problem. Though I'm sure it is not failproof, it has always worked for me.