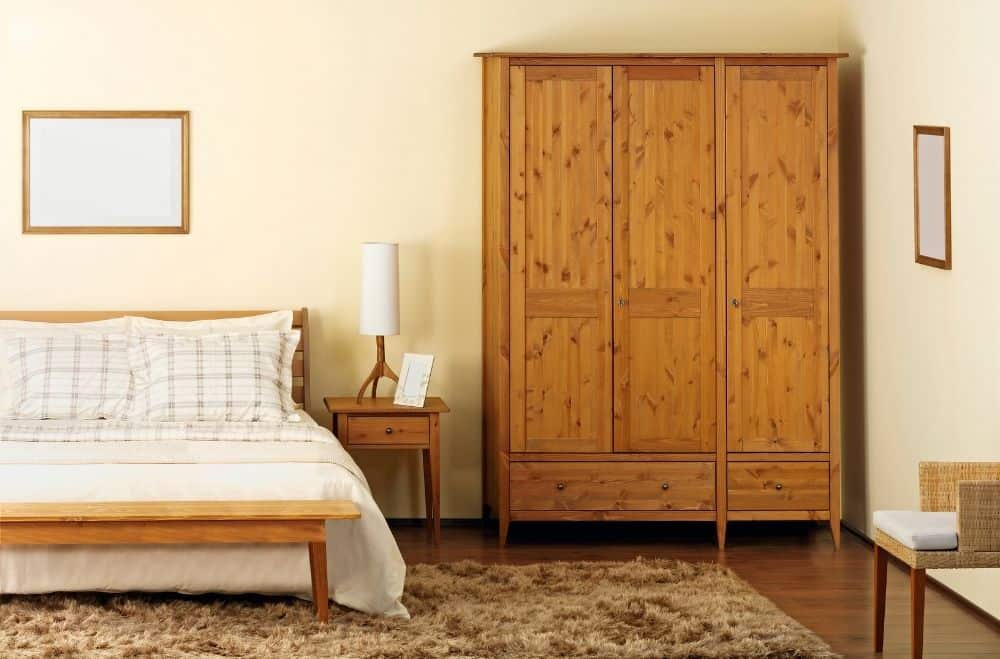 Choosing the right floor to ceiling cabinets will make your bedroom organization so much easier. Proper cabinetry gives you space to store all your clothing, shoes, accessories, and more. But you don't just want cabinets for functionality; you also want them to look great! In this article, we're highlighting products that are the best of both worlds.
We'll start with some reviews of our favorite floor to ceiling cabinets and then give you a mini buyer's guide for picking the best cabinet options available.
Sauder Select Collection
The Sauder Select Cabinet unit is a great place to start. It represents a traditional, functional, and stylish cabinet that will fit into just about any bedroom. This cabinet has form and function in mind, and it shows. It comes in white (shown above), highland oak, and cinnamon cherry.
Bedroom cabinetry is best when it stands tall off the ground. It's the best way to get maximum storage space without occupying too much floor space. We've kept this in mind for our entire list, and this product is no exception – standing 71 inches off the ground.
There's plenty of storage space in this unit, with multiple shelves, cupboards, and drawers. The large cupboard on the left side is great for hanging shirts, jackets, and pants. The right side has adjustable shelves, giving you just as much space as you need. The bottom drawers are perfect for smaller items for your delicates.
The cabinet uses engineered wood. It's durable but not quite the quality you'd get from hardwood. But overall, it's great value for the price!
Sauder Select Pros
Big cabinet with lots of storage space
Traditional, classic cabinet design
Strong and durable with engineered wood construction
Sauder Select Cons
Complete assembly required
Ameriwood Home Farmington Wide Storage Cabinet
Here's another quality cabinet from Ameriwood. This one has a classic, rustic appeal that will match any modern farmhouse decor scheme. And if you're not a fan of the hardwood finish, it comes in other color options as well.
This shelving unit is rather simple, with two swinging doors that open up into spacious shelves. There are four shelves in total, two of which are adjustable. It's great if you prefer a simple organizational style and like to have a visual outlay of all your clothes, accessories, and items.
The cabinet is a great budget choice, which means it isn't the most durable cabinet on the market. It's made with laminated particleboard. It's just fine for most bedroom uses, and will easily last you a few years.
Ameriwood Home Farmington Pros
Big, tall cabinet (71 inches tall)
Ample shelving space
Simple design – 2 swinging doors and 4 shelves
Comes in a variety of colors and finishes
Ameriwood Home Farmington Cons
Not the most durable cabinet – made with particleboard
System Build Ivory Oak Cabinet
Here's another big, sturdy cabinet that we think you'll love. This cabinet provides maximum storage space without compromising on aesthetics. It's a big, traditional wooden cabinet, and it comes in a variety of color variants.
The doors swing open to reveal up to 5 spacious shelves. 3 of these shelves can be fully adjusted or removed. It's great for general storage, or even as a wardrobe for folded clothes. Its simple design makes it highly versatile, and you can use the storage space as you see fit.
System Build describes this as a "utility" closet, meaning it is ideal for practical purposes. We think it performs its job admirably.
The cabinet ships flat to your door and takes a few hours to assemble. The assembly process isn't difficult, but some of the parts are heavy and awkward.
System Build Pros
Big, spacious shelves
Sleek, rectangular design with traditional appeal
Stands tall for maximum storage capabilities
System Build Cons
Requires two people to assemble (ideally)
Not made with hardwood (uses particle board and laminated MDF)
HOMCOM Traditional Free-Standing Cabinet
The HOCOM free-standing cabinet is built in traditional colonial style and adds a touch of history to any space that it sits. So, not only does it provide ample storage space, it looks great in any room, especially bedrooms!
This cabinet is great if you are looking for a wide range of storage options. There are upper and lower cupboards, both with lots of shelving space, and a middle drawer that is deep and roomy.
It's designed as a free-standing cabinet and stands over 70 inches tall. It's another great bedroom option because you get lots of space while occupying minimal floor space.
HOMCOM Pros
Classic colonial style
Lots of shelves and a middle drawer
Free-standing design
HOMCOM Cons
Elegant Home Fashions Linen Tower
Just as the name implies, this is the perfect free-standing cabinet for organizing your linens. Keeping your linens organized is a great way to clear space in your room and your mind. This cabinet has a classic, almost beach-house vibe, and it's a laid-back addition to most modern aesthetics.
The cabinet is quite narrow but makes up for it by standing 63 inches high. There are 5 shelves that you can use to separate sheets, towels, and whatever else you see fit. It's a convenient cabinet that keeps everything at arm's reach when you need it.
We especially like the shutter design on the front, adding a casual, summery feel to the overall design.
Overall, this is a great cabinet for a specific purpose. Unlike the big, bulky cabinets above, this one is ideal for the general storage of smaller items and linens. It's a good idea to have a variety of cabinets and to only have as much storage space as you require.
Elegant Home Fashions Pros
Tall and narrow for maximum storage space without occupying too much floor space.
Traditional, laid-back design.
5 shelves.
Made with MDF, which is more durable than particleboard.
Elegant Home Fashions Cons
What Makes a Good Floor to Ceiling Cabinet?
To wrap up our article, we're giving you a rundown on what to look for in a bedroom cabinet. Use this buying guide to pick the perfect cabinetry for your needs.
Tall and Wide
We've mentioned this throughout the article, but it's worth repeating here. When it comes to bedroom cabinets, height is your friend. Taller cabinets give you more storage space without using as much valuable floor space. You also have the opportunity to keep more things within arm's reach, and won't have to bend down as often. Take your ceiling height into consideration and remember that it's a good idea to secure a tall cabinet to the wall studs to be safe.
Shelving vs. Drawers
Think of how you'd like to organize your cabinets, closets, and drawers. Before you buy a cabinet, think of what you are looking to organize, how much you have, and how much space you need. Having an idea of what you want to do in your bedroom ensures that your cabinet not only looks great but that it's functional, too.
Matches Your Design Scheme
Speaking of a cabinet that looks great, make sure that your cabinet of choice matches your overall design scheme. We've included ample variety on our list, with cabinets that range from modern to traditional and everything in between.
Decide your ideal aesthetic, and buy cabinets to match. Floor-to-ceiling cabinets take up so much space that they demand attention and will form an integral part of your overall bedroom design. You need to be sure to make a choice you are happy with!
You Might Also Like: