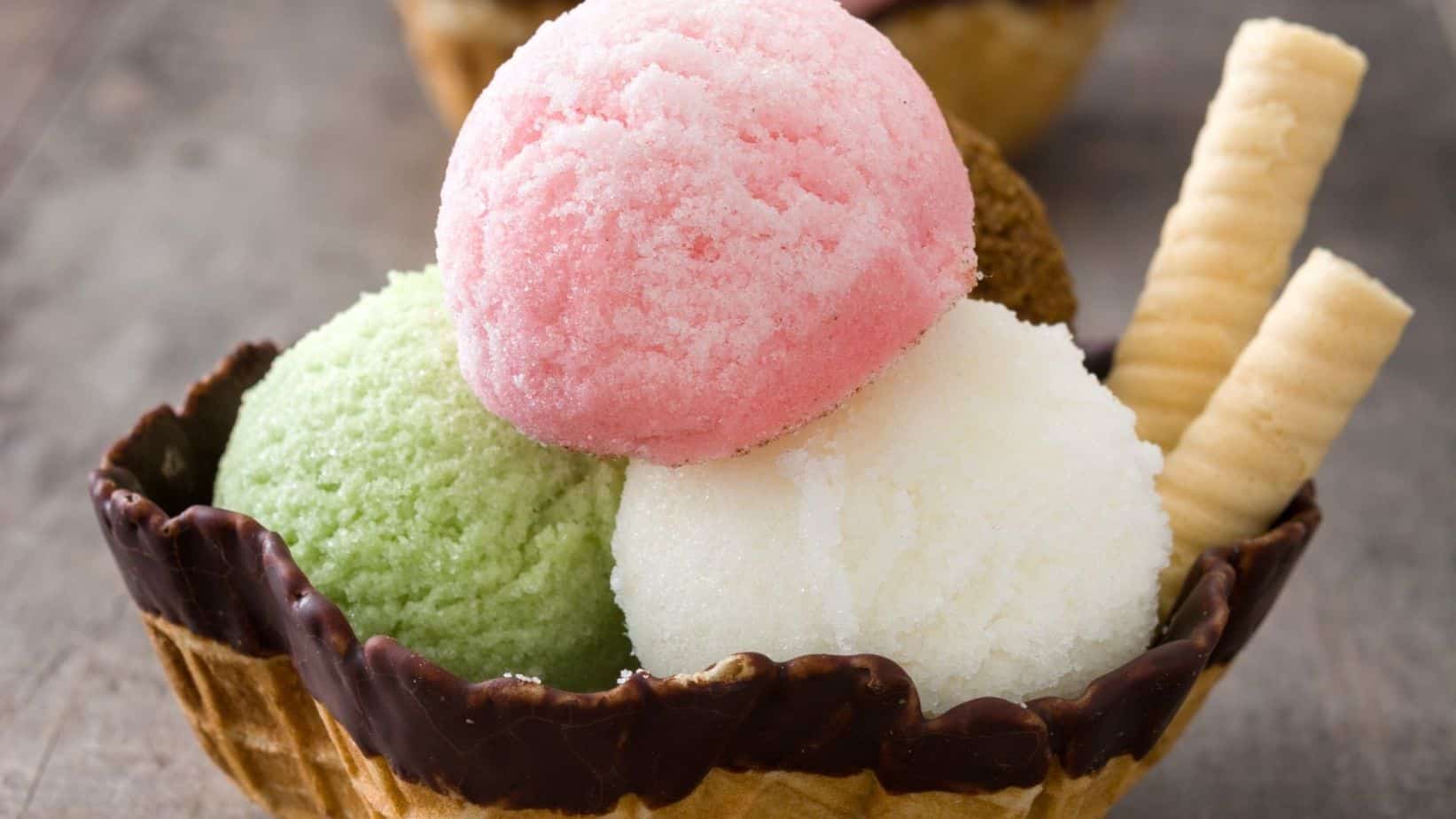 You probably know different ways to jazz up your ice cream – rainbow sprinkles, chocolate sprinkles, whipped cream, hot fudge, caramel, cookie dough…the list goes on and on. But have you ever wondered how you can spice up your ice cream bowl collection? If yes, keep reading…we got you covered!
There are so many different types of bowls to enjoy a scoop (or three! :)) of ice cream, gelato, sorbet, or frozen yogurt. But why go with just a basic bowl when you can find something fun and exciting? Here are six fun ice cream bowls that will take your next ice cream sundae party or ice cream social to a whole new level!
Fun Ice Cream Bowls
Say no to basic and hello to these unique, gorgeous, and fun ice cream cup ideas!
1. Vibrant Colors Ice Cream Bowl
These bowls are colorful, fun, and reusable! It comes in a set of 12 (bowls and spoons provided) in the colors blue, pink, green, and purple. It is large enough to fit a large scoop of ice cream with room for your favorite toppings! Made out of high-quality plastic which won't break or crack, this ice cream bowl is a fun set to whip out this summer on hot days!
2. Personalized Ice Cream Bowl
Are you a dessert lover and want to prove it? This personalized ice cream bowl will show your friends and family just how much you love your ice cream! It can hold up to 32 ounces of your favorite flavors. One large scoop? Two or three medium scoops? It's all good!
This bowl is made out of white ceramic and is tough enough to withstand regular use. It has thick walls that will keep your ice cream cold until you're ready to dig in! It has a handle that makes it look like a coffee mug. With a personalized cup, how much more unique can you get?
3. Ceramic Tulip Sundae Ice Cream Bowl
This ceramic tulip sundae bowl comes in a set of two and you can choose from a variety of colors! Made out of porcelain, this bowl is heavier than glass, more stable, and will not tip over easily. It has a large capacity, making it versatile enough to hold ice cream as well as sundaes, sorbets, milkshakes, mousse, and much much more!
4. Ceramic Ice Cream Cone Set
This gorgeous ice cream cone set is classic yet undeniably fun! The set comes with four ceramic bowls made to look like ice cream cones in the colors yellow, green, blue, and red, and four metallic spoons. You can put two scoops of your favorite flavors and carry them around to make it look like an actual dessert cone! Whether it's for your family or guests, you're bound to make a lasting and entertaining impression!
5. Glass Ice Cream Cups
Want to add elegance to dessert time at your dining table? These glass ice cream cups will surely add a level of sophistication and fun! It is made in a beautiful eye-catching shape that will enhance your table setting and atmosphere. They come in four pieces in the colors blue, green, orange, and pink! Made from high-quality glass, these heavy ice cream cups are designed to last you through years of parties and celebratory ice cream evenings! The glass ice cream bowls are pretty enough for guests and durable enough for busy families.
6. Edible Waffle Ice Cream Bowls
A waffle bowl is a dream!! If you haven't experienced waffle cones or a waffle bowl… what are you waiting for? This extra-large waffle bowl serves two purposes – a bowl for your ice cream scoops and a crunchy treat to eat after your scoops! Edible bowls don't require any clean-up and are perfectly safe to fully consume. It gives you the feel of an ice cream cone but is a big bowl that holds much larger scoops for your enjoyment! Create gorgeous dessert treats in this and enjoy your summer days with no worries about cleaning up after!
You Might Also Like: