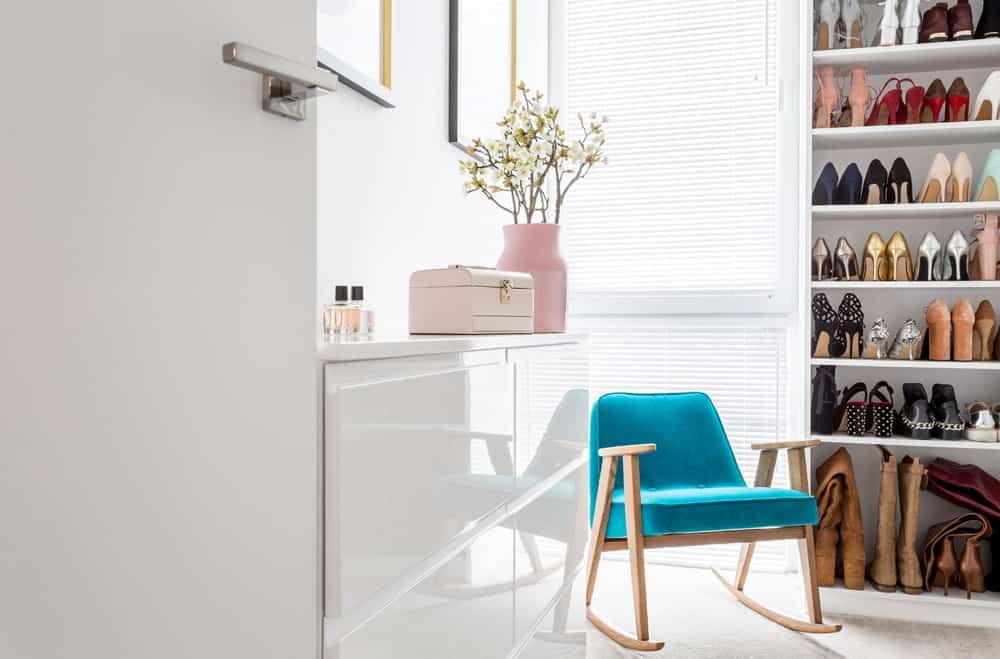 Hallway shoe storage can feel daunting but it does not have to be. I think we can all agree that first impressions are everything, and the first thing we see in any house is the entry hallway. Stop and take a good look at your own. Does it give the first impression you want it to? I look at mine, and with the kid's shoes strewn around everywhere, I can say for certain that it is not the first impression I want my guests to have. It's nothing to be ashamed of or embarrassed about, it happens to all of us. But there does come that moment when you're looking at the abundance of muddy boots on the floor when you realize that it's time to do something about it.
The good news is it may not be a difficult problem to solve. If you are in the same situation, then here are simple hallway shoe storage ideas to keep your home tidy.
1. Ladder Shoe Rack
Our first shoe storage idea came from a surprising place…our kids' old bunk bed. It wasn't in the best shape, so it wasn't worth finding a new home for it, either. So, into the trash, it was heading. But there was one part of it that still had some life left in it: the ladder. Of course, it's not very tall, but the slats were designed for children's feet, which means they were the perfect size to hold small shoes and become one of our most creative shoe storage ideas.
2. DIY PVC Shoe Rack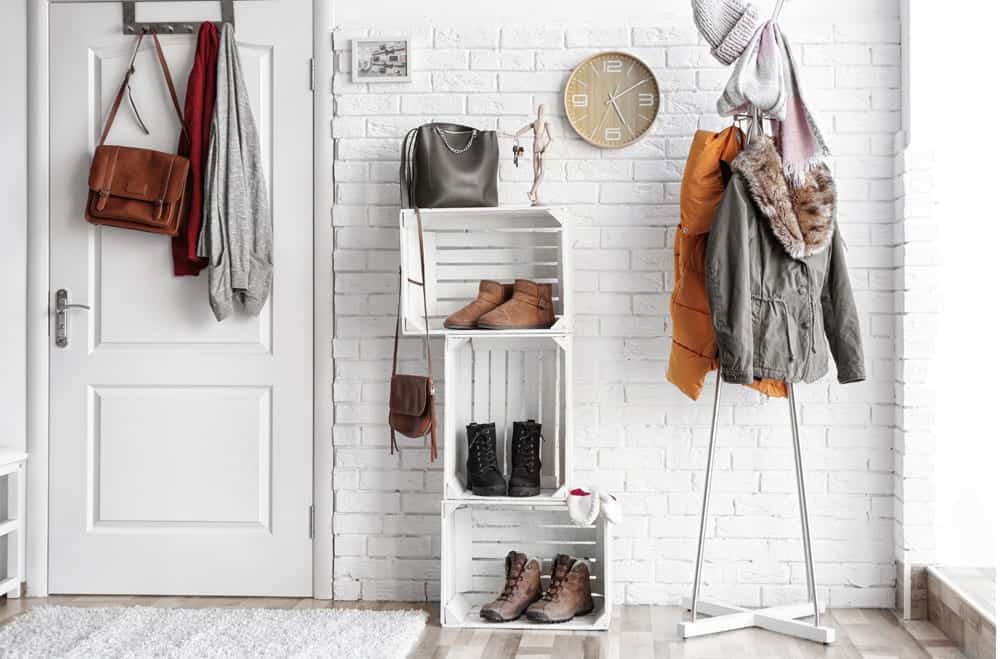 When I first saw this shoe storage idea online, I thought it was genius. What a great idea! PVC is relatively inexpensive, readily available at local hardware stores, and easy to work with. It can be painted to match hallway décor or add a personal flair. A rack like this is not only a space saver, but it is also expandable as your family or your shoe collection grows. Have new shoes? Simply add a couple of pieces to the already existing rack. Check out this link for an in-depth tutorial on how to build a PVC DIY Shoe Rack.
3. Storage Benches
While a storage bench may take up more floor space than some of the other ideas on this list and may not be appropriate for every situation, they do a great job of providing a nice clean look with plenty of practical storage. Plus, they give you a comfortable place to sit while taking off or putting on your shoes. If you have kids, a shoe storage bench could mean the difference between them taking their shoes off and putting them away or kicking them off and letting them fly. Amazon has plenty of options when it comes to storage benches that suit any need.
4. Easy Access Shelving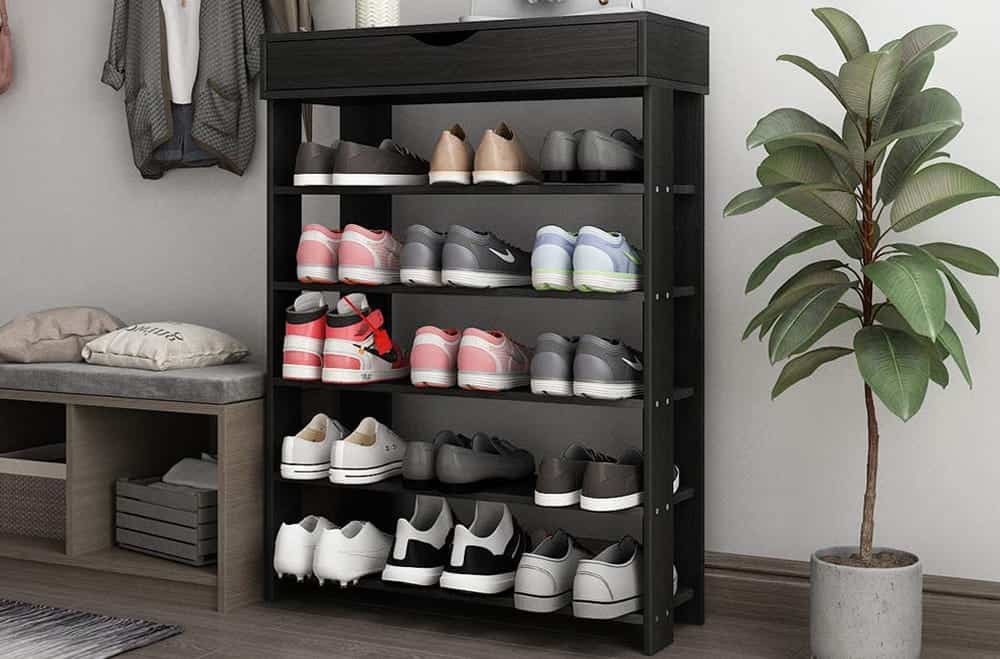 It's in our nature to want to find the simplest solution to anything, and, yes, this even applies to something as simple as shoe storage. If shoe storage is convenient, you, your guests, and especially your children are more likely to use it. Shelving near the doorway offers that easy-to-use convenience while also giving an abundant amount of storage space for your shoes. Don't have enough shoes to fill it? You can also use it to store other common hallway cluttering objects, like backpacks, bags, and hats. The nice thing about shelving units is that they come in many sizes to fit perfectly in any hallway or entryway.
5. Wall Shoe Rack
Many hallways or entryways are limited in space so wall-mounted shoe racks are perfect. These racks can be easily mounted on any wall and take up little space. If you're the DIY type, racks like this can be easily put together with a few pieces of wood and some screws and then customized to suit any décor. If building stuff yourself isn't your style, there are lots of pre-built wall shoe racks available as well.
6. Small Corner Shelves
Corners of a room are often nothing more than wasted space, but with the right corner shelves, you can turn this wasted space into something useful. Pairs of shoes on their own take up very little space, so why not make use of the small empty places to store them. Corner shelving units are easy to assemble and you can customize them with small floating style shelves or purchase a complete unit, depending on your specific needs.
7. Shoe Storage Baskets
Maybe you live in an apartment or your house has a small entryway. In either case, it may not be practical or even possible to install shoe racks or shelving units or find space for a bench. The perfect solution is a storage basket. The right sized basket can hold a good number of shoes, and placing it right beside the door reminds everyone to put their shoes away when they come in the house.
8. Wooden Shoe Mat
Until I was given a wooden shoe mat, I had no idea that they existed. When I thought of a shoe mat, I pictured the big, ugly hard plastic ones. Shoe mats are perfect for hallway and entryways where there is very little space, but they are also something that a lot of people avoid because they just don't look nice. But a wooden shoe rack looks great. The right wooden shoe mat organizes shoes while keeping them off the floor and adds a simple yet personal touch to your hallway or entryway.
Shoe Storage Ideas – Try One Out!
If you have kids, you understand how hard it can be to keep your hallway and entryway clean and clutter-free. They run into the house, kick their shoes off, and leave them where they land. The right entryway shoe storage solution might not prevent this, but a least you'll have somewhere to put the shoes after they send them flying. If you don't have kids, you can still relate to just how quickly boots and shoes can accumulate, and without anywhere to store them, your hallway looks as if it is in a constant state of clutter. Kids or no kids, hopefully, one or more of these storage solutions can help you to keep that clutter to a minimum.
You might also like 20 Awesome Bedroom Shelves for Saving Space and 20 Easy DIY Home Projects to Transform Your Home.