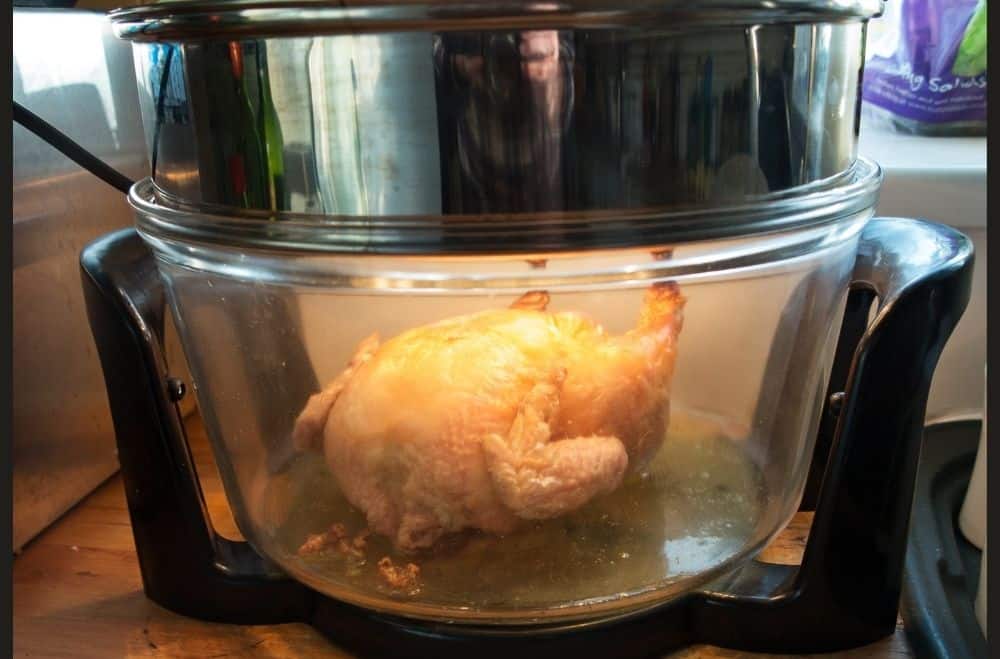 Halogen ovens have been around for a few years, and their popularity in the UK is growing fast after a slow start. There are good reasons for this growth, including the fact that they are cheap to buy and small enough to fit onto the average kitchen countertop. That means there is no need to replace your conventional oven unless and until you decide to do so.
How halogen ovens work
Halogen ovens use the infra-red heat emitted by a halogen light to cook food. A fan circulates hot air around the oven so that the food is cooked on all sides. You can place food directly onto the oven's high rack for roasting or grilling.
This cooking method has some distinct advantages:
Economy
The oven temperature heats up very quickly, usually taking less than five minutes to reach full heat. It's smaller than a conventional oven and takes a shorter time to cook food. For those reasons it uses less electricity than a regular oven: estimates of the saving tend to come up with a saving of about 50%.
The cost of the oven itself is low, ranging from $25.00 to $75.00.
Speed
Food cooks more quickly than it does in a conventional oven. Estimates of the cooking process's time-saving effect vary between 25% and 60%.
Visibility of food
The halogen oven rests on the countertop and is completely transparent, so you can see how the food is cooking without stooping or opening it, unlike the traditional oven.
Ease of cleaning
The halogen oven cooker is essentially a large glass bowl, which can be wiped out with very little effort. It can even be placed in the dishwasher (though it's likely to occupy most of the space inside, so you may need to run the dishwasher just for one item).
Cook without added fat
The halogen cooker is good for browning roast meat, cooking chicken breast and potatoes without added fat, and for frying with minimal fat. If you place meat for roasting directly onto the oven rack, much of the fat drains away without drying up the meat too much. Placing food directly on the rack in a conventional oven would mean a nightmare when it comes to cleaning, but it's fairly easy to wipe out any fatty residue from the glass bowl which is the body of a halogen oven.
The halogen oven is a genuinely useful innovation, but there are a few possible negatives to consider before buying one:
Space
The ovens are small, but you do need some spare countertop space to fit one in. An area of about two square feet should be enough, but check the size of the individual oven. You also need some clearance over the top of the oven, as access is by lifting the lid from the top.
Hot and heavy lid
The oven lid contains the halogen light and it gets hot when in use. Because you need to take the lid off to remove the food after cooking, you should choose a model with a hinged lid if possible. If the oven has a lid that needs to be lifted off to access the oven, then you need to have a heat-proof surface big enough to place the lid on, or space for a lid holder (something like a dish rack that you can buy separately).
The lids are fairly heavy, so may be difficult for people who are less physically able to lift. They do come with a handle, so as long as there's a safe place for the lid to rest, there shouldn't be a burning hazard.
Cooking
Reports tend to suggest that roast meat, fried food, casseroles, and steamed vegetables all cook very well in a halogen oven. You can also use it for baking cakes and for baking bread, but there are some reports that the results for those items aren't quite as good. That may largely be a matter of perfecting the right technique, though, so it's important to invest in a cookbook or find a recipe specifically for halogen ovens.
Summary
The halogen oven is a rare newcomer to the kitchen, but one which really does bring benefits. Its economy, speed, and easy cleaning mean that it's worth a try for people who have space for one on their kitchen countertop. As ever, you should compare different products before buying one, even though the financial outlay isn't massive.
You might also like What are the Different Types of Pickles and How to Make Vegan Peanut Butter and Banana Cookies.