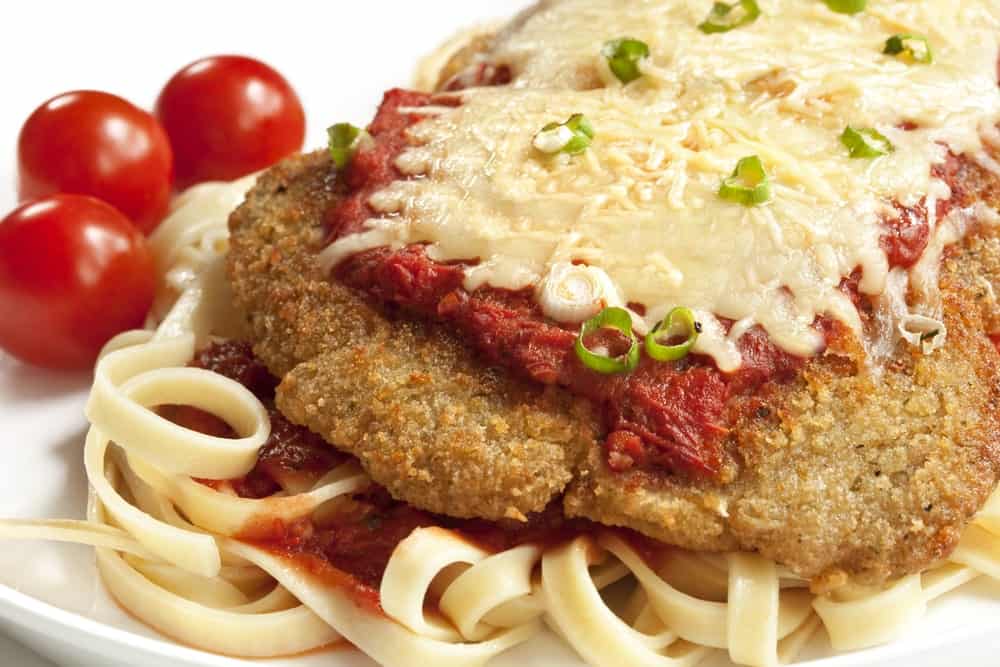 My family loves chicken
Fried chicken, broiled chicken, baked chicken, chicken and dumplings, and chicken tenders don't last very long at my house. But the chicken recipe that always has my family asking for more is this recipe for Chicken Parmesan.
Chicken Parmesan, which is also called Chicken Parmigiana or pollo alla parmigiana, is an American dish, although it's popular with people who do Italian cooking. It doesn't just use Parmesan cheese. Most of the cheese on Chicken Parmesan is mozzarella or provolone. Some people add bacon or ham to their Chicken Parmesan, and there is even a Russian adaptation of Chicken Parmesan that adds a fried egg.
But whatever you call your Chicken Parmesan and whichever proteins you like to add, there are certain problems that occur over and over with traditional Chicken Parmesan recipes. The chicken comes out dry. The crust gets soggy. The Parmesan cheese turns out chewy instead of melt in your mouth. This recipe will help you keep your meat moist, your breading crispy, and your cheese creamy, with no additional preparation time.
Here are the ingredients you will need to make Chicken Parmesan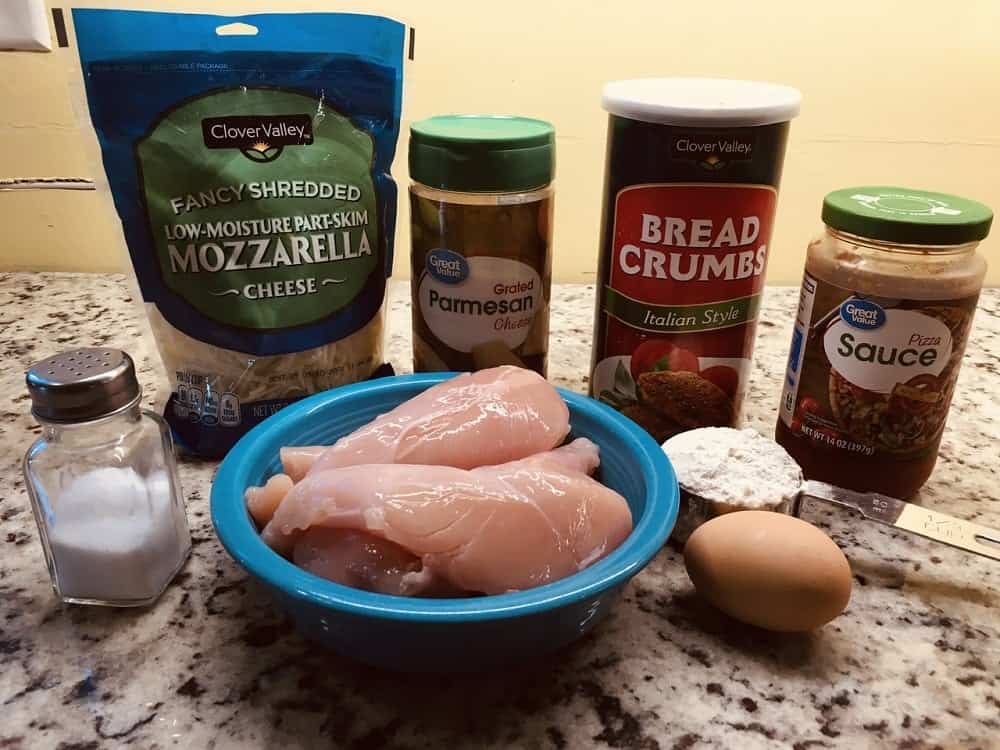 1. Remove any skin, fat, or connective tissue from your chicken.
It's important that your tenders or boneless, skinless chicken breasts are no more than 1 inch thick. If they are thicker than 1 inch, place them between two layers of plastic wrap and pound them with a rolling pin, a kitchen mallet, or a frying pan until all of your chicken is the same thickness so it all gets done at the same time.
2. Spray a 9-inch x 13-inch baking pan with Italian flavored cooking spray (ordinary cooking spray is OK if you don't have Italian) and put it aside.
Preheat your oven to 400° F.
3. Heat a half-inch layer of oil in a heavy pan over medium heat.
This step is necessary to keep the breading from falling off your tenders or pounded chicken breast cutlets. One way to tell whether the oil is hot enough for cooking is to flick a little bit of flour into the pan. If it is immediately surrounded by bubbles and begins to sizzle, the oil is hot enough for frying.
4. While your oil is heating, crack the egg into a bowl, and beat it with a fork until the yolk and the whites are completely mixed.
5. Place salt and flour in a separate bowl and stir them together until they are thoroughly mixed.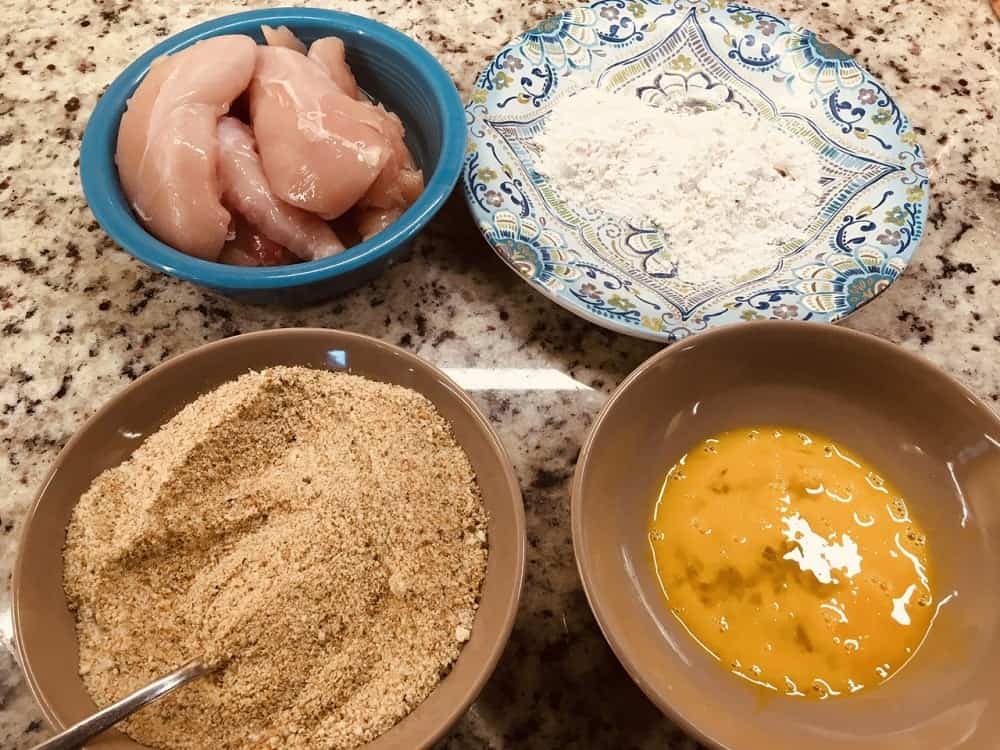 Place your Italian breadcrumbs in a dish. Add the grated Parmesan cheese to the Italian breadcrumbs and mix thoroughly. Dip each piece of chicken in the flour until it is completely coated, and then dust off any excess flour. Dip the floured chicken into the beaten egg, coating it all over. Then roll each piece in the breadcrumbs until it is completely covered. Make sure there isn't any egg showing so you will know if each piece is completely coated.
6. Once the oil is hot enough, place each piece of chicken into the frying pan, one at a time, taking care not to splash hot oil.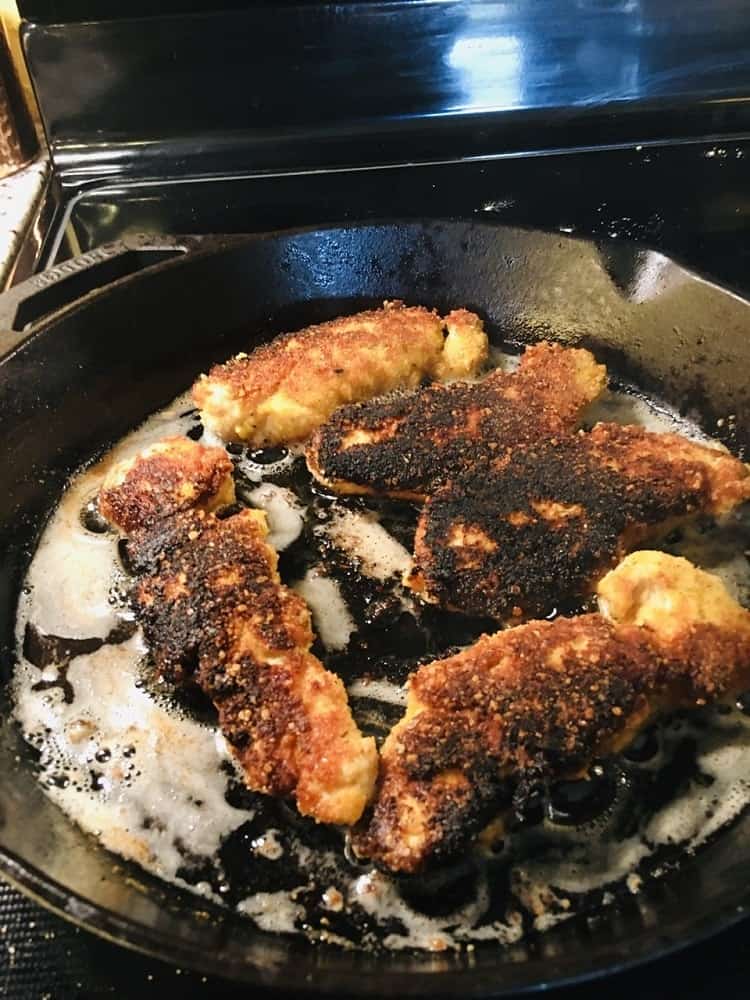 Leave at least an inch between pieces so they brown completely. If you put them too close together, they will steam instead of fry and you won't get a golden coating. Usually, you can get six tenders or three breast cutlets in the pan at the same time and have enough room. If you have to cook chicken in batches remember that the oil cools down during cooking, so you will need to heat it up again before frying the second batch.
7. Cook the chicken 8 to 9 minutes on each side, turning it only once when you can see golden browning on the sides (indicating the bottom of the piece is golden brown).
It is not unusual for the second side to get to golden faster than the first side. Place each piece of chicken in the baking pan as you take it out of the oil. If you are planning to serve pasta with your Chicken Parmesan, this is a good time to get your pasta started.
8. Spread each chicken tender in the baking pan with a tablespoon of the tomato sauce.
Then top each piece of chicken with two or three tablespoons of the shredded mozzarella or provolone.
9. Bake the chicken in the 400° F oven under a piece of aluminum foil for 15 to 20 minutes.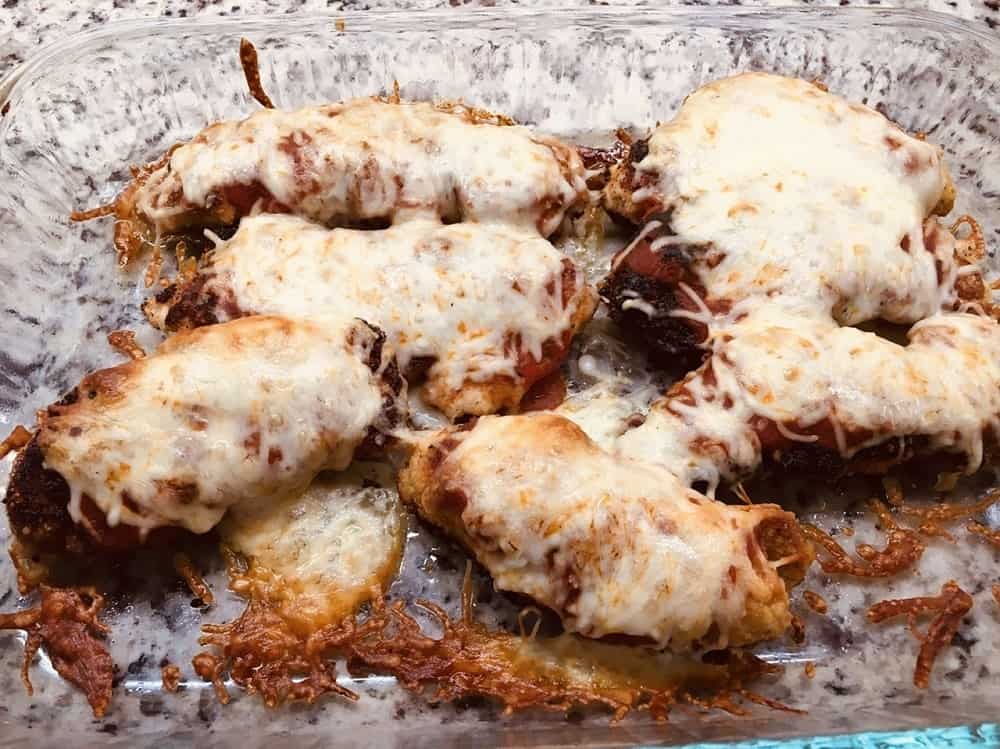 Then remove the aluminum foil and let the chicken bake for another 15 minutes for the cheese to brown.
10. Remove the chicken from the oven and serve with pasta, rice, garlic bread, or a vegetable or a salad.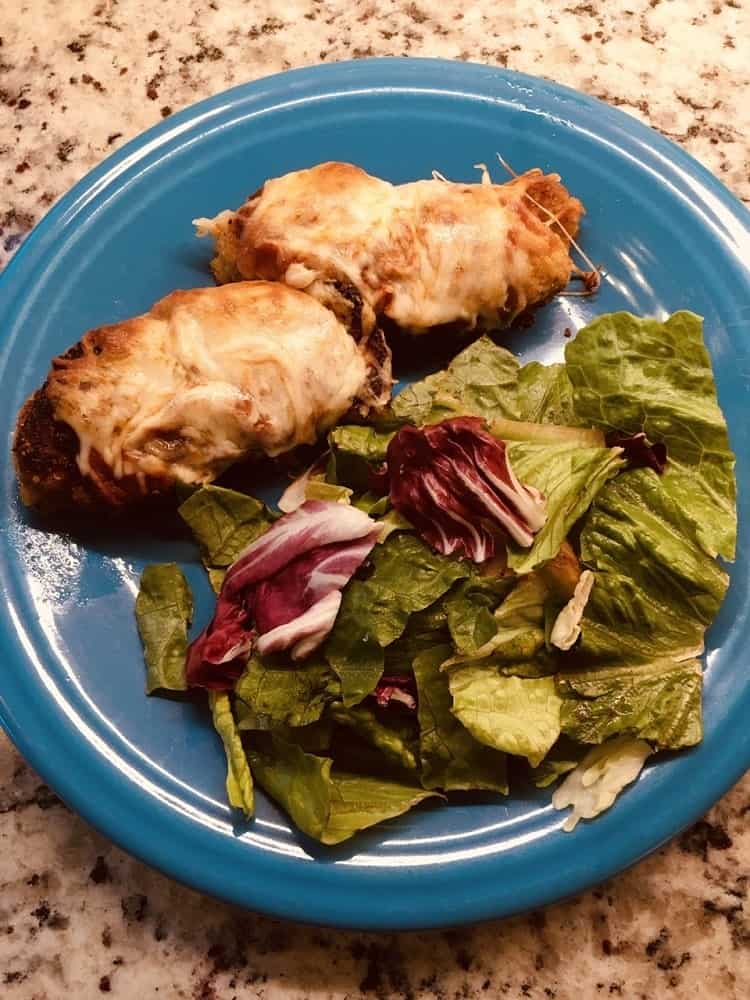 If you like your bread extra crispy, substitute Panko for half of the Italian bread crumbs. If you have to use plain bread crumbs, add a teaspoon and a half of Italian seasoning, and some salt and pepper to taste. A nice side dish for Chicken Parmesan is oven-roasted tomatoes. Take about 15 cherry tomatoes and toss with salt, pepper, and olive oil. Place them in your baking pan under a rack, and then bake your chicken over the tomatoes. The tomatoes will come out at the same time as your chicken for a delicious complement to your main dish.