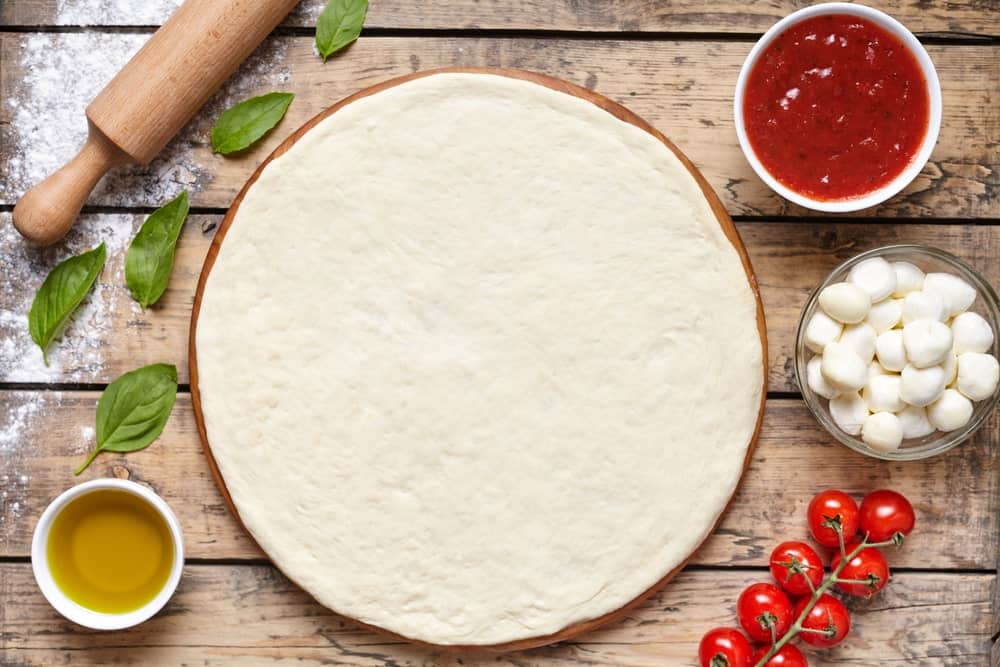 It's one of those all-occasion foods.  Whether you're gathering for a movie night, sporting event, birthday party, or just a routine meal, it offers a little something for everyone.  It comes with a variety of crust thicknesses and topping options.  Although it traces its origins to the Italian city of Naples, Chicago is also considered a hub for this versatile cuisine, especially the deep-dish kind.  Despite its Mediterranean beginnings, pizza has become an American staple.
When most of us are looking for a few slices of the good stuff, we head to our favorite pizzeria or order ahead to have them delivered.  But you can put together a homemade pizza in less time than you think.  Depending on the ingredients, it will likely be cheaper than eating out.  Years ago, while studying overseas, my friends and I decided to have a pizza delivered.  When we ordered and were given a price, we thought we'd have to take out another student loan to pay for the pizza.  The homemade kind was definitely more economical, especially since we were eating on a budget.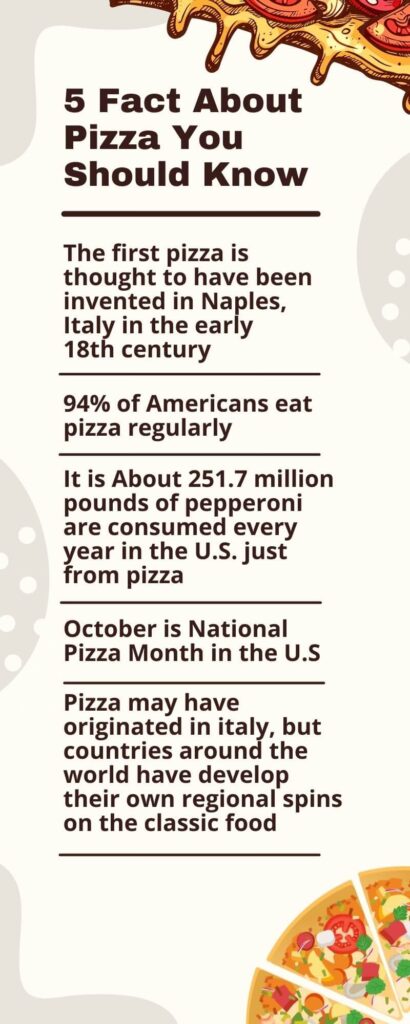 History of Pizza
Some form of pizza was eaten centuries ago in the Mediterranean, in places such as Greece, Rome, and Egypt.  What people ate was actually flatbread topped with their favorite ingredients.
But anything like the modern version of pizza didn't emerge until the eighteenth century in Naples in southwestern Italy.  This seaport was populated by scores of people who worked wherever they could, living in tiny shacks along the waterfront, barely getting by.  Things that most people took for granted, such as cooking at home and sitting around a table set with plates and utensils, were out of reach for many of these working poor.  They bought much of their food from street vendors, and most of these meals could be eaten with their hands.
One of these on-the-go dishes consisted of a yeast-risen crust crowned with various toppings.  A favorite of lower-class Neapolitans was a crust covered with tomatoes, mozzarella cheese, and basil.
By the late 1800s, many Neapolitans began arriving in the United States in search of better opportunities.  Thankfully they brought their culture with them, including their beloved pizza.  The early 1900s saw the arrival of the first pizzeria on American soil.  It opened in Manhattan, and it wasn't long before city residents — Italians and non-Italians alike — were indulging in this much-celebrated meal.  Not surprisingly, the trend gained momentum.  By the post-World War II years, pizza had been introduced to nearly every part of the country, and it's remained overwhelmingly popular ever since.
A Meal By Itself
What most of us love so much about pizza is it's one of those foods that nearly everyone likes.  Even kids who are normally picky eaters will not protest when they have the chance to partake in a pizza.  It's an easy way to feed a crowd.  Walk into a big get-together just as the food is arriving and you will very likely be greeted by a stack of cardboard boxes with pictures of savory slices on them, giving you a sneak preview of the tasty goodness inside.
And if you have the right combination of ingredients, you can, technically, include every food group in your meal.  Admittedly, this is one of the more "creative" ways to do it, but it's a great solution if you have selective eaters on your hands who won't otherwise touch a vegetable unless it's surrounded by mozzarella and marinara.
Homemade pizza is surprisingly easy to craft from the comfort of your kitchen.  The most complicated part is making the dough…and it's really not complicated at all.  All the kneading can be therapeutic.  And pizza-making is a great way to get your kids to help out in the kitchen.  Plus, you can get creative with toppings.  One of the tastiest pizzas I ever made wasn't your standard tomatoes-and-cheese-topped pie.  It was a grilled barbecue chicken extravaganza.
Homemade Pizza Dough Recipe
Ok, if you're like me, you've been skimming through the text, thinking, "When will they get to the recipe?"  So we won't keep you in suspense any longer.  Here is a recipe for homemade pizza dough.  Have fun with it.
Ingredients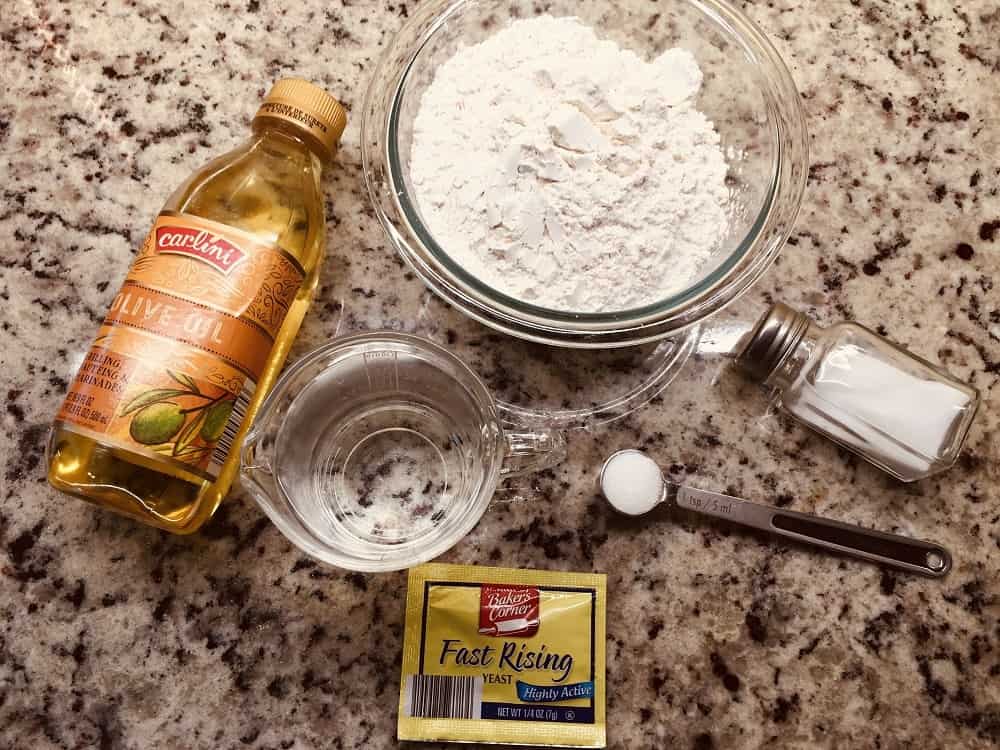 2 ¼ to 3 cups flour
1 teaspoon sugar
1 teaspoon salt
1 package of quick-rise yeast
1 cup of warm water
2 tablespoons olive oil
Oil and cornmeal for preparing the pizza pan
Your favorite pizza toppings
Step 1:  Combine the ingredients.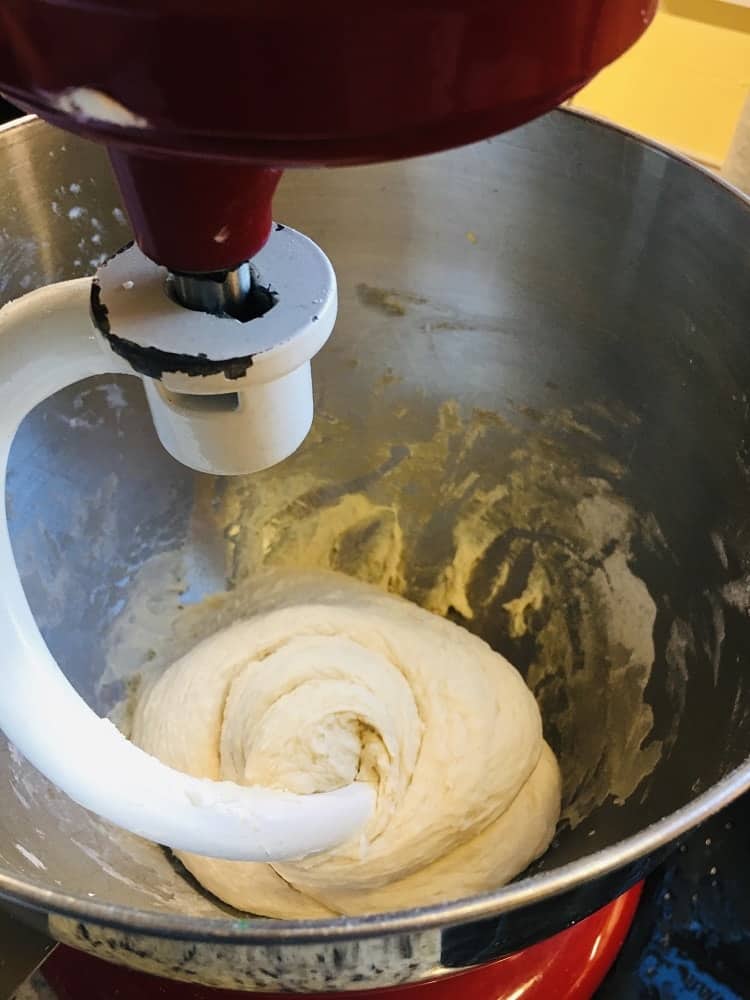 Use a large mixing bowl (or the bowl of an electric mixer with a dough hook) to combine 1½ cups of flour, sugar, yeast, and salt.  Stir together well.  Add the warm water and 2 tablespoons of olive oil.  Mix the dough thoroughly with a wooden spoon.  Then, add the rest of the flour, a little at a time.  After several rounds of adding and mixing, the dough should begin to stick together and form a ball.
Step 2:  Knead the dough.
Turn the dough out onto a floured surface, or continue mixing with the dough hook.  Knead it for 5 to 7 minutes, or until it's smooth, shiny, and elastic, somewhat like play-dough.  Pizza dough should be slightly sticky, so be careful not to add too much flour.
Step 3.  Set the dough to rise.
Drizzle a bit of oil over the dough, and into the bowl.  Then, place the dough back in the bowl to rise.  Use a clean dish towel to cover the bowl, and set it in a warm place in the kitchen for about 30 minutes.
Step 4:  Prepare for baking.
Lightly oil a pizza stone (or a baking sheet if you don't have a stone).  Cast iron is great for pizza-baking, too.  Preheat the oven to 425°F, and set the pizza stone or pan inside to warm.
Step 5:  Prepare the crust.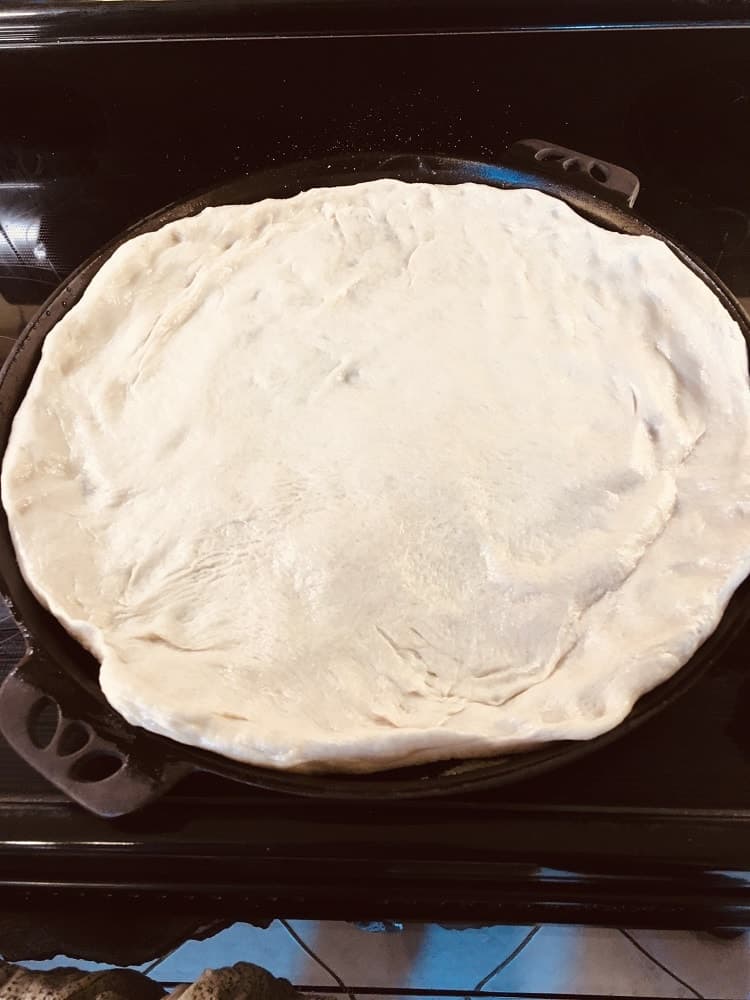 After 30 minutes, your dough should double in size.  Punch it down to remove air bubbles.  Next, let it rest for five minutes.  This makes it easier to stretch when you're putting it in the pan.  Take the pan out of the oven and sprinkle the surface with cornmeal.  Work the dough carefully into the pan — you don't want to burn your hands.  With your fingers, form a ridge of dough around the inner circumference of the pan.  That's the crust.
Step 6:  Top It Off.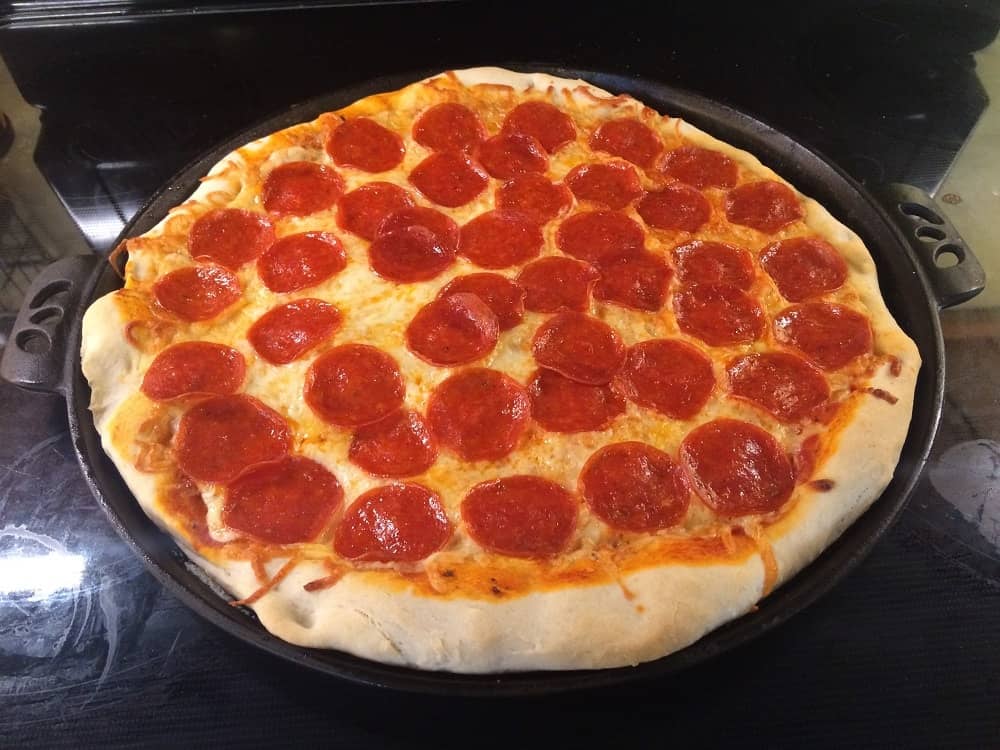 Add any toppings you like to your pizza.  Bake in the center of your pre-heated oven for 15-20 minutes, or until the cheese is melted and the sauce is bubbly.  Allow it to cool.  Then slice, serve, and enjoy!