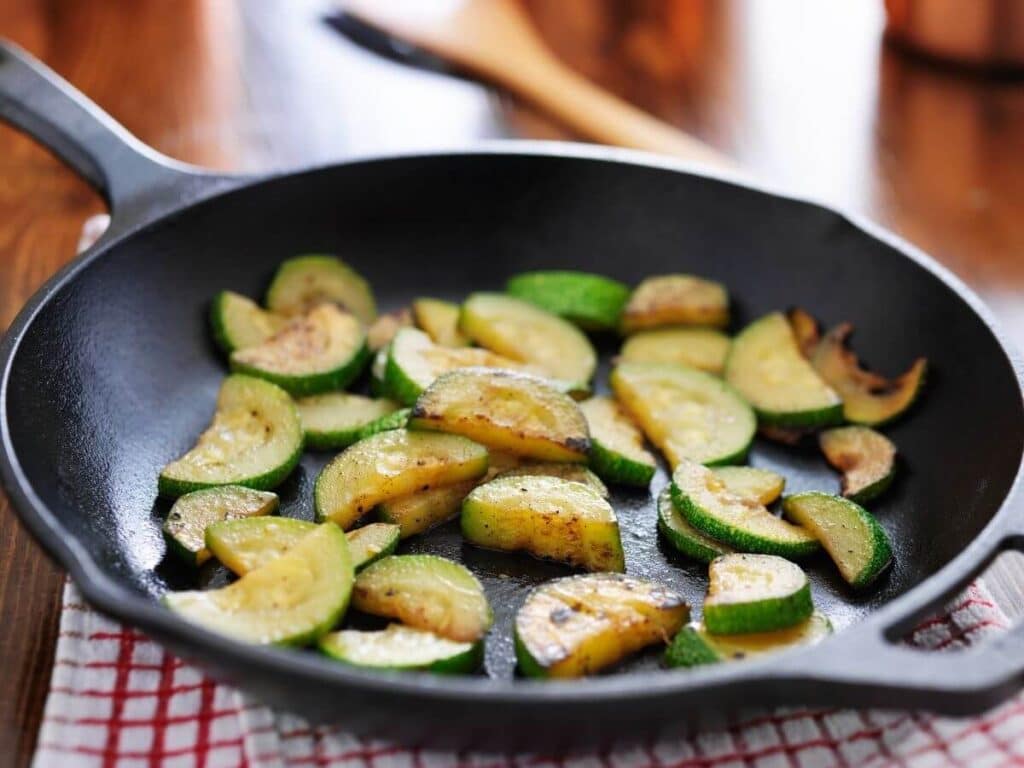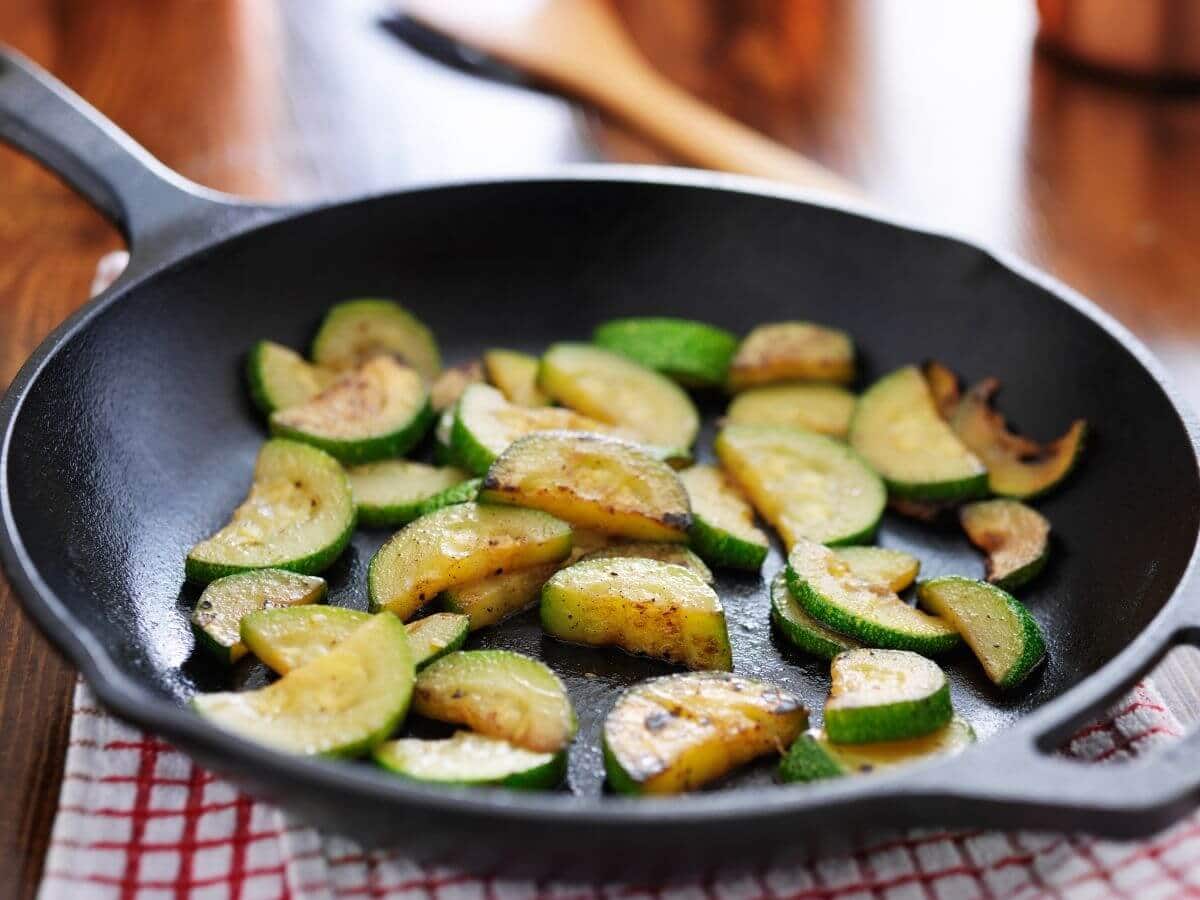 If you're looking for a delicious and healthy side dish, go no further. This zucchini recipe prepared in the air fryer is simple to make and yummy to eat. Zucchini does not need to be boring. Keep reading to learn how to air fry zucchini without breadcrumbs.
Cooking vegetables in an air fryer is very easy; they roast properly with very little oil and turn out delicious. In fact, I think cooking vegetables in an air fryer is far supplier than cooking them in an oven and here are a few reasons why.
The air fryer is ideal for cooking smaller servings. Depending on your fryer's size, you can easily serve 2-4 people.
You do not need to wait for the oven to preheat, and it's significantly faster than the usual method of roasting zucchini. In addition, the zucchini cooks considerably more quickly in the air fryer.
Finally, the zucchini is encased with a delicious crispy crust! By cooking the zucchini near the heating source, a lovely crust is achieved that couldn't be accomplished in a regular oven.
It's a delicious vegan and vegetarian recipe. The best part is that it is a low-carb and low-calorie dish suitable for paleo or keto dieters.
How to Air Fry Zucchini without Breadcrumbs
No breadcrumbs? Yes, you read this correctly! This recipe for zucchini in the air fryer with no breadcrumbs is both delicious and simple to prepare. The secret is in the shredded parmesan cheese, which provides a slight "toast" flavor to the zucchini.
Ingredients
2 zucchini, medium
2 tablespoons olive oil
⅛ teaspoon pepper
¼ teaspoon garlic powder
½ cup shredded parmesan cheese optional
Directions
Slice zucchini in your desired shape and size.
Pour olive oil, pepper, garlic powder, and sliced zucchini into a zip-top bag.
Shake the bag well to coat all the zucchini slices equally.
Fill the air fryer basket with zucchini.
Cook zucchini for 10 minutes at 400°F.
If you want to add shredded parmesan cheese, then it's time to do it! Sprinkle the cheese on top and heat for another 3-4 minutes to melt/toast it.
Serve and enjoy. It's absolutely delicious!
Recipe Notes
To ensure even air frying, select fresh zucchini and chop into equal-sized pieces.
The time required for air frying will vary depending on the type of your air fryer, and whether the zucchini is sliced into larger pieces or small for fries.
Depending on how spicy you want it, you can lessen the amount of pepper or use cayenne pepper instead.
You can use whichever spices you like. For example, use Italian seasoning, Cajun spice, and other spices to add variety to the seasoning.
Vegetable oil could be substituted for olive oil, though I prefer to use olive oil as a healthy option.
To make an oil-free dish, wet the zucchini with a few drops of water, apply the spice rub, make sure it sticks well to the zucchini, and air fry.
If you don't have garlic powder, finely minced garlic works too.
Learn All About Zucchini
Zucchini is a type of summer squash that belongs to the Cucurbitaceae family of plants, sometimes known as gourds, and comes in a variety of shapes and colors. It is a fruit, although many people call it a vegetable, and zucchini is also known as courgette or baby marrow.
Zucchini is suitable for various diets, including keto, paleo, vegan, and low-carb, and it can be prepared in a variety of ways according to personal preferences.
Health Benefits
Zucchini is rich in vitamins, minerals, fiber, and antioxidants and is low in calories. You get many health benefits when you incorporate zucchini into your diet.
Prevents Certain Health Issues
Antioxidants in zucchini may aid in the prevention of the following health issues:
Coronary heart disease
Cancer in several forms
Diseases of the eye
Diseases of the skin
Encourages Proper Digestion
Zucchini can aid digestion in various ways. It's high in water, with 94.8 grams (g) of water per 100 grams of fruit. Water is important for improving digestion.
Zucchini also has both soluble and insoluble fiber. Insoluble fiber promotes excellent digestion and keeps the gut healthy. According to a study, dietary fiber can promote good digestion and lower a person's risk for a variety of chronic diseases, such as heart disease, several types of cancers, and type 2 diabetes.
Glucose Reduction
Carbohydrates inside the body convert to glucose, which can raise a person's blood sugar levels. Zucchini has a low carbohydrate content. When zucchini is substituted for high-carbohydrate foods like spaghetti, a person's carbohydrate consumption is reduced, which helps to lower blood sugar levels.
According to a meta-analysis of research, the fiber found in fruits and vegetables can help lower blood sugar and lower the risk of type 2 diabetes.
Improve Heart Health and Circulation
Zucchini has many heart-health benefits. As previously noted, zucchini is a high-fiber fruit. High-fiber diets can enhance heart health as well as digestion and reduce the incidence of type 2 diabetes. Studies have shown that high-fiber diets can help reduce the risk of coronary heart disease.
Pectin is found in zucchini. Pectin may help improve heart health by lowering harmful cholesterol and lipid levels.
Improves Eye Health
Zucchini may also aid in the improvement of eye health. Zucchini, for example, is rich in vitamin C, an antioxidant. According to some data, vitamin C can reduce the chance of developing eye issues, such as age-related macular degeneration or cataracts.
The antioxidants lutein or zeaxanthin are also found in zucchini. Additionally, these antioxidants can help lessen a person's risk of getting AMD and cataracts.
You Might Also Like: