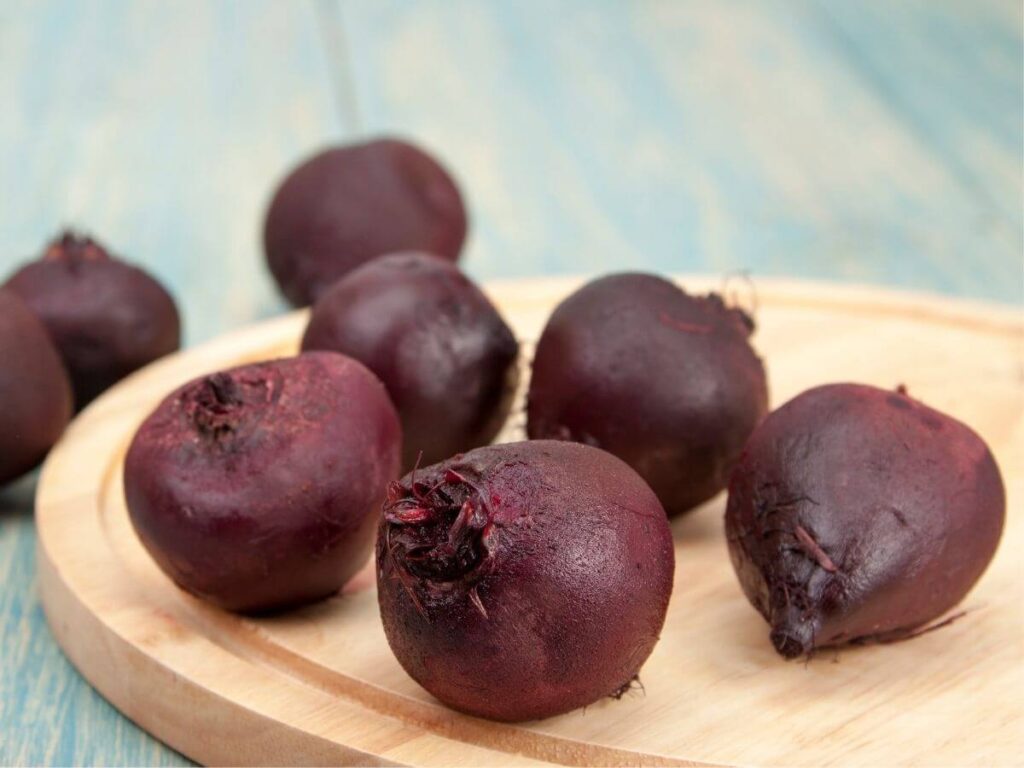 Most people have experienced eating limp slices of beetroot in a vinegar bath. Now, however, beetroot has become a vegetable basket superfood and the cooking techniques for it have evolved. Baking beetroot is a popular way to prepare these red beauties, and it's a better option than pickled or even boiled beets. Keep reading to learn how to bake a beet.
The sweetness of this beautiful vegetable is brought out when it is baked. The method is easy and quick, resulting in beets with an enhanced sweet flavor and no compromise in texture.
Baking beets with the skin on them is better than without because it's easy to remove once they're done. If you're going to eat them right away, give yourself plenty of time because they may take an hour to cool down enough to peel. Serve them straight up, use them in a dish, or keep the baked beets in the fridge or freezer for later.
Why Should I Bake My Beets?
Beets have a poor reputation. People who have omitted them from their menus do so because of their earthy overtones. They're missing out on so much!
Baking beets in the oven brings out their naturally sweet flavor. And, whether you're in a hurry or prefer to bake them slowly, there are a couple of methods to pick from. You can bake them whole in foil or peel and cut them into cubes before wrapping them in foil and baking.
Preparations For Baking Beets
Scrub them clean first. Beets are dirty because they grow in the ground, so make sure you wash them thoroughly before cooking.
Remove the connected leaves but don't trash them; treat them like spinach, kale, or any other leafy green.
There's no need to peel the beets before baking; after they've finished cooking, the skins simply rub off with gloves or a paper towel.
Beets are incredibly solid all the way to the center, so don't bother chopping them before baking them whole in foil. Wrap them in foil loosely to help them steam and concentrate their taste.
Line a rimmed baking sheet with foil. Set the foil-wrapped beets on a foil-lined rimmed baking sheet. If any beet juice leaks, this adds an extra layer of protection.
Bake for about 1 hour at 400 degrees Fahrenheit. Beets are done when a spear goes easily through the core without resistance. (Start checking after 30 minutes if your beets are really little. You don't want the bottoms to dry out or burn.)
Trim the stems and root ends after the beets have cooled, then massage the skins—they should come off easily.
Step-By-Step Instructions To Bake Beets
Preheat the oven to 400 degrees Fahrenheit and place the rack on the center rung. Using foil, line a rimmed baking sheet.
If the beets still have their leafy tops, remove a majority of them, but leave enough for you to easily grab (about an inch). Beets should be well-washed and scrubbed.
Wrap each beet individually in foil (no need to dry them first) and place them on the baking sheet.
Bake until a spear can easily pass through the middle of the beets with no resistance, about 1 hour for medium-sized beets.
Allow them to cool for about 15 minutes before trimming the stems and root ends. Rub off the skins with a paper towel or food prep gloves. They'll be simple to remove! (If you don't have gloves, use a vegetable peeler, but be careful.)
For whatever recipe you're using with your baked beets, quarter, slice, or dice them.
What To Do With Baked Beets
Baked beets are among the most versatile vegetables. You can eat them as is or hint a dash of lemon in there to make things a little more flavorful. You can also make baked beets sandwiches like the recipe listed below.
Baked Beets Sandwiches Recipe
Ingredients
2 tablespoons balsamic vinegar
Salt and pepper to taste
For The Sandwich's Creamy Dill Cashew Cheese
1 cup raw cashews soaked in water 4-8 hours, drained and rinsed
¼ cup unflavored soy or almond milk
1 tablespoon lemon juice
1 garlic clove
½ cup chopped fresh dill
Salt and pepper to taste
For The Sandwiches
8 slices sandwich bread, optionally toasted
4 large lettuce leaves
1 small red onion, sliced
Place the beets in a medium-sized bowl and slice them thinly (¼-inch or less).
Drizzle balsamic vinegar over the top and season with salt and pepper.
In a blender or the bowl of a food processor fitted with an S-blade, combine the cashews, milk, lemon juice, and garlic.
Scrape down the sides of the basin or pitcher as needed while blending until smooth.
If necessary, thicken the mixture with a little more milk.
Season with salt and pepper to taste, then pulse in the dill until it is fully absorbed.
Assemble The Sandwiches
Slather the bread slices with the creamy dill cashew cheese, then pair them up and stuff them with beet slices, onion slices, and lettuce. Enjoy!
Or You Can Make A Beetroot Soup!
Beet soup is not only tasty, but it's also nutrient-dense. This blended version of beets, parsnips, ginger, onion, and garlic is creamy, savory, and flavorful. A swirl of coconut cream (or yogurt), parsley, and black sesame seeds complete the dish.
This hearty beet soup pairs well with an apple kale salad, lentil salad, or pulled pork, cabbage, and arugula salad as a main dish.
You'll need to prepare your baked beets for this dish. Then, in a pot over medium heat, heat 2 tablespoons of olive oil. Cook, stirring occasionally, until the leek is soft, about 6-8 minutes. Add 3 cups water, the beets and garlic, thyme, and a bay leaf. Salt and pepper to taste.
Bring to a boil, then reduce to low heat and continue to cook for 5 minutes. Allow to cool slightly before blending until smooth. Season with lemon juice and salt and pepper to taste.
Baked Beet Hummus Recipe
All of the ingredients for this vibrantly pink, slightly sweet, and incredibly healthful baked beet hummus can be done in the bowl of a food processor.
Ingredients
½ pound beets (baked)
2 tablespoons tahini sesame seed paste
5 tablespoons lemon juice
1 small clove garlic, chopped
1 tablespoon ground cumin
Generous pinch of sea salt or kosher salt
1 tablespoon lemon zest (approximately 2 lemons)
Fresh ground pepper to taste
Instructions
In a food processor (or blender), combine all ingredients and pulse until smooth. Seasonings and ingredients should be tasted and adjusted as needed. Chill and store for up to 3 days in the refrigerator, or freeze for extended storage.
Serve with pita chips, sliced cucumber or celery, or goat cheese and shaved mint on a crostini. Don't feel like making your own hummus? You can buy it premade on Amazon.
Other Ways To Cook Beets
Boiling
Boiling beets tenderize them by immersing them in boiling water and cooking them until they are tender. You'll see that the color of red beets leaches into the cooking liquid. To avoid this, leave at least 2 inches of the stem intact and add vinegar to the water.
Steaming
Steaming is the process of heating water in a closed container until it turns into superheated vapor. Because of the high temperature (100°C/212°F) and pressure in the pot, the beets cook quickly and with little water.
Because you want the steam to circulate under and around the beets as they cook, don't let the water touch the steamer basket. The beets should be cooked until tender, and the skin easily releases from the peel, about 30 minutes depending on the size.
Whole Roasting
The beets' skins are coated with olive oil, salt, and pepper before being wrapped in foil pouches for roasting. This method allows you to infuse more flavors into the surface, resulting in more vibrant flavor qualities. This method requires more watching and monitoring of the beets to test for doneness and takes around 40-60 minutes at a high temperature of 204°C (400°F).
The Takeaway on Beets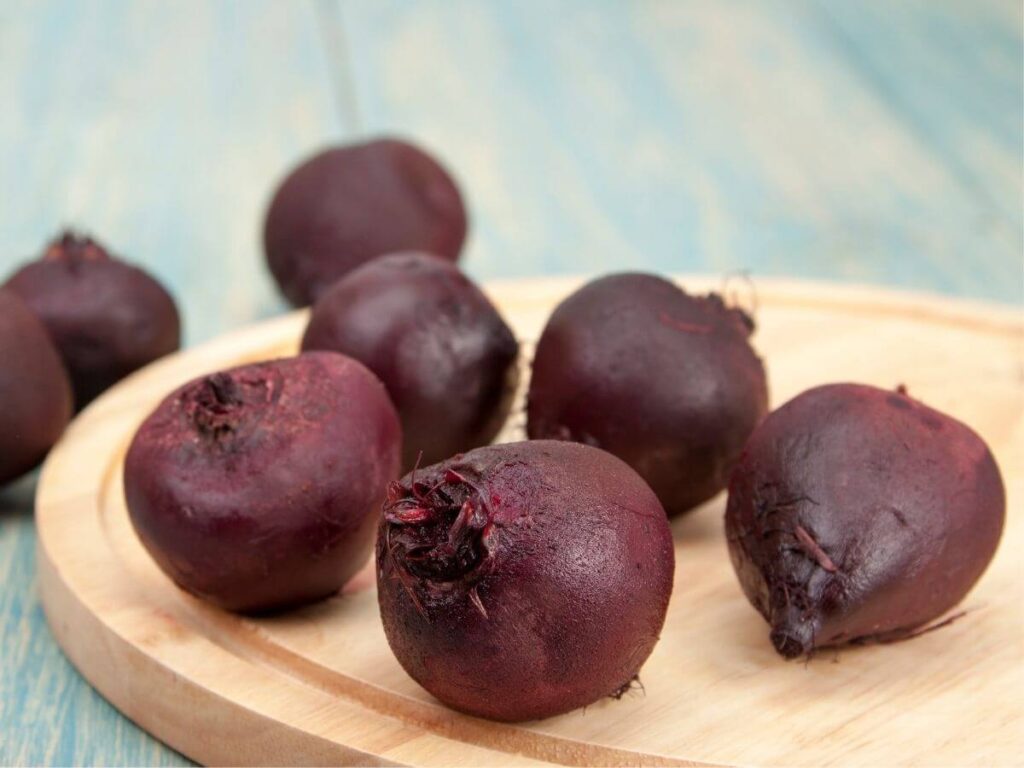 Baking or roasting beets is perhaps one of the easiest methods of cooking beets and giving them a rich flavor! Beets are good for the bones and the blood and are high in calcium.
Once roasted, cooled, and peeled, you can keep the beets whole or slice them up and refrigerate them in an airtight container for up to 1 week. They also freeze well for several months. Quarter, slice, or dice them and place them in freezer-safe storage bags.
You Might Also Like: