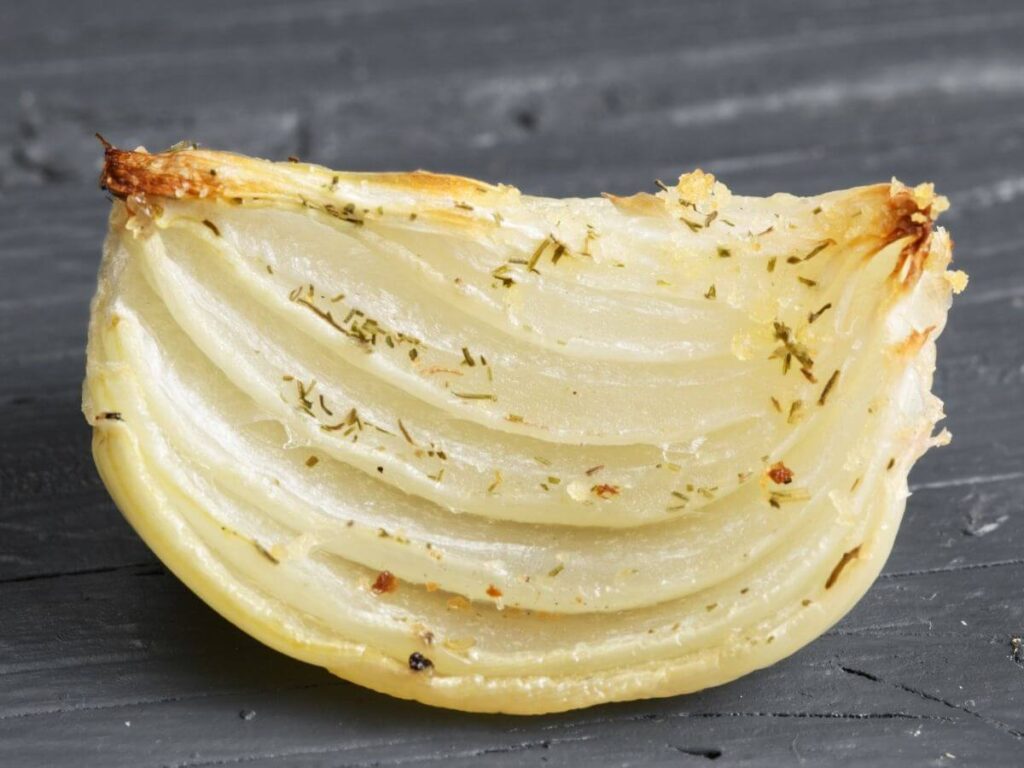 Baked onions transform them into exquisitely sweet foods. Before serving, a sprinkle of rich, high-quality balsamic or cider vinegar enhances the sweetness to perfection. Keep reading to learn how to bake onions.
How To Bake Onions
Ingredients
9 yellow onions
¼ cup olive oil
2 tablespoons unsalted butter
Coarse sea salt
Freshly cracked black pepper
Fresh rosemary sprigs
Instructions
Preheat the oven to 375 degrees Fahrenheit and place a rack in the upper third of the oven.
Remove the tops of each onion, but keep a majority of the skins.
In a square baking dish or a rimmed pan, arrange the onions in an even layer.
Drizzle olive oil over the onions. On each one, spread a thin layer of butter.
Season with salt and pepper, then garnish with a rosemary sprig.
Bake for 25 minutes.
Cook for another 15-20 minutes at 400 degrees Fahrenheit or until the onions are totally soft and the tops are brown.
Allow them to cool slightly after removing them from the oven.
Remove the skins, slice, and serve while still warm.
A Quick and Yummy Onion Recipe
Baked Onion Cheese Rings
Ingredients
1 onion, sliced into rings
1 egg
4 pieces of string cheese cut into 4 pieces each
¼ cup of flour
⅓ cup of bread crumbs or panko crumbs
Instructions
Preheat the oven to 375 degrees Fahrenheit and prepare a baking sheet with parchment paper.
Cut your onion into rings; 1 ring requires 2 pieces of onion, one of which must fit comfortably within the other.
Each string cheese should be cut into 4 long pieces.
Wrap 2 lengths of string cheese between the 2 rings and place your smaller ring within your larger one.
In a small bowl, whisk your egg. Divide your flour and bread crumbs on separate dishes.
Carefully dip the onion ring in the flour, then the egg, and finally the crumbs. This can be a little tough, and the odd ring may fall apart; just put it back together as best as you can.
Bake for 12 minutes on a baking sheet, then flip them over in the oven and bake for another 8 minutes.
 Serve warm.
You Might Also Like: