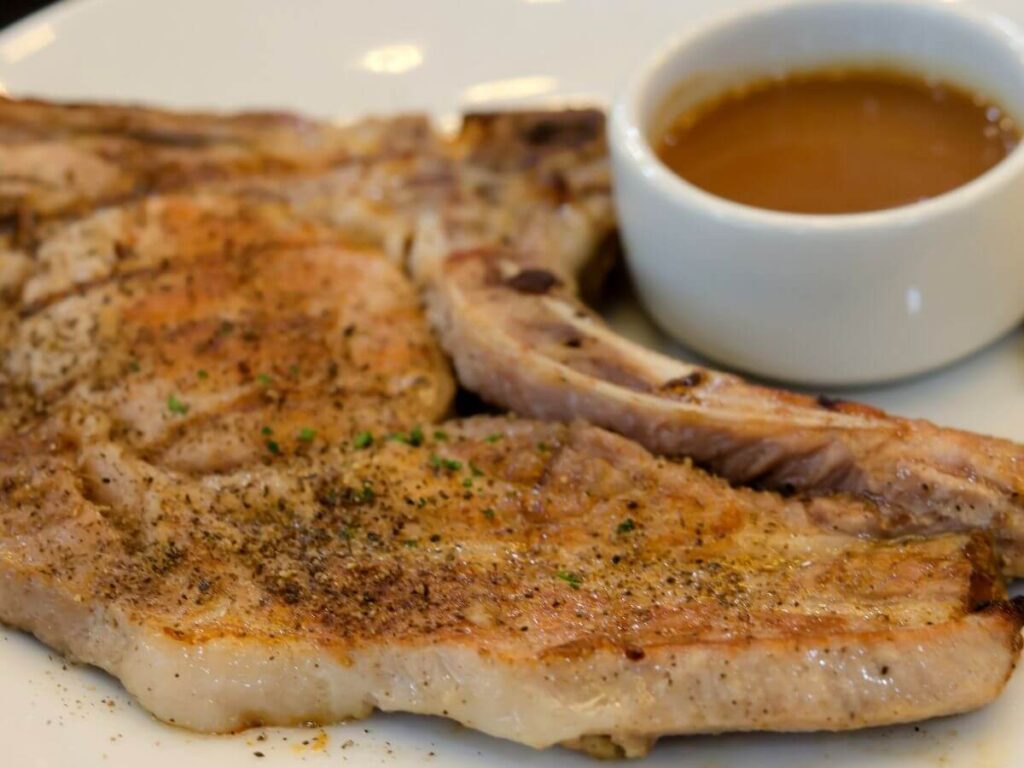 Pork steaks are delicious and extremely versatile. You can bake them, grill them, braise them, and they'll still taste like magic! We will show you how to bake pork steaks in the oven. It's the most tender and tasty pork recipe you'll ever try and it only takes a few minutes to prepare!
How To Select The Pork Steak Cut
Pork chops, like other meat cuts, vary in size, shape, flavor, and softness. You can ensure consistent, high-quality meat by analyzing possible pork chops based on appearance and cut. Once you've decided on your meat, a simple brining can help seal in the moisture.
Choose a cut that is thick. Much of today's pig is raised to be as lean as possible, which means your meat can easily be overdone. Because thicker pork chops retain moisture better, you may want to request a double-cut or specify that your chops be at least 112 inches (3.8 cm) thick.
Check the marbling on the cut. Most butchers will allow you to inspect the meat you intend to purchase to ensure its quality. The most essential feature to look for is "marbling," which is the presence of white fat veins in the meat.
How To Make A Spice Rub For Your Pork Steaks
This pork chop seasoning is the ideal combination of sweet, savory, and smoky flavors, with a hint of spiciness at the end. Don't feel like making your own seasoning. You can find lots of premade ones that are delicious on Amazon.
Ingredients
1 tablespoon kosher salt
1 tablespoon black pepper
2 tablespoons smoked paprika
1 tablespoon brown sugar
1 teaspoon garlic powder
½ teaspoon ground mustard
1 teaspoon onion powder
½ teaspoon cayenne pepper
Instructions
In a mixing dish, combine all ingredients and break up any clumps of brown sugar using a whisk or fork.
How to Bake Pork Steak
Pork chops or steak should not be cooked directly from the refrigerator. Take the pork chops out of the fridge 30 minutes before you plan to cook them.
The time spent out of the refrigerator allows the meat to come to room temperature, which helps the pork cook more evenly. Use this method with various meat cuts, such as pork tenderloin or steak.
Thirty minutes before cooking, rub the pork chops with the pork seasoning rub. Because pork chops are quite lean, seasoning them with salt before cooking is vital for achieving the best flavor. This stage can be thought of as a more easy brining method for the meat (instead of a wet brine, the salt acts as a dry brine).
The most important thing to remember while making oven-baked pork chops is not to overcook them. Pork chops are lean meat, so if you leave them in the oven for too long, they will dry out. But don't worry, there's a simple technique to figure out how long to cook your chops.
Boneless pork chops should be cooked for 7 minutes every ½-inch of thickness in a 350°F oven. If you're using bone-in pork chops, add a minute for every ½-inch of thickness.
If you're new to roasting pork chops, an instant-read meat thermometer is the best way to check if they're properly cooked. Pork should be cooked to a temperature of 145 degrees Fahrenheit on the inside. To avoid overcooking, use your meat thermometer.
How to Bake Pork Steak: Step-By-Step Instructions
Preheat the oven to 350 degrees Fahrenheit and line a baking sheet with aluminum foil.
Brush both sides of the pork steaks with Worcestershire sauce and place on the prepared baking sheet.
The pork rub should be applied to both sides of the pork steaks.
Bake for 35 minutes in a preheated oven, then remove the pan and drain the excess liquid.
Brush the steaks on both sides with BBQ sauce and broil for 3 to 5 minutes, or until the sauce begins to boil.
Serve with vegetables and a side dish.
Sauteed Mushrooms Recipe to Go With Pork Steak
Sauteed mushrooms are a delicious and quick side dish that tastes great with pork steaks. The best part is that sauteing only takes a few minutes.
Ingredients
3 cups baby button mushrooms
1 medium onion, sliced
1 clove garlic, chopped
2 tablespoons olive oil
1 teaspoon soy sauce
¼ cup white wine
Salt and freshly ground black pepper
Fresh parsley
Instructions
Clean mushrooms with a moist towel and, if necessary, snip off the ends. Cut larger mushrooms in half, quarters, or slices.
In a medium skillet, heat the oil over medium-high heat. Cook for 3-5 minutes or until onion and garlic are softened.
Add the mushrooms and simmer for 8-10 minutes with the onion, stirring constantly.
Add the soy sauce, salt, pepper, and wine, and simmer for another 3-5 minutes or until the wine has evaporated.
Remove from heat and top with fresh parsley. Serve right away.
You Might Also Like: