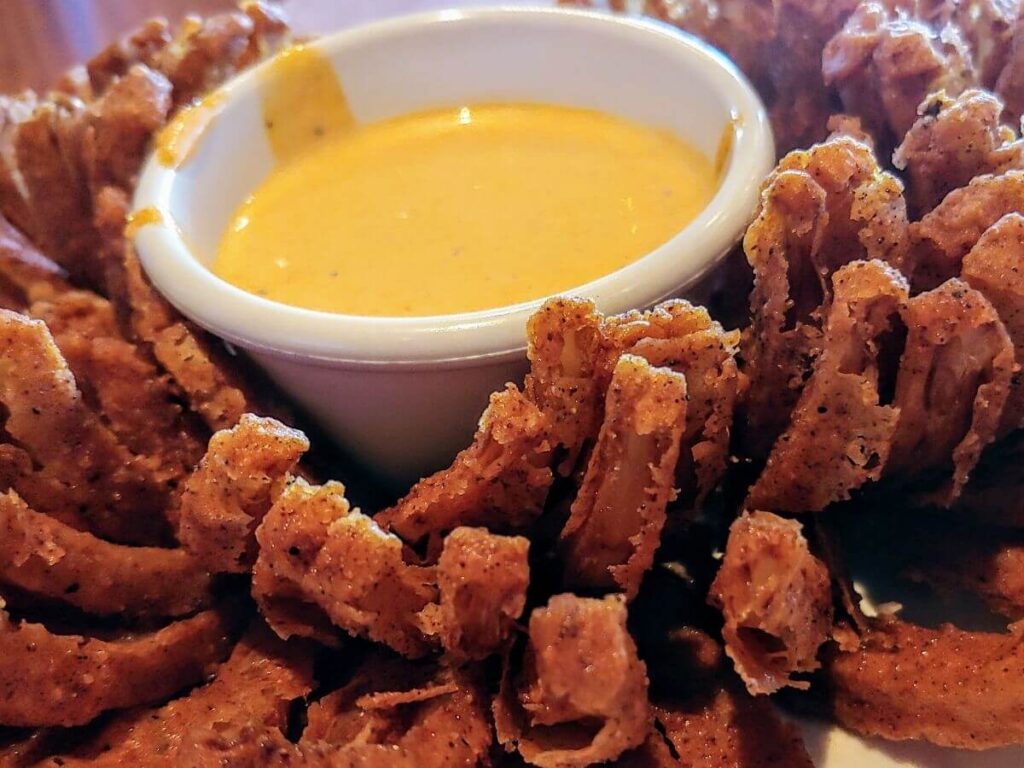 Want to make a blooming onion just like Outback? You are in luck! Keep reading to learn how to cook a blooming onion.
These simple blooming onions are deep-fried to golden perfection after being double coated with a little spicy breading. They're even better than Outback's, plus they're very easy to make. Don't forget the dipping sauce, or try Yum Yum sauce (Japanese Hibachi style) or Southern Comeback Sauce for a change of pace.
How To Cook A Blooming Onion
Ingredients For The Sauce
2 tablespoons of mayonnaise
2 tablespoons sour cream
Ketchup (1½ teaspoons)
Worcestershire sauce (½ teaspoon)
1 tablespoon horseradish, drained
Paprika (¼ teaspoon)
1 teaspoon cayenne pepper
Freshly ground black pepper and kosher salt
Ingredients For The Onion
1 large sweet onion (about 1 pound)
2½ cups flour (all-purpose)
Cayenne pepper (1 teaspoon)
Paprika (2 tablespoons)
½ teaspoon thyme, dry
Black pepper, freshly ground
½ teaspoon oregano, dry
½ teaspoon cumin powder
2 eggs
1 gallon of whole milk
1-gallon soy or corn oil for frying, as needed
Kosher salt
Instructions
In a bowl, combine all of the sauce ingredients, cover, and chill.
Cut the onion into thin slices. In a mixing bowl, combine the flour, cayenne, paprika, thyme, oregano, cumin, and ½ teaspoon black pepper.
Whisk the eggs, milk, and 1 cup of water together in a small bowl.
Place the onion cut-side up in a separate bowl and pour the flour mixture over it. To spread the flour, cover the bowl with a plate and shake it back and forth. Make sure the onion is completely coated, particularly between the "petals." Lift the onion by the core, turn it over, and pat off the excess flour with a paper towel; set aside the flour bowl.
Submerge the onion in the egg mixture completely with a slotted spoon (spoon on top, if necessary). Remove the extra egg and let it drip out before repeating the flouring operation. While the oil is heating up, chill the onion.
Fill a deep pot halfway with oil, leaving 2 inches at the top. Heat the oil to 400 degrees on a deep-fry thermometer over medium-high heat. Remove any extra flour from the onion with a paper towel. Carefully lower the onion, cut-side down, into the oil using a wire skimmer. Adjust the heat so that the oil temperature stays about 350°F.
Fry for 3 minutes, then flip the onion and cook for another 3 minutes or until golden. Drain on paper towels.
Season to taste with salt and serve alongside the sauce.
Blooming Onion Maker
Make it easier to cook these yummy blooming onions and pick up a blooming onion maker from Amazon.
You Might Also Like: