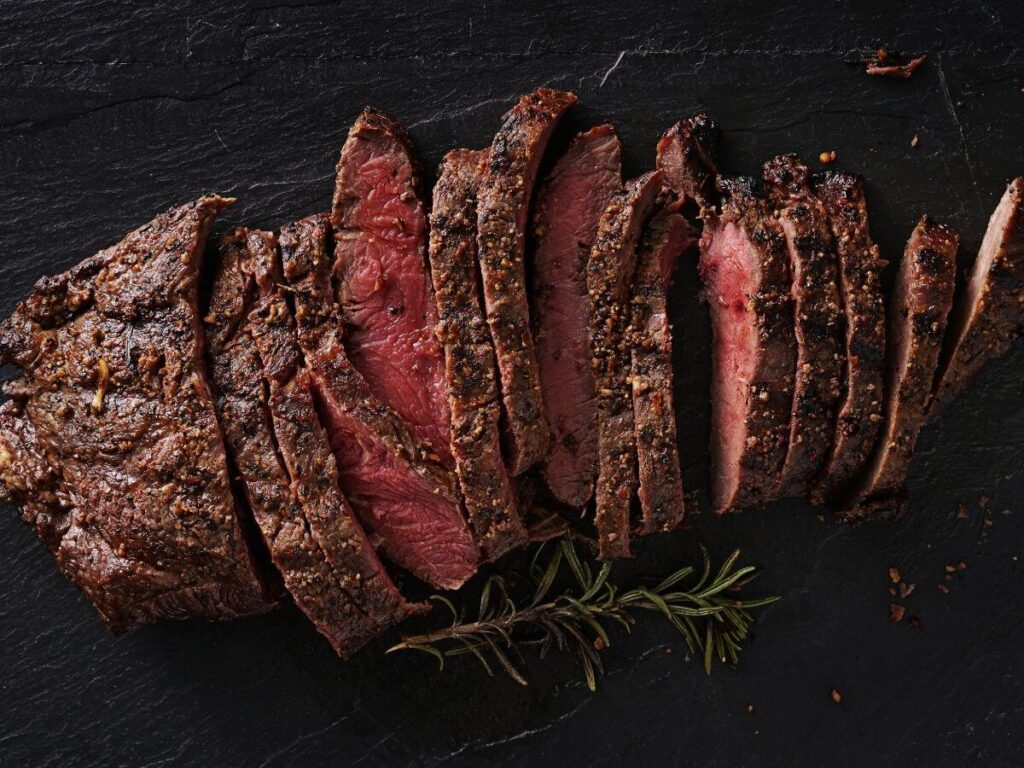 If you're looking for a fantastic, quick, and foolproof technique to cook a flat iron steak without an outdoor barbecue, then look no further. This approach is simple to follow, quick to prepare, and quite tasty! Keep reading to learn how to cook a flat iron steak.
What Are Flat Iron Steaks?
The beef top blade, which you may be most familiar with, is used to make flat iron steaks. It comes from the chuck section of a steer. The top blade has a line of incredibly strong sinew running through it, despite the fact that it has a lot of tasty marbling. Butchers chop the meat off both sides of that sinew and separate the halves into flat iron steaks.
Flat iron steaks, like fillet mignon, are delicious on the grill, broiled in the oven, or pan-seared in a skillet. Flat iron steak is also a great choice for stir-frying or for any recipe that asks for thin slices of beef.
How to Cook A Flat Iron Steak
Pat the Meat Dry
Using a clean paper towel, pat the meat dry and soak up all the excess fluid. The steak will have a crispy exterior if the meat has been dried. If you don't dry the meat, it will be difficult to get the skin crispy without overcooking the meat.
Season And Marinate
The flavoring of the meat is a crucial stage. You'll need a lot more salt (seasoning) than you think! A flat iron steak should be marinated for 30-60 minutes before cooking.
It's not necessary to immerse your steak in a liquid to marinate it. When cooking your steak, keep in mind that you want it to be dry.
A Simple And Flavorful Marinade For Flat Iron Steak
2 teaspoons fine kosher salt (1 teaspoon per side, evenly sprinkled)
The kosher salt will season the steak all the way through. For a strong flavor, kosher salt is essential.
1 teaspoon finishing salt (12 teaspoons evenly sprinkled per side)
In addition to kosher salt, you can also use a course or finishing salt. Although coarse salt may not permeate the steak as much as kosher salt, it adds taste and improves the crunch and flavor of the crust. This is optional.
1-2 teaspoons of fresh cracked black pepper (equally distributed on both sides)
It's entirely up to you how much pepper you use. For a spicier crust, you can use a lot of pepper.
2 tablespoons of oil (1 tablespoon per side)
This will aid in the formation of a lovely crust on the steak. It's better to use cooking oil that can withstand high temperatures. Canola oil, light olive oil, and sunflower oil are all suitable options. Extra virgin olive oil is also great, despite the fact that it's best used at low temperatures or as a finishing oil.
Allow To Cool To Room Temperature
After seasoning and marinating the steak, allow it to come to room temperature (30-60 minutes). This guarantees that the meat cooks evenly. If you cook the steak when it is still cold, you may need to cook it for longer to properly heat it. It's also possible that your meat will turn tough.
Season the steak with salt and pepper, then relax with a glass of wine. The steak is ready to grill when that glass is empty!
Instructions
Season your flat iron steaks on both sides with salt and leave them in the fridge, uncovered, for at least 1 hour (or overnight). To catch any dripping juices, place them on a rack over a tray. This will help your meat produce a nicer crust on the grill.
Heat your grill to a high temperature and clean and oil your grates. Take your steaks out of the fridge to warm up a little before you begin. However, you still want them cool, so no less than 15 minutes. The best wait time is 1 hour to ensure proper room temperature.
Grill your flat iron steaks for a good 5 minutes on one side without touching them. Depending on the heat and the thickness of the steak, flip and cook until done to your liking, ranging from 2 to 10 minutes.
Remove the steaks from the grill, season with freshly cracked black pepper一 or any other spices and herbs you want一and set aside for 5 minutes to rest. Squeeze citrus juice over everything and slice across the grain (the narrow end).
Tips For Flat Iron Steak
Apply the seasoning mix on the steaks and let them rest in the fridge for 1 hour before cooking for a more delicious steak.
When the butter in the pan begins to clear (separate), the skillet is hot enough.
Beef and cabbage, believe it or not, go nicely together. If you're searching for a side dish to go with this steak, a nice gravy or collard greens is a good option.
How To Make A Gravy To Go Along With Your Steak
Ingredients
Instructions
Melt the butter in a large nonstick skillet over medium heat.
Stir in the flour and cook, stirring frequently, for 5 to 7 minutes, or until the mixture is a rich brown color.
Whisk in the broth until smooth, then reduce to low heat and cook for 3 minutes, stirring frequently.
Stir in the bouillon granules and the pepper until everything is well-blended.
Season to taste with salt.
Collard Greens Side Recipe
Remove the collard greens' thick core ribs and arrange the leaves on top of one another. Roll them up into a cigar-like form from one end, then slice them across the roll to make slender collard strips. Make your slices as thin as possible using a sharp chef's knife—ideally around ⅛-inch wide. Break the collards apart with a few additional chops.
Over medium-high heat, warm a big, heavy-bottomed skillet (cast-iron works well). Pour a generous amount of olive oil over the top (the oil will later help your body absorb the nutrients in the greens). Add the greens and a touch of salt. To ensure that the greens are all softly shimmering from the oil, stir them thoroughly.
Allow the greens to cook in 30-second intervals against the pan, stirring in between. Some of the collards will get crisp, browned edges as a result of the heated oil in the hot pan—these are delicious!
Add the garlic and red pepper flakes once you see some browning action because the garlic will burn by the time your collards are done
To stop the collards from cooking, transfer them to plates with the flat iron steak on the side.
You Might Also Like: