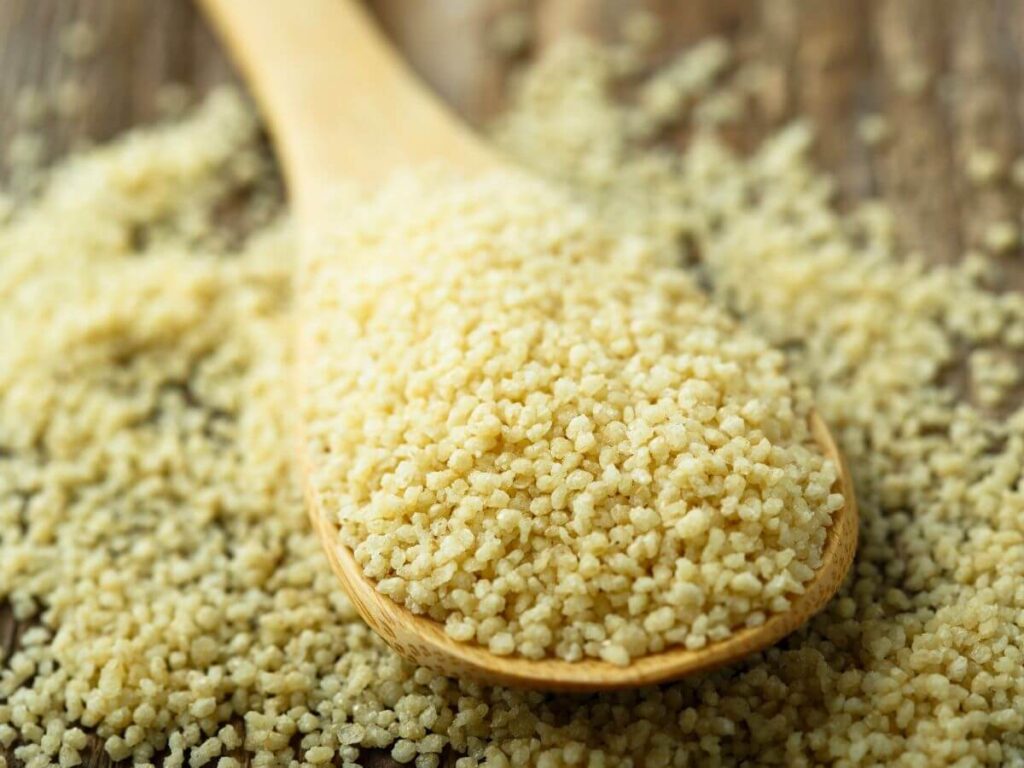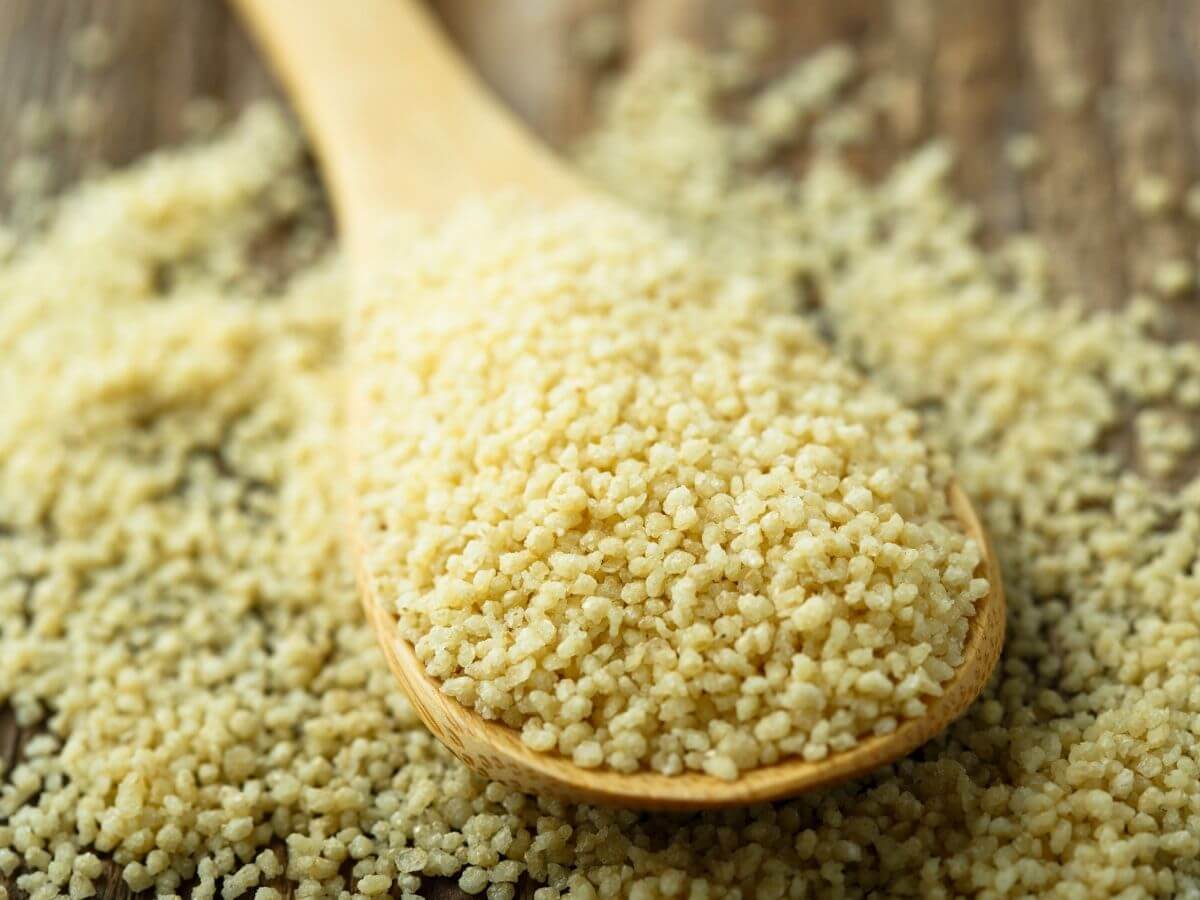 Couscous is a staple in several Mediterranean, Middle Eastern, and African countries and is becoming more and more popular in the United States. It is a fantastic side dish and goes well with lots of different main courses. It is very healthy and super easy to make. Want to know how to cook couscous? We have all the information you need!
What is couscous?
Couscous is a type of pasta made from barley or wheat and is a staple food to several North African and Mediterranean countries. It is made by tossing moistened semolina or durum wheat with barley or wheat. The mixture is then coarsely ground until you get tiny balls of grains. It is a great alternative to pasta and rice and is loaded with health benefits.
Different types of couscous
There are three different types of couscous depending on the size of the couscous grains or balls:
Moroccan: These are instant and are in very tiny grains.
Israeli: These are relatively larger-sized grains than Moroccan and are pearl-like.
Lebanese: These are larger and take some time to cook.
How to store couscous
You can store uncooked couscous just the way you store grains. Place it in an airtight jar and store it in a dry and cool place. However, when it comes to cooked couscous, you can put it in an airtight container and store it for up to 3 days.
If you are thinking about freezing the couscous, I don't recommend it. Because it is so easy to make, try making it fresh every time. If you freeze cooked couscous, the texture won't be the same once you defrost it.
How to cook couscous: different ways
There are two main ways of cooking couscous, and both of these are super easy. So, even on a very hectic and tiring day, you can make a simple and delicious couscous dish effortlessly. Here is how you can prepare couscous:
With boiling liquid: To prepare couscous using a boiling liquid, you need boiling water, or vegetable broth, or chicken broth. Toast the couscous in olive oil, and add it to a saucepan with a lid. Pour boiling liquid over it and cover it until the couscous absorbs the liquid and fluffs up. You can boil the liquid on a stovetop, fire, or electric kettle.
In a microwave: Making couscous using boiling liquid usually involves a lot of pans and pots. So, if you are looking for a more convenient way of cooking it, try making it in the microwave. Simply pour your liquid in a microwave-safe bowl and boil microwave it for about 5 to 6 minutes. Add the instant couscous, season it with olive oil and salt, and cover. You don't need to toast the couscous. Just add it in hot liquid, cover, and wait. How convenient is that?
Serving ideas
You can season cooked couscous with dried or fresh herbs and spices. You can also add nuts, dried fruits, or fresh garden vegetables. Everything works with couscous!
Tips for making couscous
Here are a few tips to get the perfect texture for your couscous:
If you want every pearl of cooked couscous to be separate, keep a close eye on the couscous to liquid ratio. The ratio is 1:1. It means if you are cooking 1 cup of instant couscous, you will need 1 cup of liquid. If you add less than the required water, the couscous will be very dry and hard. However, if you add more than the needed water, the couscous will be sticky.
Although you can easily cook couscous in water, it won't add any flavor. To make a simple couscous dish loaded with flavor, add broth instead of water. You can use beef, vegetable, or chicken broth. You can also use bouillons dissolved in water instead of broth. They will give the same flavors.
To add nuttiness to the couscous, toast it before cooking. You can do that by adding a little olive oil and toasting it in a non-stick pan. The more color it gets, the nuttier the flavor will be.
Once you have added boiled liquid to the couscous and placed a lid on the pan, don't take the lid off before 10 minutes have passed. Let the couscous absorb the flavors and fluff up.
How to cook couscous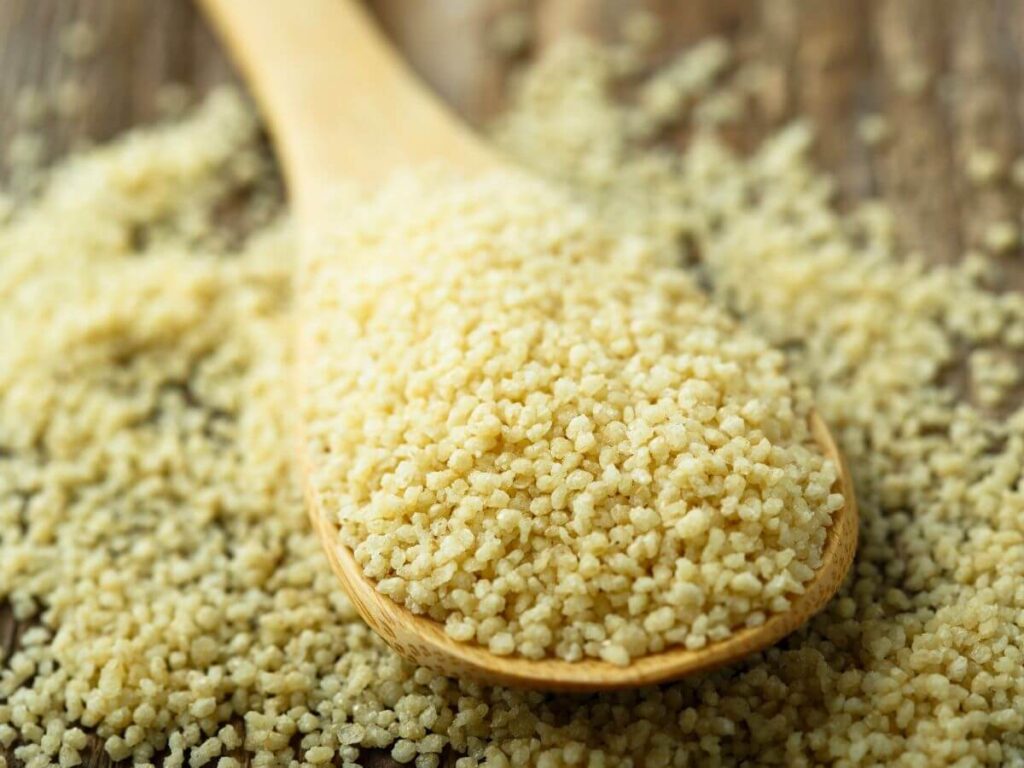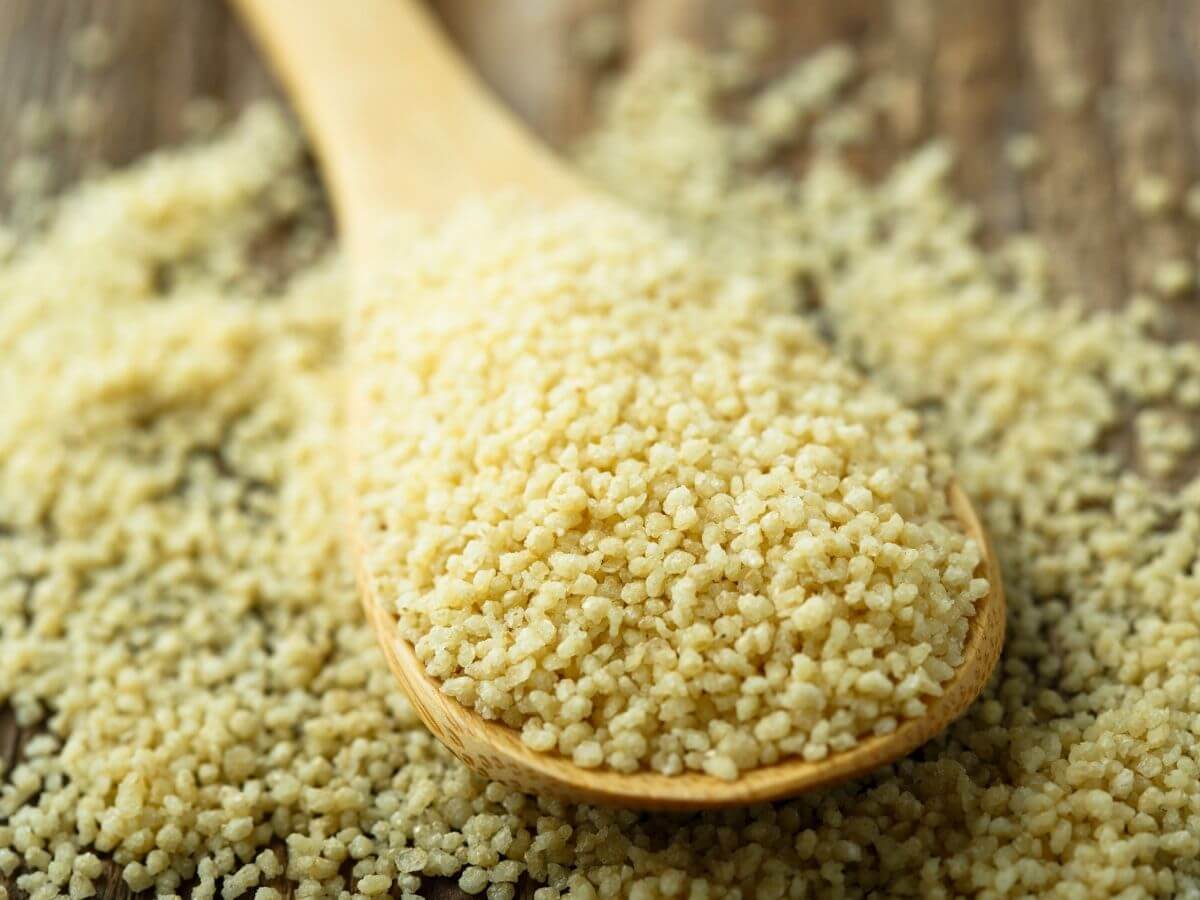 Preparation time: 10 minutes
Cooking time: 5 minutes
Total time: 15 minutes
Servings: 2
Ingredients
½ cup dry instant couscous
½ cup chicken broth, vegetable broth, or water
olive oil, as required
1 garlic clove, minced and sauteed
juice of a lemon
1 green onion, chopped
1 tbsp fresh parsley, chopped
½ tsp cumin
Salt, to taste
Preparation
Start by pouring vegetable or chicken broth in a saucepan. Drizzle olive oil and season with salt. Place the saucepan over medium heat and bring the mixture to a boil.
Meanwhile, place a non-stick pan over medium heat. Add about 1 tablespoon of olive oil. Once it heats up, add couscous, and using a wooden spoon, toss it. Toast the couscous until it turns golden brown. The more color it gets, the nuttier the flavor will become.
Add the toasted couscous to boiling broth and turn off the heat. Cover the saucepan and let it sit for about 10 minutes or until all the couscous absorbs all the liquid.
Remove the lid of the saucepan and fluff the couscous with a fork.
In another pan, heat olive oil and add minced garlic. Sauté for a minute or two.
Take the couscous out in a serving bowl. Add sauteed garlic, cumin, freshly chopped parsley, lemon juice, green onions, and mix well using a wooded spoon.
Serve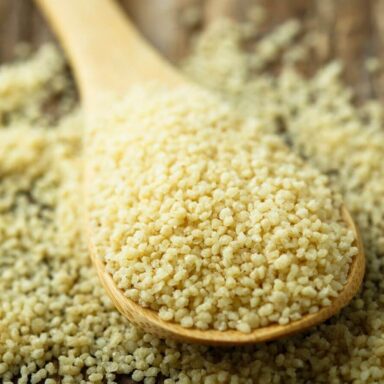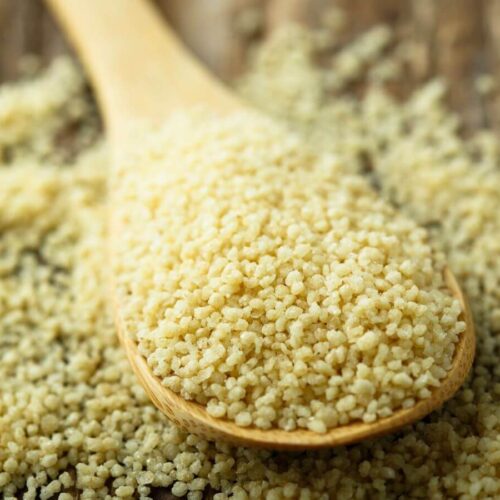 How to cook couscous
Ingredients
½

cup

dry instant couscous

½

cup

chicken broth

vegetable broth, or water

olive oil

as required

1

garlic clove

minced and sauteed

juice of a lemon

1

green onion

chopped

1

tbsp

fresh parsley

chopped

½

tsp

cumin

Salt

to taste
Instructions
Start by pouring vegetable or chicken broth in a saucepan. Drizzle olive oil and season with salt. Place the saucepan over medium heat and bring the mixture to a boil.

Meanwhile, place a non-stick pan over medium heat. Add about 1 tablespoon of olive oil. Once it heats up, add couscous, and using a wooden spoon, toss it. Toast the couscous until it turns golden brown. The more color it gets, the nuttier the flavor will become.

Add the toasted couscous to boiling broth and turn off the heat. Cover the saucepan and let it sit for about 10 minutes or until all the couscous absorbs all the liquid.

Remove the lid of the saucepan and fluff the couscous with a fork.

In another pan, heat olive oil and add minced garlic. Sauté for a minute or two.

Take the couscous out in a serving bowl. Add sauteed garlic, cumin, freshly chopped parsley, lemon juice, green onions, and mix well using a wooded spoon.

Serve
You Might Also Like: