Curious about how to prepare frozen french fries in an air fryer? Say no more because this straightforward recipe will show you how to cook frozen french fries in an air fryer!
Better than fast food, incredibly crispy, healthy, and tasty, you'll never go back to take out fries after trying these french fries cooked in an air fryer!
Why You Should Cook Frozen French Fries in an Air Fryer
Readily Available Ingredients
You'll have delicious fries in no time with only a few essential ingredients that you probably already have!
Easy to Pair as A Side Dish
You can serve these fries as an appetizer before dinner or as a side dish with your favorite entree.
Liked By Almost Everyone (Kids Too)
Isn't it true that most kids love french fries? These fries are ideal for children's meals and lunchboxes since they are not soaked in oil.
Way Healthier than Fried French Fries
These french fries are healthy, guilt-free, and a fantastic side dish for lunch or dinner since they consist of whole ingredients.
How to Cook Frozen French Fries in an Air Fryer
Ingredients
This dish doesn't require a lot of ingredients. You may already have these easy items in your fridge and freezer or quickly grab them at your neighborhood grocery store!
Frozen Fries – This recipe will work with any frozen fries. Although, using plain salted fries is recommended since it goes with everything.
Seasoning – Add salt and pepper according to your preference.
Oil – A tbsp of olive oil or any other cooking oil is more than enough to enhance the crispiness of these fries.
Air Fryer – Of course, you can't cook air-fried frozen french fries without an air fryer!
Instructions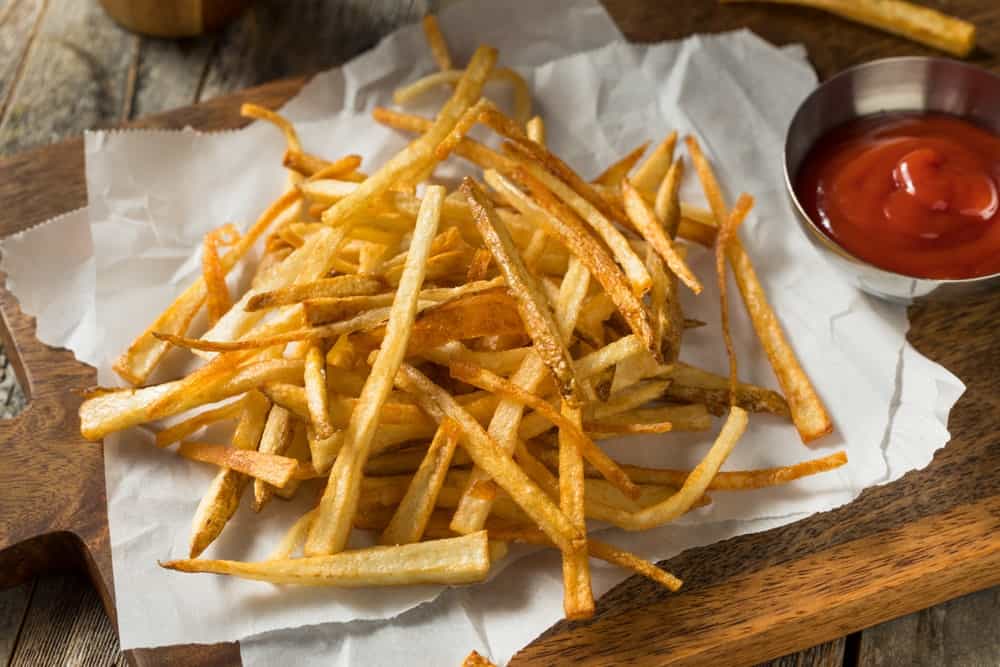 Preheat the air fryer for 5 minutes at 400 degrees Fahrenheit for the tastiest french fries. Put the frozen fries in the air fryer after pre-heating. Apply a little coat of oil on the fries, mix well, and season with plain salt and pepper. Cook for 10 minutes.
Toss the fries and cook for another 10 minutes.
Gently shake the fries again to keep them from clinging together. You may need to cook them in batches based on the scale of your air fryer and the cut of your fries.
Test a fry or two to make sure they are cooked through and are at a temperature of your liking.
Remove the fries from the air fryer, sprinkle some fresh oregano (optional) before serving with your preferred condiments or dipping sauces.
Grab that Air Fryer and Package of Frozen Fries
Everybody loves french fries, and this air-fried alternative is the healthiest option to satisfy your cravings. These fries are a very versatile dish and can be paired with almost anything or enjoyed as a meal or snack in itself.
You Might Also Like: