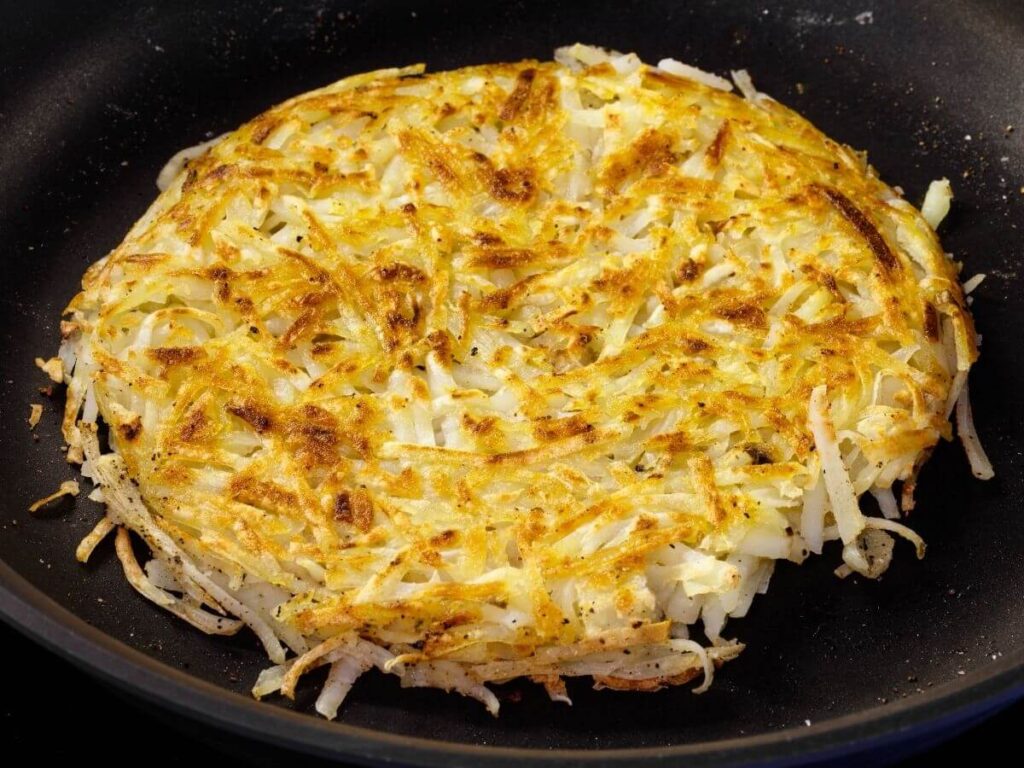 What's not to love about a big platter of extra crispy golden-brown potatoes? The answer: absolutely nothing. From plain eateries and fast food joints to extravagant morning feasts and continental breakfasts, they're a fixture of practically every good American menu.
Hash browns, often known as hashed browns, are a classic American breakfast dish made from finely diced potatoes that are fried until golden-brown. They are a fantastic side dish for breakfast, and you can also have them for lunch and dinner too. In this article, we'll show you how to cook frozen shredded hash browns so that you can savor this wonderful potato dish anytime you want.
Shredded hash browns can be served as a side dish or as a main course. They're usually fully cooked; all you have to do is reheat them. To get the best taste, you may want to make them crunchy. They can be cooked on the stove, in the oven, or in an air fryer. We'll discuss each way in detail in this article.
Should I Thaw Frozen Hash Browns Before Frying?
Thawing hash browns ensures that you get the most flavor out of your meal and that they are fully cooked. Before cooking, you can remove extra moisture by thawing the frozen components of your recipe. This is especially the case when cooking a layered dish.
How to Cook Frozen Shredded Hash Browns On The Stove
Key Ingredients
You can use seasonings that are easily accessible and already in your kitchen cabinet.
Salt
Black pepper
Onion powder
Garlic powder
Butter
Although you can make hash browns from scratch by peeling and slicing potatoes, this isn't always a viable option for individuals with a hectic schedule. Thankfully, there are several kinds of hash browns available that are both simple to prepare and tasty, and the quickest way to prepare hash browns is on the stove.
The Frying Pan Method
Instructions
Heat frying pan over medium heat with nothing in it. You can pour 3 to 6 tablespoons of vegetable oil into a cast-iron skillet if you prefer using oil.
After the pan has warmed up, scatter your hash browns inside until the bottom of the pan is covered.
Don't pile them excessively high—one layer of hash browns will be ideal, but it's fine if a little is stacked. You simply don't want your layer to get too large.
It's merely a matter of cooking them until all the ice has melted and they've turned golden brown. You'll need to toss them halfway through to brown the opposite side. On medium heat, fry them for approximately 5 more minutes.
Toss them again to let them completely turn brown on the bottom side, which might take another 5 minutes if your stack has some height.
Remove the hash browns from the skillet when they are golden brown and crispy on both sides and transfer them onto a tray or serving plate. Flavor to taste with salt and pepper.
The Air Fryer Method
Air fryer frozen shredded hash browns are fantastic! They are simple to make and incredibly tasty! If you like frozen hash brown patties cooked in an air fryer, you'll enjoy these too. This is an excellent and simple dish, and it comes out crispy in an air fryer.
Key Ingredients
Frozen shredded hash browns
Non-stick cooking spray
Olive Oil
Instructions
Apply a thin layer of olive oil on the top (to help them crisp up).
Preheat the air fryer to 370 degrees Fahrenheit and bake for 15-20 minutes, flipping halfway through and brushing with olive oil again.
The Oven Method
Hash browns don't have to be cooked in a frying pan. You can bake them too.
Preheat your microwave oven to 450 degrees Fahrenheit.
Bake for 10 minutes with a single layer of frozen hash browns on a greased baking sheet.
Continue baking for another 8-12 minutes or until golden brown.
The Griddle Method
You must defrost frozen hash browns before cooking them on a griddle. You can thaw frozen hash browns in the oven, refrigerator, or on the kitchen counter.
After they've thawed, dry them with a paper towel to absorb any excess moisture.
Next, preheat the griddle over a medium temperature for a few minutes.
Toss some oil or butter on the griddle.
Put the hash browns on the griddle and cook until they are golden brown. You should allow an extra 5-6 minutes on each side.
Wait until they've turned a deep golden color and are crispy.
Hash BrownTips
Store your cooked hash browns in an airtight container for up to 4 days. Before serving, reheat for about 4-5 minutes in an air fryer.
Add a pinch of garlic powder or cayenne pepper for a spicy kick now and then to spice up your hash browns.
You Might Also Like: