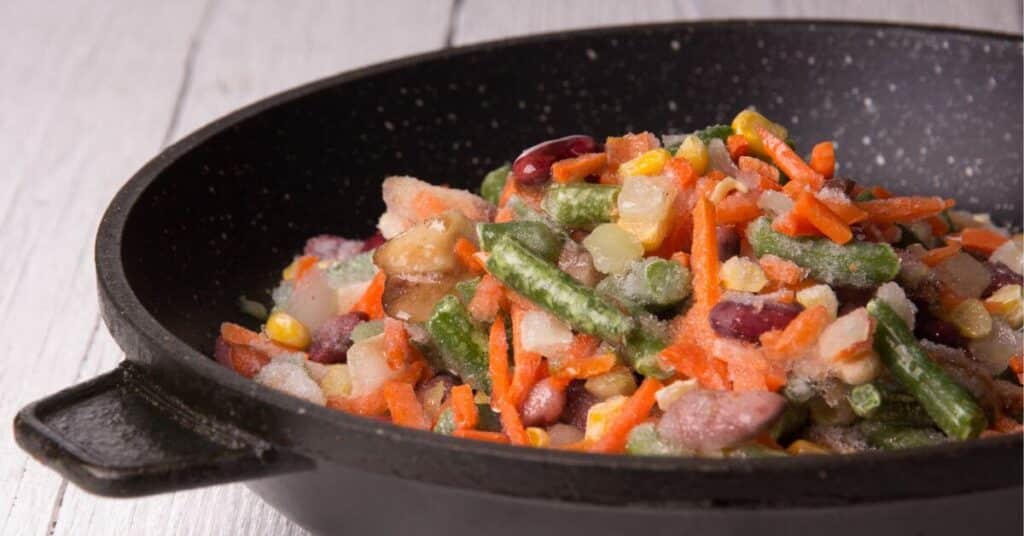 Stir fry with beef or chicken and vegetables is healthy, easy to make, and delicious. And the best part is you don't always have to use fresh produce. You can make a delicious stir fry using frozen vegetables as well. In fact, frozen vegetable stir fry is quick and convenient and saves you a lot of prep time. Keep reading to learn how to cook stir fry with frozen vegetables.
What is a stir fry?
Most people consider a stir fry a dish when it is actually a cooking technique used in Chinese cuisine. This technique cooks meat or vegetables in a wok over very high heat. As a result, they cook faster and have a crispy texture. It is a popular dish that is easy to cook.
Can you cook stir fry with frozen vegetables?
When it comes to vegetables, most people prefer fresh produce; however, frozen vegetables are super convenient, and they save you money and time. They are just as delicious as using fresh vegetables.
Tips for cooking stir fry with frozen vegetables
Although a vegetable stir fry is a quick and easy dish, you must keep a few things in mind to get the best results. Here are a few tips:
Most people complain that their frozen vegetable stir fry ends up being soggy or watery. That's mainly because they all make one mistake. They cook the frozen vegetables without thawing them first. You must always thaw the frozen vegetables first to eliminate excess water.
Even if you don't have the time to thaw the vegetables thoroughly, at least run some water over them to melt away excess ice.
Because stir fry veggies cook up fast, you must always have all of your ingredients everything ready to go before you start cooking. So, always thaw the vegetables first, and prepare the sauce before you heat up the wok.
Always ensure the wok is super-hot before you start cooking.
You can use sesame oil, olive oil, or any vegetable oil for cooking the stir fry.
You can use any frozen vegetable combination for a stir fry. Whatever vegetables you love can go into this recipe. Plus, you can also use frozen vegetables separately to create your favorite combination. Some of the best veggies to use in a stir fry are broccoli, bell pepper, snow peas, green beans, carrot, baby corn, and so many more. The sky is truly the limit!
If you want to go vegan, add vegan meat like tempeh, seitan, or even crispy tofu to this recipe. If you are not vegan, you can add leftover chicken, beef, or sautéed shrimp.
What to serve with a vegetable stir fry
Here are a few sides that go perfectly with a vegetable stir fry:
Rice: Fried rice is a delicious and one of the most popular Chinese takeout dishes. And guess what it is made of? Stir-fried frozen vegetables mixed with rice. You can either combine rice with this frozen vegetable stir fry recipe or serve the two dishes separately. Either way, rice completes your dish. You can use either white rice, brown rice, or cauliflower rice.
Quinoa: Quinoa has a unique flavor and is packed with nutrients. It pairs well with several dishes, including vegetable stir fry.
Noodles: Noodles and stir fry are a match made in heaven. You can enjoy this vegetable stir fry dish along with your favorite noodles. It is the ultimate comfort food!
Dumplings: Soft, moist, and chewy dumplings are also a great side dish you can enjoy with vegetable stir fry. You can fill the dumplings with meat or cheese.
Crackers: Rice crackers are fun to eat. And if you love trying different textures, try eating rice crackers with a stir fry.
How to cook stir fry with frozen vegetables
Preparation time: 5 minutes
Cooking time: 12 minutes
Total time: 17 minutes
Servings: 4
Ingredients
2 tablespoon sesame oil
3 cups frozen mixed vegetables, thawed
2 scallions (white part), thinly sliced
2 scallions (green part), roughly chopped
2 garlic cloves, minced
1 tbsp grated fresh ginger
¼ cup soy sauce
2 tbsp rice wine vinegar
1 tsp sriracha
1 tbsp brown sugar
¼ tsp red pepper flakes
Sesame seeds, for garnish
Instructions
Add soy sauce, rice wine vinegar, sriracha, grated ginger, brown sugar, and red pepper flakes to a bowl. Mix well and set the bowl aside.
 In a wok, add sesame oil.
Once the wok heats up, add the white part of the scallions and minced garlic. Sauté for a minute.
Now add thawed frozen vegetables and cook for about 5 to 8 minutes or until they start to crisp up.
Pour the prepared sauce on top and cook for a minute or two.
Garnish with the green part of the scallions and sesame seeds, and serve with your favorite side.
Enjoy!
You Might Also Like: