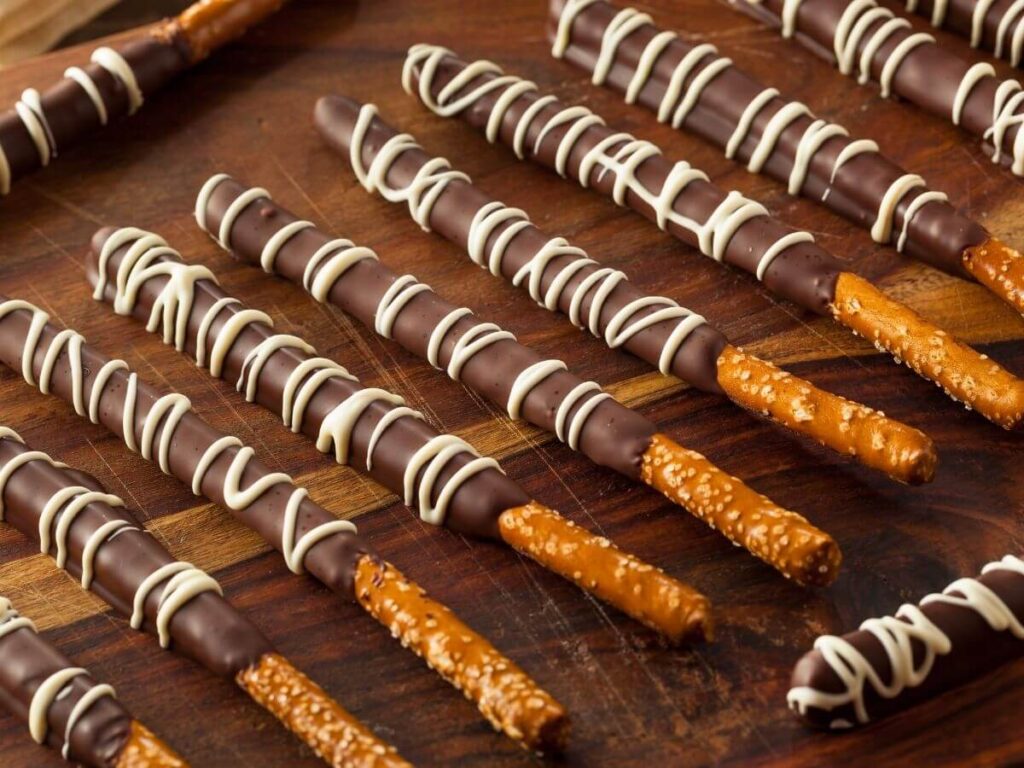 Chocolate covered pretzels are a tasty treat, or even a wonderful gift when packaged up and tied with a pretty ribbon. Using candy melts is a fast and easy way to create these delectable treats, as the candy melts are quick to melt and fuss-free. Keep reading to learn how to make chocolate covered pretzels with candy melts.
Choosing Your Pretzels
There are many types of pretzels, but two are most common for chocolate covered pretzels. Long rod-style pretzels are usually dipped on one end and decorated with drizzles of chocolate or sprinkles, leaving one end uncovered to act as a "handle" while eating. Small twist-style pretzels are typically fully covered with chocolate and left plain or decorated.
What Are Candy Melts?
Candy melts are not technically chocolate but are round disks of candy that come in many flavors and colors and melt much more easily than chocolate. The melts don't require any special tempering or equipment to melt and use, and won't burn as easily as chocolate does. Candy melts can be purchased at specialty cake baking shops or craft stores.
How to Heat Candy Melts
Low heat is the key to melting candy melts safely and avoiding burning them. There are two main methods to melt the round circles: microwave and double-boiler. You can refer to the steps on the bag of candy melts or follow the steps below.
Microwave Melting
Place the candy melts in a microwave-safe bowl. It is best to only melt 16 ounces (1 pound) at a time, to avoid uneven heating. Using 40% power, microwave the candy melts for 1 minute, then use a rubber spatula to stir the candy. Return the bowl to the microwave, then carefully remove the bowl (it will begin to be very hot). Stir in between each time in the microwave, until the candy melts have all melted together and are very smooth.
Double-boiler Melting
Use a double-boiler pot or a heat-safe bowl on top of a saucepan. Fill the bottom pot with an inch or two of water, ensuring the water does not touch the top pot or bowl. Place the candy melts in the top pot or bowl. Over medium heat, bring the pot to a simmer, stirring the candy melts while it comes to a simmer, then remove the pot from the heat once it simmers to prevent the candy melts from burning. Stir the candy melts until they have completely melted and are smooth.
Dipping the Pretzels with Candy Melts
Prepare a baking sheet with parchment paper or a silicone mat. For pretzel rods, pour the candy melts into a tall cup and dip the pretzels into the cup, leaving around an inch of pretzel rod uncovered, and place the dipped pretzel onto the baking sheet to dry. Repeat with remaining pretzels, adding more melted candy to the cup as needed. For small twist-style pretzels, place them in the bowl with the melted candy and use a fork to push the pretzels down into the candy to fully coat. Use the fork to remove the pretzels, letting the extra candy drip off. Place the pretzels onto the prepared baking sheet to dry.
Decorating the Pretzels
You may decorate the dipped pretzel if desired. Or, drizzle with more melted candy melts in another color or flavor. To easily drizzle chocolate, add the melted candy to a small squeeze bottle, and make a zig-zag pattern over the drying pretzels. It is best to let the pretzels fully dry from their initial dip in candy melts before drizzling with a second color or flavor.
 Flavored and Colored Candy Melts
Candy melts come in a variety of colors and flavors, but can also be altered to suit your needs. Use gel food coloring (also found in craft supply stores or baking stores) to add color to plain white candy melts once you have melted them. Play around with different combinations to create exciting chocolate covered pretzels with candy melts!
You Might Also Like: