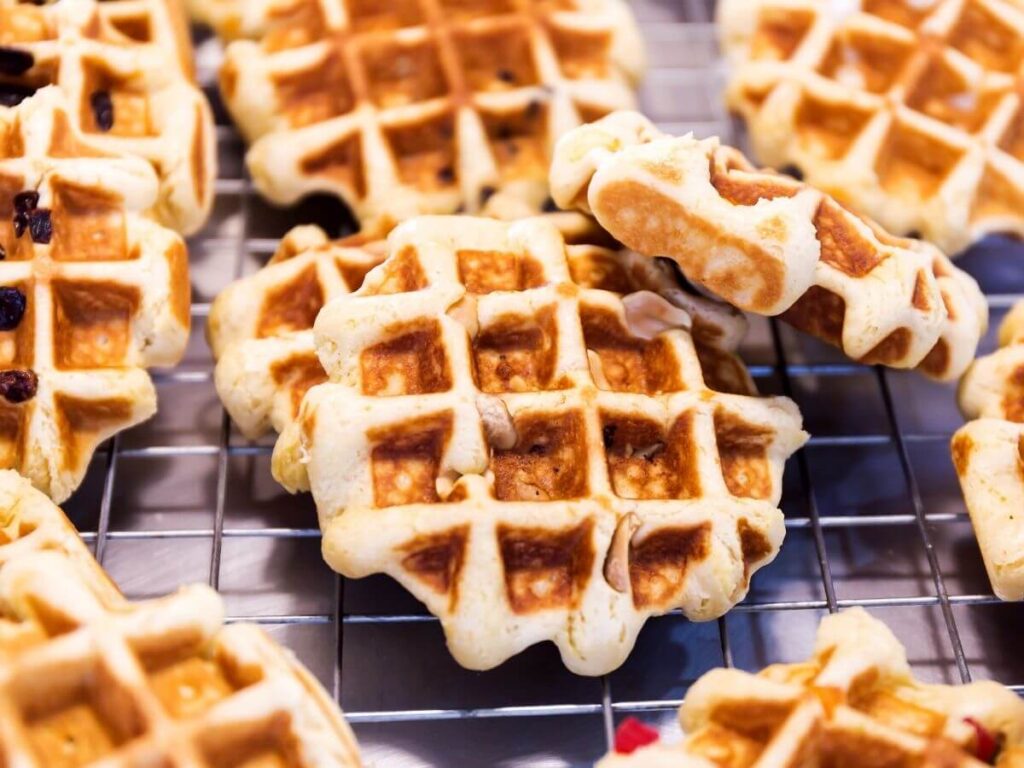 Cinnamon rolls are always the perfect breakfast and we have the perfect recipe for caramelized, buttery, salty, and crunchy cinnamon rolls that you make in your waffle maker. Yes, you read that correctly. Keep reading to learn how to make cinnamon rolls in a waffle maker.
Cinnamon Rolls Made in a Waffle Maker Are Always Delicious
These cinnamon rolls are made with a good amount of butter and a good measure of sea salt, giving you the most buttery, sweet, and salty experience you could ever want.
These rolls are made in a waffle maker so that the sugar and butter melt evenly. The butter becomes crispy and flavors the rolls, while the sugar caramelizes and forms a delightful caramel crust.
And the results are fantastic buttery cinnamon rolls with a creme brulee surface! Soft and crunchy. Sweet and salty. This recipe is addictive. I warned you!
How to make cinnamon rolls in a waffle maker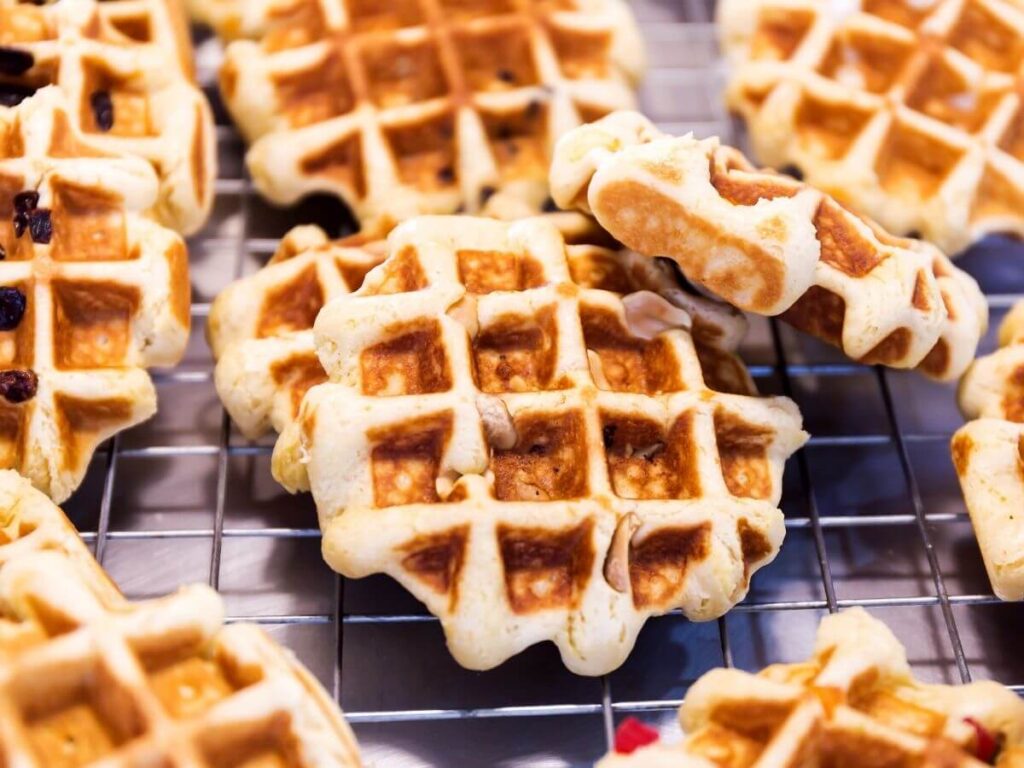 Ingredients
Waffles:
2 cups all-purpose flour
2 tablespoons white sugar
4 teaspoons baking powder
1 teaspoon salt
1 ½ cups warm milk
⅓ cup butter, melted
2 eggs, beaten
1 teaspoon vanilla extract
Cinnamon Topping:
¾ cup brown sugar, packed
½ cup butter, melted
1 tablespoon ground cinnamon
Cream Cheese Topping:
1 ½ cups confectioners' sugar
1 (3 ounces) package cream cheese, softened
¼ cup butter softened
½ teaspoon vanilla extract
⅛ teaspoon salt
Instructions
Preheat a waffle iron according to the manufacturer's instructions.
Whisk flour, white sugar, baking powder, and 1 teaspoon salt together in a large bowl. Beat warm milk, 1/3 cup melted butter, eggs, and 1 teaspoon vanilla extract together in another bowl. Add milk mixture to flour mixture and stir until batter is lumpy.
Working in batches, ladle batter into the preheated waffle iron and cook until waffles are golden and crisp, 3 to 5 minutes.
Stir brown sugar, 1/2 cup melted butter, and cinnamon together in a bowl. Beat confectioners' sugar, cream cheese, 1/4 cup softened butter, 1/2 teaspoon vanilla extract, and 1/8 teaspoon salt together in another bowl.
Place waffles on a plate and drizzle cinnamon mixture and cream cheese mixture over the top.
Place the rolls in a preheated broiler for 5 minutes or until that sugar is caramelized and bubbly and crunchy – almost like the torched sugar topping on creme brûlée.
Tips to make the perfect cinnamon rolls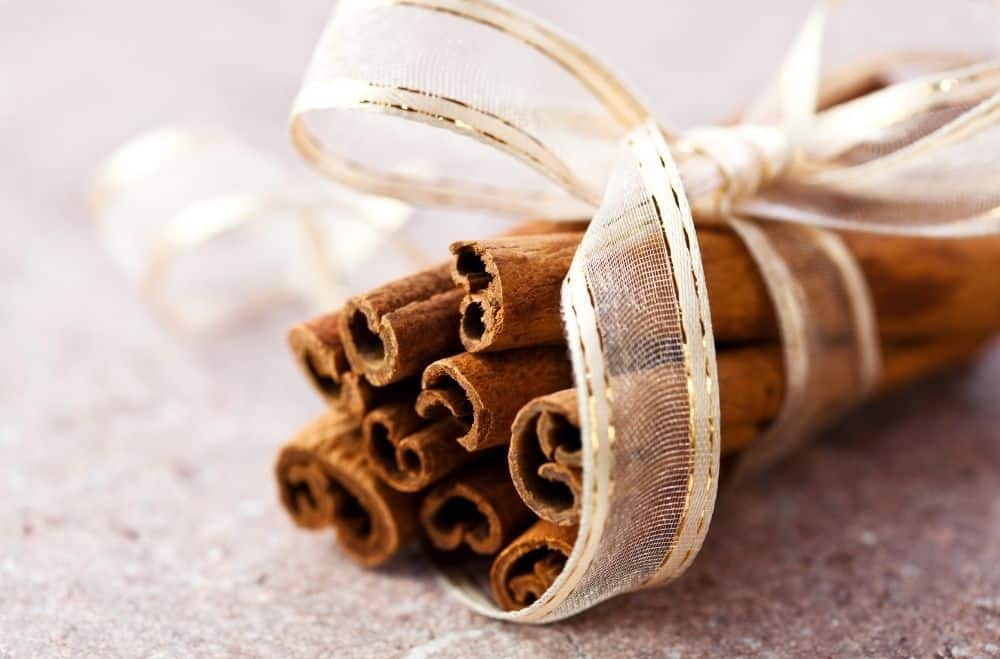 Be very sure to mix all of the ingredients for the cinnamon topping really well. Use the topping right away or store it in the refrigerator.
Do not spread a lot of cinnamon topping on the waffle; just a thin, even layer. If you add too much filling to the rolls, they will become too sweet and sticky.
Let the caramel surface cool down enough to create a rigid, crunchy texture!
The trick here that makes this so different from any other cinnamon roll is creating a paste of sorts with the softened butter, cinnamon, sugar, and a pinch of salt. It's essential to get that buttery goodness all the way to the edges of the rolls before we broil them. Getting that butter covering everything helps keep the rolls from burning under the broiler. Broiling it gets that sugar all caramelized and bubbly and crunchy – almost like the torched sugar topping on creme brûlée.
You Might Also Like: