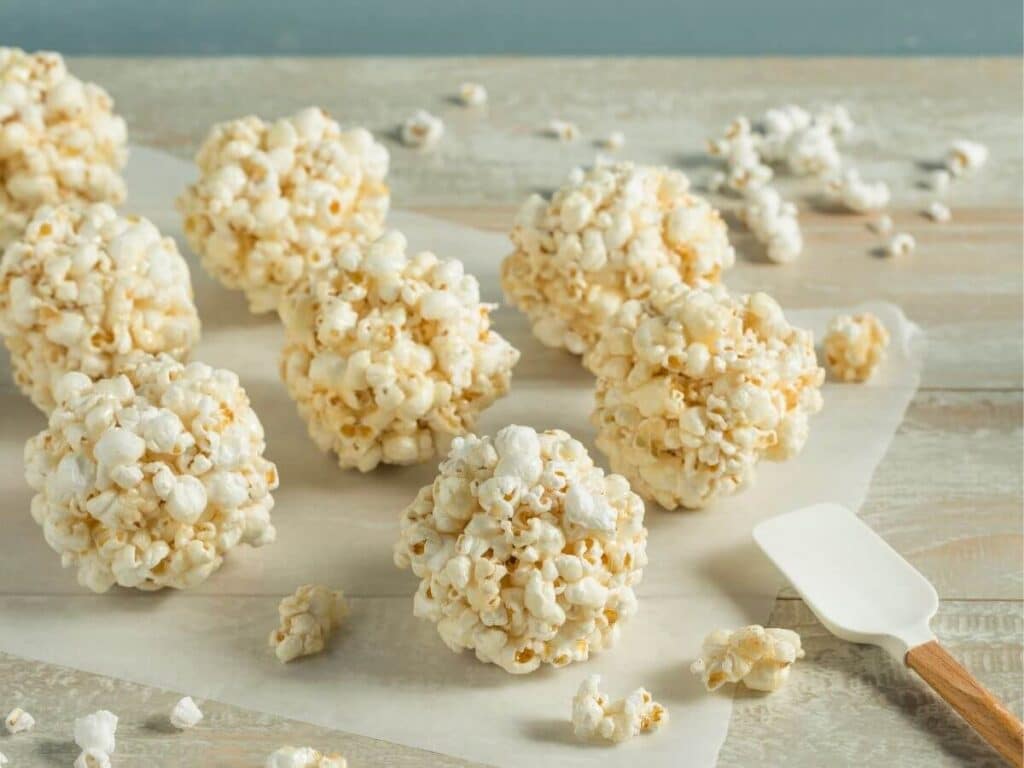 Popcorn balls with marshmallows are one of those treats that both kids and adults love to eat. You can make them easily at your home with rainbow colors, sprinkles and more. Keep reading to learn how to make popcorn balls with marshmallows.
How to Make Popcorn Balls with Marshmallows
Ingredients 
You only need a few ingredients to make popcorn balls with marshmallows and you probably already have most of what you need on hand.
2 bags of Popped popcorn
Light corn syrup
10 ounces of mini marshmallows
2 tablespoons water
¼ cup of Butter
1 tablespoon of vanilla
2 tablespoons of powdered sugar
A pinch of salt
Optional ingredients
Instructions 
Spray non-stick cooking spray on a baking sheet and set it aside.
Toss popcorn and half of the marshmallows together in a large bowl and set it aside.
Place the remaining marshmallows, powdered sugar, water, butter, and corn syrup in a pan.
Place the pan on the stovetop on low-medium heat and bring the mixture to a boil.
Remove the pan from the heat and quickly add salt and vanilla.
Stir the mixture gently and pour it over the bowl containing the marshmallows and popcorn.
Stir gently to coat all of the popcorn.
Set aside the mixture for 2 to 3 minutes.
Shape the popcorn into small balls (2 to 3 inches in size) before it cools. Butter your hands to keep the mixture from sticking.
Place the balls onto the baking sheet.
Let the balls cool before eating.
How to Store Leftover Popcorn Balls with Marshmallows
Use plastic wrap or cellophane to individually wrap any leftovers and store them at room temperature for up to one week. Don't place the leftover popcorn balls with marshmallows in your refrigerator because it'll affect both their texture and taste.
Additional Tips
 
You can use food coloring and sprinkles to liven things up. If you don't want to use sprinkles then you can't go wrong with green and red M&Ms, especially if you're making marshmallows popcorn balls on Christmas. You can even add some flaked sea salt or melted chocolate or caramel to kick the taste up a notch. Be creative and have fun with them.
You Might Also Like: