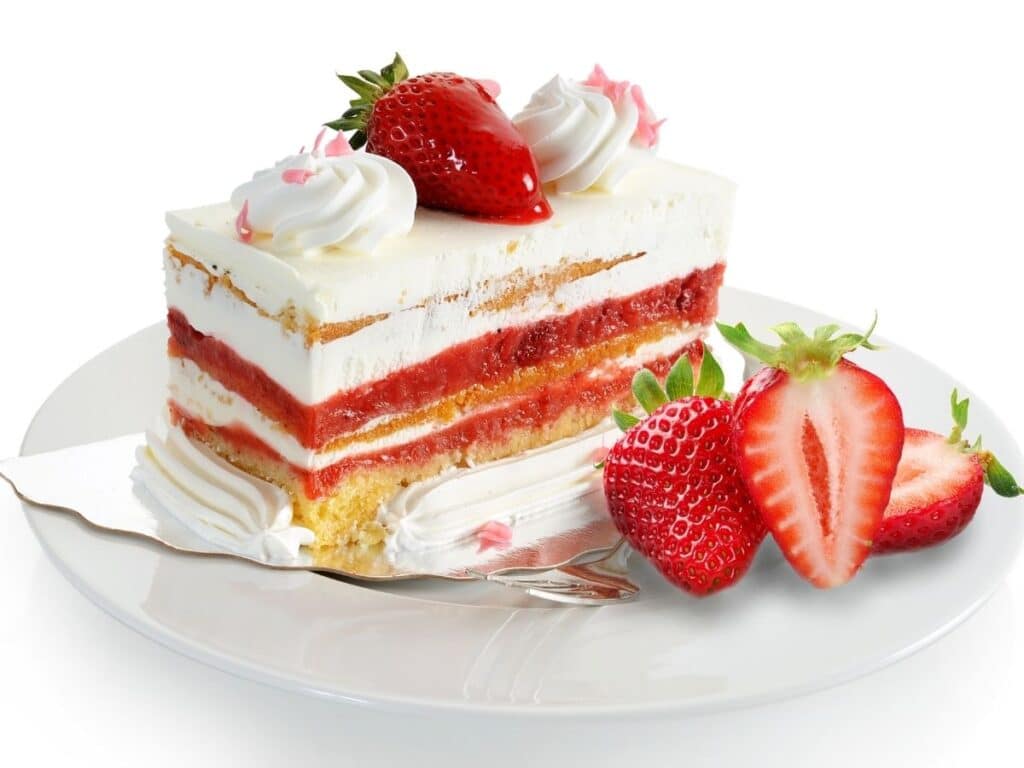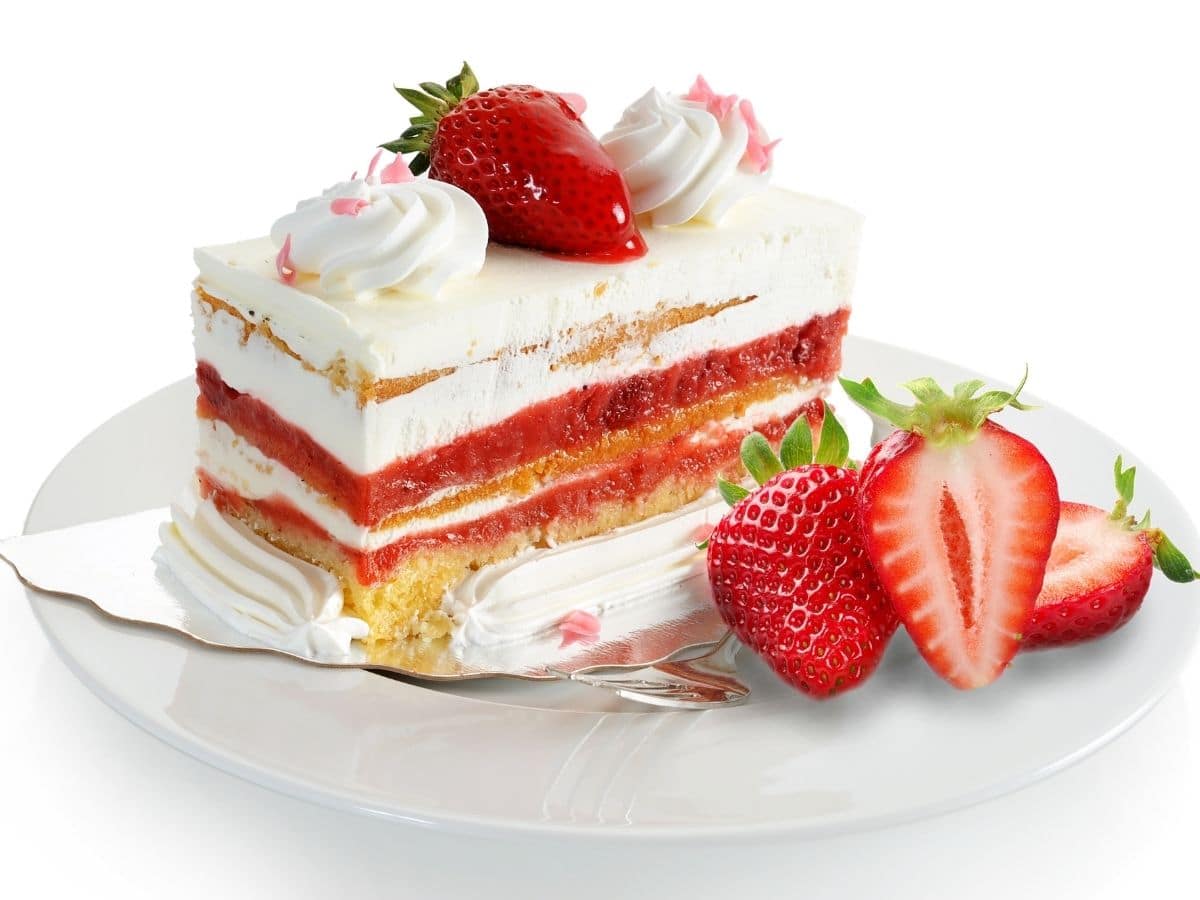 Cake is the ultimate dessert for any occasion. But how can you make this classic pastry even better? By adding some homemade strawberry filling, of course! You can easily buy strawberry filling at the grocery store, but it tastes so much better when you make it at home. It is super easy to make and you can easily adjust it to fit your tastes! Keep reading to learn how to make strawberry filling for cake.
When you buy strawberry filling, you get lots of sugar and additives as well. Making the filling at home makes it much easier for you to control what goes in. You can change up the amount of sugar, and make the sweetness level match what you like. Skip the store-bought stuff and see just how good homemade strawberry filling can be!
HOW DO I ADD STRAWBERRY FILLING TO CAKE?
There are many different ways to fill a cake, but the easiest way is to slather them between each cake layer. Let the filling and cake cool completely before doing anything. If you add the filling while the cake is still hot, the strawberry filling will become very runny.
You can either use strawberry filling between cake layers, or top the filling with some whipped cream. If you are planning on making a cheesecake, simply add the strawberry filling on top, smooth it out, and refrigerate for a couple of hours.
INGREDIENTS
Strawberries: fresh or frozen strawberries work in this recipe. If using frozen strawberries, make sure to get the unsweetened ones.
Cornstarch: using a cornstarch slurry helps to thicken the strawberry filling. Give the cornstarch slurry an additional mix before adding it to the strawberry filling.
Sugar: it's best to use a type of sugar with a fine grain (i.e. granulated sugar). It will cook down faster, so you don't overcook the strawberries.
Lemon Juice: the tart flavors from the lemon bring out the strawberries' sweetness. This recipe uses freshly squeezed lemon juice.
Salt: balances the sweet flavors and makes them pop more.
HOW TO MAKE HOMEMADE STRAWBERRY FILLING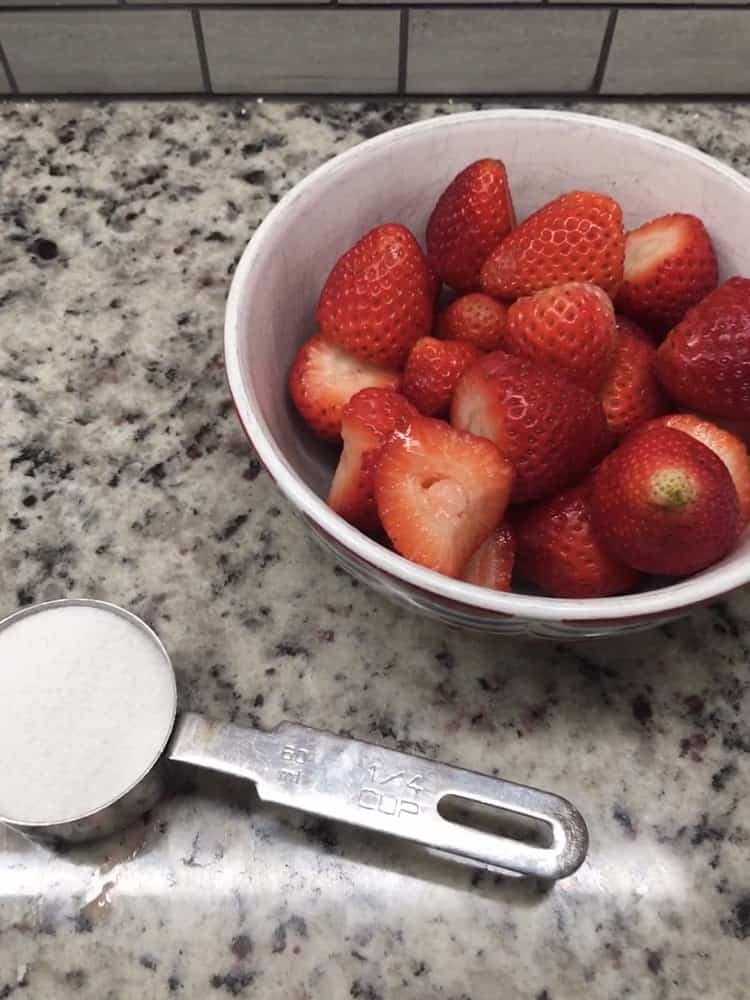 Making this strawberry filling only requires a few ingredients and a few steps.
Give your strawberries a good wash, then hull them – removing the stem and core. Cut the strawberries into quarters, making sure each piece is around the same size. Add the strawberries, half a cup of water, sugar, fresh lemon juice, and a pinch of salt into a saucepan or pot.
Cook the ingredients over medium heat, stirring frequently to avoid burning. Once the sugar has dissolved into the mix, let everything cook for another minute. Mash the strawberries to get the classic strawberry filling texture.
Make a quick cornstarch slurry by adding the cornstarch into half a cup of water and stirring. Pour the slurry into the strawberry filling while continuously stirring. This will thicken the filling and give it a deeper red color. Bring the filling to a boil to cook the cornstarch. If it starts to get lumpy, add in a splash of water to bring it back to the right consistency.
To check for doneness, see if the filling can coat the back of a spoon and not separate when touched.
Take it off the heat, pour it into a heat-safe glass container, and let it cool. When the strawberry filling has cooled completely, feel free to use it however you like! It tastes great in all kinds of cake including sponge cake, chocolate cake, vanilla cake, and pound cake. It is also delicious on top of cheesecake or in other pastries.
FAQs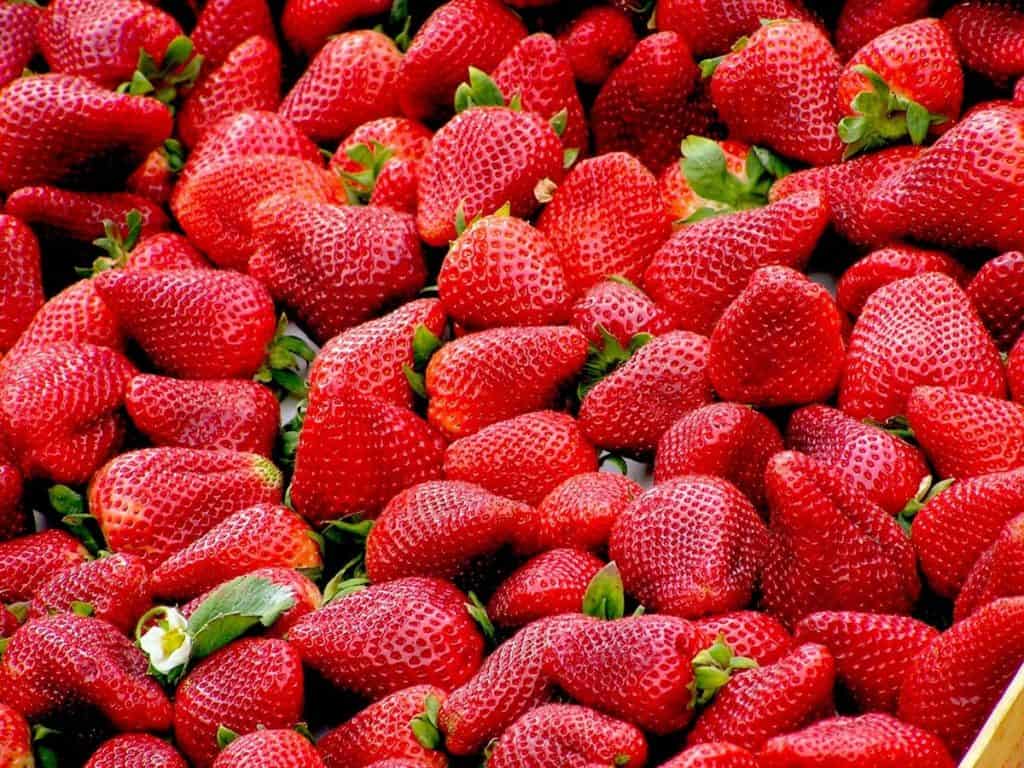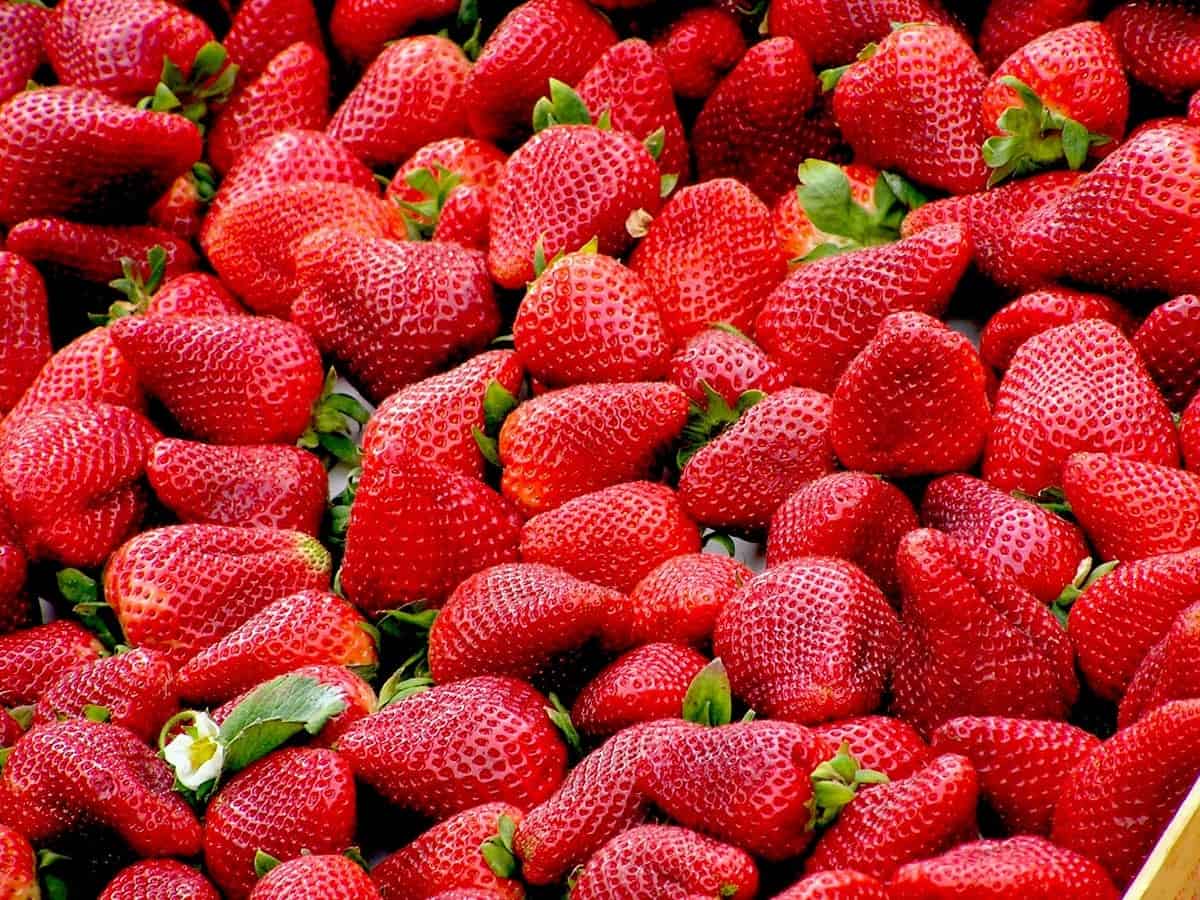 Can I use brown sugar instead?
It is best to use white sugar in this recipe because it dissolves easier in the mix. Brown sugar has larger granules than most white sugars, so it takes longer to cook into the mix. This can lead to overcooking the filling and getting a less vibrant red color for your filling.
My cake filling looks lumpy. How do I fix it?
A lumpy strawberry filling could be a sign of overcooking. It has an easy fix, so no need to worry. Add a bit of water to the lumpy filling and cook it again to get the desired texture.
How can I store the filling?
Pour the filling into a mason jar, and store it in the fridge for a week. You can also freeze the strawberry filling for 3 months.
How much filling does this make?
It really depends on how much filling you like in your cakes, but it should be enough for 2 layers of an 8-inch cake.
Does this recipe work with other fruits?
Yes. Feel free to use other fruits for this recipe. From blackberries to mango, this filling recipe works with all sorts of fruits!
If I use this filling in my cake, will I have to refrigerate it?
Since the filling is made from fresh fruits without preservatives, it doesn't have the same shelf life as store-bought filling. If you use this filling in your cakes, you will have to keep it in the fridge.
What does it mean "can coat the back of a spoon and not separate"?
The best way to check if the strawberry filling is the right texture is to cover the back of a spoon with the filling. Run your finger through the middle of the saucy spoon, and see if the filling comes back together or not. If the sauce can hold its shape, then the sauce has thickened correctly. If the sauce is runny and comes back together, then the filling hasn't finished cooking yet.
TIPS
Before chopping your strawberries, make sure to hull the strawberries. That means removing the green stalk and white core of the strawberries. This will give you the best texture of the strawberry filling. The core stays hard while cooking, which won't taste great in your cake!
While cooking the sugar it may look runny, but it will thicken when you add in the slurry.
If you prefer a chunkier strawberry filling, feel free to skip mashing the strawberry. For a smoother strawberry filling, pour the mix through a fine-mesh sieve to take out all the chunks and seeds.
Before adding in the cornstarch slurry, give it an additional mix to make sure it's well combined.
Make sure to bring the mix to a boil when adding the cornstarch to cook it. Undercooked cornstarch will lead to lumps of cornstarch in your strawberry filling.
You will know the cornstarch is cooked by the color of the filling. The strawberry filling should have a glossy color, shiny color. If the cornstarch overcooks, add in a bit of water to fix it.
When the filling is cooled, if it has thickened too much, add in a bit of hot water to get it thin again.
This recipe uses fresh strawberries, but if you are using frozen strawberries, use less water. You can add in more water if need be after the sugar dissolves.
Note: This recipe was inspired by the awesome blogger Veena Azmanov, but a few changes have been made.
How to Make Strawberry Filling for Cake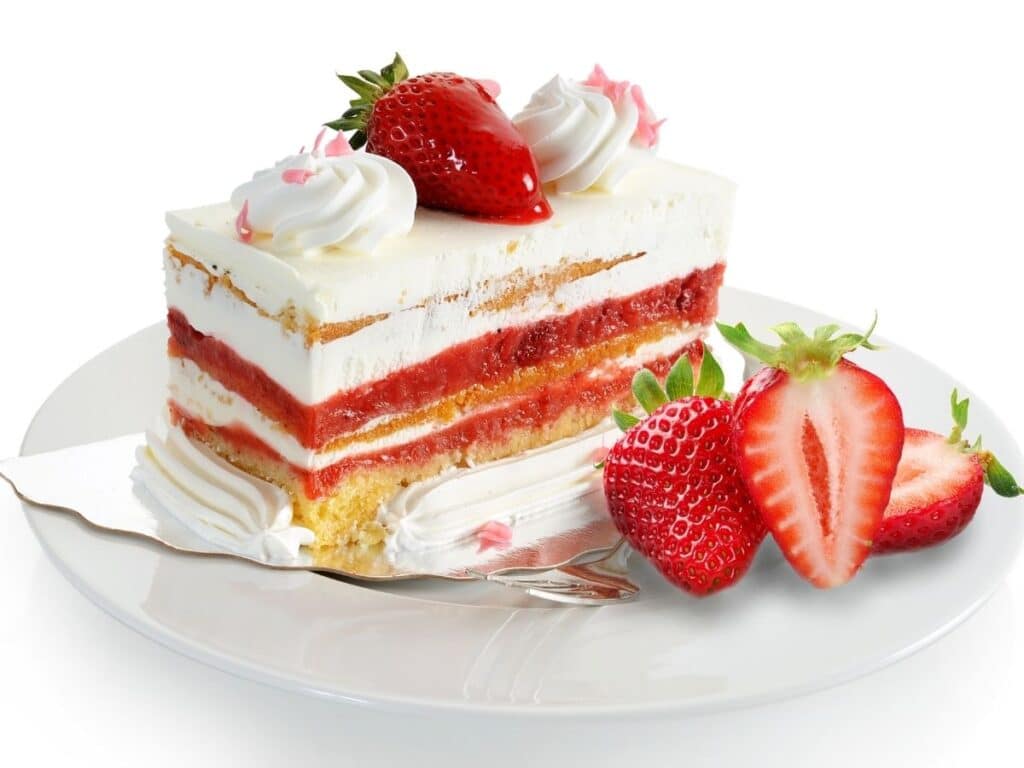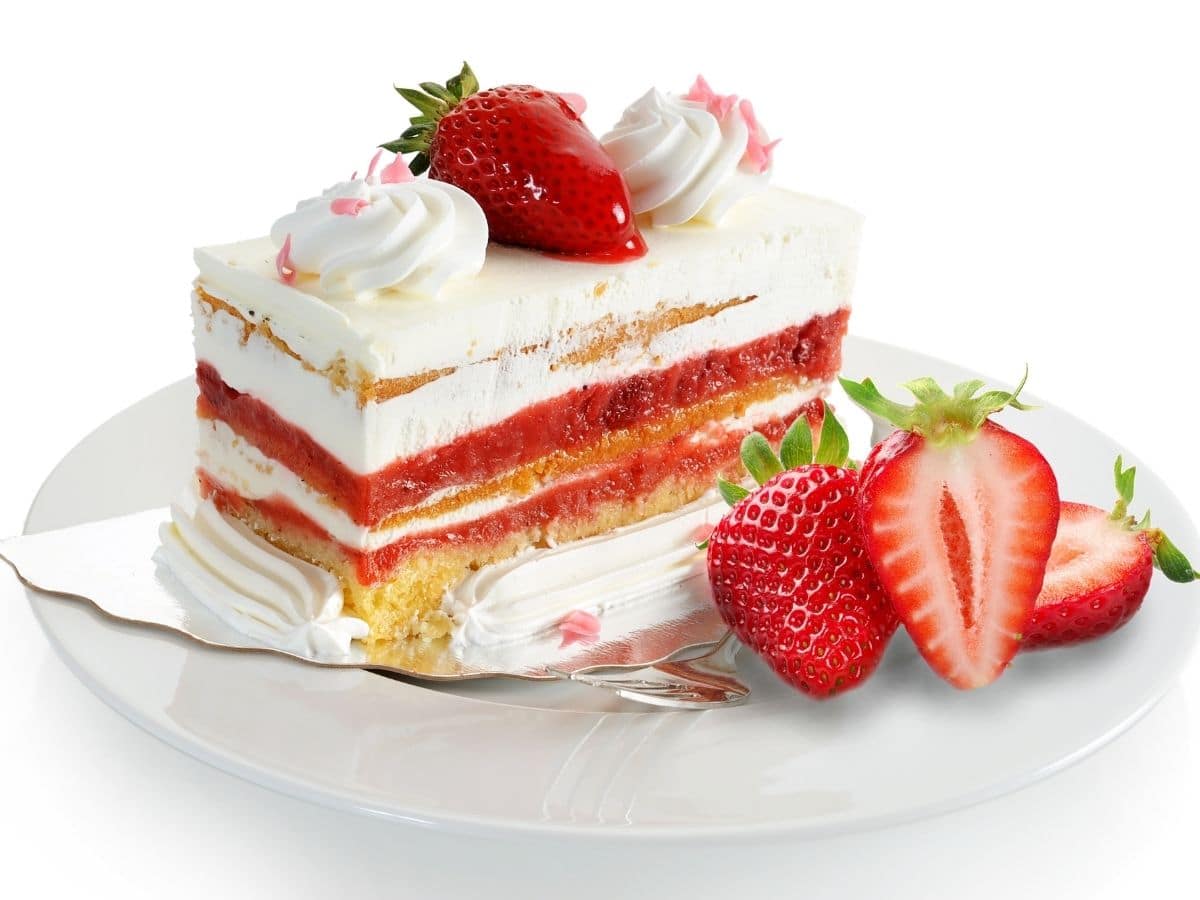 Sweet and tangy strawberry filling that is perfect for a cake or pastry. It's so easy to make, you'll never buy the store-bought stuff again. 
Prep Time: 5 mins
Cook Time: 10 mins
Total Time: 15 mins
Servings: 2.5 cups
Ingredients
1 lb. strawberries (fresh or frozen)
1/3 c granulated sugar
2 tbsp cornstarch
Half a lemon's juice
1 c water (use ½ c of water if using frozen strawberries)
Pinch of Salt
Directions
Remove the stems and cores of the strawberries. Rinse them clean, then cut them into quarters.
Add the quartered strawberries to a saucepan or pot, and add in half a cup of water, sugar, fresh lemon juice, and a pinch of salt.
Turn the stove to medium heat and cook until the sugar has melted. Stir occasionally to prevent burning.
Depending on what texture you want, you can optionally mash the strawberries.
Mix half a cup of water with the cornstarch, and stir it into the strawberry mix. Cook until the filling looks shiny and can coat the back of a spoon without separating.
To get a smoother texture, pour the strawberry filling through a sieve. This step is optional.
Pour the strawberry filling into a heat-safe jar, and let it cool completely before using.
You Might Also Like: