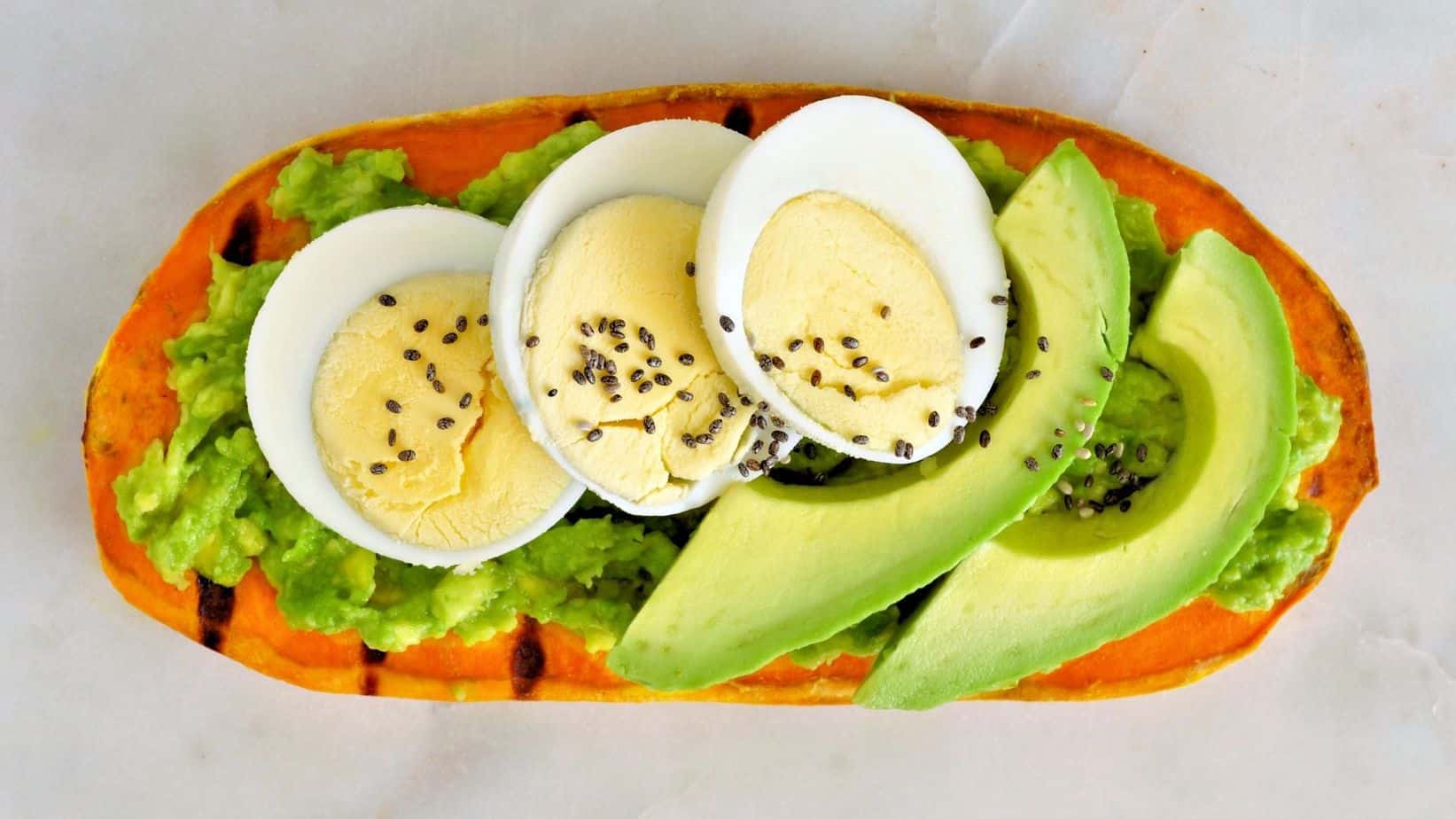 Sweet potatoes are a vegetable known for their sweet flavor, bright orange appearance, many health benefits, and yummy sweet potato fries. There are so many things you can make with sweet potatoes, including toast. Yes, you read that correctly. 😊 Sweet potato toast is a super healthy and super yummy substitute for bread.
How to Slice a Sweet Potato for Toast
When making sweet potato toasts, you need to cut them the right way. The best way is to cut them in longitudinal slices so they mimic the shape of regular toast. You can also cut them into round slices, which are perfect for making appetizers.
Keep these things in mind when cutting sweet potatoes:
Make sure you wash them to get rid of the dirt.
You may want to peel the skin as it is a bit chewy.
Use a sharp knife for even cutting.
Keep the thickness of the slices to ¼ inch. Even thickness ensures even cooking.
Ingredient breakdown
Baking sweet potato toast in a toaster oven is a piece of cake. It takes no more than 10 minutes to prep. Here are the simple ingredients you need:
Sweet Potatoes: Ensure they are fresh and firm, and the skin tone should be even and smooth to touch. There shouldn't be cracks and bruises on the sweet potato. Always go for medium-sized sweet potatoes. They have the right amount of starch in them.
Olive Oil: Adding olive oil to the sweet potatoes is optional. You can skip it if you want. However, adding olive oil makes the sweet potato toasts crispy.
Salt: A little salt adds flavor to the sweet potato toasts, but this is also optional. You can also use cinnamon if you like want it to be extra sweet.
How to Make Sweet Potato Toast
Start by washing the sweet potatoes, patting them dry, and cutting them lengthwise in ¼ inch thick slices. You can either peel them or leave the skin on.
Next, place them in a parchment-lined baking tray.
Drizzle olive oil on both sides of the sweet potato slices. Sprinkle salt on top.
Place the baking tray in a preheated toaster oven for about 400 degrees for 30 minutes.
Remove the baking tray and let the slices cool.
Top them with your favorite toppings and enjoy.
Toast Toppings
Egg Benedict: Who doesn't love poached egg with hollandaise sauce? It is so yum. And things get even better when you replace regular bread with sweet potato toast. The combination of flavors is next level!
Guacamole: Whether it is smashed avocado or guacamole, you can spread it on sweet potato toast and make it into avocado toast with a twist.
Nut Butter and Fruits: If you are craving something sweet, spread some almond butter, maple syrup, and fresh fruits like blueberries or banana slices.
Salmon and Cream Cheese: Spread cream cheese and top with smoked salmon slices.
Peanut Butter and Jelly: Put peanut butter and jelly on sweet potato toast. Add sliced banana and marshmallow fluff if you are feeling adventurous.
How to Store Your Leftovers
Sweet potato toast slices are super easy to store. Once they are baked, place the slices on a cooling rack and let them cool completely. Once they are cool, place them in an air-tight container. Place a parchment paper in between each slice and place the container in the refrigerator for up to 5 days. When eating these, reheat for about a minute in the microwave or 10 minutes in the toaster oven or regular oven and enjoy.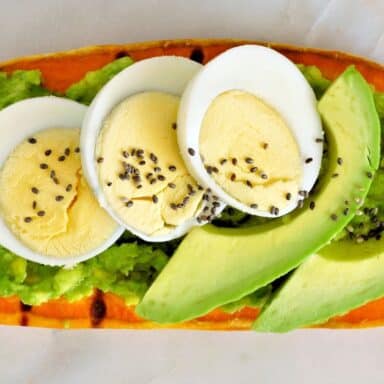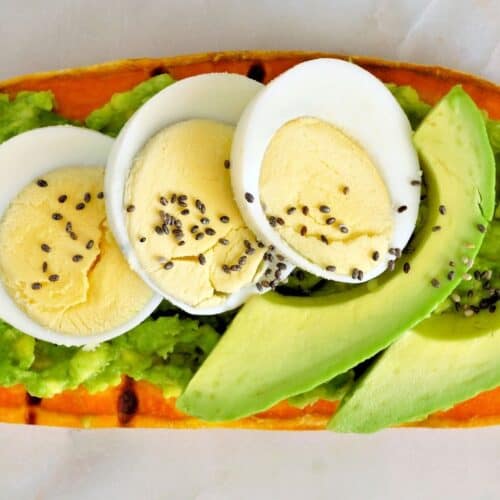 Sweet Potato Toast Recipe
Ingredients
1

sweet potato

2

tbsp

olive oil

A pinch of salt
Instructions
Wash the sweet potatoes, scrub them to get rid of the dirt.

Peel them and cut them lengthwise into ¼ inch thick slices.

Place these slices on a parchment-lined baking tray.

Drizzle olive oil on top on both sides and sprinkle a little salt as well.

Place the baking tray in a preheated oven at 400 degrees F for about 30 minutes.

Top them with your favorite topping and serve.
Want sweet potato toasts delivered right to your door? Check out Amazon!
You Might Also Like These Posts: