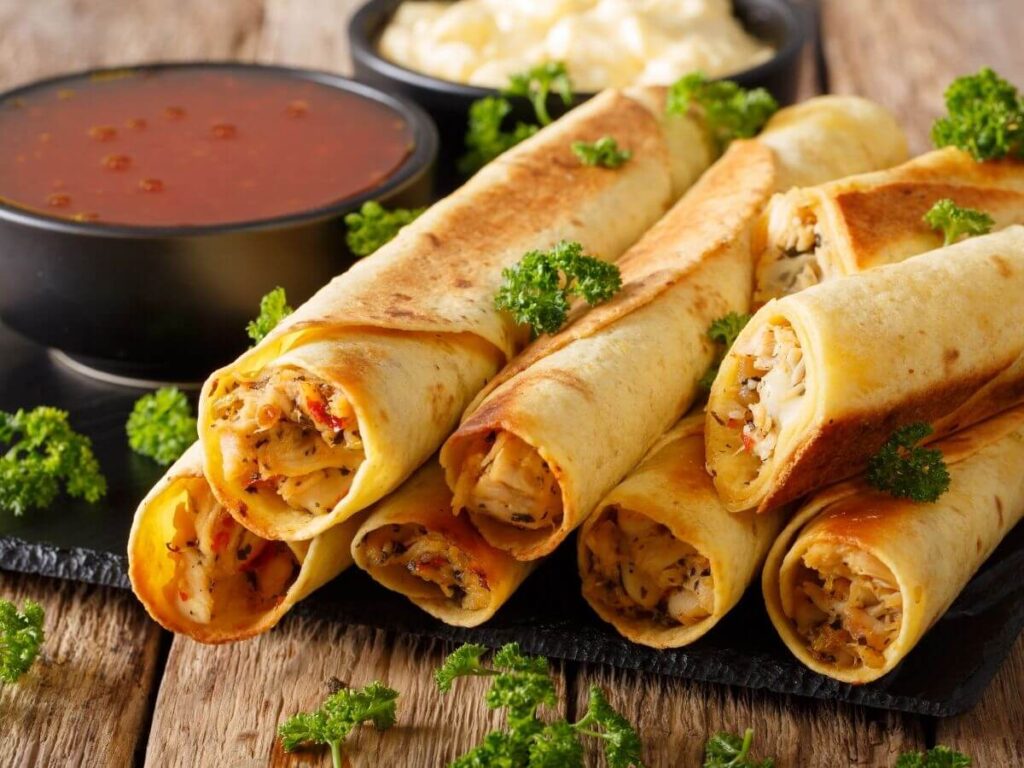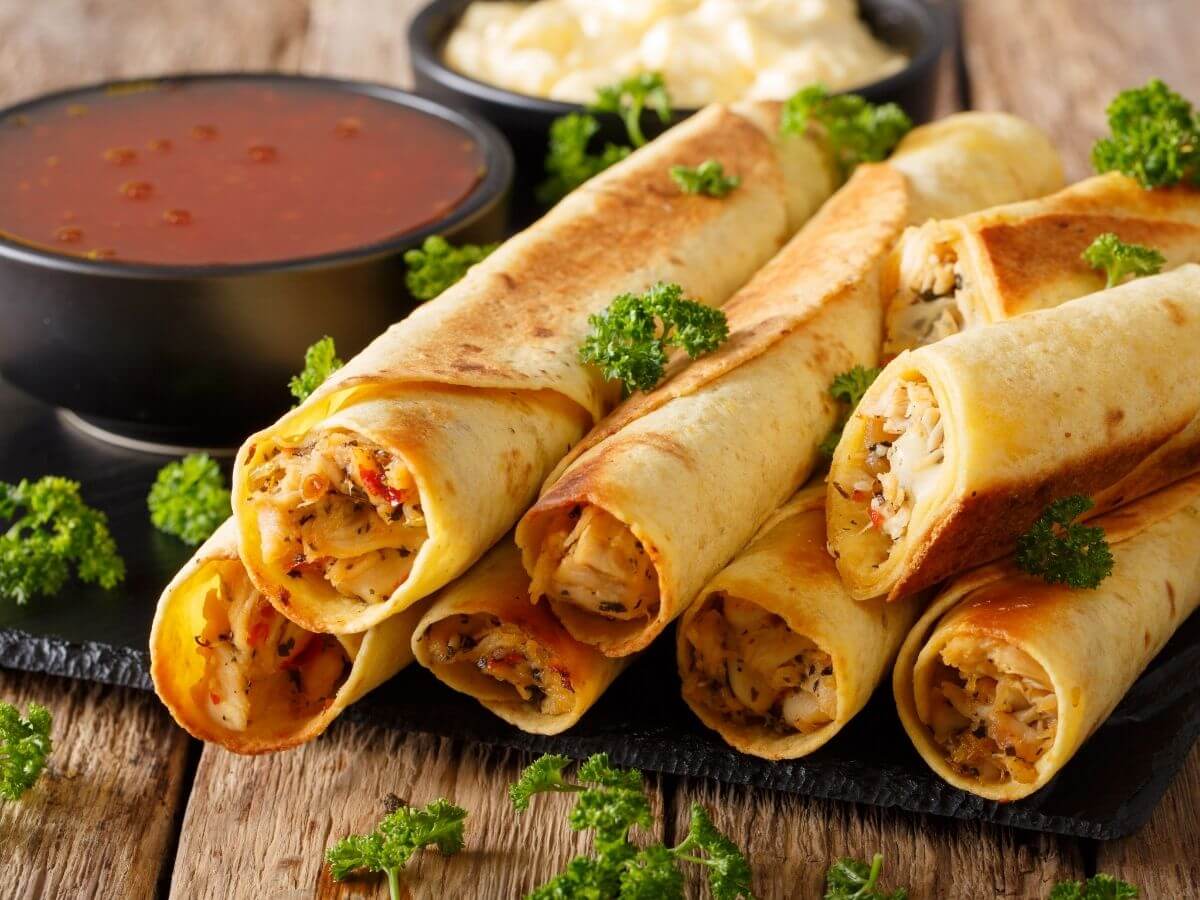 Taquitos are basically corn tortillas or tacos that are filled with cheese and meat. They're usually fried to offer a crispy texture, but you can also bake taquitos in the oven. Keep reading to learn how to make taquitos in the oven.
How to Make Taquitos in the Oven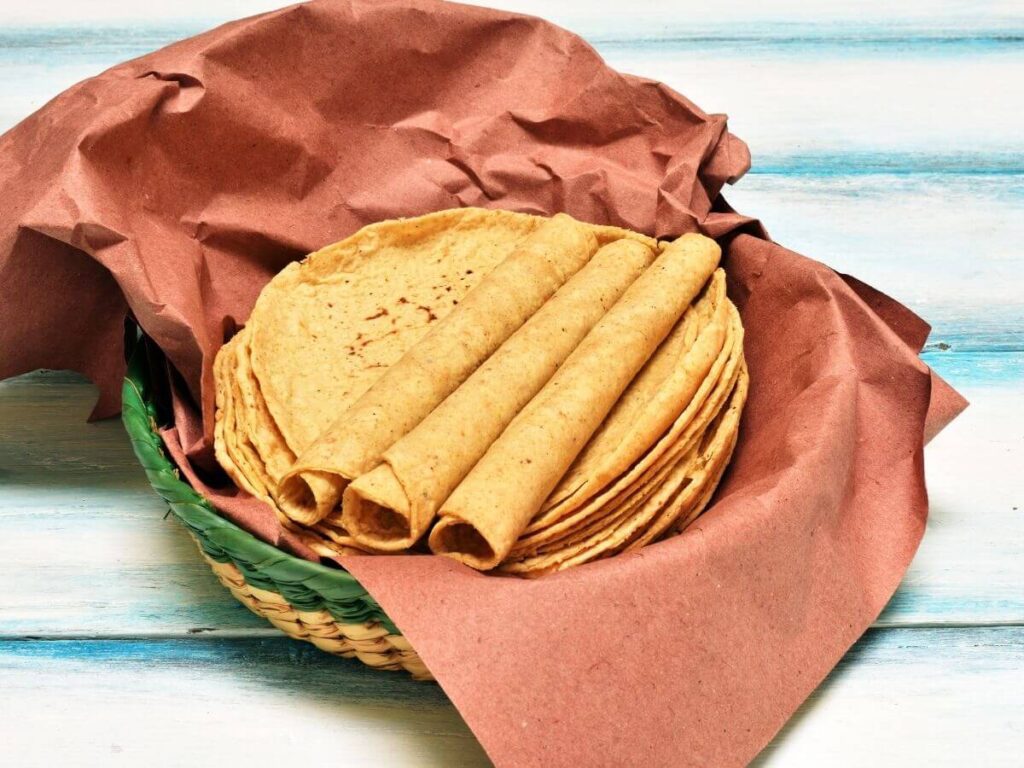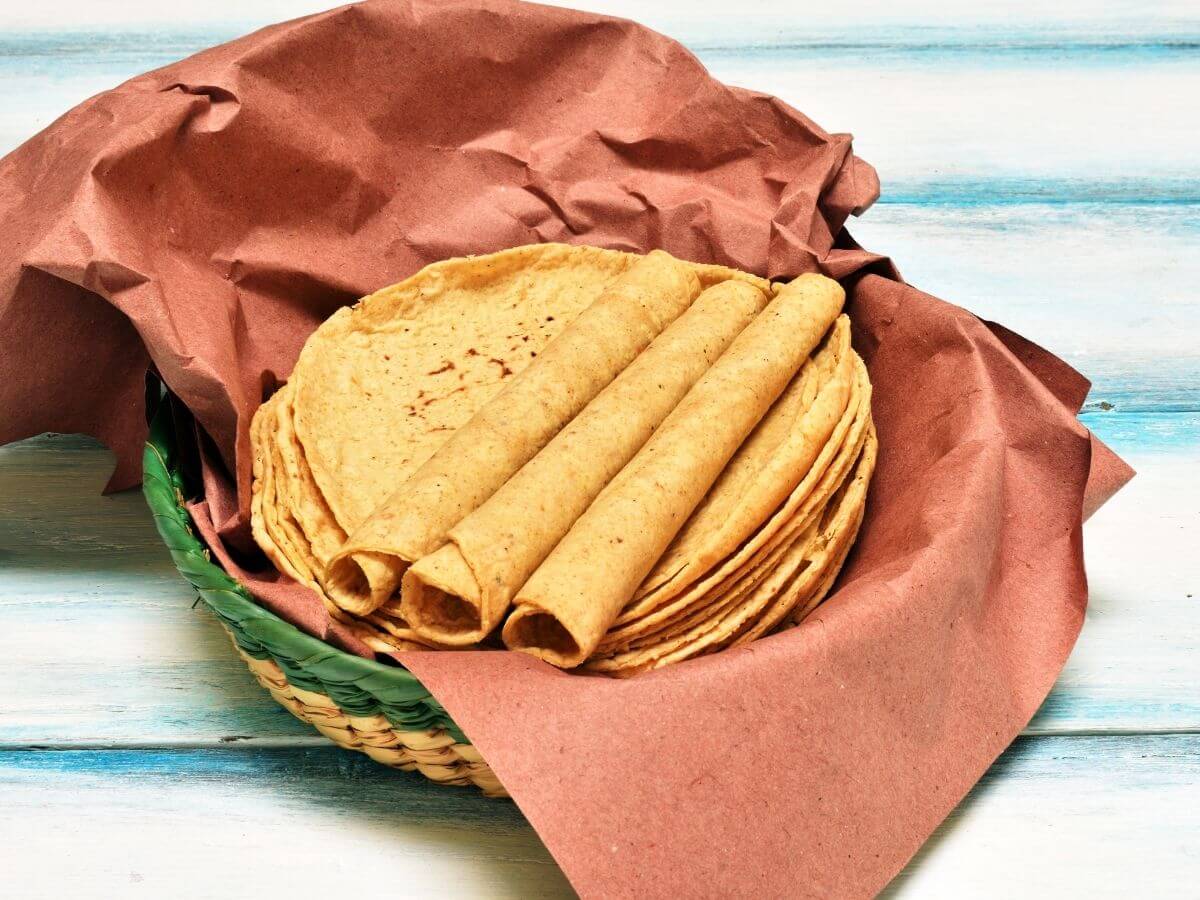 Ingredients
20 corn tortillas
2 cups of shredded chicken (or minced beef meat if you prefer)
½ teaspoon of ground chili powder
½ teaspoon of ground cumin
¼ teaspoon of paprika
¼ teaspoon of garlic powder
1 cup of Mexican blend cheese or shredded cheddar
2 teaspoons of lime juice
Ingredients for Toppings
Diced tomatoes
Shredded lettuce
Sour cream
Guacamole
Pico de Gallo
Crumbled queso fresco
Chopped green onions
Instructions
Spray non-stick cooking spray on a large baking sheet and set it aside.
Preheat your oven to 420 degrees Fahrenheit.
Place lime juice, paprika, garlic powder, salt, chili powder, cumin, and shredded chicken/minced beef meat in a large bowl.
Stir the mixture thoroughly until the meat gets well-coated with other ingredients.
Add the shredded cheese and stir the mixture again.
Moisten two paper towels and place one of them on a cutting board.
Place two tortillas on the board and then cover them with the other moist paper towel.
Insert the tortillas with moist paper towels into the microwave and heat them for 30 to 45 minutes.
Remove the tortillas from the microwave and fill them with the mixture that you made earlier. 2 tablespoons will be enough for each tortilla.
Roll the tortillas tightly and place them on the baking sheet that you prepared earlier (make sure that the seam side is downwards while placing).
Repeat the same process for all the tortillas and you'll have 20 rolls with very little or no mixture left.
Spray all the rolls with cooking spray lightly.
Insert the baking sheet into your preheated oven.
Bake the rolls for 18 to 22 minutes until they become crispy with a golden-brown color. If you're using minced beef, then you'll need to bake the rolls for 25 to 30 minutes.
Remove the baking sheet from the oven and your taquitos are ready.
Add the desired toppings and serve.
How to Store Your Taquitos
You can freeze your taquitos to eat them later. Just follow these steps:
Let your taquitos cool completely.
Place them flat on a simple sheet tray and let them freeze. It'll take about 6 to 8 hours.
Once they're frozen, remove them from the freezer and transfer them to a freezer bag.
Place them in the freezer again and they'll stay fresh for 3 to 4 months.
How to Reheat Taquitos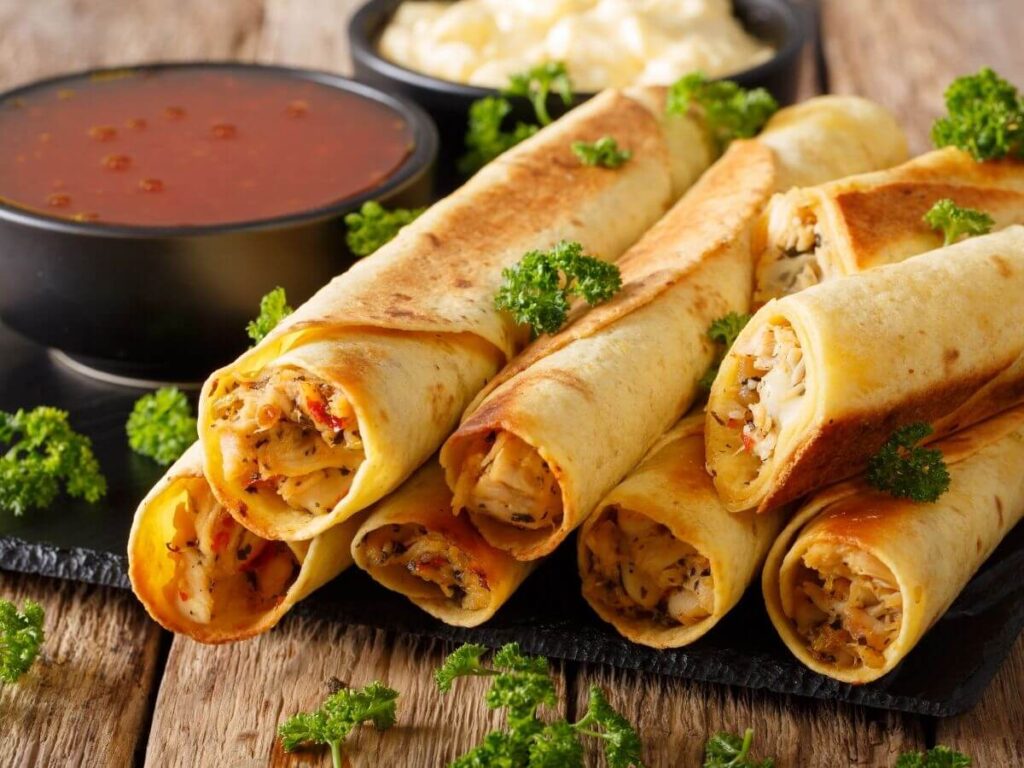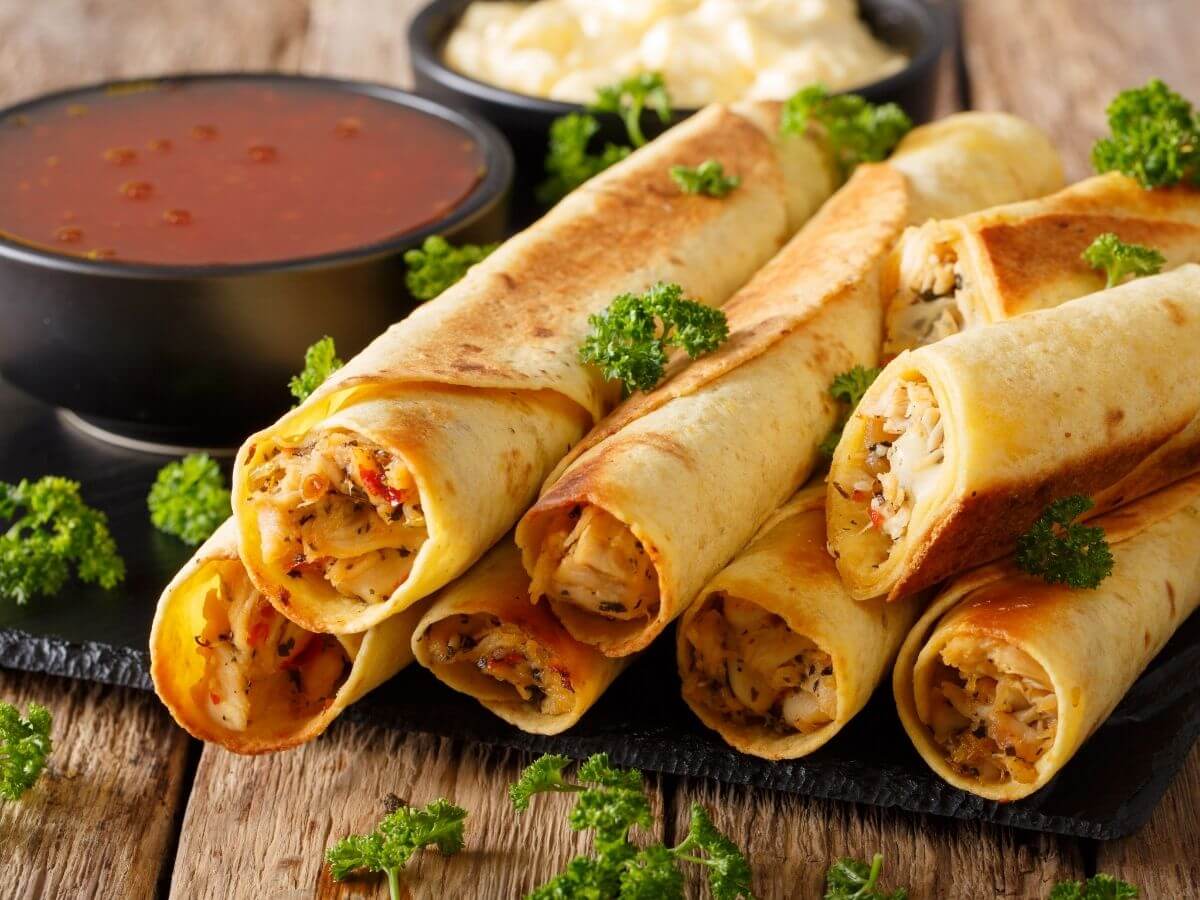 Remove the frozen taquitos from your freezer and reheat them in your oven for 15 to 20 minutes at 350 degrees Fahrenheit. Don't use the microwave as it'll make them soggy.
You Might Also Like: