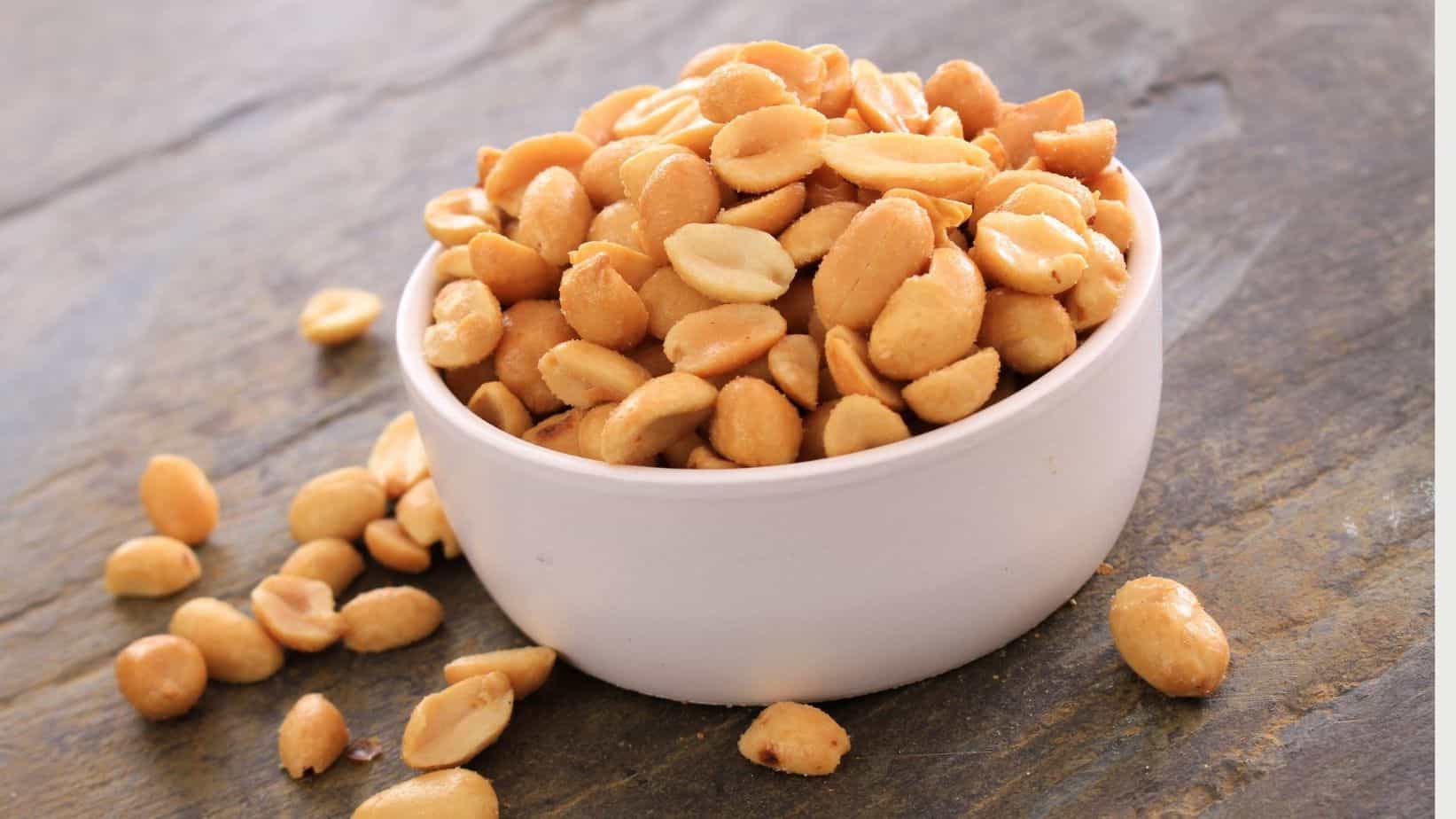 One of the most loved snacks ever is peanuts. Well, it might not be true if you have peanut allergies, but other than that, you can always count on peanuts and peanut butter! Not because they are jam-packed with nutrients, but because they are delicious, easily accessible, and a perfect snack you can munch on!
The most common and widely loved way of eating peanuts is in roasted form. The golden-brown color and crispy, crunchy texture are to die for. Now there might be several ways of getting roasted peanuts. You might think buying them from a snack cart, or a grocery store is best, but that's not it. The best way of enjoying roasted peanuts any time of the day is by making them in your microwave oven. Yes, you got that right!
Now, if you are wondering how to roast peanuts in the microwave, let me tell you, it's super easy! Probably the easiest thing you can do in the middle of the night! Interested? Read ahead for this oven-free recipe!
Different ways to roast peanuts
Roasted peanuts are delicious. And above all, they are a healthy snack that is super simple to make. You can make delicious roasted peanuts within 10 minutes! Here are a few easy ways of roasting peanuts effortlessly:
• Oven: The oven is the easiest way of roasting peanuts at home. Simply shell them, skin them, and drizzle with your favorite seasoning. Place them on a shallow baking pan in the oven for about 7 to 10 minutes or until golden brown.
• Stovetop: If you don't have an oven, you can roast the raw peanuts on the stovetop. All you have to do is place them in a cast-iron skillet and dry roast them. Make sure you stir them consistently for even color.
• Air fry: Believe it or not, you can roast peanuts in an air fryer. Select the roast option, and you are good to go!
• Microwave: One of the most convenient ways of roasting peanuts is by placing them in the microwave. You can get perfect results within five minutes.
How to roast peanuts in the microwave
Dry roasting peanuts in the microwave is super easy. Here are a few simple steps you have to follow:
First, shell peanuts by holding each between your thumb and finger and applying a little pressure. The shell will break open, and you will find tiny peanuts inside.
Next, you have to skin the peanuts. You can do that by rubbing the peanuts in your palms. If you have issues skinning them, you can leave the skin as is. Eating the skin does not harm you – plus, you can easily remove the skin after the first two minutes in the microwave.
Place the shelled and skinned peanuts in a single layer on a microwave-safe baking dish.
Drizzle water on the peanuts. Make sure there is enough water to get the peanuts moistened.
Place the baking tray in the microwave and set the roasting time for two minutes. Then microwave peanuts at full power.
Once the timer is up, stir the peanuts and set the cooking time for three more minutes. At this point, you can sprinkle salt or add other seasonings to the peanuts. Don't forget to mix everything!
Roast the dried peanuts for three more minutes in the microwave.
Once done, remove the dish from the microwave and let it cool down a bit.
Once the peanuts reach room temperature, serve.
How to store roasted peanuts
Once the roasted peanuts reach room temperature, you can store them in an airtight container. Place the sealed container in a dry, dark, and cool place. The roasted peanuts will last for up to two months.
Seasoning ideas
Although the most classic roasted peanut flavor is plain salt sprinkled, there are so many other different flavors to enjoy. Here are a few fantastic ideas to try when roasting peanuts in a microwave that are sure to invigorate your taste buds.
Chinese five-spice
Chinese-style roasted peanuts are perfect for those who adore Chinese flavors. With simple ingredients like soy sauce and Chinese five spices, you can enjoy delicious roasted peanuts that are jam-packed with flavors.
Italian seasoning
Simple yet delicious, Italian seasoning on your roasted peanuts are perfect for those who love the aroma and flavor of Italy. You can add some garlic powder or garlic salt to make them even tastier.
Smoked paprika
if you are looking for heat and spice, the best way to season your roasted peanuts is with smoked paprika and cayenne powder. The spices go so well with the natural flavor of peanuts and bring out the heat that many of us love.
Jerk seasoning
This Jamaican seasoning is super versatile and delicious when mixed with roasted peanuts. It is a medley of spices like cinnamon, cloves, nutmeg, garlic, ginger, thyme, brown sugar, and salt.
Honey or maple glaze
If you have a sweet tooth, you can definitely use peanuts to satisfy your cravings. A great way to do this is by roasting the peanuts with honey or maple syrup to make them sweet, glazed, and chewy.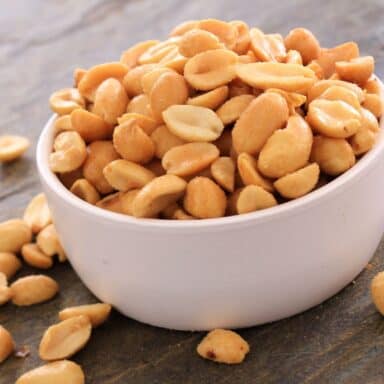 How to Roast Peanuts in the Microwave
Ingredients
2

cups

raw peanuts

shelled and skinned

½

cup

water

1

tsp

salt
Instructions
Prepare the peanuts by taking them out of the shell and removing the skin.

Place the peanuts in a microwave-safe baking dish.

Sprinkle water on top and mix well so that the peanuts are wet.

Place the baking dish in the microwave and set the time at 2 minutes at high speed.

Once the time is up, take the dish out of the microwave and stir.

Place the baking dish back in the microwave and set the time for 3 minutes at high.

Once the timer is up, remove the baking dish from the oven and sprinkle the peanuts with salt.

Let them cool.

Enjoy.
You Might Also Like: