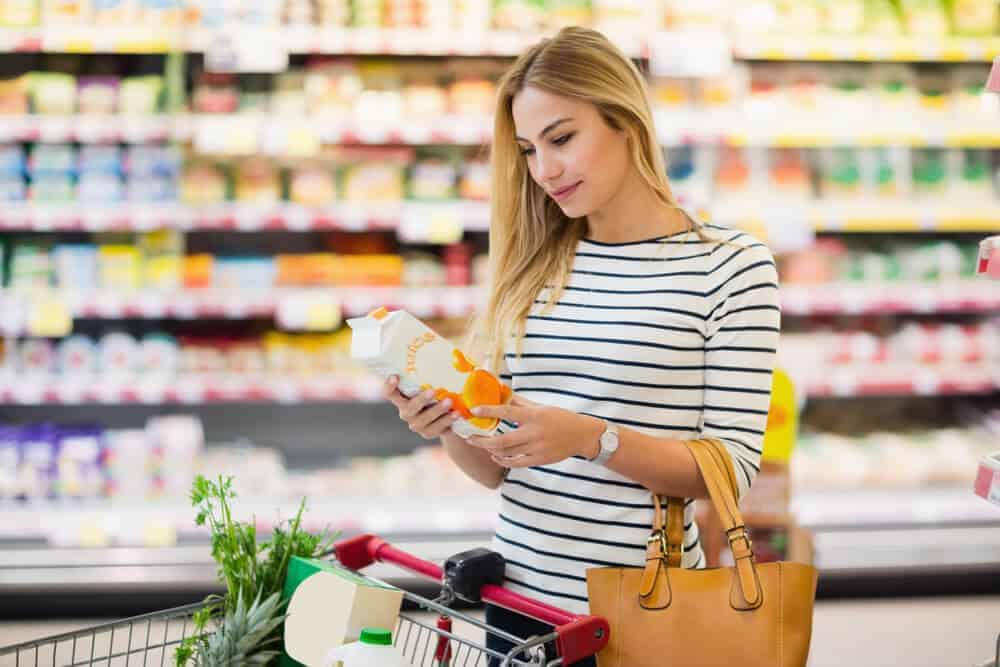 Online grocery stores may soon outpace traditional brick-and-mortar retailers. According to a recent survey conducted by the Food Marketing Institute (FMI) and Nielsen, 49 percent of US consumers had purchased consumer packaged goods online in the past three months, with 61 percent millennials, and 55 percent Gen Xers. The numbers have doubled in just a little over a year with only 23% of consumers buying at online grocery stores in 2016. They forecast that this would grow to 70 percent by 2022.
Coresight Research also forecasts that e-commerce will account for this year's approximately 2.5% of US food and beverage retail sales and approximately 17.5 percent of US non-food retail sales. Of these sales, nonfood categories will make up 95 percent of all online retail sales this year while five percent go-to food and beverages.
List of Online Grocery Stores

1. Riverford: Since its establishment in 1987, Riverford has solely dealt with organic vegetables, but plans to venture out into non-perishable foods. It is headquartered in Buckfastleigh, Devon, England. It has continued to serve its customers impressively by delivering on time and offering high-quality vegetables. Furthermore, their website makes the process of ordering easy, quick, and convenient. The Riverford makes about 50,000 deliveries per week.
2. Grocery Gateway: This is a family business that has grown to become Canada's largest online grocery store. The Longo's are passionate about providing great services and products to its customer's own Grocery Gateway. They offer an amazing list of freshly cooked foods, fresh meat, seafood, and grocery on their website. Once customers place an order for groceries, they deliver right to their doorsteps. Moreover, they have a trusted source of organic foods, which is the Ontario Food Terminal.
3. Thrifty Foods: It is a chain of supermarkets located in British Columbia, Canada. It started operating an online grocery service in 2004 on Vancouver Island. At Thrifty's, customers can shop for freshly hand-picked groceries.
They understand that they have a social responsibility to the community hence provides high-quality groceries to its customers. Rated among the best in Canada, their fast delivery services, and good customer services are what sets them apart.
4. Sainsbury's online: It is the second-largest chain of supermarkets in the UK. It has 1,415 shops all over the United Kingdom. It also has an online shop called Sainsbury's Online where clients can shop for groceries, clothing, home appliances, electrical equipment, and many more.
They have a wider and larger selection of products, particularly in the grocery category. Their pricing is also great as it is very affordable. Founded in 1995, Sainsbury Online is committed to delivering products of great quality and freshness. It continues to launch new products every now and then to offer its customers a variety of goods to choose from.
5. Instacart: Instacart is an American based company that provides delivery services for groceries. It has also extended its services to Toronto and Vancouver. All a customer needs is the Instacart App where they can select the goods they require.
They have collaborated with other businesses such as Costco Wholesalers, Target, Whole Foods, and many more. Groceries are delivered on the same day and in just less than 2 hours after placing an order.
6. LeShop.ch: For about two decades, LeShop.ch has dominated the Swiss e-commerce industry. It has a market share of approximately 59%. It uses sophisticated technology, which has improved its performance in rendering services.
It uses software called RELEX, which automates routine tasks hence reducing the workload of employees. Lecho.ch delivers fresh groceries of high quality to its customers. In 2017, LeChop.ch introduced an in-car delivery service in partnership with Volvo and Swiss Post where customers can have their orders delivered to the trunk of their Volvos.
7. Coles Online: Coles online is an online retail website. It is a subsidiary of the Coles Supermarket, which operates in Australia. It deals in a wide range of grocery products. All customers need to go to their website, select the items required, place an order and the items will be delivered right to their kitchen table.
9. My Cloud Grocer: Yehuda Vernik and Dan Dashevsky founded this company six years ago. They collaborated with several supermarket chains to make this online platform possible. Many supermarkets and even smaller stores are able to display their products on their website making it easier for customers to shop on their website.
Customers can compare prices and quality of goods to various stores and select the best. Some of the stores My Cloud Grocer has collaborated with include Rockland Supermarket, The Market Place, SuperStop, Western Kosher, Grand and Essex Market, and Breadberry. Customers can choose to either pick their goods from the store or have it delivered to their homes. Their delivery services are very convenient. Their main offices are in Brooklyn, New York City, New York.
10. AmazonFresh: The Amazon is the largest online retailer in the world. AmazonFresh is a subsidiary of the Amazon, and this makes it the next sort out after an e-commerce store that deals in the grocery. It operates in some states in the US, London, Berlin, Hamburg, Munich, and Tokyo.
They source their products from the best suppliers and have their fleet of vehicles to ensure they deliver fast. It also offers non-perishable foods, which are packaged in bottles, boxes, or cans. AmazonFresh strives to set high standards in the quality of goods and delivery of services. It tries to tackle the major problems facing the e-commerce sector by creating secure modes of payments.
11. Ocado: Jonathan Faiman, Jason Gissing, and Tim Steiner established Ocado in 2000. Their vision to bring change to the e-commerce industry led them to create Ocado. It operates in England: The areas served are South East England, North West England, North Wales, the South Coast of England, Yorkshire, South West England, and South Wales. Unlike other online stores, Ocado does all its deliveries from their warehouse.
It deals in recipe boxes, fruits, and vegetables, meat, dairy products, organic foods, and drinks. They use the latest technology including an application for Amazon's Alexa voice assistant that allows one to add the product to an existing order through voice command. Moreover, Ocado has a great customer care service; they treat customers like family and ensure clients are offered high-quality services.
12. Woolworths Supermarket Online: It is a subsidiary of Woolworths Limited. Along with Coles supermarkets, Woolworth dominates the Australian market. They have been in business since 1924. It sells magazines, DVDs, household products, health and beauty products, pet and baby supplies, stationery, and groceries. Their grocery logo is Australia's Fresh Food People.
This goes a long way to assure its customers that they offer fresh groceries that are of top quality. Their website is easy to navigate thus making the customer's shopping experience great. They also have the same-day and next-day delivery services for groceries, making it convenient for customers.
13. Peapod: Peapod specializes in online grocery delivery service. It operates in 24 US urban markets. Since many people are becoming health conscious, Peapod offers fresh, healthy foods. It has managed to stay in the market for almost 30 years by constantly updating its technology and improving its services. It has its warehouse in Chicago that supplies the products. They also get supplies from Ahold Delhaize company. Their mobile application makes ordering and selection easier. They have their vehicles, which are fast on delivery.
British Corner Shop: It is an online grocery store for British ex-pats around the world. It delivers around the world. This award-winning store started operating in 1999. It has continued to expand year-in-year-out to create a broad customer base. They have fully insured deliveries to boost the customer's confidence in the store.
It aims at providing food lovers with the best foods and groceries. It is 100% focused on customer satisfaction rather than making profits. They are very engaged with their customers and allow them to suggest a product they don't offer. Their prices are consumer-friendly hence enable them to purchase more of what they love.
14. Safeway Inc.: Since 1915, Safeway Inc. has served the people of central and western states in the US with good quality grocery. It has more than 1,308 stores in the United States and the Mid-Atlantic region of the Eastern Seaboard and operates an online store. Other than grocery, Safeway store offers meat, baked food, drinks, and nonperishable items.
The online grocery store only operates in select areas-6 states and the District of Columbia. They have a wide selection of groceries and foods from which customers can choose. They offer great service and have a good interaction with its customers. This explains why they have managed to stay in the market for such a long time and continue to expand.
15. Walmart: Walmart is a chain of hypermarkets, discount department stores, and grocery stores. It is controlled by the Walton family and is the world's largest market by revenue. As of 2016, Walmart was the largest U.S grocery retailer. Walmart takes orders online and shops for customers. All that customers have to do is to pick up from them for free.
Walmart gives an opportunity of saving money and living a healthier life by offering fresh groceries that are of high quality. They make grocery shopping convenient. Their meal kits and specialty food boxes are also popular. They know how customers are important in their success hence they give them first-class services. They continue to expand this sector to meet the needs of their customers.
16. Farm Drop: Farm Drop is an online grocery store. It is a platform for local farmers and fishers to sell their groceries and fresh fish. It has a mobile application where customers can select and order the products they need. It serves people in London, Bristol, and Bath.
The store began operating in 2012 so that farmers and fishers could receive more money from their produce. Farm Drop has amazing fresh produce that is locally sourced to benefit the community. They have highly trained friendly staff that offers world-class services to its customers.
17. ASDA: It is a British supermarket retailer that deals in grocery, general merchandise, and financial services. It was founded in the 1960s in Yorkshire. Research studies show that ASDA serves 98% of UK homes.
People buy groceries online from the ASDA website and can collect them in the ASDA stores. ASDA is the trusted source for quality groceries and food. They have great prices for their products that offer more for less. They have personal shoppers that pick the best and the freshest products. Their delivery services are definitely on time as they aim at satisfying their customers fully.