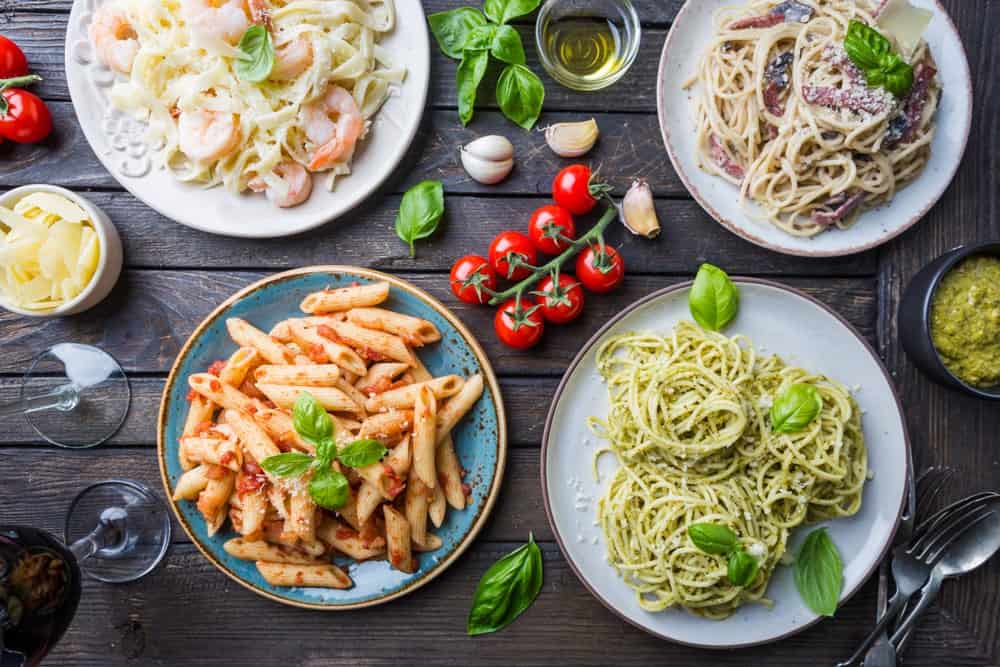 Pasta is a staple of Italian cuisine, and it is certainly popular throughout the world of food. Just as there are hundreds of types of pasta, there are also hundreds of types of pasta sauce.
If you aren't familiar with the many pasta sauces, you are not alone. While pasta is a delightful dish, most people are used to canned tomato sauce. The good news? Your boredom with pasta is no longer warranted. These exciting pasta sauces will bring new life to your homemade dishes.
Marinara Sauce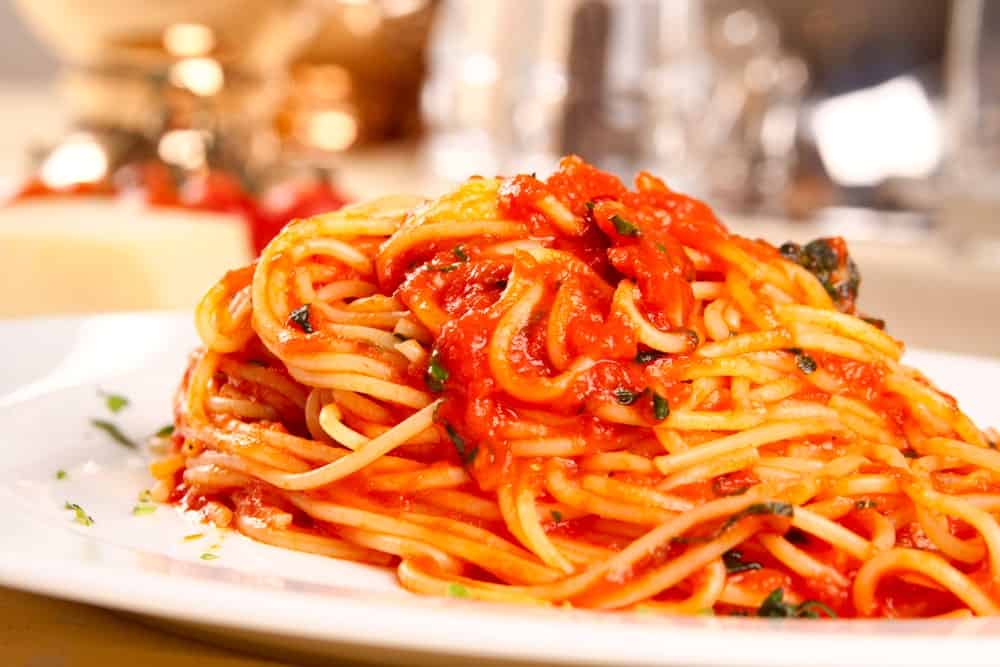 If you've had pasta, you have likely had marinara sauce. It's one of the most beloved sauces in the world, after all. Marinara is traditionally paired with seafood pasta in Italy, but many Americans use meatballs instead.
If you want to make your own marinara, you need only 20 minutes. Your ingredient list includes tomatoes, onions, dried oregano, garlic, red chili flakes, salt, and olive oil. Simply combine the ingredients (save for the chili and salt) in a big pot and allow them to simmer for at least 45 minutes. Add the chili and salt at the end for a dash of flavor.
Alfredo Sauce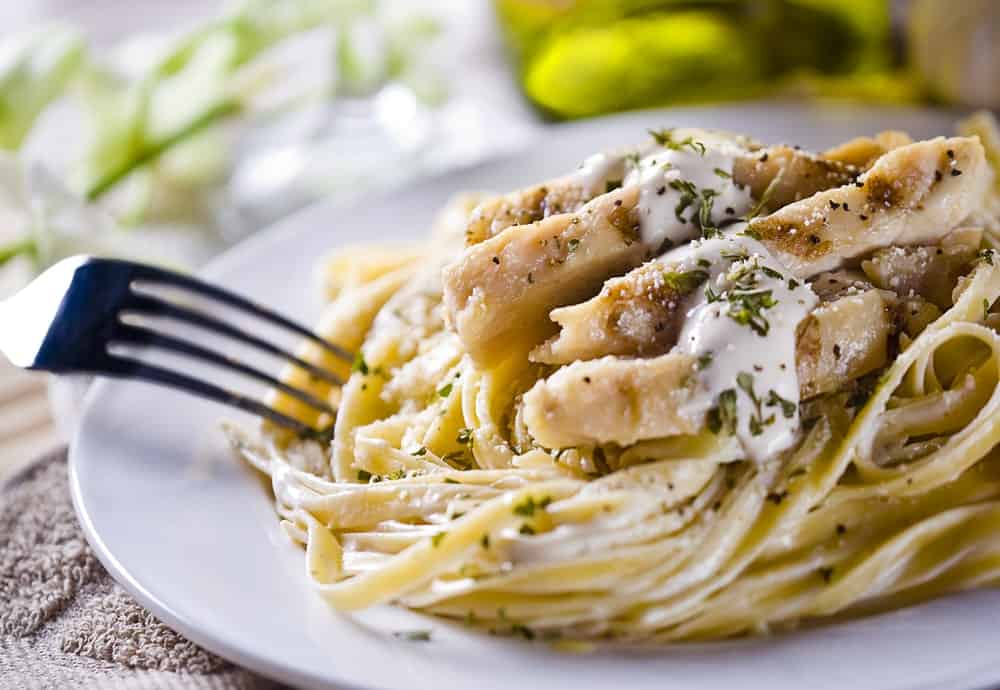 Alfredo is also extremely popular. The creamy sauce is made with cream cheese and garlic, giving it a much different base than marinara. It pairs well with a variety of pasta noodles and meat, especially chicken.
To make your very own alfredo pasta sauce, you will need butter, heavy whipping cream, cream cheese, powdered garlic, fresh minced garlic, Italian seasoning, salt, pepper, and parmesan. In a saucepan, combine the butter, whipping cream, and cream cheese. Whisk the ingredients until each has melted. Add the seasonings and garlic, whisking until smooth. Throw in the cheese and cook until the sauce thickens.
Bolognese Sauce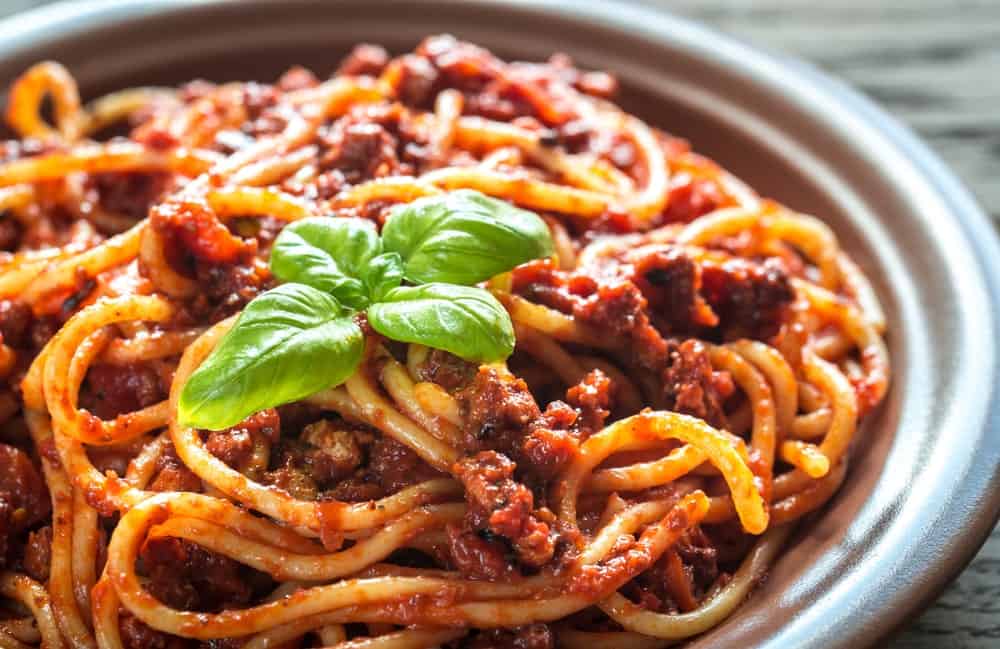 Bolognese sauce, or ragu, is also very common, especially for those who prefer meat in their pasta sauce. Like many other sauces on this list, this one comes from Italy.
If you want to make your own Bolognese, you need butter, olive oil, salt, pepper, nutmeg, ground beef, white wine, milk, tomatoes, onion, celery, and carrots.
The recipe is simple and begins with heating up oil and butter in a pan. Add chopped onions, frying until the onions are soft and translucent. Throw in the celery and carrots, cooking until they begin to soften. Add the beef, cooking it through. Season with the salt and pepper.
Once the beef is cooked, increase the heat and add the wine. Let it simmer until the liquid has evaporated. Add the milk, reducing the heat to bring the liquid to a simmer. Add nutmeg and tomatoes, cooking for several hours on the lowest possible heat. Serve with parmesan cheese on a bed of pasta.
If you are vegan or vegetarian, you can also make this sauce with beans. Your ingredient list will be a little different and include olive oil, onions, carrots, celery, beans, garlic, wine, tomatoes, fresh rosemary, bay leaf, vegetable stock, and tomato passata.
Fry your vegetables in olive oil before throwing in the tomato and garlic. Stir and add the wine to simmer on high. Add the rest of the ingredients except the beans and cook on low for about 10 minutes. Add the beans and cook for a few more minutes before serving.
Vegan Tomato Sauce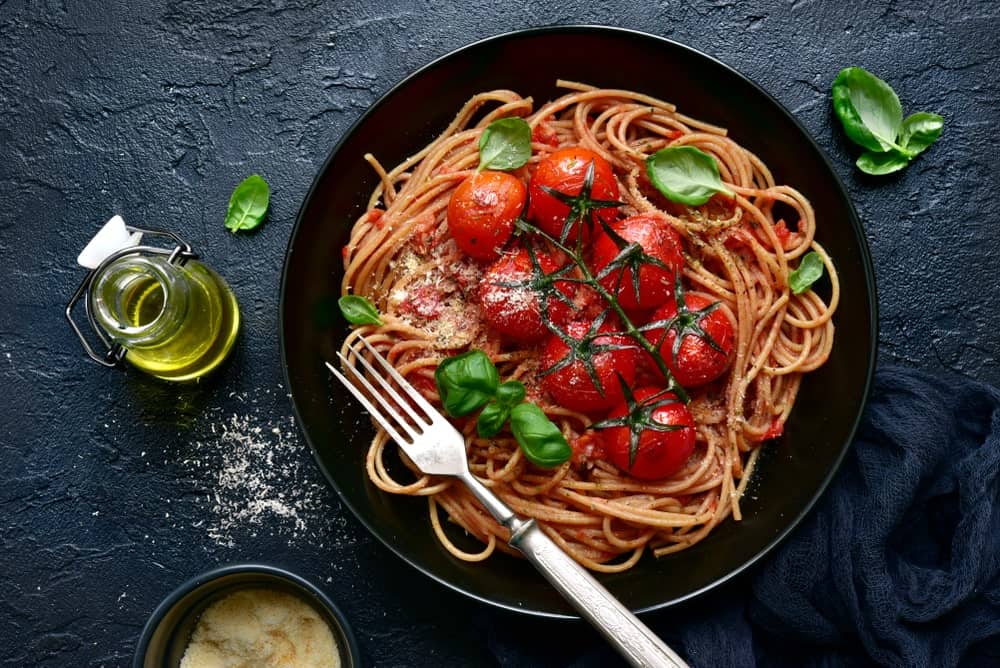 Vegans can also enjoy tomato sauce with their pasta. The good news? The recipe is very simple and can be paired with vegetables and a variety of pasta styles. You'll need canned or freshly squashed tomatoes, olive oil, salt, pepper, garlic, red chili flakes, water, sugar, and fresh basil.
Heat up olive oil in a pan before adding garlic. Add the tomatoes and stir in the seasonings and a cup of water. Allow the concoction to simmer on low for up to an hour before adding the basil and sugar. If the sauce is a little too thick, throw it in a blender and smooth it out.
Amatriciana Sauce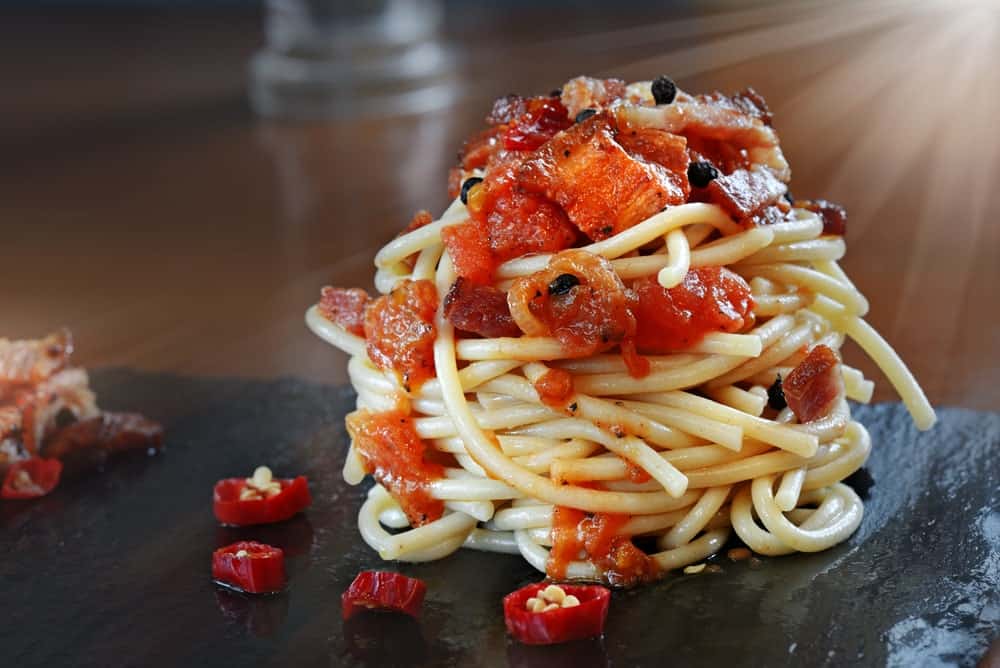 This traditional Italian sauce includes tomatoes, pecorino cheese, cured pork cheek, and onions. It is still frequently used in Italian dishes, and you can make your own at home.
This recipe calls for tomatoes, olive oil, cured pork cheek (sometimes called jowl bacon), pepper, garlic, fresh basil, and kosher salt. You'll first need to blend tomatoes into a puree before frying the pork cheek in olive oil. When it's cooked through, add garlic and pepper, stirring. Once combined, add the tomato mixture, salt, and basil. Allow the mixture to cook on lower heat until it thickens.
Roasted Tomato Sauce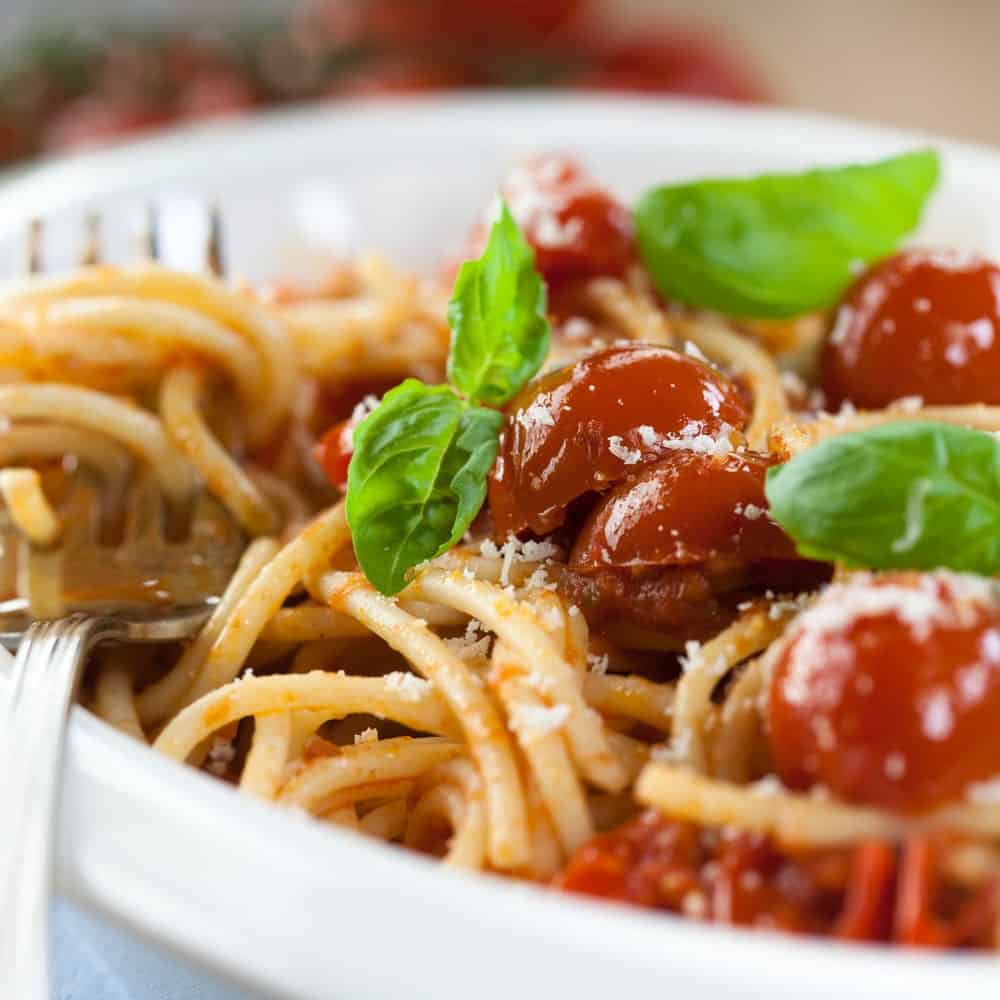 If you are looking for a different variation of tomato sauce, this roasted version feels extra fancy without the extra work.
Roasted tomato sauce requires fresh tomatoes, garlic, salt, pepper, and olive oil. Start by chopping the tomatoes in half and tossing them in a bowl with garlic cloves, salt, and pepper. Sprinkle olive oil over the tomatoes and pour the ingredients on a baking dish. Bake the tomatoes until they are soft and ready to puree for serving. You can always add milk or cream if you want to make your sauce creamier.
Frutti di Mare Sauce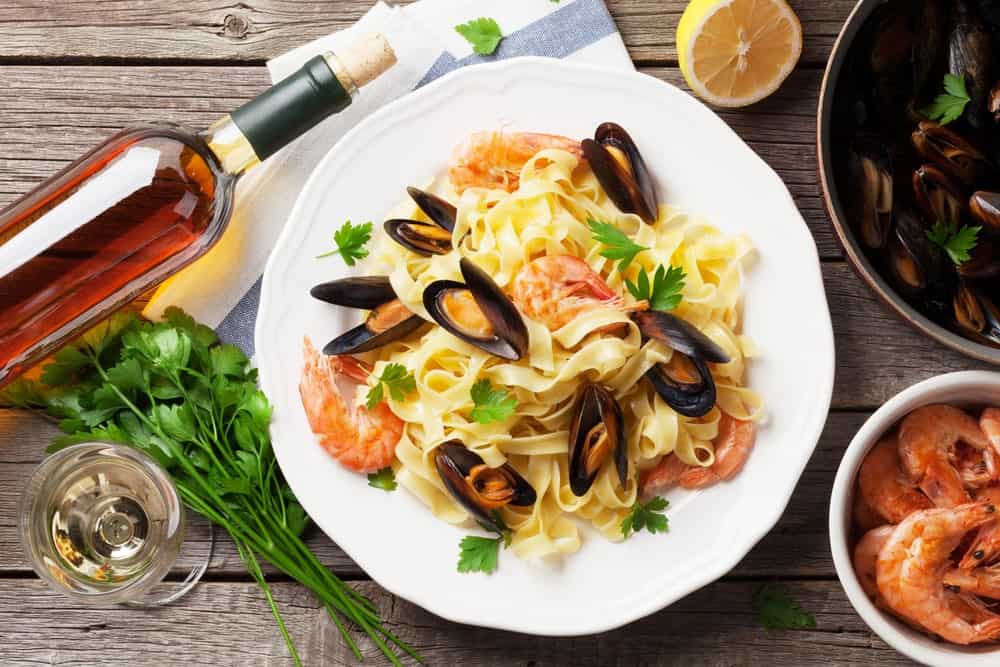 If you love seafood pasta, Frutti di mare is perfect. This sauce pairs well with many different seafood options, and it's not as difficult to make as you might think.
For this pasta sauce, you'll need clams, mussels, shrimp, scallops, olive oil, onions, tomatoes, spinach, garlic, salt, pepper, tomato juice, tomato paste, anchovy fillets, basil, red pepper flakes, clam juice, and white wine.
Fry up some onions and garlic in heated olive oil. You want the onions to be translucent. Season them with salt and pepper before adding the tomato paste and anchovy fillets. When the color becomes a deep red, add the tomatoes, tomato juice, basil, more salt, and red pepper. Let the mixture boil and then reduce the heat. It should thicken up over low heat.
Add the clam juice and white wine to the pot, bring the sauce to a boil again. Add the clams and mussels, cooking them until they open up. Transfer them both to their own bowl, keeping them warm.
The sauce should be boiling when you add the scallops and shrimp. Simmer on low and cover.
Add spinach and a bit of the water you used to cook the pasta. While simmering, this will help thicken the liquid. Add the sauce to the top of your pasta and then add your mussels and clams.
Funghi e Piselli Sauce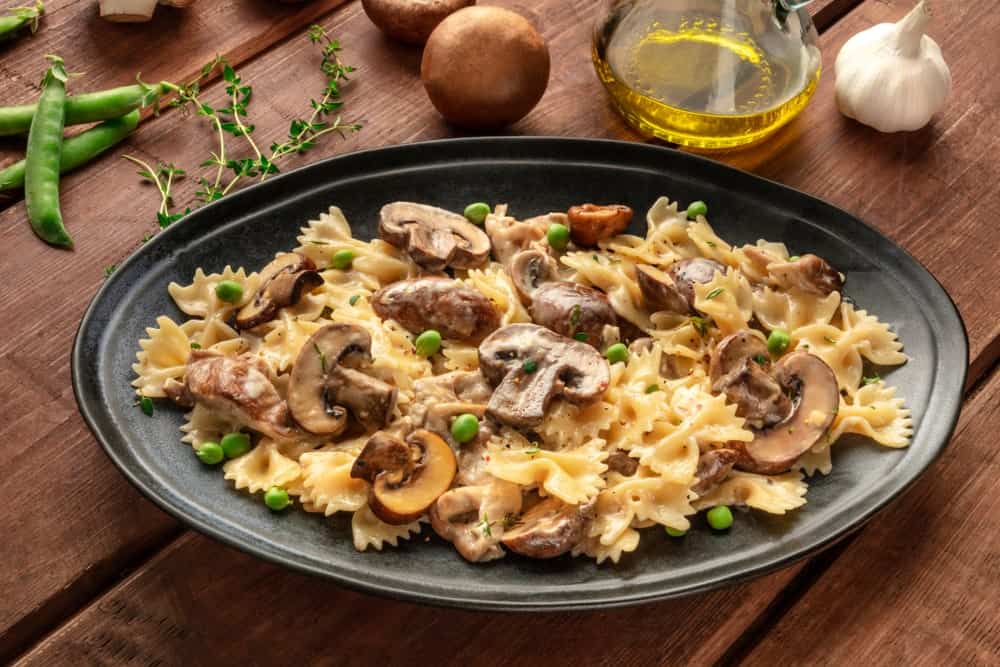 This is a good pasta sauce for vegetarians. It is creamy, smooth, and rich. This sauce can be made vegan by substituting the heavy cream and parmesan cheese with vegan-friendly substitutes. This sauce pairs best with linguine.
Your ingredient list includes vegetable stock, heavy cream, snap peas, cremini mushrooms, pearl onions, white wine, parmesan, grape seed oil, garlic (chopped), lemon juice, lemon zest, and chives.
First, cut the snap peas in half. Blanch them in water. Then, peel and blanch the onions.
Slice the mushrooms before throwing them in the oil to cook. Once browned, add the garlic. Toss the onions into the pan and cook for a few minutes before adding the wine. Let the wine reduce before you add the stock and cream. The liquid should reduce by half. Add the peas, lemon zest, and lemon juice as you combine the ingredients over low heat. Serve when the sauce reaches your desired consistency.
Salsa di Noci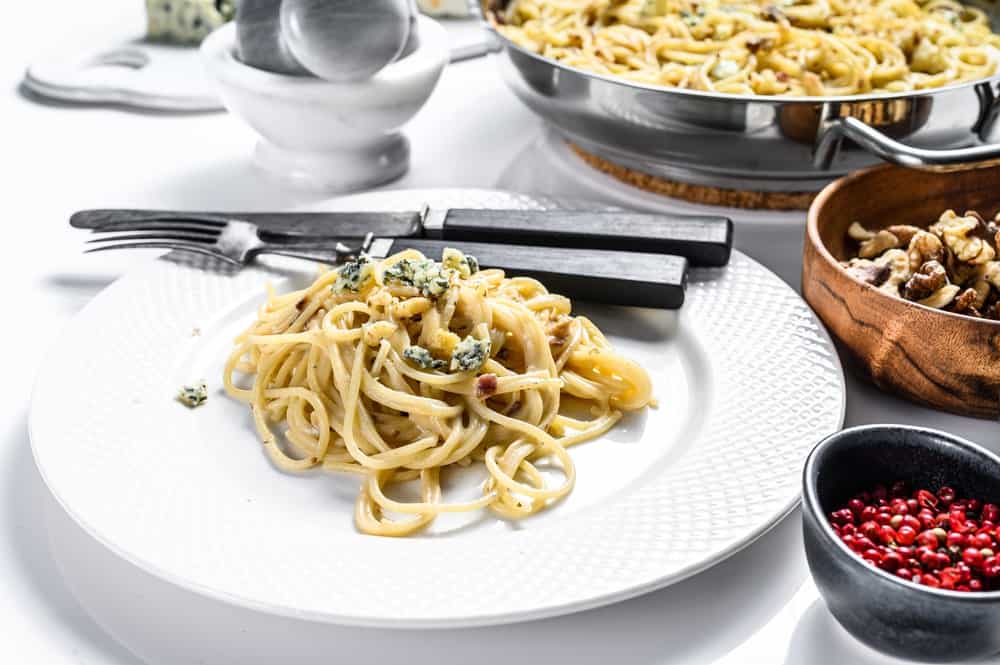 Salsa di Noci, or walnut sauce, is quick and easy. For this sauce, you'll need white bread (remove the crusts), milk, walnuts, parmesan, garlic, lemon juice, salt, pepper, olive oil, and parsley.
Begin by soaking the bread in milk for about five minutes. Once soaked, blend the bread and milk with walnuts, parmesan, garlic, and olive oil. You can heat the sauce while adding the rest of the ingredients. Serve with the pasta of your choice.
Pesto Sauce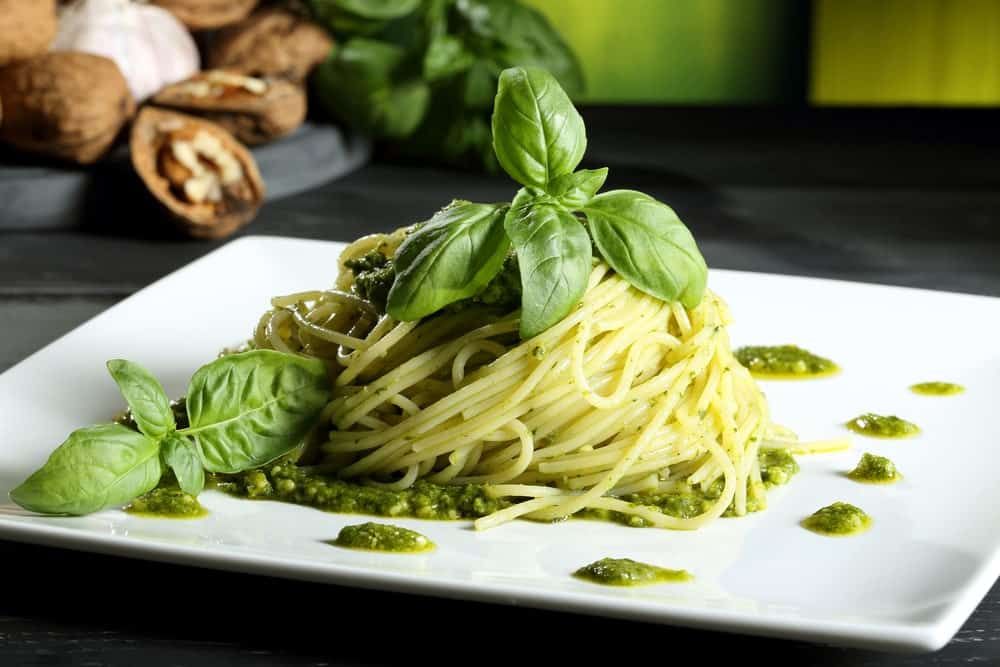 Pesto sauce is the infamous green sauce full of herbs and pine nuts. It is basic and tasty, creating a very unique flavor profile. To make pesto, you will need garlic, pine nuts, basil, parmesan cheese, and olive oil.
You can make pesto by combining the pine nuts and garlic in a food processor or by grinding them together yourself with a mortar and pestle. Once the ingredients have created a paste, add the basil. Blend some more before adding the cheese and oil. Add salt.
If you do opt to go the mortar and pestle route, crush the nuts on their own first before you add the garlic. You also benefit by wetting the basil leaves before you crush them.
Pomodoro Sauce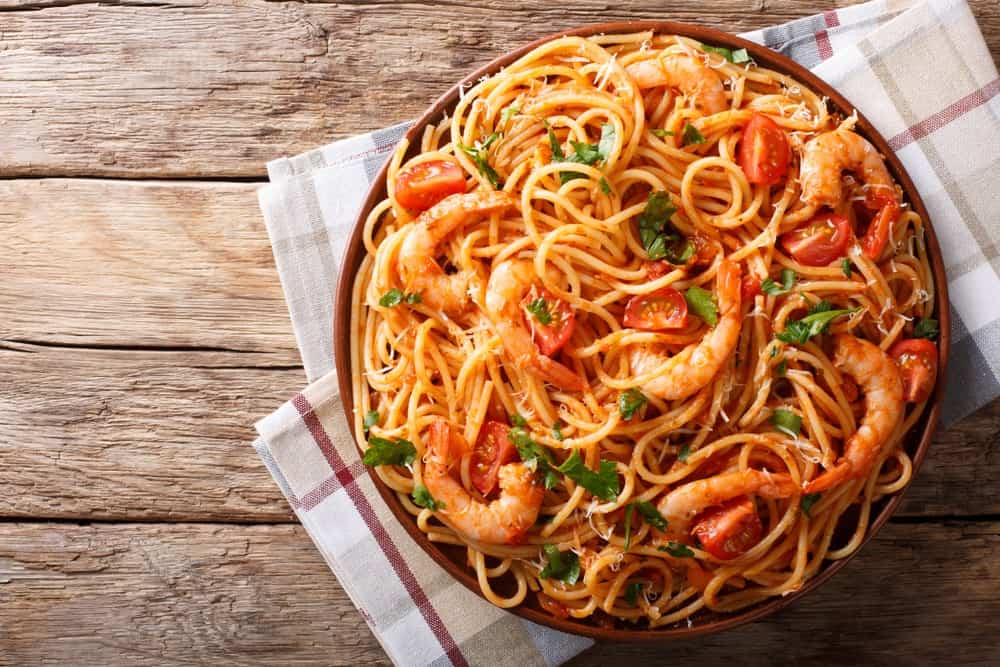 Pomodoro pasta is a quick option for a night when you don't have a lot of time on your hands. Though it may appear simple, it's delicious and provides a great spaghetti accompaniment.
To make a Pomodoro sauce, you will need olive oil, pureed tomatoes, onions, garlic, red pepper flakes, kosher salt, parmesan, and fresh basil.
Mince the onions and chop the garlic, tossing both in some oil to fry. Stir with red pepper flakes before adding the tomatoes. On medium-high, add salt and stir as the mixture thickens. Remove the sauce once thick and add leaves of basil. You can remove them before serving or leave them in. Add a small bit of pasta water and serve.
Bechamel Sauce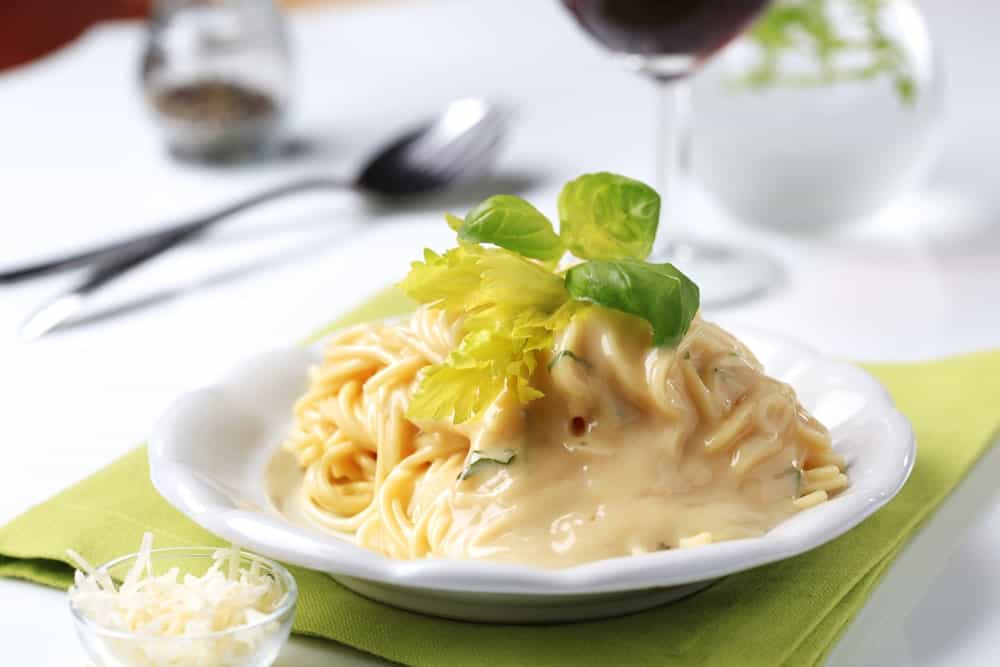 Bechamel is a creamy and tasty pasta sauce that you can make with milk or cream. It's a simple dish you can make with milk, parmesan, chicken, mushrooms, broccoli, white wine, garlic, flour, olive oil, salt, pepper, and butter.
Begin by heating up the olive oil in a pan. Chop up the chicken into bite-sized pieces. Once the chicken is golden on the outside, add in the mushrooms (sliced) and broccoli florets.
While the vegetable cook, melt the butter over low heat in a separate saucepan. Whisk flour into the melted butter until the mixture is smooth. Add milk, just a tablespoon at a time, until the sauce is very smooth and thickens. You'll add the white wine next, stirring well. Once mixed, pour the sauce over the chicken and vegetable concoction. Season with salt, pepper, and parmesan.
Tartufata Sauce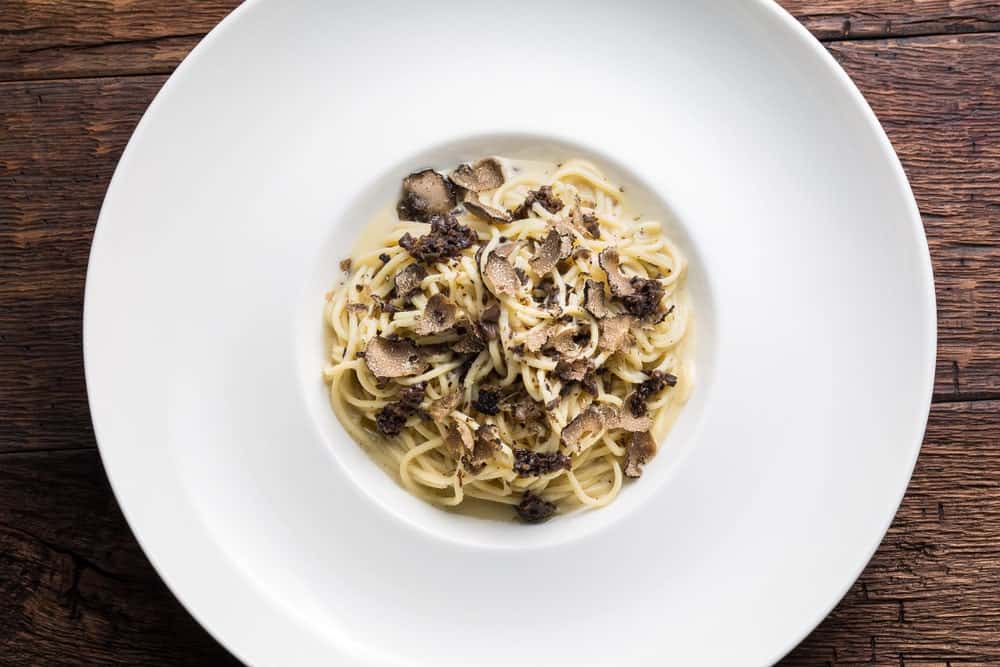 Tartufata sauce, or truffle cream sauce, is made with truffle meal. It pairs amazingly with pasta and is definitely a sauce you will remember long after you enjoy it for the first time.
Tartufata sauce calls for butter, truffle meal, parmesan, extra virgin olive oil, and water reserved after cooking pasta. The starchy water is good for holding the sauce together and helping it pair with the pasta.
This recipe is pretty easy. All you need to do is add the truffle meal, oil, and butter to a saucepan over medium heat. Throw in a small amount of pasta water and stir. Toss with parmesan before adding to your pasta.
Umbrian Ragu Sauce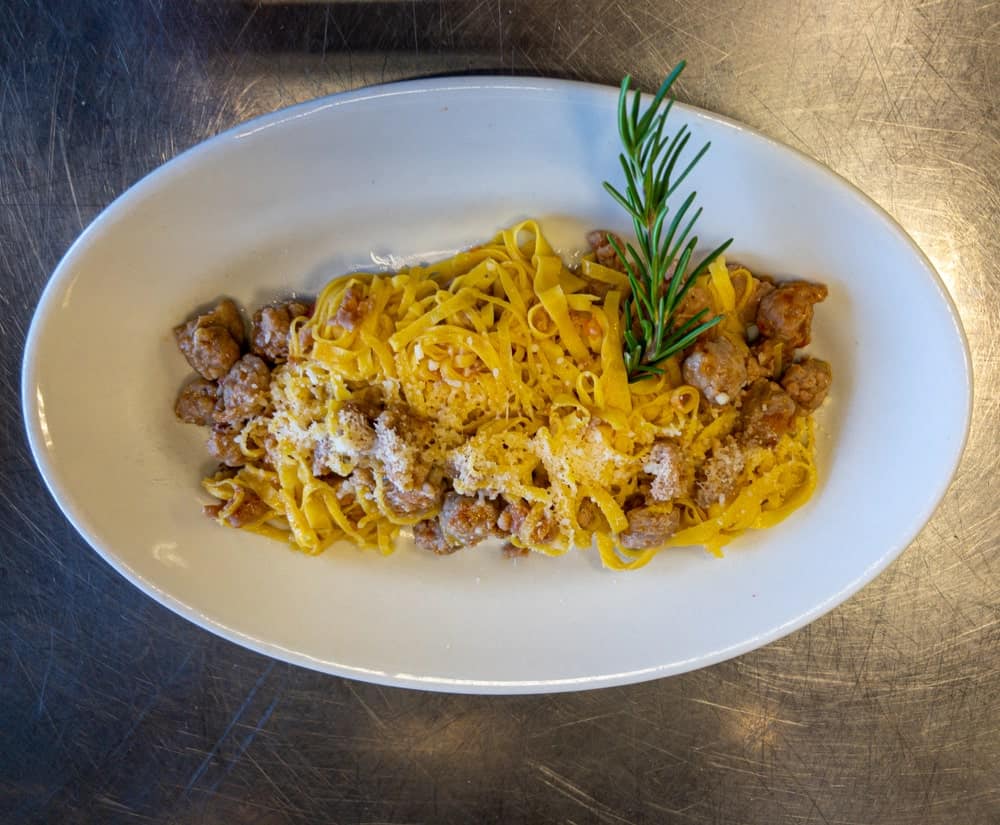 This pasta sauce is special in that it is pork-based, unlike many of the others on this list. If you are looking for something meaty to pair with your pasta, this ragu is a great choice. All you need to get started on this recipe is olive oil, carrots, celery, onions, prosciutto (chopped), ground pork, dry red wine, garlic, tomatoes, basil, parsley, salt, and pepper.
Begin by heating the oil in a pan before adding the celery, carrots, and onions on medium heat. Once soft, add the ground pork. Cook until the meat is completely browned. Throw in the minced garlic, letting it cook.
Next, add the red wine. Cook the mixture until the wine is cooked out. Add the remaining ingredients, bringing it all to a boil. Turn the heat to low and let the ingredients simmer. The sauce should thicken over time. Add it to pasta, and you're done.
A Diverse Dish
Pasta is a diverse dish. If you want to turn it into a fancy meal for a dinner party, you have that option. If you want it to be a casual meal in front of the television, you can do that too. The great thing about these sauces is that you can play with them until you find a flavor profile that works for you.