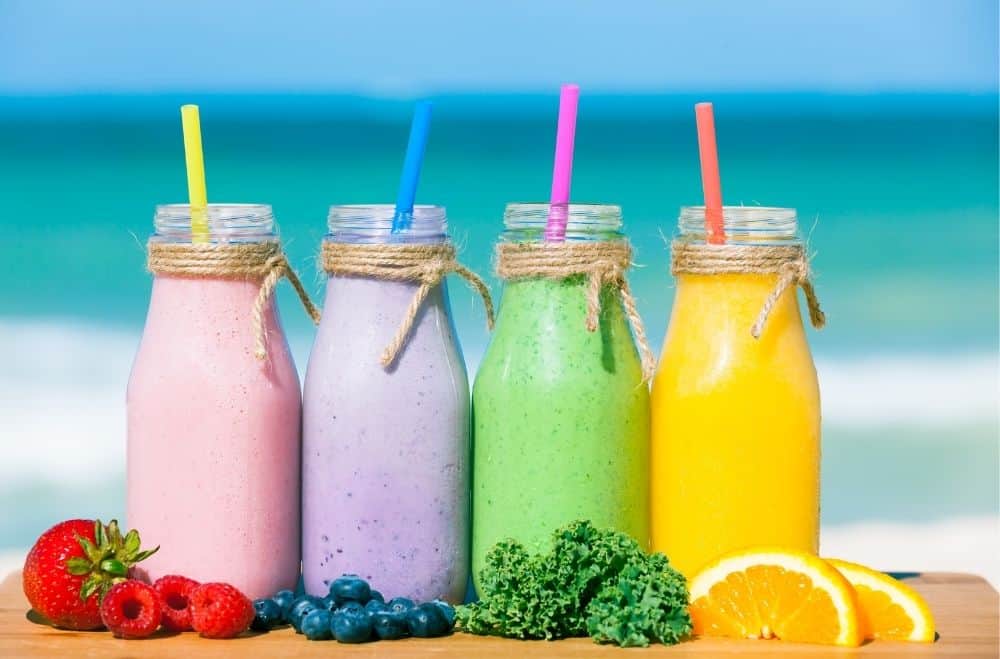 Pre workout shake recipes are key to maximizing any workout regimen. There is nothing worse than going on a run when you are hungry or have not added any nutritious fuel to your body. Wondering what the easiest way is to get that quick nutrition? How about a delicious protein shake or smoothie. We've put together a list of 12 pre workout shake and smoothie recipes that will give you the energy you need to crush your workout. Plus they are all yummy too!
Get the Most Out of Your Pre Workout Shake Recipes
Before we look at some recipes, it's important to understand what makes a good pre workout shake. It's easy to toss a bunch of ingredients like chia seed, fruit, vegetables, or a combination of both into a blender and call it a shake, but there are a couple of things to remember:
Use Lots of Protein
Protein is the key to building muscle. Muscle is important even if your goal isn't to become a bodybuilder. This doesn't mean you have to blend up your steak, but yogurt especially Greek yogurt, any nut butter with healthy fat like peanut butter or almond butter, regular milk, almond milk, or soy milk, cottage cheese, and even tofu can make a great addition to any shake.
Take Advantage of Energizing Carbs
Carbohydrates are often considered the enemy when it comes to losing weight and getting healthy. This isn't the case when it comes to working out. Energizing carbs like fruits, oats, and yogurt can be your greatest ally.
Moderation is Key
Being on your way to work out doesn't mean that chugging down a giant shake packed with sugar and calories is a good idea. Pre Workout shakes can often be bland but resist the urge to mix in high-sugar flavor enhancers like ice cream. Instead, take advantage of the natural sugars that fruits have to offer with a healthy serving size.
12 Pre Workout Shake RecipesÂ
1. Banana Strawberry Split Smoothie
This pre workout shake combines the perfect balance of protein and energizing carbs without sacrificing flavor thanks to its small amounts of vanilla, cinnamon, and honey. You can drink this shake prior to your workout or throughout the day as a meal replacement.
2. Peach Cinnamon Protein Shake
The combination of peach and cinnamon is surprisingly good. The fruit and cereal provide energizing carbs while the yogurt and spinach offer protein. This is far from your typical protein shake in both taste and energy and provides the perfect pre-workout boost.
3. Banana Nut Shake
While it doesn't offer anything new – chocolate, peanut butter, strawberry, and banana are all common protein shake flavors – this shake is still delicious and easy to make. It's perfect for those in a hurry but looking for great workout fuel.
4. Strawberry Oatmeal Smoothie
There's a reason why strawberry is a classic flavor. This tasty vegan smoothie is rich in protein and energizing carbs, making it the perfect pick-me-up before a workout. It's also a good option for a post-workout refresher or a meal replacement.
5. Apple Vanilla Smoothie
Apple is not a flavor you would typically see in a smoothie. As a result, this option offers a different take when the typical flavors become boring and mundane. Mixed with milk, banana, orange juice, flax, and vanilla protein powder, this smoothie provides both protein and carbs as well as that distinct flavor.
6. Banana Walnut Bliss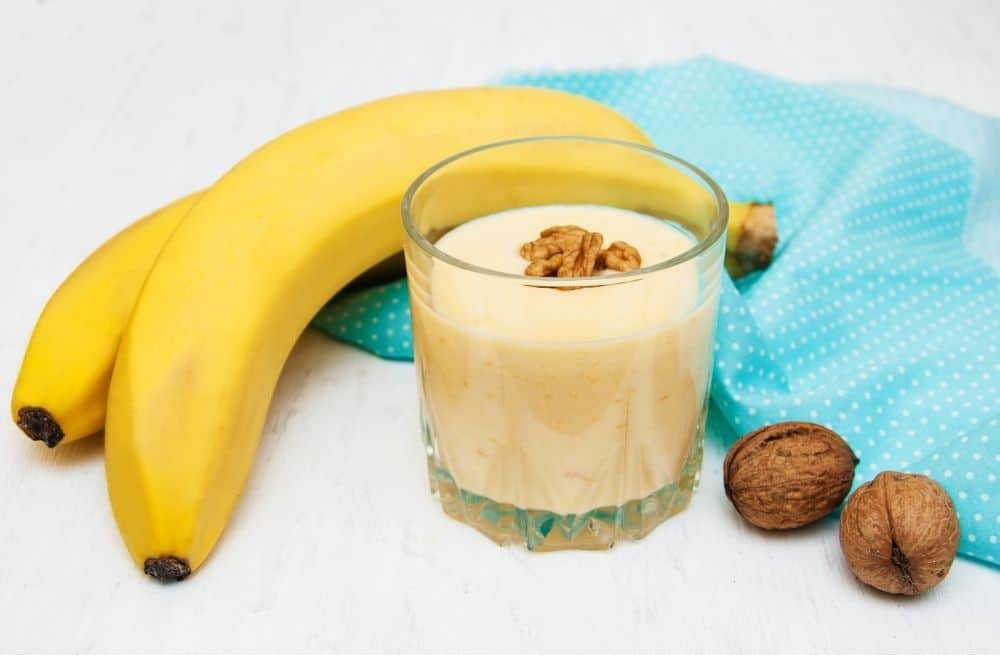 Bananas provide several important nutrients like potassium, magnesium, and Vitamin B6 while also being an excellent source of energy. Pair those health benefits with the added protein that the walnuts provide and you've got a protein shake that tastes great and gives you that pre-workout boost.
7. Kiwi and Kale Smoothie
This drink looks less than appetizing. But look past the dark green color. This smoothie is a milk-based, fruit-and-vegetable drink that's nutrient-rich and packs a healthy wallop of protein thanks to the addition of peanut butter. To top it off, the added sweetness of the honey makes this smoothie taste great, too. Don't be fooled by the look of this smoothie.
8. Razzy Blue Smoothie
This smoothie is great as a protein-heavy workout drink. The combination of almonds, oats, yogurt, flax, various fruits, and buttermilk makes it a tasty, effective option.
9. The Green Monster Smoothie
Like the kiwi and kale smoothie, this drink also looks less than appetizing. Plus, its main ingredient is spinach. However, the banana and peanut butter outweigh the spinach to give this smoothie a pleasant taste. This smoothie also has more protein than most on this list thanks to the spinach, making it a perfect complement to your workout.
10. Oat Cocoa Smoothie
Some studies have shown that a high-dairy diet can help burn fat. The protein in dairy both allows us to build muscle and regulate our appetite. With added oats and flax, this high-protein smoothie is the perfect addition to any workout regimen. Mix in the vanilla, cocoa powder, and banana, and you've got a drink that helps you burn fat and build muscle while tasting great.
This vegan smoothie offers a flavor reminiscent of spending the day on a tropical beach. It provides as much protein as its non-vegan counterparts thanks to the inclusion of soy milk and tofu, and it tastes amazing due to the combination of pineapple, cantaloupe, lime juice, and coconut extract.
12. Blueberry and Avocado Layered Smoothie
This smoothie isn't for everybody, especially if you don't like avocado. It seemed so odd that I was reluctant to try it. But I'm glad I did. The yogurt, avocado, and almond butter combine to provide an excellent source of protein. Plus, blueberries are considered the ultimate brain food.
Bonus Recipe: Carrot Cake Smoothie with Coconut Whipped Cream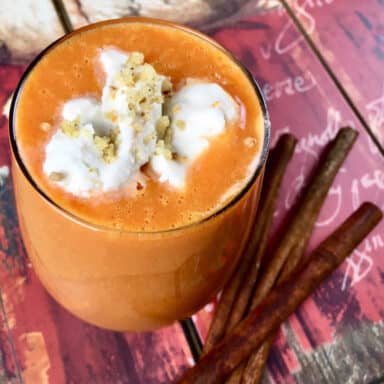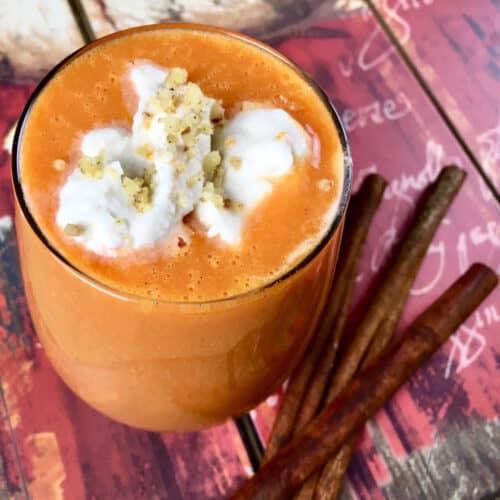 Carrot Cake Smoothie with Coconut Whipped Cream
This healthy and delicious smoothie tastes more like a decadent dessert than a nutritious way to start the day. The natural sweetness of the orange and carrots are balanced by a trio of complementary spices, while a spoonful of homemade coconut whipped cream serves as the perfect finishing touch. Tip: For best results, use coconut milk that does not contain guar gum to make the whipped cream.
Ingredients
Coconut Whipped Cream Ingredients:

1 13.5-

oz.

can coconut milk

chilled

1-2

T.

maple syrup

optional

1

t.

orange zest

optional

Smoothie Ingredients:

1

c.

coconut milk

1

large banana

cut into chunks and frozen

2

large stalks celery

roughly chopped

1

large orange

peeled

4

large carrots

roughly chopped

¾

t.

cinnamon

¾

t.

ground allspice

½

t.

ground nutmeg

4-6

ice cubes

Optional Garnish:

Ground cinnamon

Finely chopped walnuts
Instructions
Chill coconut milk in refrigerator for several hours or overnight. To prepare, remove can from refrigerator without shaking or turning and remove lid. Scoop out the solidified "cream" from the top of the can and transfer to a mixing bowl. Reserve remaining liquid coconut milk to use in smoothie.

Add maple syrup and orange zest, if desired, to mixing bowl and blend until light and airy. Allow coconut cream to warm up slightly before blending if lumps persist. Cover and place bowl in refrigerator until ready to use.

Add the coconut milk and frozen banana to a high-speed blender and blend until smooth, around 30 seconds.

Add celery, orange, carrots, cinnamon, allspice, nutmeg, and ice cubes. Blend on high speed until completely combined and creamy, approximately 1-2 minutes.

Pour into glasses and top with a scoop of coconut whipped cream. Garnish with a dash of cinnamon or finely chopped walnuts, if desired, and serve immediately. Enjoy!
You might also like 13 Different Types of Yogurt and How to Keep Bananas Fresh for Longer.