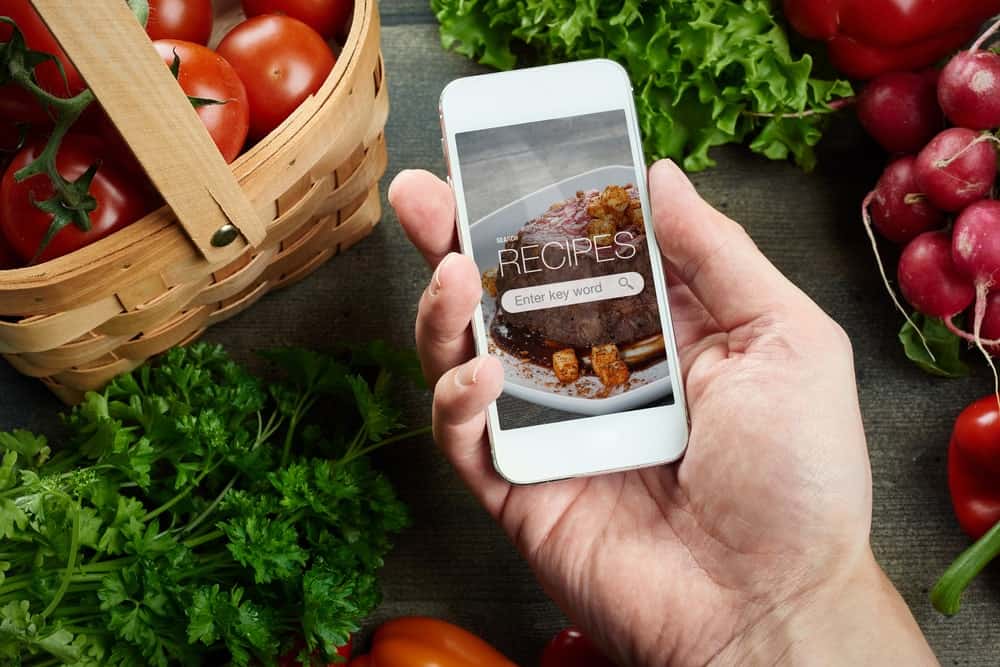 Whether you're looking for new recipes, culinary inspiration, or to manage your ever-growing collection, there's an app for that. We researched and tested many free and premium apps best recipe apps available on Google Play and the Apple Store. Our criteria looked for ease of use, functionality, app response, and the size of the available recipe collections. We tried to think broadly since people might want different functions from their app, including but not limited to creating, storing, and sharing their own recipes, nutritional information, special diets, and more.
1. Epicurious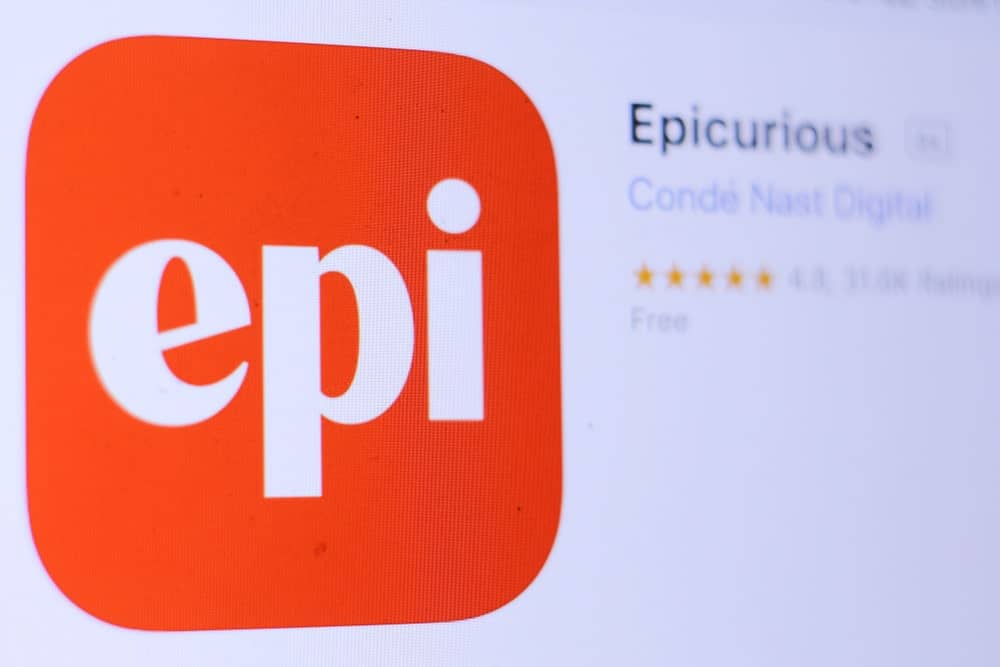 • iOS
• Free
• 35,000+ tested recipes
• Notable functions: shopping list, recipe box, smart kitchen timer, and videos
Epicurious is a completely free app that gives users access to their extensive videos and recipes found on their website. They offer a large selection of easy, classic dishes as well as more upscale fare. The videos to teach you special techniques help guide and advance culinary skills.
The search feature allows you type in your own words, or you can search by numerous provided keywords such as low fat, low sodium, beef, vegetarian, and more. This feature is helpful if you want to try something new based on the main ingredient you have on hand. Whether you're a novice or beginner, this app has a lot to offer users.
2. Tasty
• iOS and Google Play
• Free
• 3,000+ recipes
• Notable functions: videos, extensive search and recipe filtering, conversions
Tasty comes courtesy of Buzzfeed, and they didn't spare details when it came to developing and implementing this cooking app. It brings great features like recipe filters, which are great for those with allergies or on special diets. The conversions are helpful too.
You'll find a variety of cuisine types, ranging from tasty desserts to lavish but easy meals. The only downside to this app is you're limited to what they add, and it's missing other features like timers and synchronized lists. The beautifully produced guides make up for what it lacks.
3. Big Oven
• iOS and Google Play
• Free and paid
• 500,000+ recipes
• Notable functions: synchronized grocery lists, save recipes, share your own recipes, scans, and photos, special diet friendly, leftover feature, and website to app integration
One of the favorite features Big Oven offers is the ability to creatively use leftovers. Simply type in up to three on hand ingredients and the app will show you a list of new foods to make too. Of course, they offer a wide variety of recipes too, including comfort foods and fancier fare from around the globe.
The app doesn't stop there. Your grocery lists that will synchronize across devices, so you know if someone in your household picked up items.
The pro version removes ads and unlocks premium features, such as adding more recipes, post notes about other recipes, search by dietary needs, the meal planning feature, and more.
4. Food Network
• iOS and Google Play
• Free
• 70,000+ recipes
• Notable functions: access to shows, recipes, tutorials, and synchronized grocery lists
Food Network is a trusted brand with thousands of tested recipes from many of the world's top chefs and foodie personalities. Their collection ranges from basic to expert level recipes, but they provide plenty of tutorials and videos to teach any level of cook.
One significant feature is the ability to watch your favorite Food Network shows.
The app doesn't allow you to add your own recipe collection from off the site, but it does let you make notes and substitutions on existing recipes. It's also ad heavy with no premium version to remove them. This can be a larger issue on slower connections and data usage off Wi-Fi.
5. Kitchen Stories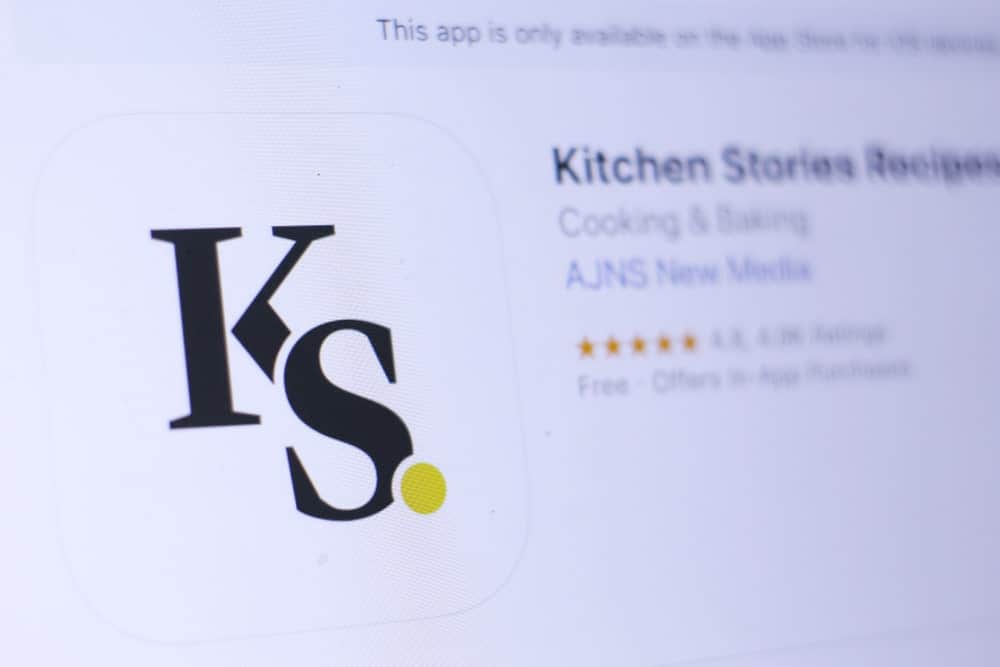 • iOS and Google Play
• Free w/ in-app purchases
• Unstated recipe count, but in the thousands at least
• Notable functions: measurement converter, recipe scaling, landscape mode, videos, how to guides, shopping lists, site to app integration, and meal planning
Kitchen Stories releases new content weekly to inspire your meals. Packed full of HD videos, their expert chefs will teach you new techniques and pairings to advance your skills. Almost every recipe has a video. If videos aren't your cup of tea, you can pull up their step-by-step photo guides too.
This is a responsive, simplistic app design that works well for beginners and novice chefs. You can easily save their recipes, share them with friends, make shopping lists, and more, but you can't add your own recipes.
You'll find basic recipes for any meal or situation, including 20-minute meals and gluten-free options. In-app purchases let you expand and add additional cookbooks to the built-in recipe collection.
6. Lazy Keto—Easy Low Carb Ketogenic Diet Recipes
• Google Play
• Price: Free w/in-app purchases
• 1,000+ recipes
• Notable functions: nutritional information, recipes, keto calculator, recipe submission, and shopping list
Seasoned pros or those new to low carb living will enjoy the wide range and quality of recipes the Lazy Keto app provides. Its main feature is the 1,000's of available recipes complete with basic nutritional information and macro calculator. Aside from basic meals, the app also offers many Instant Pot recipes, desserts, and condiments.
One concern is the in-app purchases. It's unclear upfront which features are free and which aren't. The app doesn't have a meal plan feature either, which is a key component for success on any low carb diet. However, if you're looking for ketogenic, Atkins, or Paleo recipes, it's a great addition to your recipe collection.
7. Yummly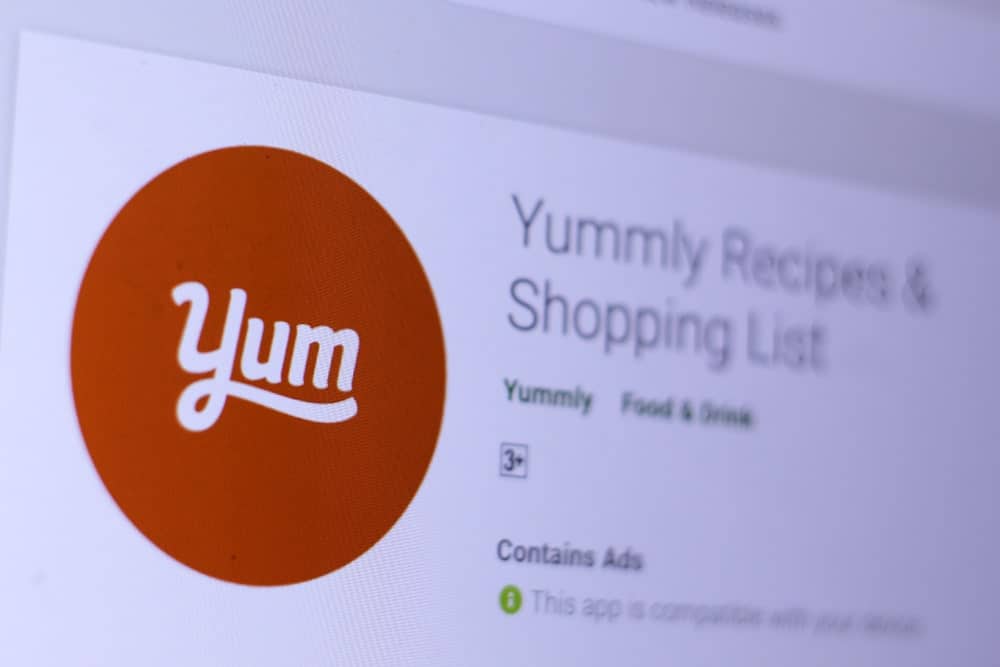 • iOS and Google Play
• Free
• 2+ Million Recipes
• Notable functions: video tutorials, timers, meal planning, recipe sharing, import recipes, shopping list, and diet and allergen-friendly tools
Yummly has one of the best and most customizable search engines on a recipe app that we've seen. This is partly due to their ability to scour and index the internet, pulling recipes beyond their own from top websites. It also provides easy to use tools to streamline cooking, planning, and shopping.
It's impossible to list every tag and category available through this app since it's a vast collection. If you haven't found a recipe elsewhere, you're most likely to find it here.
The app can be a little laggy at times and does have a few glitches, but it's still making the list because it has two key features available free. The ability to import a recipe from anywhere and the diet and allergen-friendly search capabilities make it worth checking out.
8. Allrecipes Dinner Spinner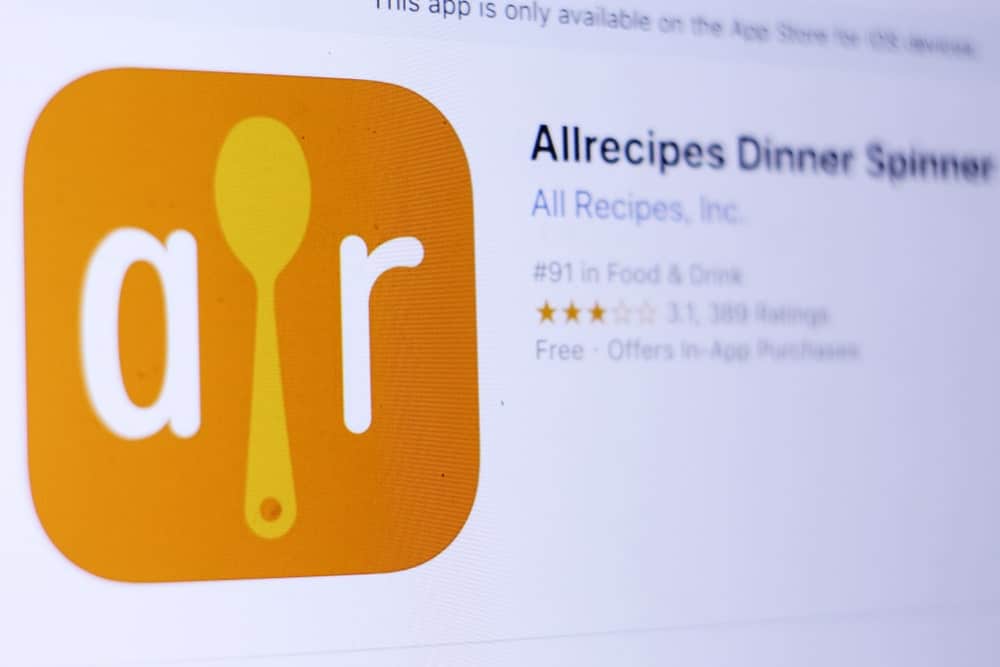 • iOS and Google Play
• Free w/in-app purchases
• 50,000+ recipes
• Notable functions: submit your own recipes, recipe box, how to videos, and search engine
Allrecipes is a little different from other apps because they rely heavily on user submission. The upside to home cooks is the instructions and techniques are generally simple for a beginner to novice chefs. Plus, many people love sharing their time tested family recipes, so you have the chance to find some unique spins on comfort classics.
It's similar to Yummy in many ways, but it falls behind on the search capabilities. It's still a trusted community with numerous recipes with local and personal takes. Being able to read user comments is helpful too.
9. Side Chef
• iOS and Google Play
• Free
• 11,000+ recipes
• Notable functions: step by step guides, premade meal plans, make your own meal plans, order groceries where available, and integrates with smart home appliances
Side Chef combines tested recipes from major chefs, top food bloggers, and magazines into one completely free app. The app will work with over 200 smart appliances to make cooking easier.
A favorite feature is that you can easily filter ingredients on a recipe and add only what you need to your shopping list without having to edit it further. From there you either order what you need through Amazon or shop locally. Second favorite feature is the free premade meal plans, which is rare to find.
Side Chef offers countless recipes in multiple categories, including worldly flavors and American classics.
10. Forks Over Knives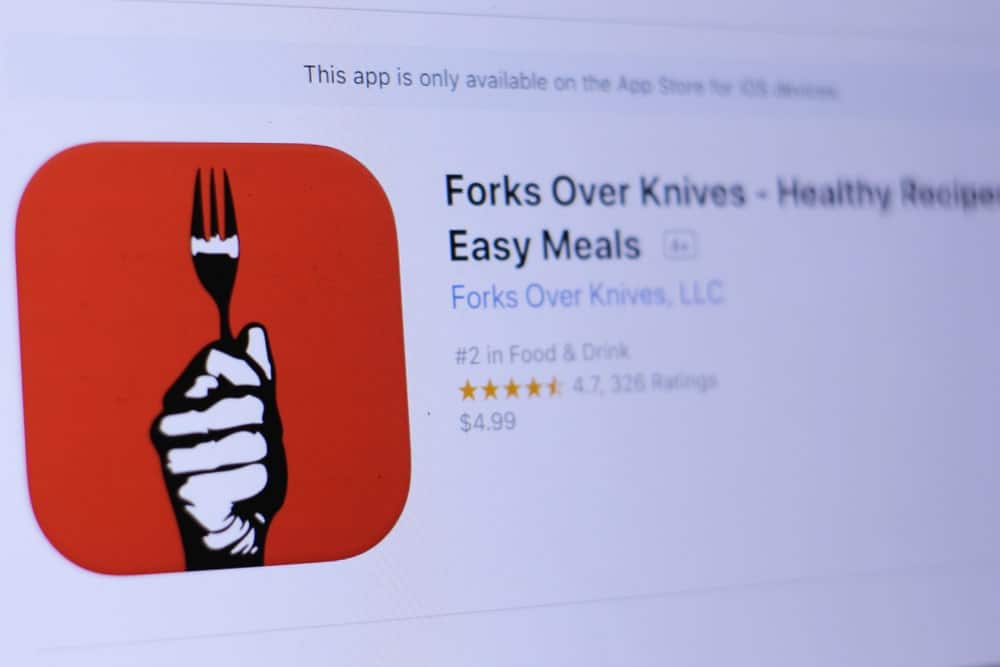 • iOS and Google Play
• $4.99
• 400+ plant-based recipes
• Notable functions: synchronize shopping lists, landscape mode, step by step instructions, seasonal menu, nutritional information, and tips for vegetarians and vegans
Forks Over Knives brings you vegan and vegetarian recipes from 50 leading chefs. They release new recipes weekly too without an additional fee. While they might have a smaller recipe database, they specialize in meeting the nutritional needs of vegans and vegetarians.
Their interface is classic and simple, loaded with beautiful photographs and easy to follow recipes. The foods can replace old favorites or they become a gateway to otherworldly flavors. Whether you're following a plant-based lifestyle or looking for more plant-based meals, Forks Over Knives has a lot to offer.
11. Cookpad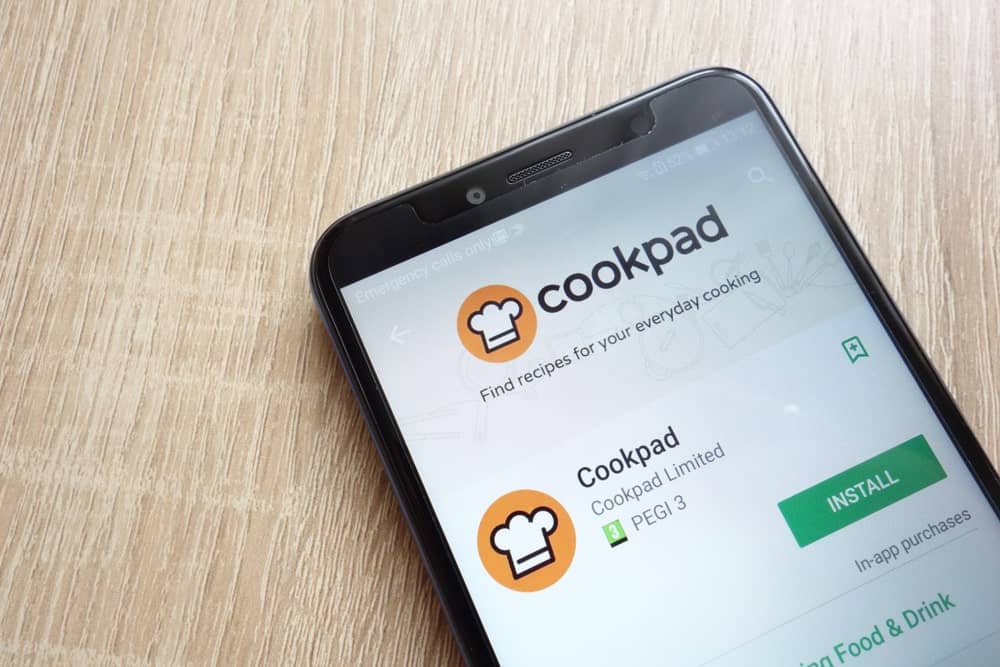 • iOS and Google Play
• Free w/in-app purchases and premium subscription options for some languages
• 150,000+ recipes
• Notable functions: multi-language support, chat directly with other home chefs, share your own recipes, and shopping lists
Cookpad is like a combination of recipe app and social media app in one. You can chat directly with recipe authors, share photos, discuss ideas, and more. You can also upload your own recipes to share with the community or keep private.
One notable issue with the app is the measurements. These can be in metric or imperial, depending on the recipe's author. The app doesn't offer a built-in conversion tool, but the variety of world cuisine from home chefs might be enough to make up for this oversight.