Shopkins are tiny little toys that resemble grocery store items and are wildly popular with kids of all ages. So popular that you may find your child asking for a Shopkins birthday cake or you may want to surprise them with one. Here are 10 delicious Shopkins cake ideas that any child (and adult) will love!
Shopkins Cake #1: Ice Cream Kate Cake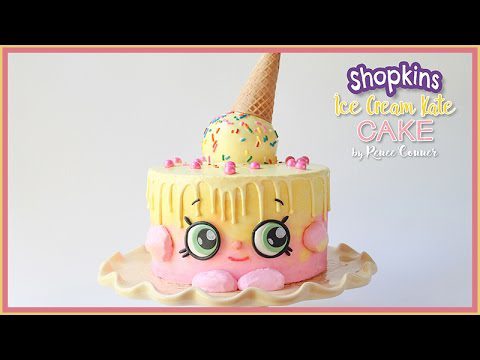 The Shopkins Ice Cream Kate Cake, by Renee Connor Cake Designs, has full instructions on YouTube. First, bake two 7″ round vanilla cake layers and a double batch of Swiss meringue buttercream icing in yellow and pink. Some of the pink icing goes on top of the lower layer and then place the other layer atop that. The yellow frosting is then used to cover the top and sides of the top layer of cake. Ice the outside of the bottom layer of cake with pink icing. You don't have to be too precise since the result is meant to take on an ombre look.
The cake maker uses fondant to cover store-bought Rice Krispy treats rolled into a ball and covered with white fondant to make the " scoop of ice cream" that rests on top. Then she adds ganache and places the ball on top, off center, and covers it with ganache as well. She covers the ball with an ice cream cone and sprinkles the ball with sprinkles. She uses fondant for eyes, and she pipes buttercream feet and hands with mixed white and pink buttercream icing.
Shopkins Cake #2: Kooky Cookie Cake
Kooky Cookie Cake is a rather straight-forward project and is bound to please the Shopkins set. This cake, designed by "Cakey" on CakeCentral, uses fondant and buttercream, too. The process is similar to that of the Ice Cream Kate Cake. The pink shoes, however, are made of gum paste. The Kooky Cookie Cake has a lovely yellow double ruffle at its base, and black fondant chocolate chips cover the entire cake. The cake maker placed the cake on a polka dot gift wrap covered rectangular piece of wood to give the cake that little extra "je ne sais quoi." The added pink fondant birthday greeting oval placed on the front of the cake adds a bit of an extra treat as well.
Shopkins Cake #3: Everything Shopkins
This Shopkins cake actually "takes the cake" for being one of the most elaborate and beautiful cakes online. Found on Blond Baking Momma's Facebook page and her Instagram site, this cake includes every Shopkins color, many Shopkins accessories, giant lollipops, blue Hershey's Kisses, geometric shapes, and bubblegum, yes, bubblegum buttercream icing. The streams of controlled ganache drippings are yellow and blue. Any munchkin who had this cake delivered to his or her birthday table would be beyond excited.
Shopkins Cake #4: Lipstick Cake
Although it may sound incredible, "de la creme Creative Studio" has come up with a Shopkins Lipstick Cake. The official Shopkins character's name is Lippy Lips, and the finished cake is two feet tall. You read that correctly. The extra-tall candles were placed on small cupcakes surround the masterpiece.
Shopkins Cake #5: Wishes Cake
Mandy's Sweets Cakes cooked up a terrific version of a Shopkins Wishes Cake. This character is a party starter kind of gal and has to be the center of attention, which she obviously is when she takes the form of this lovely edible cake. The Wishes Cake is yellow with pink ganache icing dripping down its sides and with striped birthday candles and frosting swirls on top. Don't forget the sprinkles!
Shopkins Cake #6: D'Lish Donut Cake
Shopkins D'Lish Donut Cake is a cutie. The easiest way to a quick and attractive donut cake is to use an angel food or bundt cake pan and cover it with pink ganache. Fondant makes the eyes and the sprinkles, and you will need light yellow, light pink, black, white, and blue fondant for the eyes and confetti on top. D'Lish Donut is an ultra-rare Shopkins who is super sweet, has a competitive edge, and is always hoping for a hole in one. Naturally, he is a golfer and loves basketball. He also comes in a chocolate flavor.
Shopkins Cake #7: Cheeky Chocolate
The Cheeky Chocolate Shopkins Cake from the Icing Artist can take the form of a standard sheet pan cake. Once you have your chocolate sheet cake baked and it has cooled down, you are ready to decorate.Cheeky is a rare Shopkins character from Season One. He loves to play pranks on his friends, is always laughing, and loves to get dirty. His best friend is Candy Kisses, and they like to hang out in the Sweet Treats section. Other good friends include D'Lish Donut and Apple Blossom.
Once cooled, frost the top half of the cake with chocolate ganache along with chocolate heart decorations. The bottom half is coated in blue ganache and has fondant eyes, nose, and a pink mouth. Between the bottom and top is a line of white ruffles. Cheeky is supposed to resemble a half opened candy bar, which this design imparts flawlessly. He also has fondant feet and arms.
Shopkins Cake #8: Chocolate
A fantastic birthday cake that honors Shopkins, in general, is the Shopkins chocolate cake. This creation is an extraordinary and whimsical cake that looks much harder to make than it is. Halfpenny Cakes designed the gorgeous treat, and it is a delightful 6″ chocolate cake but could also be vanilla, according to your preference.
The cake includes hot pink ganache with pink, yellow, and blue fondant balls encircling the base and top rim of the cake. Fondant flowers in those same colors are randomly placed all over the cake. The top of the cake top, adorned with the small plastic shopping bins that come with Shopkins packages of characters, looks like a scene from a Shopkins video. There is room for five little aqua baskets, and each contains various Shopkins plastic food items.
Shopkins Cake #9: Make Your Own! (Super Easy)
Another favorite idea for cakes with a Shopkins theme is to bake your sheet cake, or layered cakes and frost them with buttercream or ganache. Then place Shopkins characters atop the cake along with birthday candles. Not only does this type of cake allow you to add your child's favorite characters, but it also makes for an easy and fast project. In fact, this would make a fun family night endeavor that everyone could take part in, including the birthday boy or girl.
Shopkins Cake #10: Cupcake Queen
Shopkins Cupcake Queen is a Limited Edition Shopkin from Season One. Only 100 Cupcake Queens existed. Cupcake Queen loves buttercream and likes her parties to be grand balls.She has a frosting crown and red velvet slippers that are perfect for dancing. Of course, she has a British accent.
To make a Cupcake Queen birthday cake, you simply need to bake roughly two dozen cupcakes. Pink would be a good color for the buttercream frosting. Once baked and frosted, place the confections in two circles on a cake plate. Push them all together as if you were making a wreath. Add fondant eyes to the bottom section of the "wreath" and fondant hearts in blue and yellow randomly around the circle of cupcakes. Use yellow cupcakes for the hands and blue cupcakes for the shoes.
You might also like How to Make Angel Food Cake!
You might also like Parts of a Pumpkin – What they look like and why they are important.