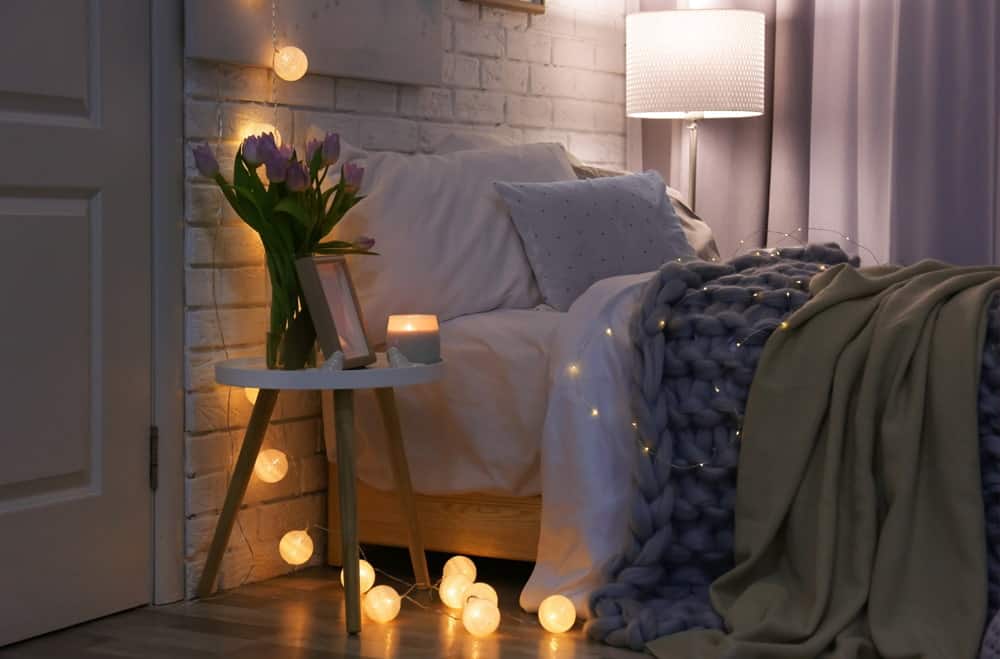 Looking for small aesthetic bedroom design ideas? You have come to the right place. We don't all have the luxury of large master suite bedrooms. Most of us have something a little more modest than that, and, for some, the reality is that our bedrooms are downright small. When it comes to placing our furniture and home decor, a small bedroom can be frustrating, to say the least. But just because it's small doesn't mean you can't make the most of what you do have and turn it into something you love. Here are our top 10 tips for aesthetic bedroom decor designs for a small room.
1. Keep it Simple
The "it" we are referring to is the layout. In any bedroom, there is usually an obvious wall along which the bed fits perfectly. Don't try to go crazy by having a floating bed placed in the center of the room. Instead, use the room's natural layout to your advantage. A bed and maybe some nightstands placed on the obvious wall will not only offer more space for other things in the room but will also make the room look bigger than it is.
2. Use Mirrors
Mirrors help create the illusion of space. One way to do this is to replace the closet doors with mirrors. If you have a tiny closet, use one wall to place floor to ceiling mirrors. This approach doubles the visual square footage of the room and creates the illusion that the bedroom is much bigger than it is.
3.Use Built-in Storage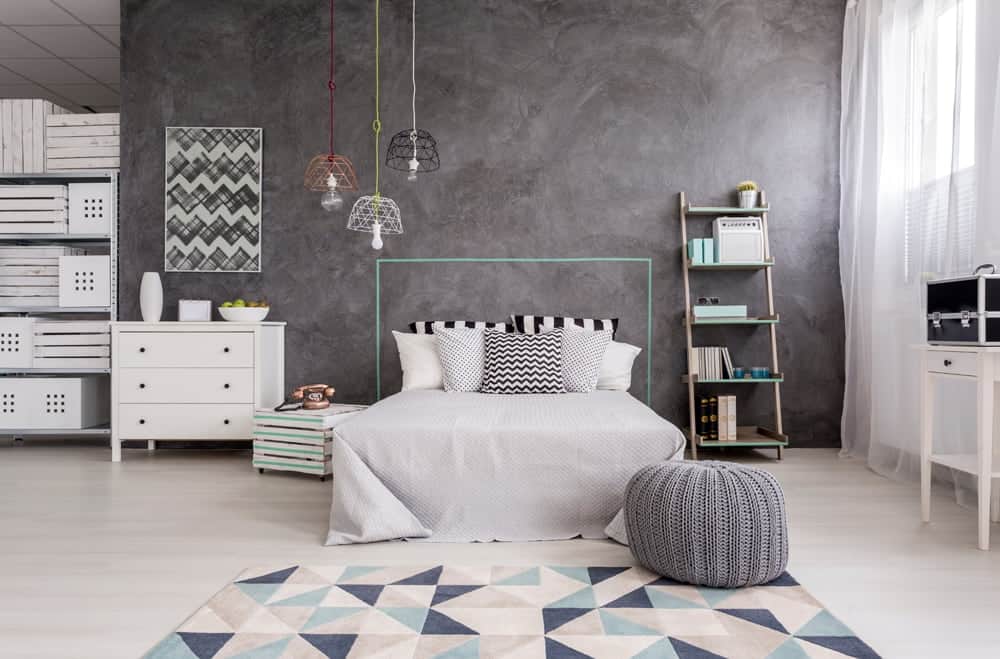 Dressers and end tables can take up an unbelievable amount of space, though it may not seem like it until you have them in the room and you're shimmying around them to get into bed. Ditch those clunky pieces of furniture and replace them with built-in storage. Shallow built-in shelves from eight to twelve inches deep can deliver storage space while freeing up floor space, making the room look bigger while remaining aesthetically pleasing. Taking that shelving to the ceiling can also make it seem as if the ceilings are taller. If you're handy with DIY stuff, this is an easy project to accomplish. If not, a good carpenter is just a phone call or mouse click away.
4. Declutter
By nature, people like to hold onto stuff. But as we accumulate stuff, it ends up strewn all about, cluttering up the place. While the above-mentioned built-in storage can help alleviate some of that clutter, it may not take care of it all. Store the stuff that isn't detrimental to your bedroom in other areas of the house or apartment. If that's not possible, then it might be time to consider getting rid of it.
5. Ditch the Table Lamps
This one may seem odd. You might be thinking, "How much space could a table lamp possibly take up?" The truth is it takes up quite a bit of space. Ok, so maybe your lamps aren't that big, but your nightstand is. While a nightstand is not a huge piece of furniture, a pair of them take up valuable floor space and make the room much smaller. Instead, take advantage of unused wall space by getting mounted lights. Better yet are mounted lights that have swing arms. The lights can not only be adjusted to different angles depending on how you need to use them but they can also be swung completely out of the way when needed.
6. Strategic Painting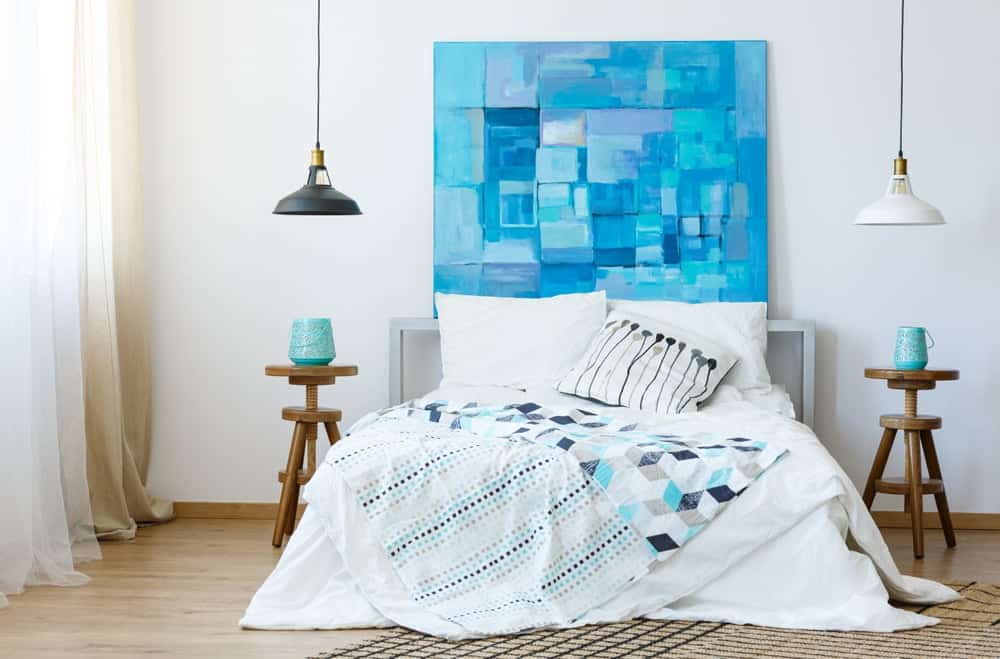 Paint color makes a huge difference when it comes to making the bedroom look bigger. By using a color that is the same as or similar to the color of the floor, you make the edge where they meet less obvious and make the room look longer or wider, depending on how you look at it. But don't stop at the walls. Continue that color scheme onto the ceiling and it makes the walls look taller than they are.
7. Keep it Light
Light not only plays into painting the room but the décor as well. You may have already heard that light colors are more inviting and can make spaces look bigger. It's true. But that doesn't mean you have to keep everything white. Adding splashes of lighter greens, blues, or yellows can break up a predominantly neutral-colored room and make it much more aesthetically pleasing.
8. Enlarge the Curtains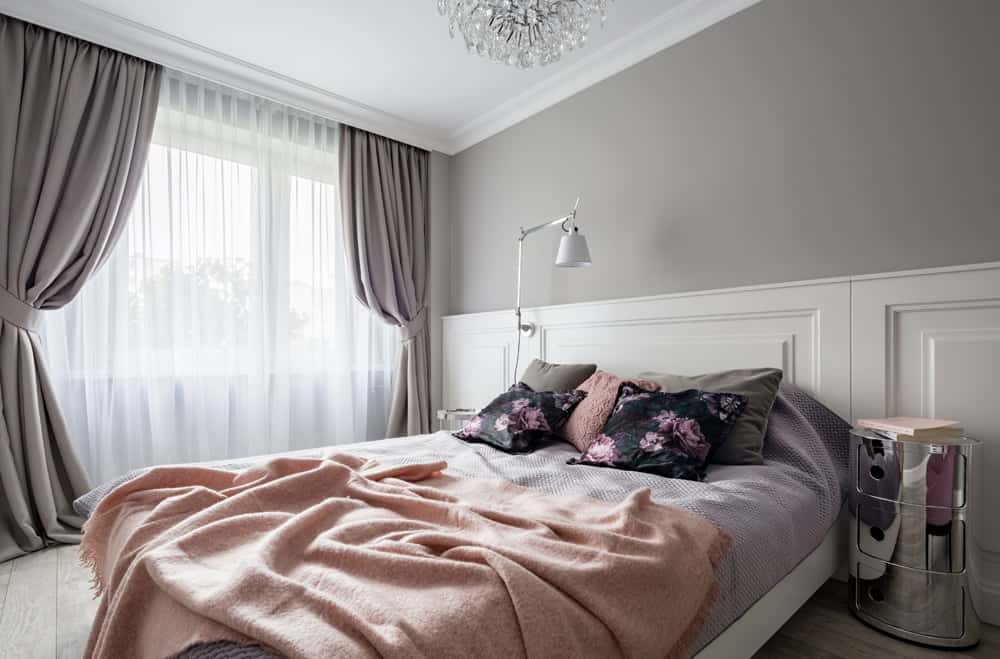 Don't just put the curtain rod where it needs to be to cover the window. Instead, extend it both up and out from the window frame. This positioning makes the window look larger than it is and in turn, makes the ceiling seem higher and the wall longer.
9. Use One Large Piece of Art
We all love to use art to decorate and add a personal touch to our bedroom. For most people, hanging artwork usually means adding a few small pictures or canvases on different walls around the room. Ditch these smaller wall hangings for one large one hung above the bed. This single piece of art not only makes a bold statement but also creates a focal point in the room, something that draws the eye and distracts from the size of the room.
10. Let in the Light
Nothing brightens up a room quite like natural lighting. Natural light keeps the room from feeling claustrophobic. Even if the window in the bedroom is small, it still lets in natural light, and that light will work with the light colors you've used in your room to create a bigger, brighter space, or at least create the illusion of one.
Just because your bedroom is small doesn't mean it has to seem like a dungeon. Hopefully, you can take these tips and create a room that you can be proud of.
You might also like 20 Awesome Bedroom Shelves for Saving Space.