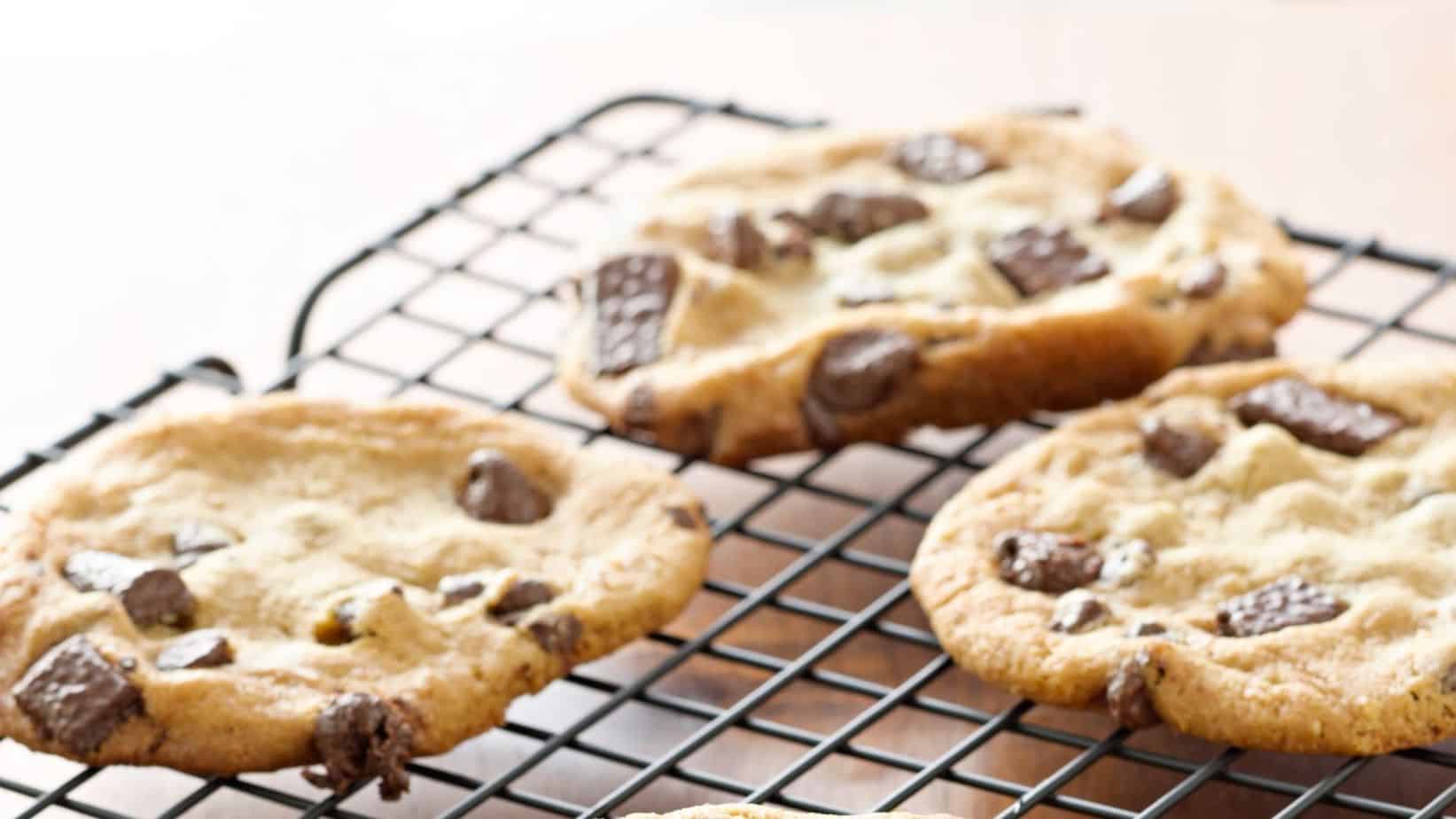 Cooling racks cool cooked and baked food on all sides and are a must-have in the kitchen if you love to make baked goodies!
Cooling racks elevate your food off a solid surface so that air can circulate all around and the bottom doesn't get soggy from absorbing steam. If you want textural perfection in your baked goods – this step is a must! You can completely change the texture of your baked goodies and other baked items by transferring them from your baking cookie sheet to a cooling grid rack. It also works for cooling your oven-roasted and grilled food, like chicken wings, other meats, and veggies.
Cooling racks come in different sizes and with different grid sizes. Choosing the best one all depends on what type of baking or cooking you need it for and how often you'll be using it.
If you're on the hunt for the best cooling rack, keep reading to discover the best of the best ones available with the pros and cons of each!
Best Cooling Racks
Reviews
This solid stainless steel wire rack set comes in a pack of 2 and multiple sizes to choose from. This is a sturdy baking and cooling rack, which means you don't have to worry about your delicious goods wobbling. The grid design ensures that none of your baked goods will slide through the gaps. The price for the 2-pack is very budget-friendly, and it's the highest reviewed and best seller on Amazon!
Pros:
– Multi-use
– 3 different sizes available for your needs
– Sturdy
– Highest reviews
Cons:
– Edges may be sharp
Looking for 2-pack cooling racks? This 2-pack wire rack is made of durable stainless steel and is rust-proof. The thick grid design can bear heavy weight and is not easy to break.
This cooling rack is raised by 0.6 inches to provide better air circulation, which makes your food and baked goods much crispier than just laying them flat on a baking sheet. The size of the cooling grid is small, so foods will not be branded with an odd shape on the bottom.
Pros:
– Can support heavyweight
– Has 6 supporting feet
– Fit pans perfectly
Cons:
– Many complain that it's not stainless steel
– Some complaints of rust after frequent use
The Wilton Excelle Elite Cooling rack can be stacked to cool dozens of cookies, 3 cakes, or other baked goods all at once without taking up space on your counter! The steel rack will even collapse back down for easy storage! It has a reinforced non-stick coating which will easily release your food and makes for an easy clean-up.
The Wilton Excelle Elite is the best multi-tier cooling rack on the market because it's affordable, easy to use, and highly rated on Amazon! If you bake a lot in your kitchen – try it, and you won't be disappointed!
Pros:
– Stack and collapse easily
– Large capacity
– Won't take up too much space
Cons:
– Not sturdy on a bare counter
– Gaps may be wider than other cooling racks
Have some heavy-duty baking in mind? This Spring Chef can be used to bake on as well – safe up to 575 degrees F.
These racks allow optimal air circulation so that your baked goods don't get soggy at the bottom. The perfectly spaced grid size is tight enough so that it won't let food fall through but is still easy to clean up!
The Spring Chef is versatile enough to hold heavy cakes during baking or roasting and cooking meat. It is sturdy and has a solid, heavy construction for all your heavy baking and cooking!
Pros:
– Versatile enough for different uses
– High-quality stainless steel
– Sturdier than most other racks
 Cons:
– May be smaller than expected – choose the best size needed for you
Final Thoughts
Cooling racks are essential in the kitchen if you want to make perfectly textured baked goods or crispier foods like chicken and roasted veggies. This handy kitchen utensil is often overlooked but will elevate your food to the next level!
You Might Also Like: