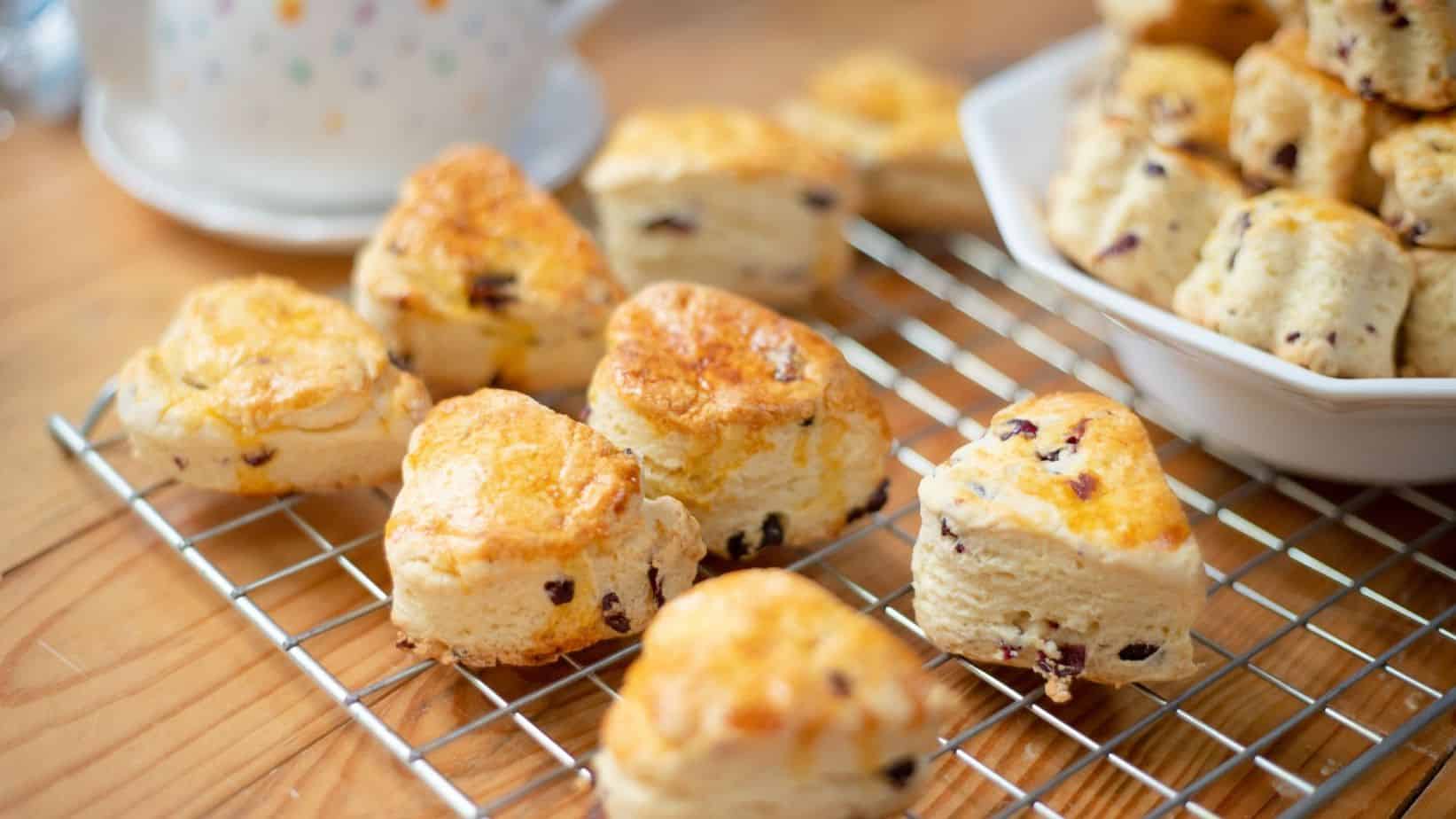 Baking up the perfect homemade scones doesn't just take butter and sugar glaze. To make the best-baked scone you've ever tasted, you should think about tossing the old baking sheet and investing in the best scone baking pan!
A scone is a single-serve cake-like pastry or biscuit that originated in the United Kingdom. This yummy baked good is typically made from wheat, barley, or oatmeal mixed in with baking powder, but there is plenty of different scone mixes that incorporate other ingredients, like cinnamon, lemon, blueberry, or chocolate chip.
So if you're searching for the best scone pans, you're in the right place! We've rounded up five of the best ones to help you create a crumbly, delicious treat right in your kitchen! Say bye to buying store-bought scones, and hello to the smell of scrumptious baked goods filling your home!
[TOC]
The Best Scone Baking Pans
Nordic Ware Scottish Scone Pan
The Nordic Ware Scottish Scone Pan is hands-down the best pan to make the most savory scones! Made with heavy-cast aluminum, the surface will evenly heat all parts of your baked goods! It has a non-stick surface that will release your scone effortlessly without crumbling or breaking it!
With the highest reviews on Amazon for scone pans, you need to try this out for yourself to see what the rave is about!
Pros:
Made from high-quality material
Stellar reviews
Easy to clean
Nonstick surface
Cons:
Heavyweight
Slightly expensive
Lodge BW8WP Cast Iron Pan
The Lodge 8 Wedge Seasoned Cast Iron Wedge Pan was made so that you can bake the perfect single-serve slices of scones and cornbread! It features a dual handle design for easy lifting.
Made from cast iron, the material will evenly heat all parts of the scone, providing you with 8 scrumptious and intact scones! This pan is high in demand at their official store and has created a name in the industry for their high-quality cook and bakeware. But because of its popularity, it may not be available for purchase. So if you find one in stock – act fast!
Pros:
Great reviews
The revered brand for bakeware
Cast iron material
Cons:
Not readily available for purchase
Heavy-weight
SHEbaking Silicone Scone Pan
The SHEbaking Silicone Scone Pan is baking mold triangles that are oven-safe and easy to use. Similar to the previous pans, this silicone mold comes with eight portions and can be used to bake anything from scones to cake slices to mousse!
These molds are easy to release with their non-stick surface and clean. Even though it's not made of cast iron or aluminum, this mold pan has a heat resistance range from -40° to 230°C – the scone pan is safe to use in the oven or freezer!
Cheaper than the other scone pans on the list, it is a hit among customers for its efficiency and durability! If you want to do some light baking and don't want to spend too much on a pan that you're not sure about, try this silicone mold and test out your scone-baking skills!
Pros:
Very affordable
Can put in the freezer as well as oven safely
Silicone is non-stick and easy to clean
Cons:
Bake time might be slightly longer to cook the middle
Silicone can be flimsy
Wilton Non-Stick Mini Loaf Pan
The Wilton Non-Stick Mini Loaf Pan has the best seller on Amazon for "mini loaf pans." The original scone is triangular and "pizza-shaped," but around the world, people have altered that dynamic. Not all scones are triangular and you don't need a scone pan that creates perfect triangles per se.
Using this mini loaf pan you can create the perfect scone that crumbles every so slightly and captures the exact taste of the original scone! It's versatile so you can make many different dishes with this pan!
It's heavyweight and made of durable steel – even ideal for everyday use! It has a premium non-stick coating for excellent release and your scone will pop right out without disintegrating!
Pros:
A bestseller for mini loaf bakeware
Easy to clean
Can make many different baked goods
Made from premium quality material
Cons:
Some complaints of rusting after continuous use and washes
After months of use, the nonstick coating may wear off
Nordic Ware Cast Mini-Scone Pan
This Nordic Ware Mini-Scone Pan is highly acclaimed for its effectiveness. It is specifically made for mini-scones which means it will be much smaller than your average single-serve size. This pan makes up to 16 delicious mini scones!
Made out of heavyweight cast aluminum, this pan will pick up heat fast and evenly distribute it so that the outside and inside of your scones are baked to perfection! It comes with 2 side handles to ensure safety and sturdy transport to and from the oven!
If you want to entertain multiple guests and have more finger food, this mini scone pan is the perfect addition to your kitchen! Bake up different types of mini scones and wow your guests!
Pros:
Reputable brand
Great reviews
Easy to clean
Cons:
Not for making larger-sized scones
Might have to cook for slightly longer than what the recipe states
Final Thoughts
The secret to making good scones doesn't just rely on the ingredients you put in, it also is heavily associated with the type of pan you invest in. If you're interested in baking scones and filling your home with scrumptious happiness, you're steps away from making a fantastic decision!
Hopefully, this list of the 5 best scone pans on the market today helped narrow down the bakeware you want to help you whip up the most delicious scones you've ever tasted!
You Might Also Like: