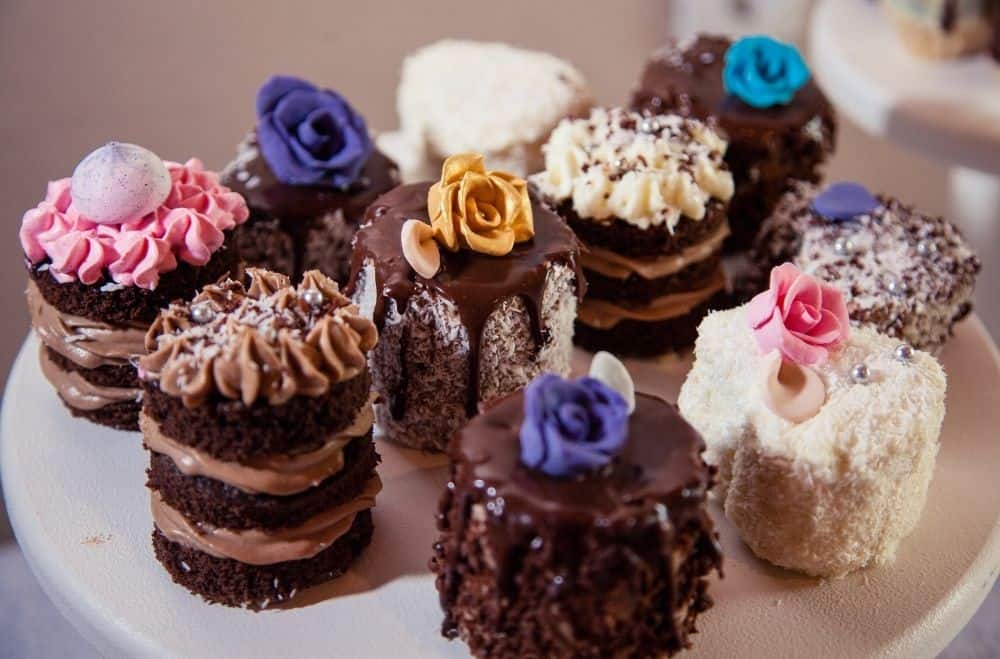 Mini cakes are perfect for when you are craving a piece of cake but can't be trusted with a regular size cake. 🙂 Or perhaps you can't decide between chocolate or vanilla or buttercream frosting or powdered sugar. If any of this sounds familiar read on.
It's no surprise that the trend of miniaturizing in baking is growing every day. After all, individual desserts are a great way to add a personal touch to any occasion and can be customized to everyone's liking. And they are just downright adorable is you ask me!
So, if it's time to upgrade or invest in some mini cake pans, keep reading our breakdown of the top 5 mini cake pans.
1. Wilton Mini Angel Food Mini Cake Pans
There aren't a lot of people who don't love angel food cake. Making individual ones can not only personalize your recipe but also reduces the hassle of having to cut and serve a bigger cake.
Wilton makes quality cake pans for any baker, from the professional to the casual. Their Mini Angel Food Cake Pans are made from high-quality, heavy-duty steel and are non-stick. With the right care, they'll stay that way for many years to come.
These mini cake pans have a 4.5-inch diameter, allowing them to create the perfect individual angel food cakes. They're both easy to use and clean, as they're dishwasher safe.
Pros:
Non stick
High-quality steel construction
Dishwasher safe
Two-piece design makes removing cakes easy
Cons:
2. Nordic Ware Charms Cast Bundt Mini Cake Pan
The Nordic Ware Charms Cast Bundt Cake Pan is unique in that each area of the pan provides a different design of cake that is sure to impress anyone you are serving, no matter the occasion.
This mini cake pan is made from cast aluminum and coated in a non-stick finish that makes it lightweight, easy to use, and easy to clean.
If you're looking to make a small individual cake, this mini bundt pan is a great choice. However, it's important to note the cakes are very small, and it may be a good idea to get more than one to avoid having to constantly clean and regrease when baking.
Pros:
Lightweight and easy to use
Cast aluminum construction
Quality non stick coating
Unique individual cake designs
Cons:
Pan produces very small cakes
Considered by many to be expensive for its size
3. Chicago Metallic Multi-tier Mini Cake Pan
Any baker, no matter their experience, can relate to how frustrating it can be trying to put together a layered cake. Now, imagine trying to do that with cakes that are a quarter of the size of regular ones. Just thinking about it is enough to induce some anxiety.
But the Chicago Metallic Multi-tier Cake Pan eliminates that frustration by allowing you to bake a complete mini layered cake instead of having to do it in sections.
This pan uses a premium aluminized steel construction for perfect heat conduction that allows the cake to bake evenly despite its layered tiers.
The silicon non-stick coating ensures each mini cake can be removed from the pan with ease, eliminating the worry of it falling apart as it comes out.
Pros:
Excellent heat conduction for even baking
Silicon coating makes it easy to remove cakes and easy to clean
Make individual multi-tiered mini cakes with ease
Cons:
4. USA Pan Brownie Bowl Dessert Pan
Brownies are an excellent option for a dessert or a treat. What could make them better? Turning those brownies into an edible ice cream bowl.
Made from commercial-grade aluminized steel, the USA Pan Brownie Bowl Dessert Pan will make six individual brownie bowls that kids and adults alike are sure to love.
The pan features a patented Americoat silicon coating that is BPA-free and eliminates any mess and fuss when removing the baked goods from the pan. Its coating also makes cleaning up a breeze. All you need is a sponge, some warm water, and a mild dish detergent.
USA Pan is a family-owned and family-operated company that stands behind its products, offering a limited lifetime warranty on all its bakeware.
Pros:
Commercial-grade aluminized steel construction
Patented BPA-free silicone coating
Made in the U.S.
Lifetime warranty
Cons:
None (Come on…how can there be any cons with an edible brownie bowl?)
5. Nordic Ware Donut Hole and Cake Pop Pan
It's no secret that cake pops are a huge hit when it comes to kids. Who can blame them? A lollypop made of cake is both fun and delicious, but without the right pan, they can be impossible to master.
That is where the Nordic Ware Donut Hole and Cake Pop Pan comes in. This pan makes cake pops easy with its aluminum construction and premium non-stick coating.
The pan is made of two pieces and allows room for the batter to rise into the top pan, creating a perfectly rounded cake that requires no messy rolling. If you want to change it up from the typical round cake pops, this pan is also available in a snowman shape.
Pros:
Two-piece design means the perfect cake pop every time
Aluminum constructs properly displace heat for even baking
Available in a variety of colors
Premium non-stick coating
Recipes and cake pop sticks are included
Cons:
Washing in a dishwasher will reduce the life of the non-stick coating
Some reported that cake was difficult to get out of the pan
You Might Also Like: