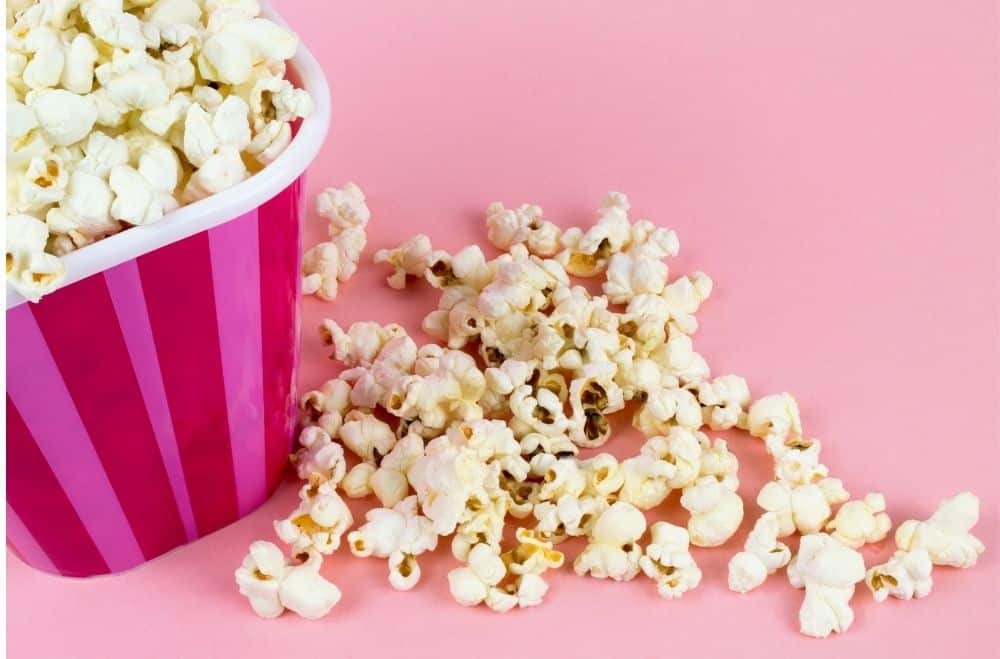 Movie night with popcorn topped with popcorn salt and other toppings has long been a tradition in homes across the country. With the ever-changing ways in which we can access great movies in the comfort of our own home, it continues to grow. Whether curled up with a significant other or gathering around the T.V. with the entire family, there's something to be said for turning down the lights and watching a good flick.
To make that movie night all the more special, we try to recreate the movie experience as best as we can, and that means snacks – specifically, popcorn. It's come a long way from the bland microwave popcorn we used to have as kids. Now, we can have nearly any flavor we crave thanks to popcorn salt and toppings. Here, we've come up with our list of the best popcorn salt flavors and toppings you need to try.
1. Kernel Season's Kettle Corn Popcorn Salt
A sweet and salty combination is hard to beat, and Kernel Season's Kettle Corn Popcorn Salt doesn't disappoint. Plus, it's a big hit with the kids.
Kernel Season's Kettle Corn Popcorn Salt uses a mixture of cane sugar, brown sugar, and salt to create what the company describes as a "taste of the county fair." That description is spot on.
2. Flavacol Popcorn Seasoning
 Have you ever wandered into a movie theater just to bring back some popcorn you're your at-home movie night? We've been guilty of it on occasion, and most die-hard lovers of movie theater popcorn can probably relate. While many brands purport to offer a similar experience, very few live up to those claims.
Flavacol popcorn salt delivers on that promise. It's not uncommon for it to be used at small theaters and carnivals across the country. It may not be the healthiest option, but it offers a product that both looks and tastes like movie theater popcorn.
3. Ass Kickin' Bacon Popcorn Salt
Bacon lovers rejoice! We have to admit we were a little hesitant to try this popcorn salt despite our love of bacon. Thankfully, the bacon flavor is subtle and not overpowering as we expected. This seasoning is a great addition to any movie night. However, the heat can be overwhelming for some, so stay away if spice isn't your thing.
4. Frank's Red Hot Buffalo Ranch
While this seasoning may not be made specifically for popcorn, it still perfectly complements the salty treat. Another one that has some kick to it, a little Frank's Red Hot Buffalo Ranch can give you the authentic taste of classic buffalo wings in a cleaner package.
Frank's is known for making some pretty potent hot sauces, but this seasoning provides good flavor without making you uncomfortable – as long as you can tolerate a little heat.
5. Flavor God Pizza Seasoning
The Flavor God Pizza Seasoning is also made for a wide variety of applications but works great as popcorn salt. The flavor is subtle but delicious; you won't grow tired of it quickly.
Best of all, it's not that bad for you. This seasoning salt is vegan, gluten-free, keto-friendly, low in sodium, and calorie-free. You can't go wrong with this one if you're looking for a healthy alternative.
6. Kernel Season's White Cheddar Popcorn Salt
Kernel Season's flavors are hard to beat. The White Cheddar Popcorn Salt is no exception, and with the ever-growing popularity of white cheddar popcorn, this is a must-have.
Kernel Season's call this the "ninja" of popcorn seasoning because you can't see it on your snack, but it packs a real punch. Additionally, it has one of the highest Amazon ratings of any popcorn seasoning.
7. FreshJax Spicy Popcorn Salt
In case you couldn't tell from this list, we're big fans of adding popcorn salt to our popcorn. FreshJax Popcorn Seasoning's blend of natural organic herbs and spices is made to put a kick into your snack.
This is sure to be a hit if your family is big on spice, and you won't find any of the harsh chemicals many other companies use to enhance flavors and increase shelf life because of its all-natural ingredients. FreshJax provides a healthy alternative that isn't always easy to come by.
FreshJax also has a social conscience, as every sale of its spices helps to provide meals for hungry children.
20 Simple and Delicious Popcorn Toppings
Popcorn is a popular snack to enjoy at home, but sometimes plain popcorn can get a little boring. These ideas are easy to add and don't involve a complicated recipe that requires cooking. The next time you have popcorn, try one of these simple popcorn toppings to add some excitement to your snack.
Italian
Turn your popcorn into an Italy-inspired snack with Italian seasoning and parmesan cheese.
Caramel
Caramel popcorn is a traditional option that is always pleasing. Melt some caramels, pour them over your popcorn, and toss.
Taco
Add chili powder and cumin to make your popcorn just right for taco night.
Candy
Candy is the perfect addition to satisfy your sweet tooth while you enjoy your popcorn. Try a small candy like M&Ms, Reese's Pieces, or cut up Twizzlers.
Cinnamon Toast
Cinnamon and sugar tossed with your popcorn make it taste a lot like cinnamon toast.
Garlic
Garlic lovers simply need to add garlic powder to popcorn to give it a satisfying kick.
Creamy Italian
Italian dressing mix will make your popcorn taste like a creamy Italian dream.
French Onion
Liven up your popcorn in an instant by topping it with a flavorful onion soup mix. You can even add some dried onion straws if you like.
S'mores
Just take all the ingredients in s'mores and add them to your popcorn. Crumble some graham crackers, add some miniature marshmallows, and drizzle some chocolate over the top. You'll feel like you're camping.
Mustard Pretzel
Dried mustard and crumbled or miniature pretzels will bring a fun flavor to your popcorn.
Bacon
What isn't better with bacon? Use some premade bacon crumbles or cook your own to add to your popcorn.
Dark Chocolate
Simply sprinkle some dark chocolate pieces or drizzle melted dark chocolate over your popcorn.
Asian
Try mixing your popcorn with soy sauce and sesame oil to give it an Asian tang that will remind you of your favorite Chinese restaurant.
Smoked Paprika and Olive Oil
Tossing your popcorn with olive oil adds flavor and depth. Use paprika to give it some spice. Smoked paprika adds a unique and delicious element as well.
Dill
Dill is a spice that offers a lot of flexibility. Toss it with your popcorn, and add some lemon for a kick of extra flavor. You can also add vinegar, which will make your popcorn taste a lot like pickles.
Lavender and White Chocolate
Lavender is a trending ingredient in all kinds of food, and it pairs beautifully with white chocolate. Drizzle some melted white chocolate, or add white chocolate chunks to your popcorn. Then mix in some dried lavender.
Salt and Vinegar
The trick to adding vinegar to your popcorn is to put it in a spray bottle and spray it on. Spray your favorite vinegar and then add salt. The vinegar will help it stick. Balsamic works well, but you can use plain white vinegar as well. You can also use a premade salt and vinegar seasoning.
Chili
Chili powder will give your popcorn a spicy kick and an intense taste. Add some lime juice to balance the chili, and you will have an excellent snack.
Pumpkin Spice
Pumpkin spice is autumn's most popular flavor. Add some to your popcorn by sprinkling pumpkin pie spice over it.
Dried Fruit
Dried fruit adds sweetness and texture to your popcorn. You can use any fruit you like, or a combination of fruits. Try blueberries, strawberries, mango, or pineapple. Chop larger fruits into small pieces.
Take this traditional movie night snack to the next level with one or more of these amazing, easy additions to plain popcorn. Whether you use an electric popper, a microwave, or make your popcorn on the stove, you are sure to love this tasty treat when you dress it up with a fantastic topping.
You Might Also Like: