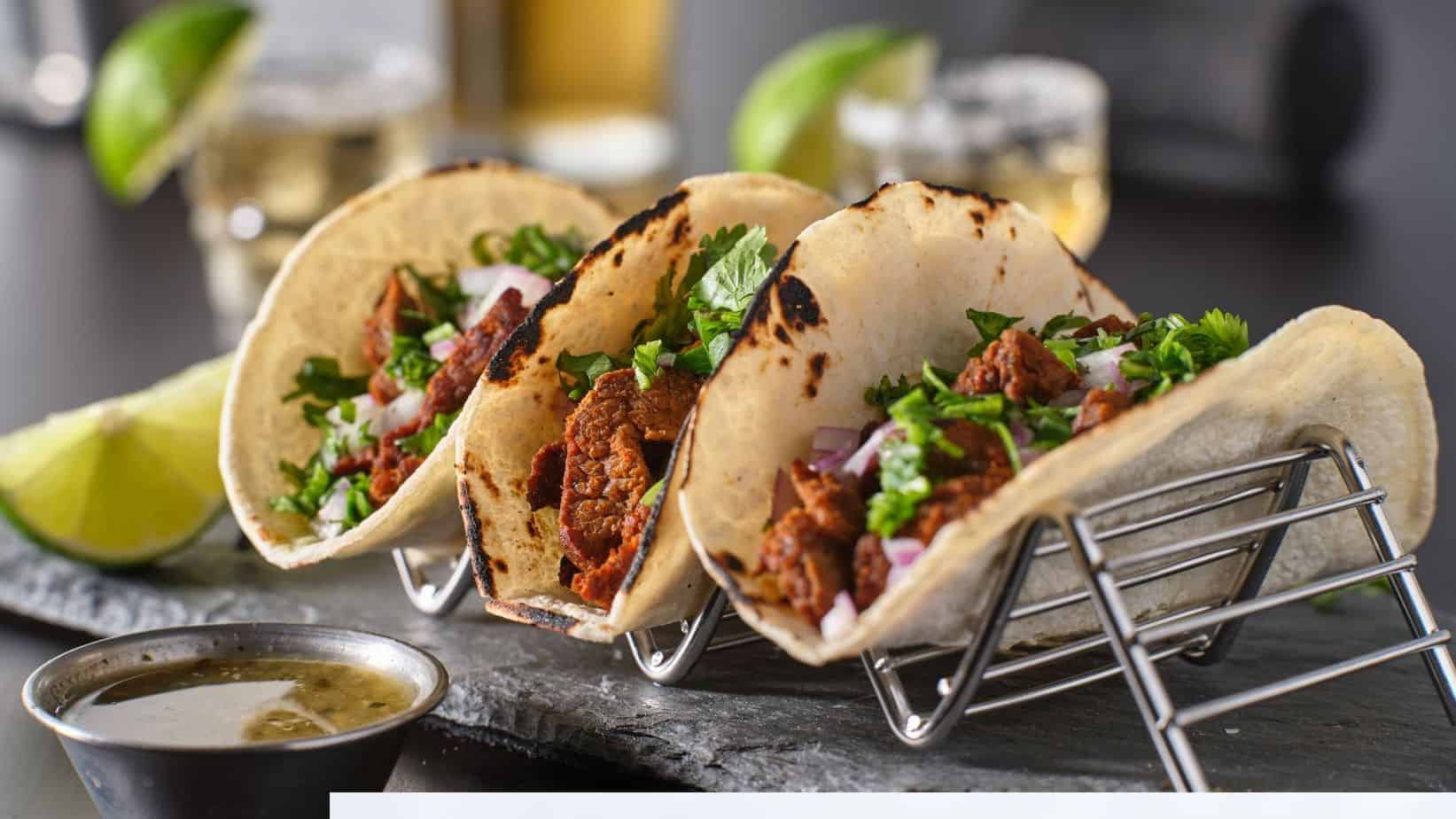 Tacos! The first thing that comes to mind is "bring 'em," and that's probably what you thought too! 🙂 Although you can certainly put tacos on any plate or dish, that really doesn't do them justice. There is definitely a need for something that can showcase tacos the way they deserve to be showcased. This is where taco holders come in.
Have you ever heard of taco holders?
Home Perch never heard of taco holders until we stumbled upon them on Amazon and knew we had to test them out. This post will review five of the best taco holders. Let's jump right in.
The best thing about taco holders is saying goodbye to the messy taco. They hold your tacos upright so your favorite toppings like sour cream and guacamole stay in place – so you always have the perfect taco. And of course – they are a great taco night conversational starter. Your guests will ask all about them and want to know where you got them.
Top Five Taco Holders
Colorful Plastic Taco Holder Stands
These colorful taco holders come in 6 different colors per pack. The stands are made from food-grade plastic that is BPA-free. The zigzag holder design ensures that the tacos stay in an upright position, and they won't get soggy from the taco sauce.
These taco stands are dishwasher safe which is a huge plus. They are also stackable when empty so they will not take up a lot of storage room in your kitchen.
Pros
Dishwasher safe
Six holders in each pack
Each rack can hold three tacos
Cons
Not safe for oven or grills
Stainless Steel Taco Stands
The stainless steel taco rack comes in a pack of four taco stands that are made from premium quality steel. They have curved edges to hold the tacos firmly in place and the side handle makes them easier to take out of the oven and grill. So, what more could we ask from a taco stand, right?
Pros
Safe for dishwasher and grill
Made from food-grade stainless steel
Comes in a pack of four taco racks
Cons
The edges are quite sharp
Taco Trays by Fiesta Kitchen
Fiesta Kitchen Taco Trays come in a set of four and their stainless steel construction adds a bit of elegance. Each tray can hold multiple tacos at a time, but if you flip the tray over, it will hold just
Besides tacos, you can serve kebabs, gyros, wraps, sandwiches, burritos, and even hot dogs in these versatile trays. The corrosion and stainless steel material are safe for the oven, grill, and dishwasher.
Pros
Can hold multiple tacos at once
Safe for dishwasher and grill
Cons
Not microwave safe
Some people consider the edges sharp
Soft tacos can slide a bit
Nostalgia Taco Party Holder
This taco holder is a one-of-a-kind solution to bringing taco night to the next level. It includes four taco holders that work with both soft and hard tacos and has a rolling disk containing six removable topping trays. It even has a removable warming pot to put inside the microwave to warm the food.
There are endless ways to use this taco holder including fajitas, burritos, nachos, fondue, etc. The warming pot in the middle is removable, which makes it easy to clean and the topping containers are dishwasher safe.
Pros
Can carry taco toppings
Comes with a removable warming pot
Easy to clean
Cons
Not very good at rotating
Not suitable for oven or grill
Consists of a number of pieces
Funware Taco Holders
If your kids are picky when it comes to food, you need to get these taco holders. They come in the shape of a dinosaur and are guaranteed to add a little fun to your table.
They are made from food-grade, BPA-free plastic material and are dishwasher safe. You can use them for waffles, toast, sandwiches, ice cream tacos, and more! They make great gifts too!
Pros
Stay upright and do not wobble
Microwave and dishwasher safe
Cons
Not suitable for grill or oven
Go and Get Some Taco Holders
Taco holders – whether they come in plastic or steel are a great way to hold the tacos in place. Taco Tuesday will never be the same!
You Might Also Like: