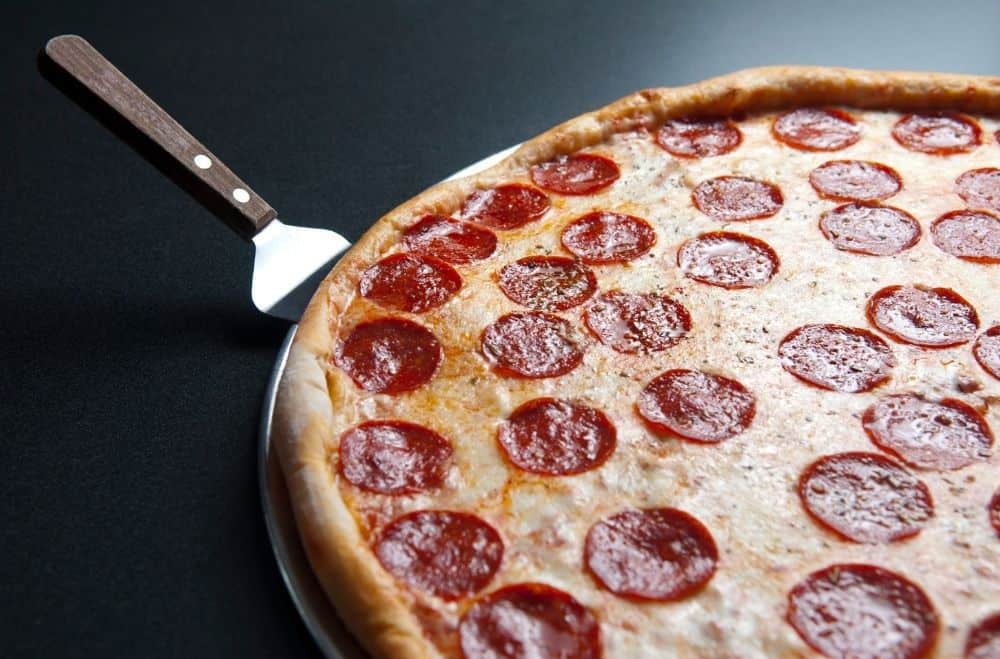 Delicious Pizza (and burgers too if I might add) are comfort food like no other. While there are infinite options for ordering out, there's something to be said about cooking a pie at home. Aside from the fact that a well-made pizza at home will rival just about any pizza joint, it's also a great way to bring the family together for a meal that everyone takes part in, from helping to knead the dough to customizing their own personal pizzas.
For anyone who hasn't had the opportunity to put together a homemade pizza, it may be hard to know where to start. The good news is you don't need a fancy pizza oven or lots of pizza tools. All you really need is a pizza stone or pan. If you're going to invest in one thing, it should be a pizza spatula, also known as a pizza peel. To help you make the right decision, we've put together a list of the best pizza spatulas available in 2021.
What is a Pizza Spatula?
Have you ever been to the local pizza parlor and watched your pie go into the oven with what looks like an overgrown spatula or paddle? That tool is a pizza spatula. It's simple but it goes a long way in making cooking a pizza that much easier.
There are certain qualities that separate good pizza spatulas from the bad. Here are a handful of things you should keep in mind when choosing the right pizza peel.
Material
You'll typically find that a pizza spatula is made from one of three materials: wood, metal, or composite.
Wood is the traditional material for a couple of reasons. It prevents the pizza from sticking, and the pie can be built directly on a wooden pizza peel before going into the oven. A wood peel is thick, large, and can be cumbersome. They're also not as durable as metal, stainless steel, or composite alternatives and tend to dry out and warp.
A metal pizza peel is much thinner, lightweight, and easier to handle. The metal peel can also be easier to clean. The major downside is the pizza is more likely to stick.
Composite pizza spatulas are also low maintenance. But while they're thinner than wood, they often have a thicker surface and shorter handle than their metal counterparts, making them tougher to maneuver to the back of the oven.
Size
The pizza spatula size will be relative to the user and depend on both the size of the pizza and the oven. You want something that can slide into the oven while holding a decent-sized pizza. A starting point is usually a spatula that's at least 14″ wide and 15″ long.
Shape
Pizza spatulas will come in two shapes: round, and square. The decision is more of a personal preference, but a square one can give you a little more volume and a choice of how you want to shape your pizza.
Now, let's look at our picks for the best pizza peels.
1. Checkered Chef Stainless Steel Pizza Peel with Folding Handle
The Checkered Chef pizza spatula is perhaps one of the easiest to use and a good place to start. Made from stainless steel, this spatula is fireproof, allowing you to use it on the barbeque.
The spatula is 22″ long when extended, saving you from burning yourself when getting the pizza out of the oven. Collapsed, it's only 13″ long, so it's easy to store right alongside the pots and pans. As a bonus, it's dishwasher safe because it's made from stainless steel.
2. Greenerhome Pizza Peel
The Greenerhome Pizza Peel is made from premium restaurant-grade bamboo. This material is light yet strong and it is less likely to splinter than other woods. Plus, with the proper care, it won't warp, split, or crack.
Because bamboo is known for its durability, you can put your pizza together on this spatula and use it as a cutting board. In short, the Greenerhome Pizza Peel combines the versatility of a wood spatula with the durability of a metal one.
3. Kitchen Supply Aluminum Pizza Peel With Wood Handle
This ultra-thin aluminum pizza spatula features sharp edges that make it easy to pick up and slide your pizza in and out of the oven. The long wooden handle reduces your risk of getting burned by the oven while remaining cool to the touch throughout the process.
While it's possible to use this spatula as a cutting board when the pizza is cooked, it can quickly dull the pizza cutter.
The aluminum construction makes it very easy to clean but we recommend using some caution as the sharp edges can cause significant cuts.
4. IronWood Gourmet Napoli Pizza Peel
The laminated, premium acacia wood strips used to make the IronWood Gourmet Napoli Pizza Peel are ethically sourced and handcrafted by farmers in Thailand. Because of the beautiful look of the wood, this pizza spatula can be hung on the wall for great kitchen decoration when not in use. It's sure to be a conversation starter.
While many wooden pizza spatulas are difficult to use, the IronWood spatulas feature a slanted edge that works in the same way that a thin metal spatula would, making it easy to pick up the delicate raw pizza and transfer it into the oven.
The great look and ease of use come at somewhat of a price. But this pizza spatula requires a bit of tender care to maintain longevity. It should be washed by hand with mild dish soap without being soaked, but it should also be treated with butcher's block oil after every use. It may seem like a lot, but for us, this spatula is worth the extra effort.
Try Out Your New Pizza Spatula with Some Great Recipes
Here are two recipes to try out that new pizza spatula! Check out How to Make Homemade Pizza Dough. Here is another great pizza recipe from Tasty. Now go and find a hot oven. Enjoy!
You Might Also Like: