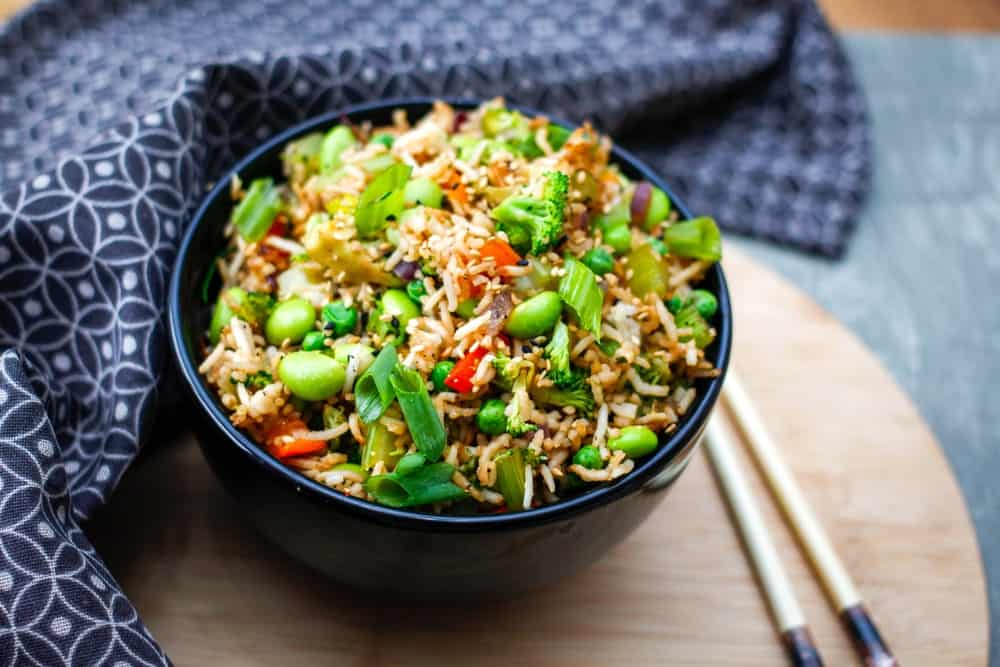 Fried rice is often associated with Chinese food and pork and egg. However, it is quite possible to create a fried rice dish that is entirely vegan, all plant-based and nothing in terms of animal product food involved. Not to mention, you're likely to end up with more nutrients and a healthier meal overall.
Lots of people like fried rice. There's something about having a bit of fat in rice, cooked in thoroughly, that just brings out a whole lot of flavor. And many households swear by it, having the meal for any time of the day. It's filling, has lots of flavor, and it's low cost on the food bill as well. Unfortunately, fried rice often gets cooked with a lot of typical food products as well.
Many home chefs also just threw in the leftovers from the night before into the rice to give it flavor as well, which meant everything from meat to desert might have been mixed in. Not quite the dietary equivalent of a well-planned meal, fried rice was about the same as soup and stew in ancient times – nothing was wasted but you didn't ask how it was made either.
However, vegan fried rice is specifically about inclusion of vegetables only, plenty of seasoning and spices, and nothing non-plant. This makes all the difference health-wise, but it's the spices and seasoning that really brings out the assortment of flavors possible reinventing one's understanding and perspective on fried rice after eating it the first time.
Oyster sauce, for example, can easily give fried rice a big kick in terms of sea food flavor without the oyster itself being involved. This is a great way of getting traditional Asian flavors in fried rice without the animal product being involved. Another option is use of marinated tempeh. This gives the fried rice a viable alternative to a typical meat in the dish, completely sidestepping it.
Cooking the rice with shallots, chives or other types of onions will definitely give it a significant flavor that hits the mouth immediately, but not in a bad way. Many people feel onions in some form or another are what gives fried rice the amazing taste it has in any form. And, for those who don't eating onions, the trick is to just cook with them and pull them out before serving. You get the flavor without the particular ingredient that turns you off. Onions are not necessary to make fried rice, but it's a very different dish without them.
Time to Prepare: About 30 minutes
Total Cooking Time: 1 hour
Instructions for Vegan Fried Rice
Ingredients:
Three cups of water
Two cups of rice, typically Jasmine rice rinsed
Part 1 – Preparing the Rice Before Frying
Step One: Pre-Cooking
Pour all the water into a medium pot. Make sure it is a non-stick type inner surface. After rinsing it, pour in the rice.
Step Two: Cooking
Put the pot and ingredients on a burner and put on high heat. Bring the water inside to a boiling point. Once reached, cover it with a lid and bring the heat down to a low simmer level. Let it sit for 20 minutes. After the time is reached, remove the pot entirely from the heat and let the rice sit for 10 minutes with the lid on.
Step Three: Fluff and Cool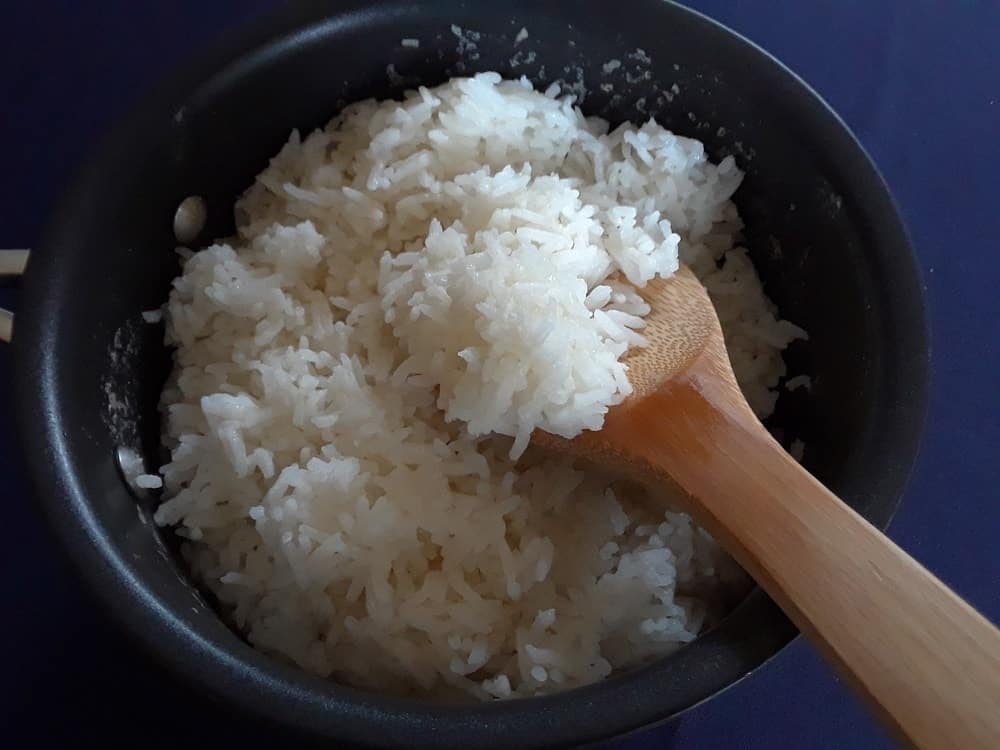 When done, use a spoon to fluff the rice and release more heat. When cooled, put all the rice in a container and store in the refrigerator for a day.
Part 2: Cooking Fried Rice
With the rice a day old and at fridge temperature, the rice has lost some of its moisture due to the refrigeration. This is a good thing. It will enhance the flavor of the rice and reduce mushiness.
Time to Prepare: 25 minutes
Total Cooking Time: 30 minutes
Fried Rice Instructions:
Ingredients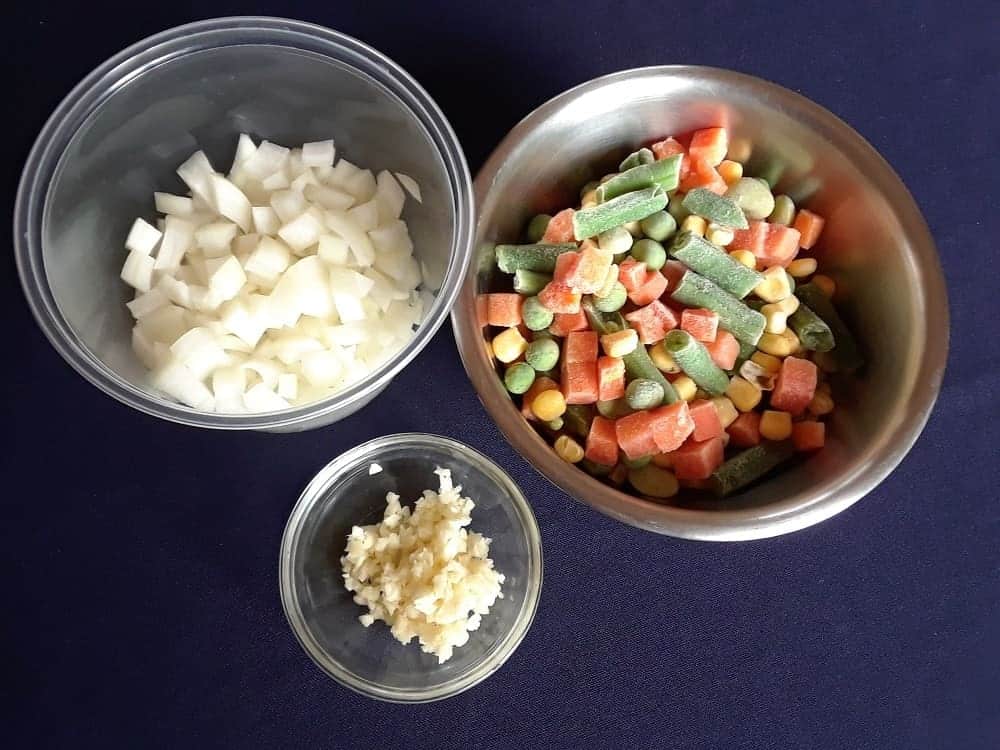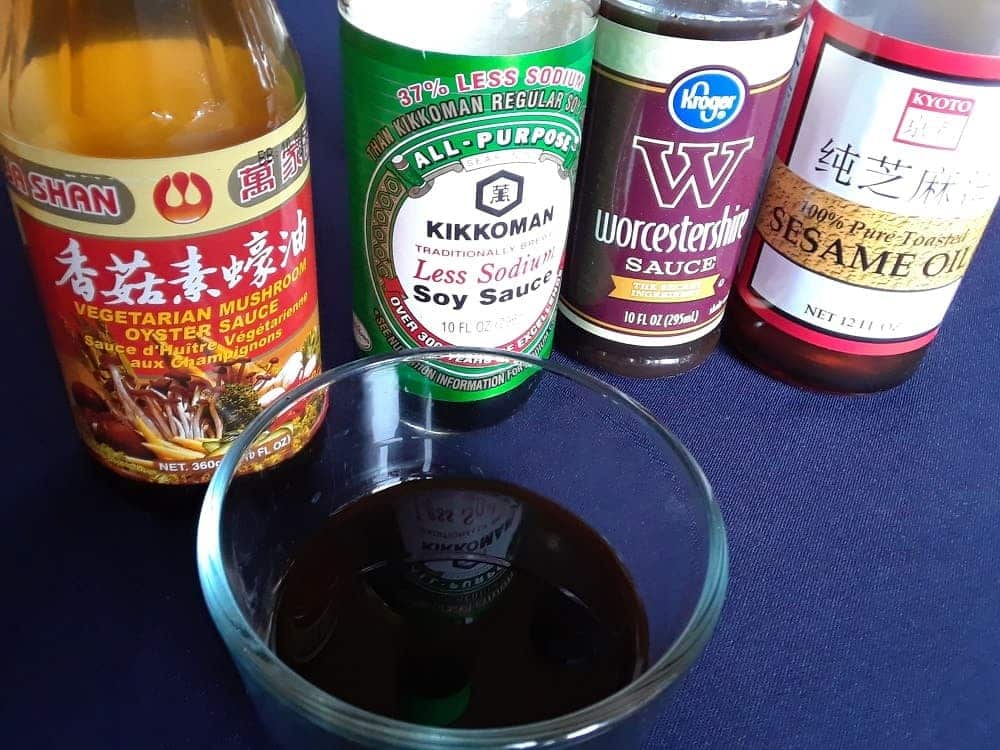 Two tablespoons of oil, canola oil is best for a vegan dish
One-half cup of shallots, chopped or sliced
Three tablespoons of sesame oil
One-half onion, diced
Three cloves of garlic, chopped and minced
Two tablespoons of oyster sauce
Three tablespoons of soy sauce
One tablespoon of Worcestershire sauce
Two tablespoons of vegetable broth
One teaspoon of mushroom seasoning
One teaspoon of garlic powder
One teaspoon of onion powder
Half a teaspoon of ground black pepper
One and a half cups of frozen vegetables, mixed
Step One: Prepping the Cooking Pan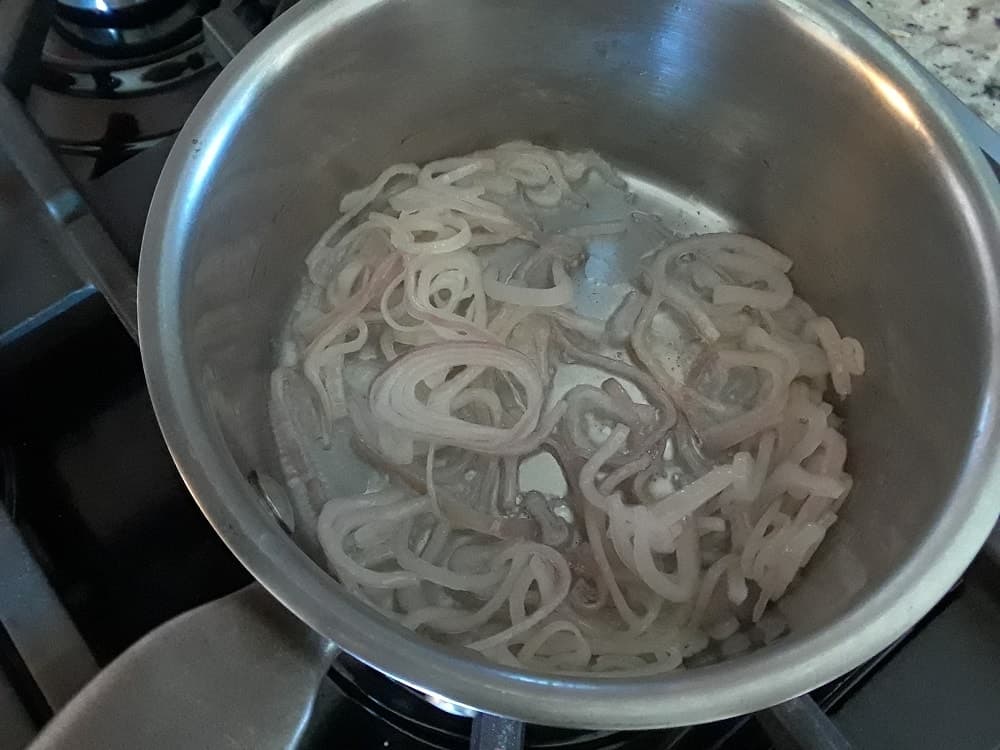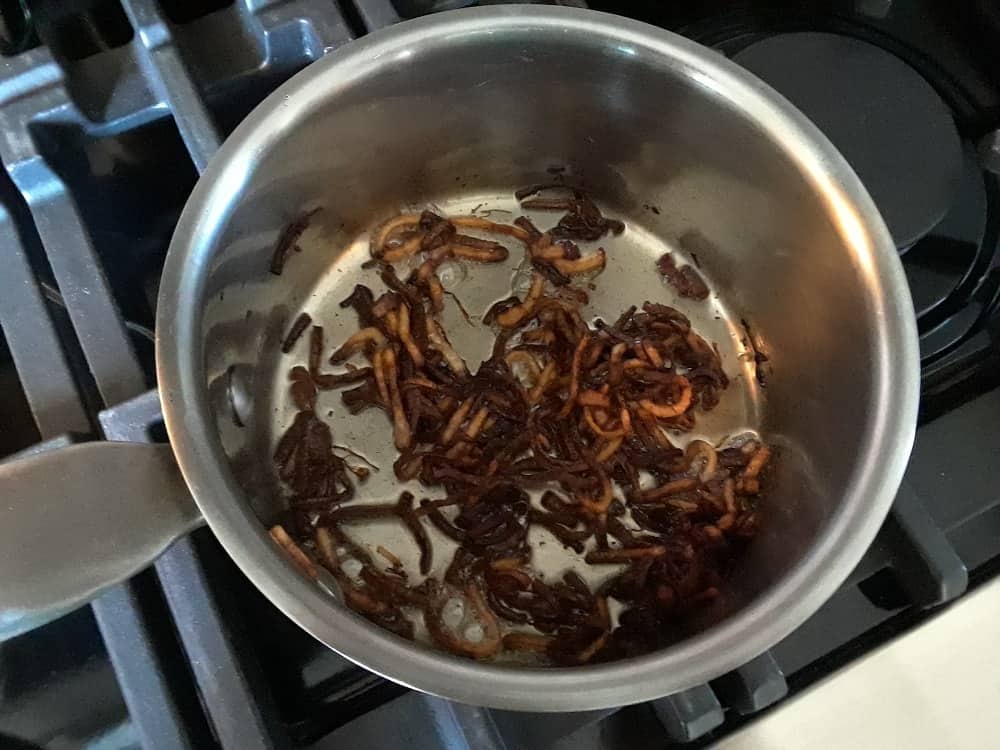 Add canola oil to a non-stick saucepan. Throw in the shallots and cook them until they reach a brown color. Make sure not to burn them. When they are thoroughly browned, remove the saucepan from heat. The shallots will continue to cook as the pan cools off. Keep stirring the whole time so they don't stick. Again, the goal is to cook them, not burn them.
Step Two: Cooking the Flavors
Take a second non-stick pan or large frying pot and pour in the sesame oil. Heat up the oil until it thins and gets a nice gleam to it. Add in the regular onions pieces, keep cooking for about four minutes. Then add in the garlic and keep stirring.
After about 30 seconds throw in the oyster sauce, the soy sauce, and the Worcestershire sauce. Add in the vegetable broth as well and the mushroom seasoning. Then throw in the black pepper and onion powder last. Keep stirring and reduce the heat to between low and medium.
Step Three: Time for the Rice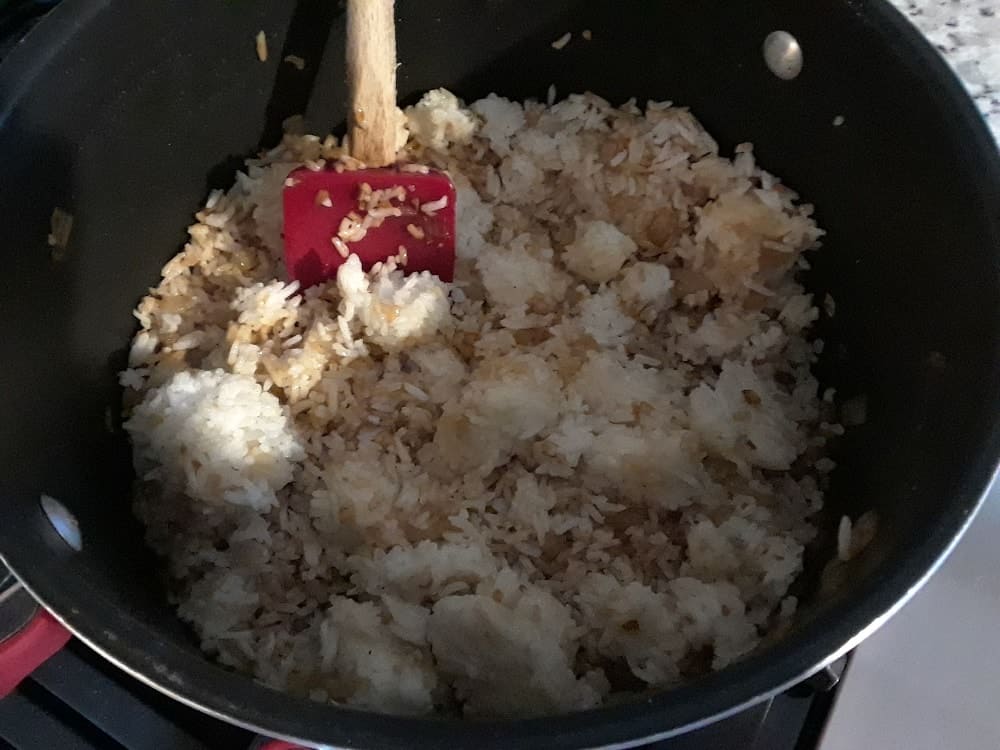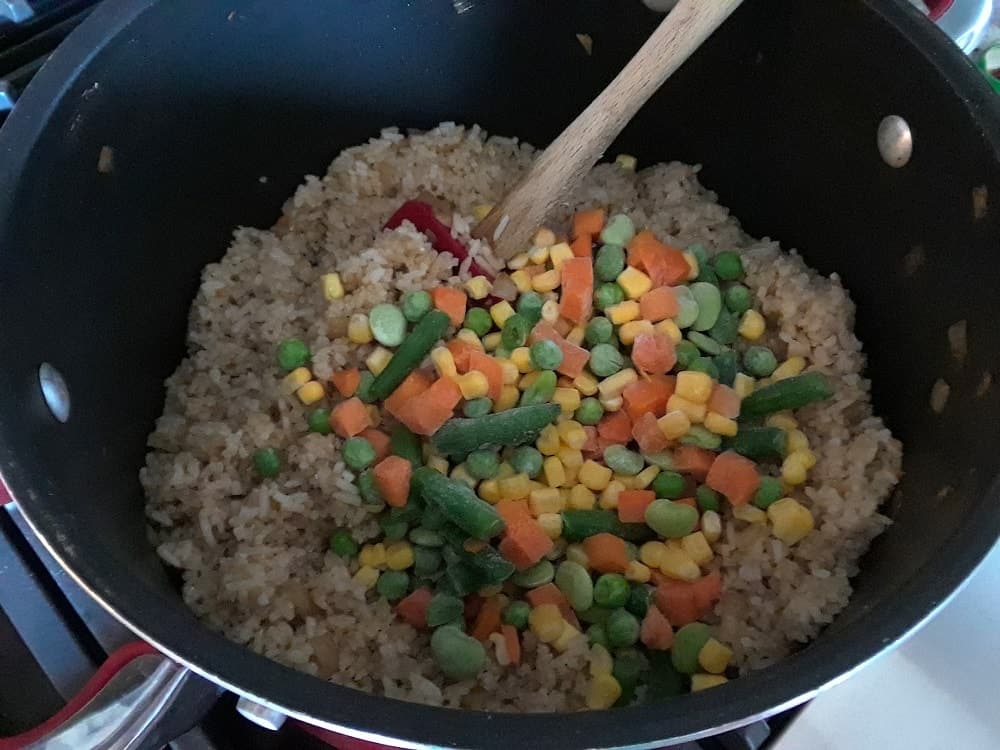 Now it's when you add in the rice. Move it all around and stir with the ingredients already cooked. Fry the entire mix for about five minutes after stirring in thoroughly. Then you can also add the frozen vegetables. Let it cook for another three minutes. By this point, everything is cooked, fried and ready to serve. Remove from the heat and pour the contents into a serving bowl. It's time to start eating!