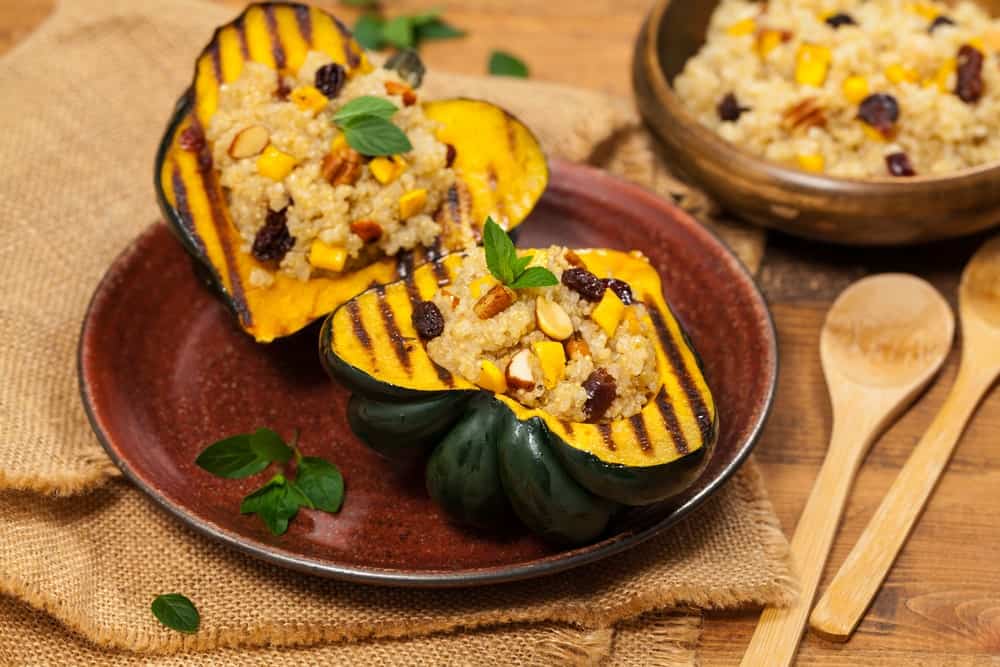 Ever heard of stuffed bell peppers? Usually, it involves ground beef, rice, some garnishes, and everything stuffed in the body of green bell pepper. Vegan stuffed acorn squash is the same idea except for no meat and a whole lot of other stuff that tastes a lot better than a greasy hamburger.
Most people think of squash and the last thing that comes to mind is some kind of stuffed delicacy. That's because a lot of squash dishes aren't very creative. They generally consist of slicing the squash into slices or pieces, cooking them somehow, and then serving them as-is. It's not very exciting, definitely not one for rocking out the taste buds, and for kids, it can damage them for life from squash.
Winter squash, however, is a great food to work with when prepared the right way. It doesn't look appealing in the grocery store with a tough outer skin and bumps all over. That said, once cooked the innards make for some really delicious stuffings, which is the point of this recipe.
But before we get into making it, here's a bit of healthy knowledge too. Winter squash is jammed-packed with fiber and nutrients, high in vitamin C, and it has literally nothing in the way of fat. It also produces a filling meal with a very low caloric count, which makes it great for eating without gaining the winter weight so common in the holidays.
Acorn squash in particular is great for lots of food work in the fall and cold months. It keeps well without going bad for a long time. Just one squash is enough to feed two people in terms of a serving, and they don't take up space in your refrigerator like other vegetables. Fully cooked after slicing open and removing the seeds, and you have a warm, tasty meal enhanced with a bit of butter. Guess what? There more you can do with versus straight cooking as well.
Because the seeds take up a sizable bit of space inside a winter squash, once they are scooped out there's a lot of space. And that makes the squash a natural for being stuffed before cooking. Lots of choices and options can come into play here. All sorts of vegetables from onions to broccoli to mushrooms can be used, and using a bit of cashew cream will hold everything together, even after the squash is cut into sections post-cooking. Want a bit of crunch in the meal too? Throw in some walnuts in the mix as well. Croutons can be added in lieu of nuts if you don't like them or have an allergy.
Time to Prepare: 2 hours, 30 minutes
Total Cooking Time: A bit over one hour (70 minutes)
Part 1: Making the Cashew Cream
Ingredients
One cup of cashews, make sure they have been soaked for 2 hours at least
Three-quarters of a cup of garlic
One garlic clove
One-half tablespoon of lemon juice
One-half cup of diced onion
Two tablespoons of yeast
Half a teaspoon of salt
One-quarter teaspoon of black pepper
Step One: Grind It All Up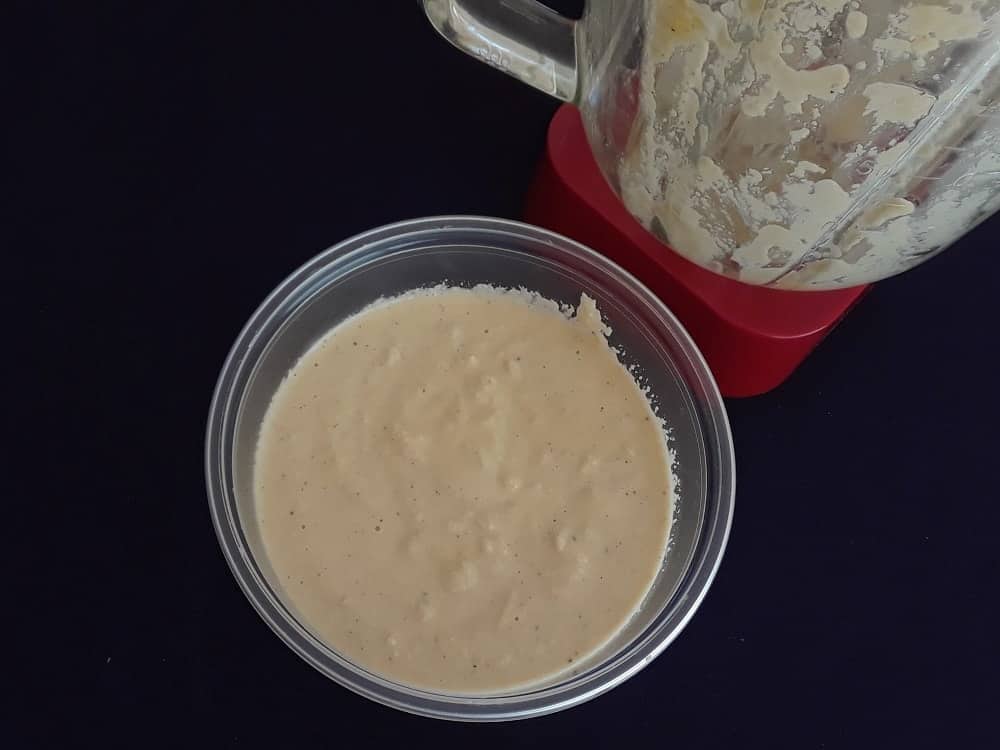 Literally take all of the ingredients above and put them in a blender container. When ready, blend until the mix is smooth, consistent, and creamy.
Step Two: Refrigerate
Take the mix and put it in a container in the refrigerator until needed.
Part 2: Stuffing the Squash
Ingredients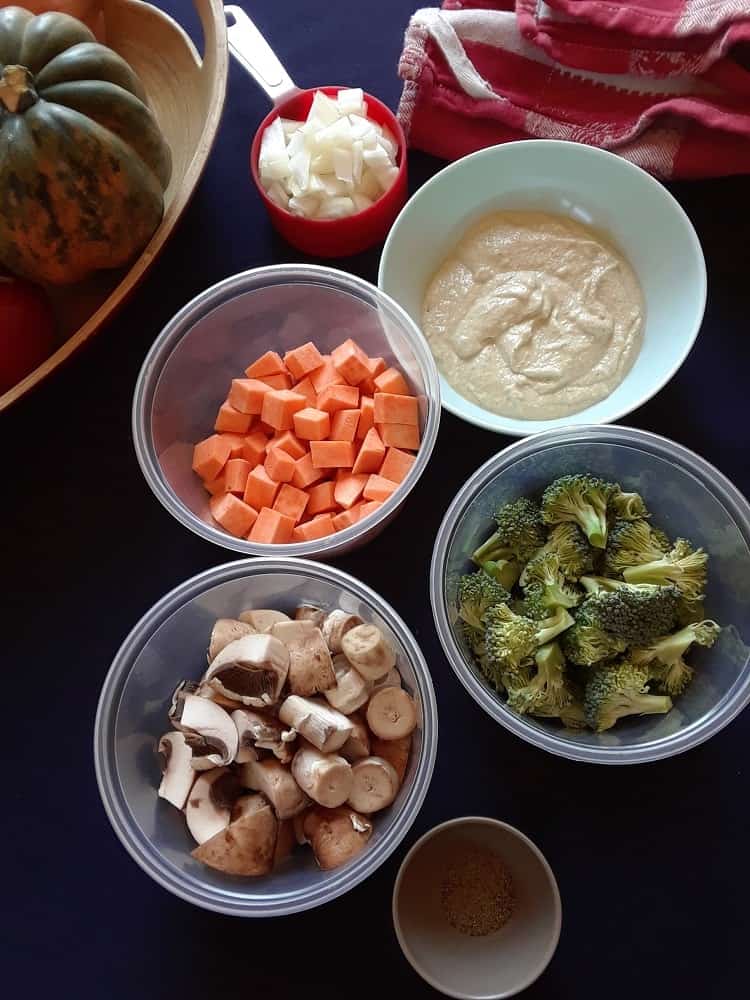 Two acorn squash
One tablespoon of vegan butter
One-quarter cup of bread crumbs
One tablespoon of olive oil
One-half cup of onions, chopped and diced
One cup of yam, chopped and diced
Four ounces of white button mushrooms, cut and quartered
One cup of broccoli
One-quarter cup of veggie broth
One-half cup of alfredo cashew cream
One-quarter cup of chopped walnuts already toasted
One-half teaspoon of cinnamon
A dab of black pepper
Step One: Getting Ready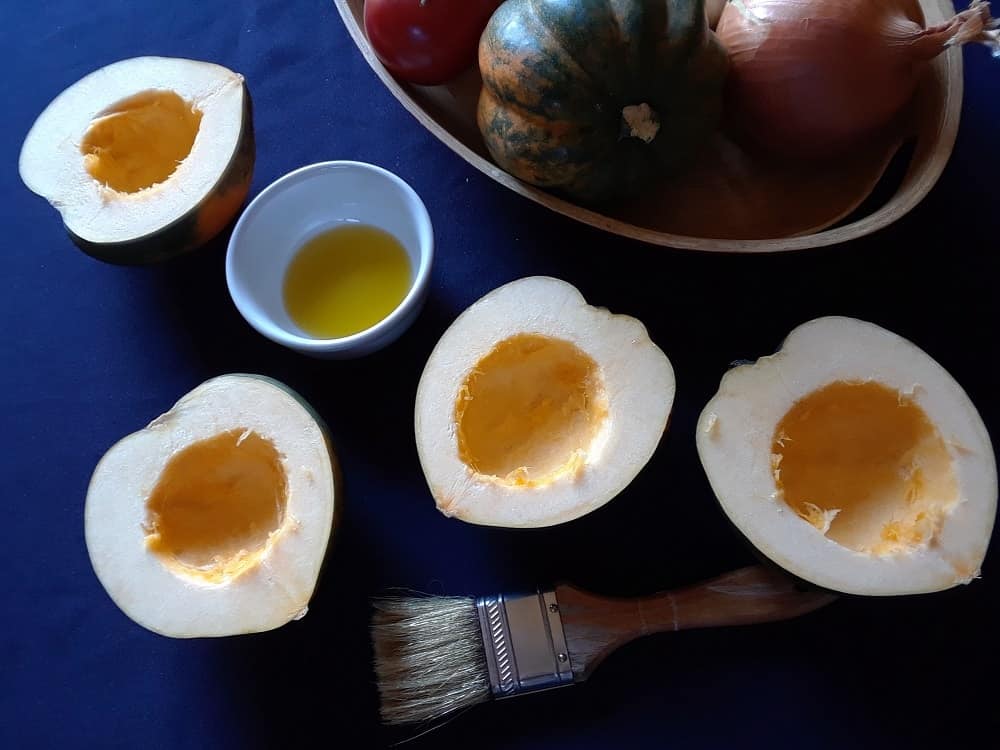 Preheat a conventional oven to 400 degrees Fahrenheit. In the meantime, take some olive oil and bathe the sides of the acorn squash with it. Then place the squash on the baking sheet with the open cut side facing up (seeds already removed, of course).
Step Two: First Baking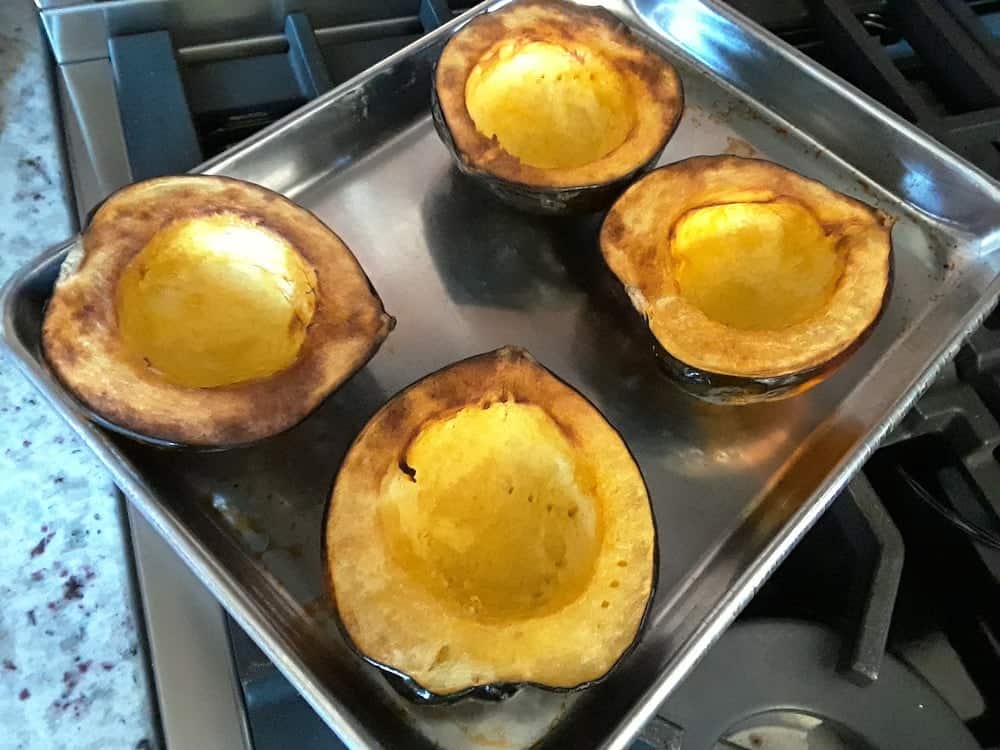 Bake the squash empty for 45 minutes. They should be soft and easy to poke.
Step Three: Prepare the Butter Mix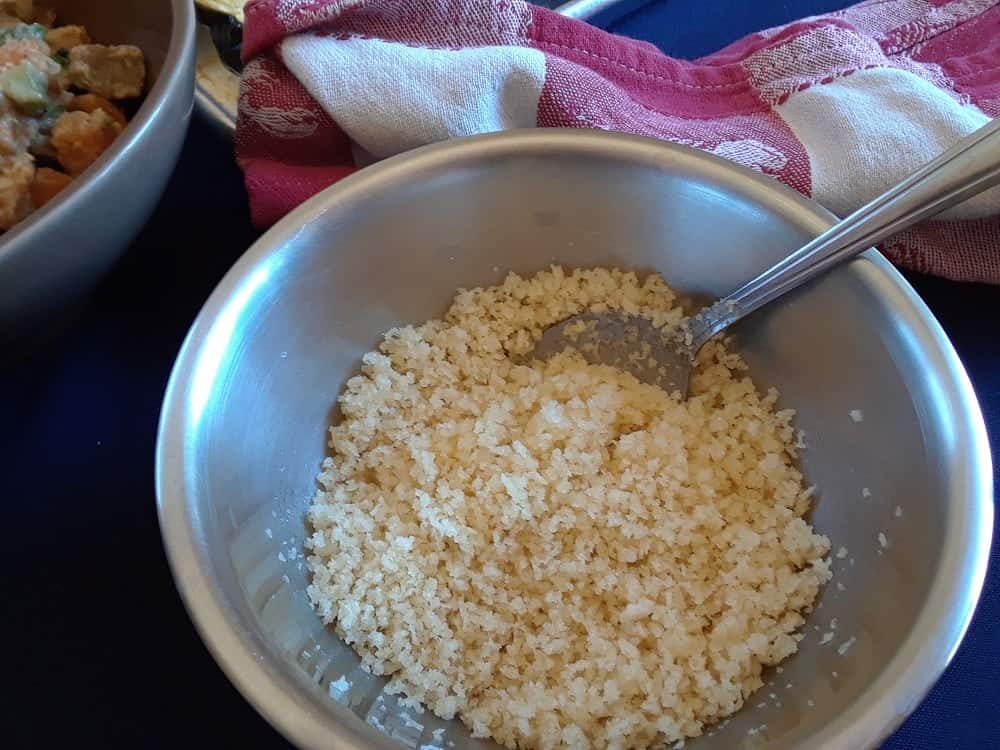 Melt the vegan butter with bread crumbs mixed in.
Step Four: Cook the Ingredients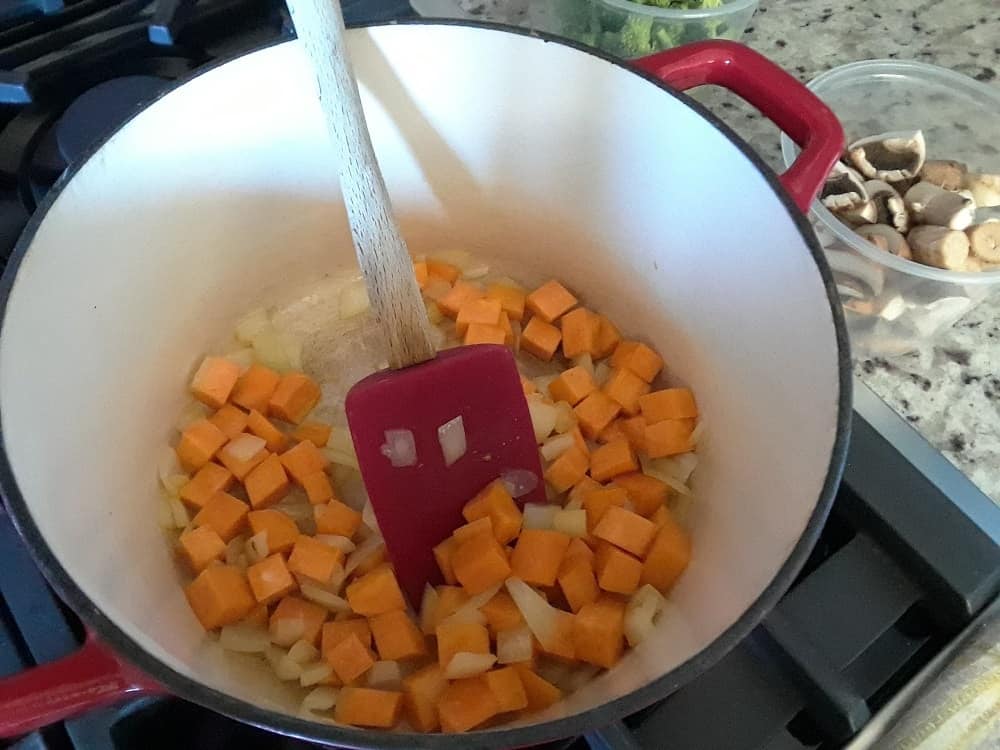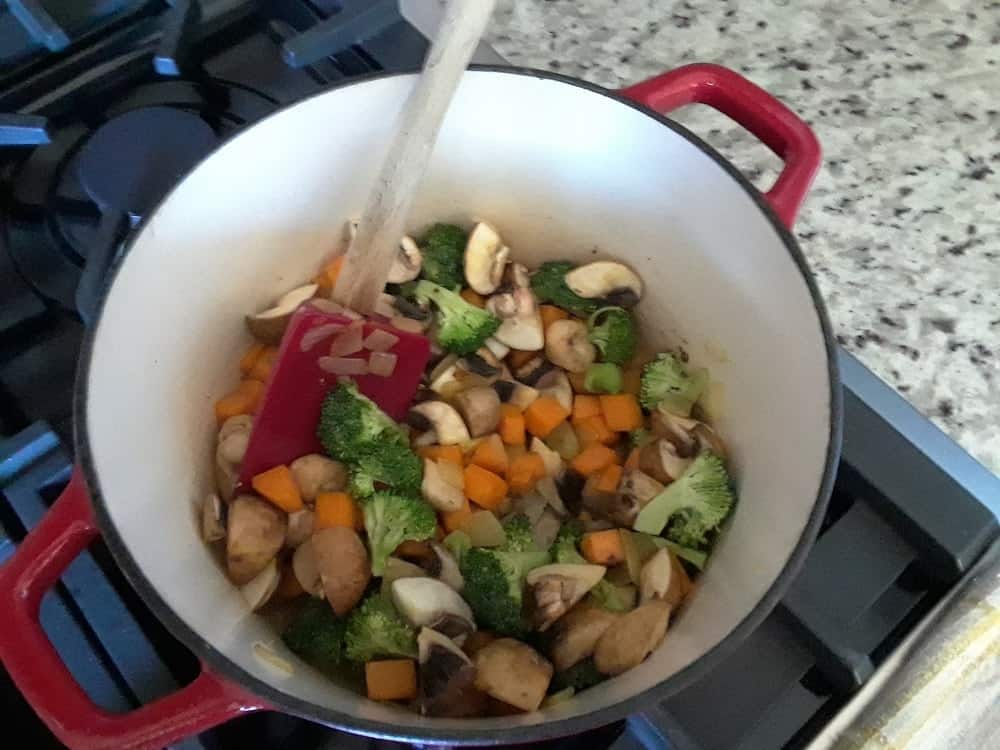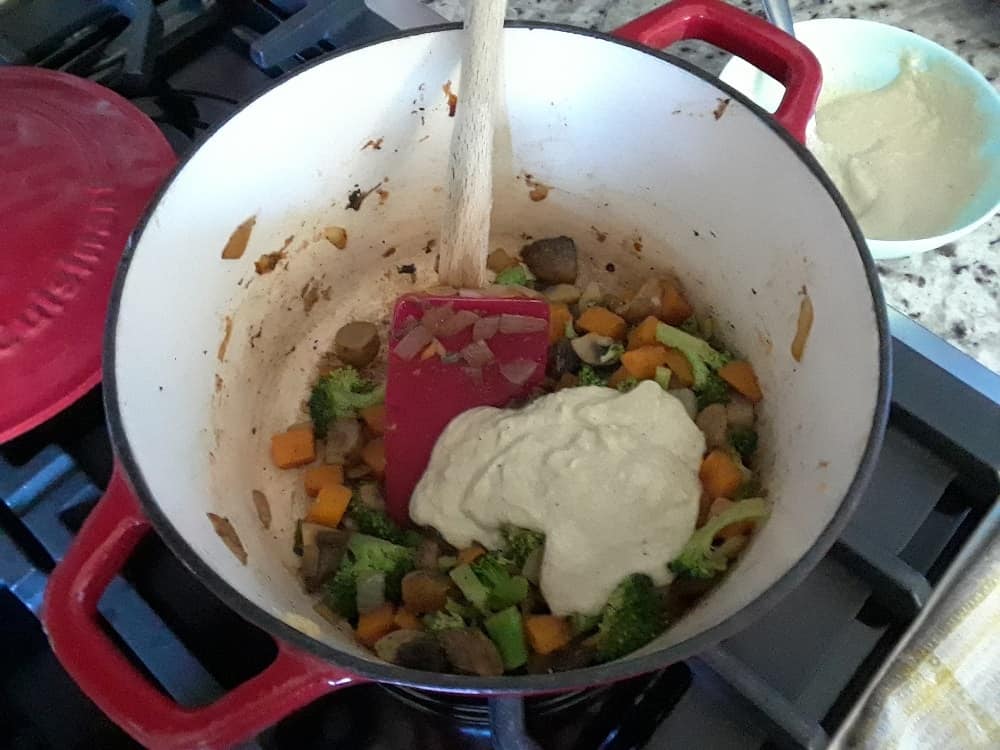 Warm up a saucepan with a tablespoon of olive oil and then, when ready, throw in the diced onions and the yam pieces. Mix and cook with a spatula for about four minutes until the onions yellow. Throw in the broccoli and mushroom quarters next. Keep mixing. Pour in the veggie broth and then cover with a lid. The steaming effect should last for two minutes, giving you a minute to take a short break. Now take the cashew container from the fridge and add the cashew cream in as well as the pepper, cinnamon, and walnuts if desired. Keep mixing.
Step Five: Remove the Squash and Fill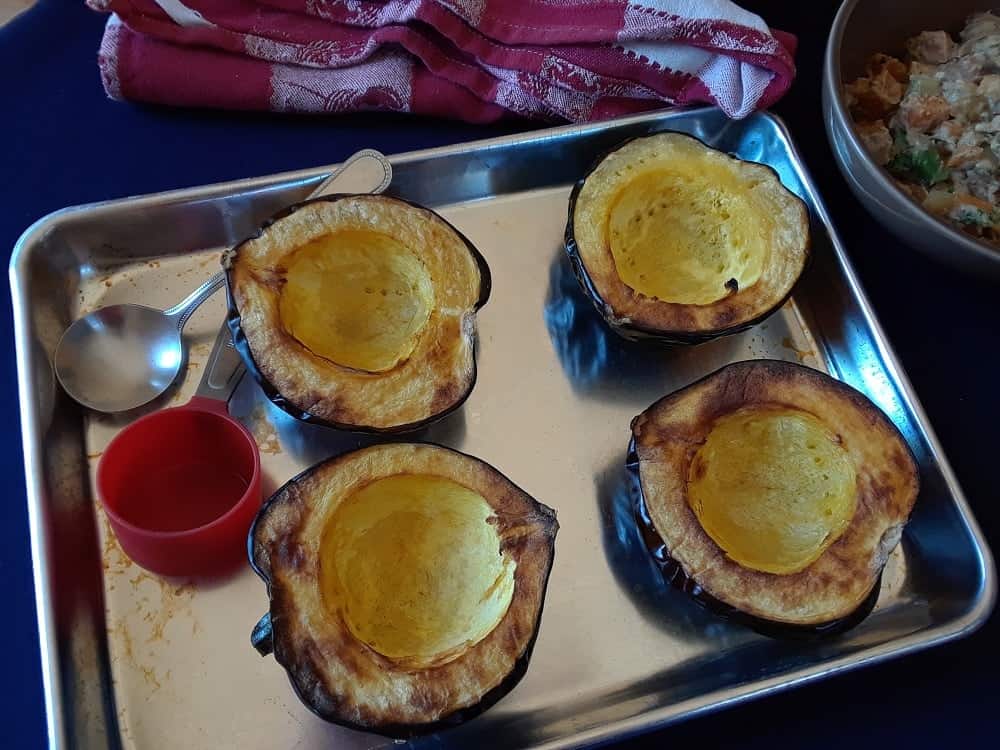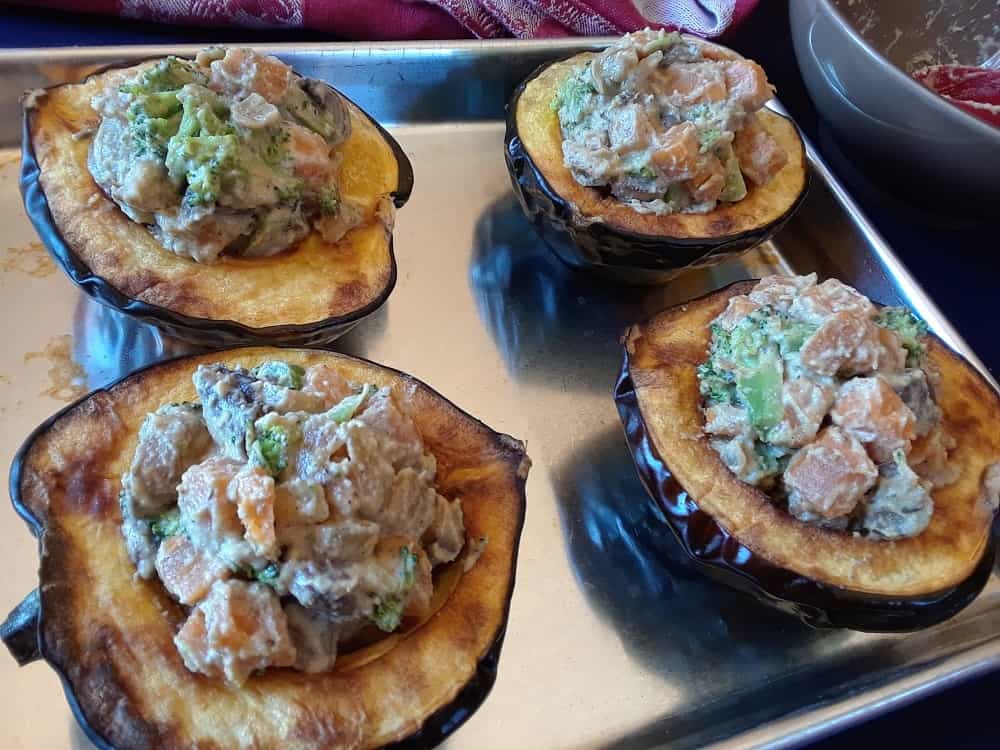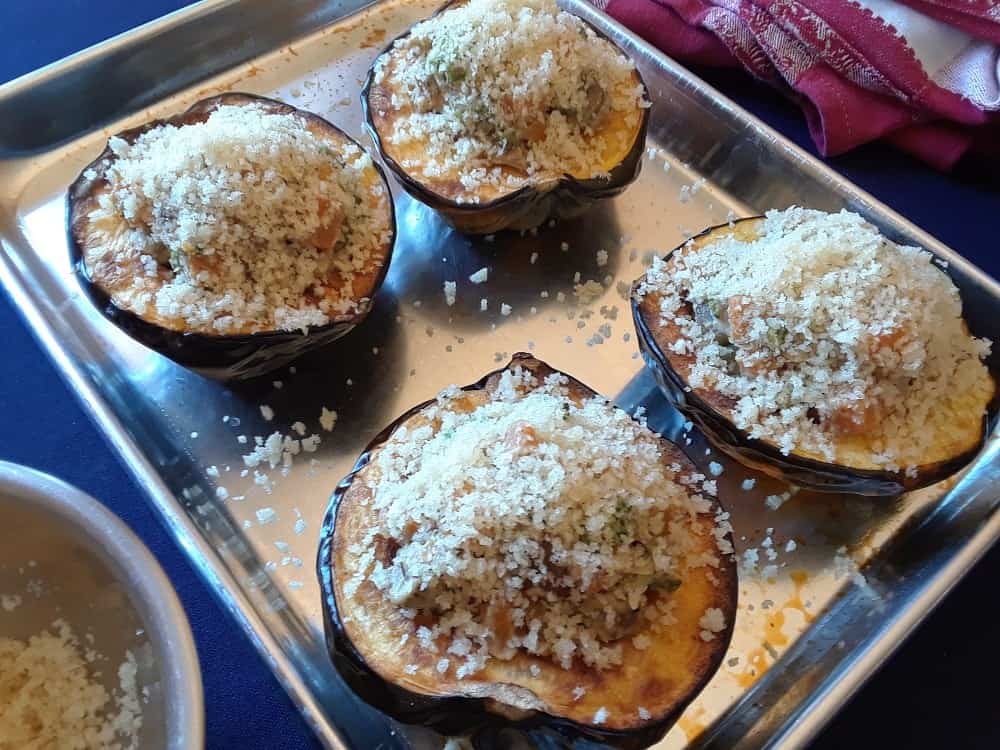 By now the squash is done and ready to take out of the oven. When cooled a bit, take your ingredient mix and place about a half a cup worth in the middle of each squash. Add a bit more bread crumbs on top. Put the pan once the squash is filled back in the oven for 10 to maybe 15 minutes. The bread crumbs need to change to a golden grown.
Step Six: Remove a Second Time and Eat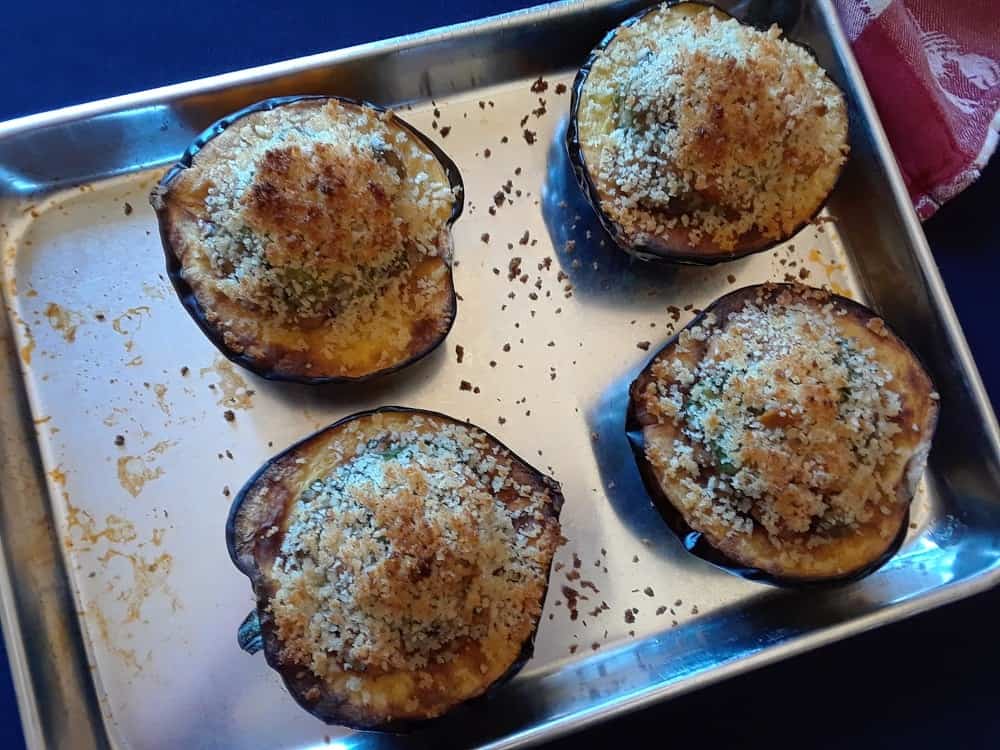 Take the squash pan out of the oven, let it cool for about 10 minutes, and then dig in and eat your vegan stuffed squash!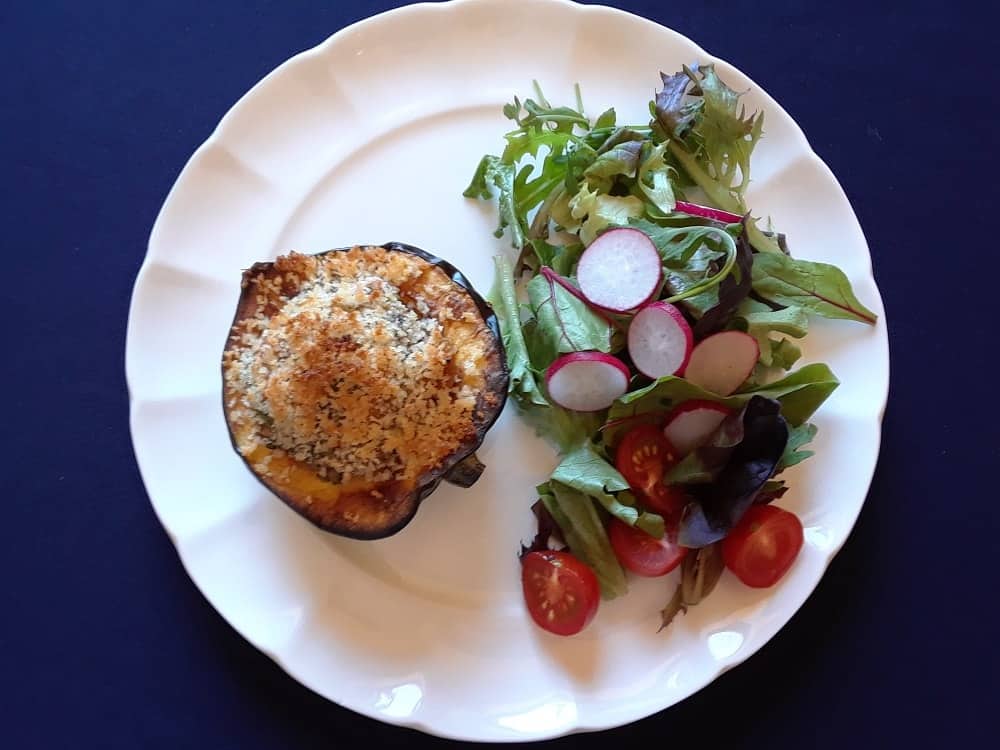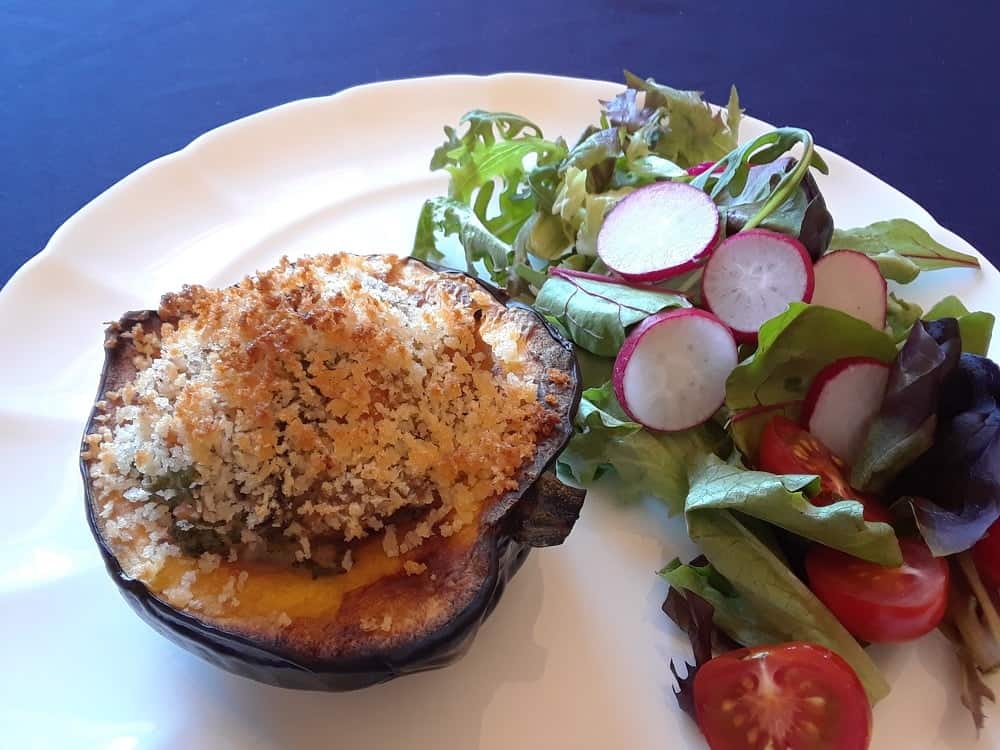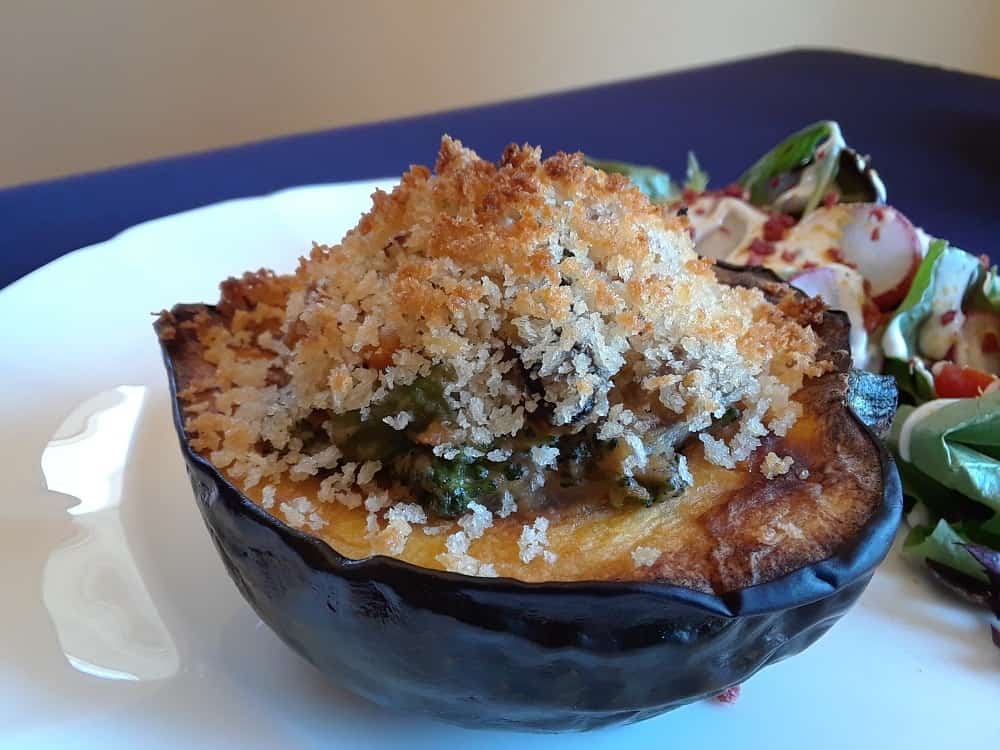 How To Bake Acorn Squash In The Oven
Roasting acorn squash in the oven is simple and requires only a few ingredients. It is fantastic to roast since it has a deep flavor that goes well with other fall dishes. In this article, we'll discuss how to roast acorn squash in the oven with three different recipe variants.
At Thanksgiving, baked acorn squash is usually a hit. It's quite easy to make too! The most difficult part is cutting the squash in half; you'll need a sharp knife and a strong, steady hand for this.
Then all that's left to do is scoop out the seeds, score the insides, dot with butter and brown sugar or maple syrup, and bake. Cut your acorn squash into wedges or leave it whole and use a spoon to scoop out the insides to eat.
Steps For Baking
Preheat the oven to 325 degrees Fahrenheit.
Set aside a baking sheet lined with aluminum foil or parchment paper.
Remove the seeds from the acorn squash by slicing it in half through the stalk.
Starting with the stem, lay it flat (cut-side down) and slice it into 1-inch to 1½-inch slices.
Arrange the acorn squash slices on the baking sheet in an equal layer.
If desired, add a pinch of sea salt.
Roast for 40-50 minutes or until the squash is soft and a fork can easily pierce the outside.
You can also take a sweeter approach!
Cut It In Half
Squash should be cut in half lengthwise. Cut the stem off the squash and arrange it cut-side down on the cutting board. This will create a flat platform for it to sit on instead of allowing it to roll around dangerously on your cutting board.
Remove The Seeds
Scrape out the seeds with a spoon, but don't throw them away! Rinse them off and roast them for a delicious snack, just like pumpkin seeds. If you don't want to serve the squash in halves, you can cut it even further at this point. Chop it into half-moon slices with the skin on or peel the skin off and cut it into large cubes.
Dress It Up
Decide whether you want to prepare your acorn squash in a sweet or savory manner. Craving something sweet? Brush the squash with softened butter and sprinkle brown sugar and cinnamon all over it for added sweetness.
Roast It
Place your squash cut-side up on a large baking sheet or in a baking dish. Roast it at 400°F for 1 hour. The squash should easily come apart when you tear it with a fork.
Acorn squash is versatile, meaning you can make a myriad of dishes with this one simple ingredient. It stands alone quite powerfully, but can also be added to a whole bunch of dishes to elevate their flavors and texture profiles.
Dishes To Try With Baked Acorn Squash
Braised Chicken Thighs With Squash And Mustard Greens
Ingredients
4 pounds of bone-in chicken thighs (approximately 12) patted dry
Kosher salt
Freshly ground pepper
2 tablespoons vegetable oil
8 scallions, thinly-sliced dark green parts, white and pale green portions divided into 1-inch chunks
4 dried chiles de árbol
1 piece ginger (2 inches peeled and thinly sliced
1 cup dry white wine
½ cup low-sodium soy sauce
3 tablespoons dark brown sugar
2 tablespoons toasted sesame oil
2 cups low-sodium chicken broth
1 acorn squash, halved lengthwise, seeds removed, sliced ½-inch thick
1 bunch mustard greens, tough stems removed, leaves to be torn
2 tablespoons unseasoned rice vinegar
2 teaspoons toasted sesame seeds
Cooked white rice (for serving)
Instructions
Season the chicken thighs with salt and pepper. In a large Dutch oven or other heavy pot, heat the vegetable oil over medium-high heat. Cook the chicken skin-side down in two batches, emptying out all but 2 tablespoons of grease between batches, until the skin is brown and crisp. This should take 8-10 minutes. Place the chicken skin-side up on a platter and set it aside (chicken will not be cooked through at this point).
Cook, stirring frequently, until the white and pale green sections of the scallions, chilies, and ginger are golden. This should take about 3 minutes. Add the wine, bring to a low simmer, and cook for 5 minutes or until the liquid has been reduced to about 3 tablespoons. Bring 1 cup of broth, soy sauce, brown sugar, sesame oil, and soy sauce to a simmer, stirring frequently to dissolve the sugar. Return the chicken to the pot skin-side up and overlapping as necessary. Cook for 25-30 minutes partially covered on low heat until chicken is cooked through. Place the chicken on a plate.
Make sure the baked squash is mostly submerged in the remaining 1 cup of broth in the pot. Arrange the greens on top. Cook for 10-12 minutes or until the squash is slightly fork-tender and the greens are wilted, on low heat, partially covered. Uncover, reduce the heat to medium, and continue to cook for 10-15 minutes or until the liquid has been reduced by about ⅔ and is the consistency of thin gravy.
Remove the pot from the heat and pour the vinegar over the vegetables. Taste the sauce; it should be salty. If it isn't, season it with extra salt. Return the chicken to the saucepan, turning it to coat it in sauce. Then distribute the dark green scallions and sesame seeds on top. Serve with a side of rice.
If you don't have a taste for mustard greens, you can also use kale.
How About Something Sweet?
That's right. We're talking about pie! More specifically, a spiced acorn squash pie with pumpkin-seed crumble.
Ingredients For The Crust
1¼ cups all-purpose flour (plus more for rolling)
2¼ teaspoons granulated sugar
½ teaspoon kosher salt
½ stick (4 tablespoons) unsalted butter chopped into pieces and frozen for 15 minutes in the freezer
¼ cup solid vegetable shortening chopped into pieces and refrigerated for 15 minutes
Ingredients For The Filling
2½ pounds of acorn squash
1¼ cups heavy cream
½ cup packed light brown sugar
2 tablespoons molasses
1 entire egg and 3 large egg yolks at room temperature
1 teaspoon vanilla extract
¾ teaspoon ground ginger
¾ teaspoon ground cinnamon
¼ teaspoon nutmeg
½ teaspoon salt
Ingredients For The Topping
½ cup all-purpose flour
⅓ cup light brown sugar
¼ teaspoon ground cinnamon
⅛ teaspoon kosher salt
⅛ teaspoon baking powder
¾ stick (6 tablespoons) unsalted butter cut into small pieces
½ cup of pumpkin seeds shelled, roughly chopped, and roasted
Instructions
Preheat the oven to 400 degrees Fahrenheit with one rack on the lowest rung and one in the center. Place 1 rimmed baking sheet on the bottom rack.
Mix 1¼ cup flour, sugar, and salt in the bowl of a food processor. Mix in the butter and shortening for approximately 10 seconds or until coarse, pea-sized crumbs appear. Add 2 tablespoons of ice water to the machine and continue until the dough holds together. This should take about 30 seconds. Squeeze a tiny quantity of dough between your fingers. If it's crumbly, add 1 tablespoon at a time of ice water (2 tablespoons maximum). Don't overthink it.
Push the dough together into a rough ball on a lightly floured surface. Knead briefly and then flatten into a disc with smooth edges (no cracks), wrap it in plastic wrap, and chill for at least 1 hour or overnight.
In the meantime, cut the squash in half horizontally. Scoop out the seeds and set them aside. Place the squash on a rimmed baking sheet cut-side down with a splash of water in the pan. Bake for 1 hour in the center of the oven or until the squash is easily penetrated with a knife. Allow it to cool after removing it from the oven.
Now preheat the oven to 375 degrees Fahrenheit.
Whisk together the flour, sugar, cinnamon, salt, and baking powder in a medium mixing bowl. Massage the butter into the mixture with your fingertips until it is clumpy and wet. Mix in the squash seeds until they are completely integrated. Allow at least 30 minutes for chilling.
Scoop off enough flesh to measure 2¼ cups and place in a blender once the squash has cooled enough to handle. Discard the skins. In a blender, combine the cream, sugar, molasses, eggs, vanilla extract, ginger, cinnamon, nutmeg, and salt. Puree the filling until it is creamy and smooth.
Fill the unbaked pie shell halfway with the filling and smooth the top with a rubber spatula. The crumble mixture should be sprinkled over the top. Place on the bottom rung of the oven on a rimmed baking sheet. After 30 minutes, rotate the baking sheet and place it on the oven's center rung.
Bake for another 25 to 35 minutes or until the filling is set and the crumble topping is golden brown. If the crust edge starts to brown too much, cover it with foil or a pie screen. Cool the pie fully on a wire rack. This should take about 3 hours. At room temperature, the pie will last for up to 2 days if gently wrapped with foil.
Although one of the toughest recipes to get right, this recipe is the most fulfilling considering the amount of effort you have to put in.
Now, how about a simply roasted acorn squash with oil and goat cheese?
Ingredients
1 large acorn squash (about 4 pounds)
1 garlic clove finely grated
¼ cup olive oil
¼ cup finely-chopped parsley
1 tablespoon finely chopped marjoram or oregano
1½ teaspoons red wine vinegar, divided
Kosher salt
Freshly ground pepper
3 ounces fresh goat cheese
Instructions
Preheat the oven to 425 degrees Fahrenheit. Place the squash on a rimmed baking sheet and roast for 35–45 minutes, rotating once. Allow to cool slightly before serving.
Meanwhile, in a separate bowl, mix together the garlic, oil, parsley, marjoram, and ½ teaspoon vinegar; season herb oil with salt and pepper.
The squash should be halved lengthwise and the seeds scraped out. Scoop out bits of flesh using a metal spoon and place in a large mixing bowl; discard skin. Toss in the remaining 1 teaspoon vinegar and season with salt and pepper.
Drizzle the herb oil over the squash and serve. Spread goat cheese crumbles on top.
The Takeaway
Winter squashes are acorn squashes. When shopping for them, look for squashes that are substantial and free of blemishes and mold. There should be no soft parts and they should be pretty firm. They should be dark green with a yellow or orange area where they were on the ground before being picked. Acorn squashes unlock their true potential when roasted or baked. Acorn squashes can also work with many different dishes in a number of ways, so you don't have to worry about flavor combinations!